Experience camping overnight by Dau Tieng Lake
BINH DUONG – Overnight camping allows you to admire the changing scenery from dawn to dusk and then into late night.
Da Egg Beach is located on Dau Tieng Lake, Binh Duong Province, nearly 90 km from the center of Ho Chi Minh City. This place still retains the wild beauty, with green lawns interspersed with rocks, in addition to the water from the artificial lake sketching a peaceful scene like the countryside.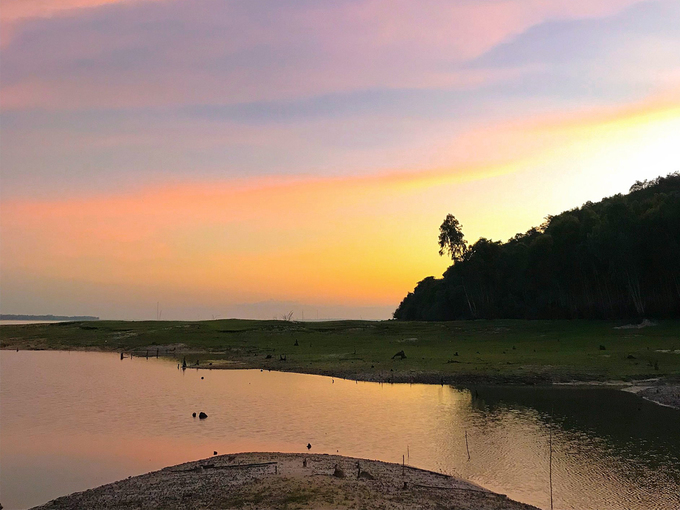 Egg Stone Beach in Binh Duong is like a green oasis containing peace, an ideal place for those who want to relax. Photo: Kim Ngan
Egg Stone Beach is an ideal weekend camping spot for those who want to temporarily get away from the hustle and bustle of the city. Here are the experiences gathered by Kim Ngan after the trip to help get the most comfortable and complete experience.
Time
The ideal time for camping is during the dry season (December to April). You should go at about 3pm because during the day the weather is often very dry and hot, easily causing fatigue. Rainy months should be avoided because leaking tents and wet ground will make your camping trip worse.
How to move
To get from Ho Chi Minh City to Da Egg beach, visitors have many routes to choose from. Kim Ngan's group started from the city center, along Highway 22 (trans-Asia road) to provincial road 15, through An Dien – An Lap to enter Binh Duong. This route takes almost 3 hours to get there.
Visitors can choose to go by car or motorbike, so motorbikes are preferred to easily move on narrow and difficult roads. Besides, the road to Da Egg beach will have very deserted sections, the two sides are forests and houses are far away from each other, so visitors need to carefully check the wheels, car parts, change the oil and fill the car with gas. enough before starting to prevent risks in the middle of the road.
In addition, to avoid getting lost and save travel time, you can enter the coordinates of Egg Stone beach (11.353066; 106.340520) into Google Maps and then follow the instructions to the correct location.
Experience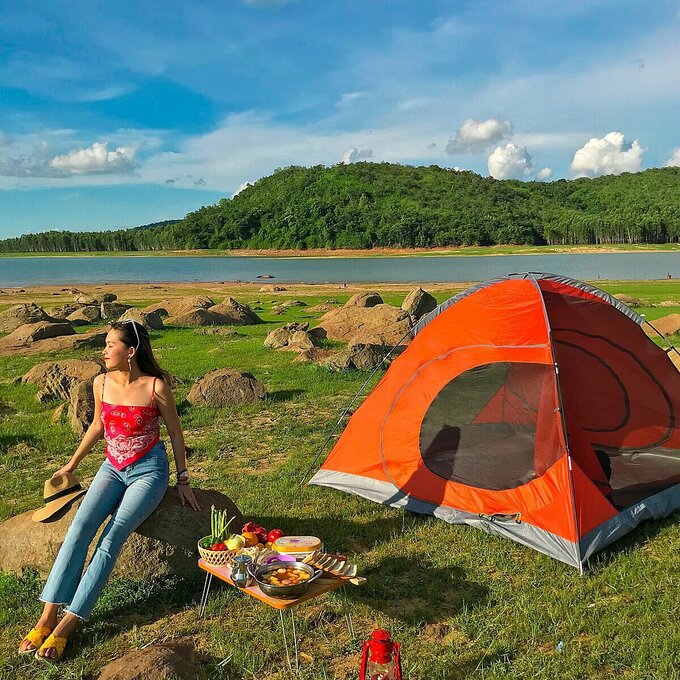 If you are a nature lover, like to experience the real thing, camping is an activity worth trying with an economical cost. Photo: Kim Ngan
Overnight camping allows you to admire the scenery of Egg Stone beach changing from dawn to dusk and then sinking into the late night. The beach is quite spacious, visitors can choose a suitable camping place to watch the whole moment of sunrise and sunset.
Dau Tieng Lake next to Da Egg beach is an ideal place for fun activities during camping trips. This is the largest artificial lake in Vietnam, the lake is calm and blue, creating a charming natural landscape, suitable for photography and sightseeing. During the hot day, you can experience boating on the lake, fresh water bathing or fishing here. The specialty of Dau Tieng lake is freshwater fish, sweet, fragrant and naturally chewy meat.
At night, the temperature drops due to the mist, which is very suitable for making campfires and organizing a cozy barbecue party with friends. In addition, you can also move to nearby famous attractions such as Ba Den Mountain, Tay Ninh Holy See, Ma Thien Lanh Eco-tourism Area… Going in a large group will help the journey more fun and memorable experience.
Eating and Overnight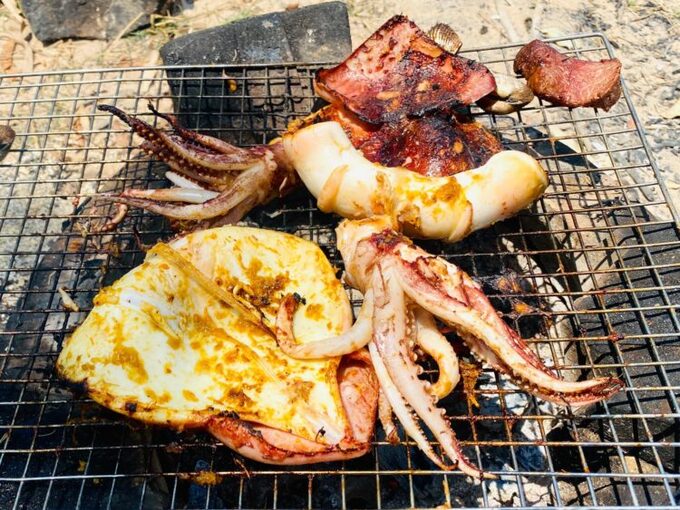 To stay overnight, visitors need to prepare enough drinks and food. Photo: Nhat Minh Marcom
Because this place is still quite wild, the area around the beach is almost empty of hotels, motels, shops and restaurants. To stay overnight, visitors need to prepare enough drinks, convenient food to bring such as snacks, fruits, instant noodles, seafood or marinated meat for barbecue.
Do not forget the important "friends" including tents, essential personal items and accompanying picnic supplies and accessories, such as: night lights, decorative lights, tables and chairs, insulation mats … In addition, outdoor camping does not have a parking lot, so it is absolutely necessary to buy extra locks to lock the car carefully.
If you are a nature lover, like to experience the real thing, camping is an activity worth trying with an economical cost. However, in the current stressful epidemic situation, all travel plans should be put on "standby status".
"Prevention is better than cure. Let's go when the epidemic is under control! Don't be in a hurry because this is a natural campsite, you can go camping at any time," Kim Ngan said. Follow vnexpress
TAG: