Top 10 children's entertainment areas in Ho Chi Minh City
Children as a very innocent white angel Hence parents must develop for the child in a holistic way, wanting to develop for children there are many ways rather than catching a child on a single track. Because each child has a different school and hobby. The parents are all a must in their daily work because of the delicate rice pieces, but spend some time on their children on holidays or weekends leading them to the amusement parks to create fun and let the children to cover their own campus. To entertainment areas with a wide variety of games will help children develop their wisdom and fitness. Here are the entertainment spots for children in Ho Chi Minh CITY.
Suoi Tien Cultural Amusement Park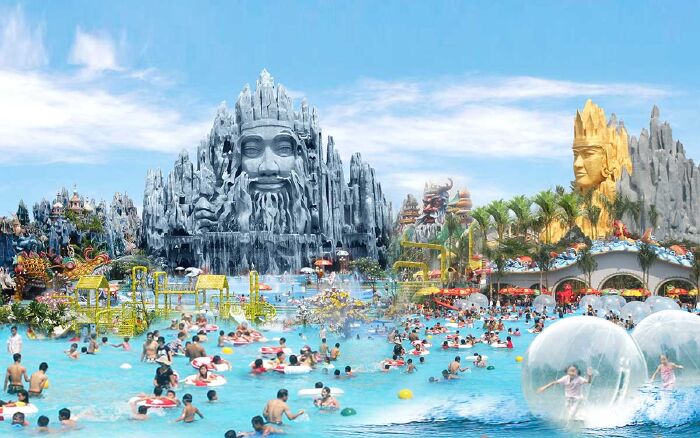 Suoi Tien familiar to the people of Saigon. Photo Source: Google

Suoi Tien was no stranger to the people of Saigon. There are many areas, games for kids spoiled for fun, underwater play area, dry play area includes a lot of games: Paragliding, Ferris wheel, Mountaineering, zipline, magic vessel,...
(120 Ha Noi Highway, District 9, Ho Chi Minh City).
Dam Sen Water Park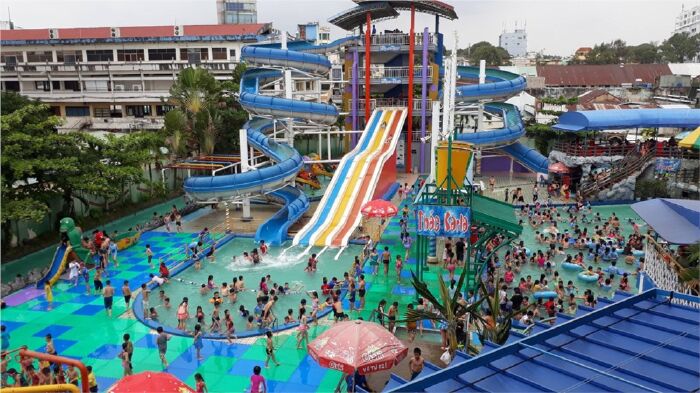 Dam Sen Water park where children's bathing delight. Photo Source: Google

This is an address that is too familiar to Saigon people. Dam Sen Water Park is an extremely suitable place for the whole family to have fun last week. Although Saigon now has many more amusement parks but with its "prime" location, dam Sen Water Park still attracts many visitors. With a water park and thousands of other exciting games spoiled for fun, discover.
No. 3, Hoa Binh, Ward 3, District 11, Ho Chi Minh City
Saigon Botanic Park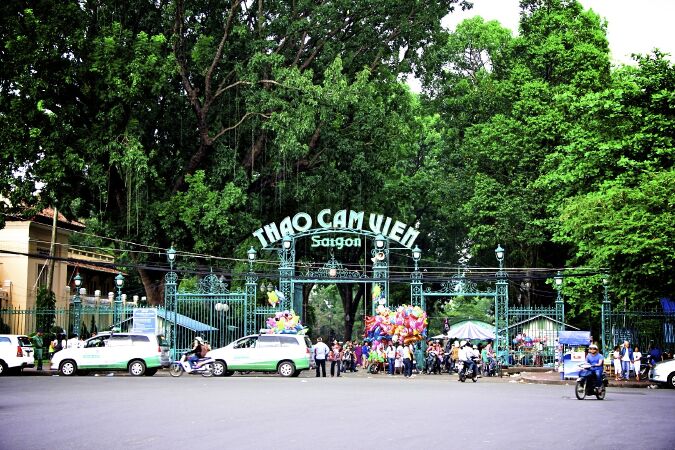 Saigon Botanical Zoo in the world. Photo Source: Google

Here he will learn about the world of animals in a vibrant and fun way outdoors with extremely vast space. The kids will be very excited and happy to have their hands on the elephants, giraffe eat, get a hike stroll in the park, have a look at the wild animals that they only usually see on television,... With a spacious space, the botanical park is a very popular place for children to explore the surrounding world (No. 2B, Nguyen Binh Khiem, District 1, HCMC).
White Rabbit Amusement Zone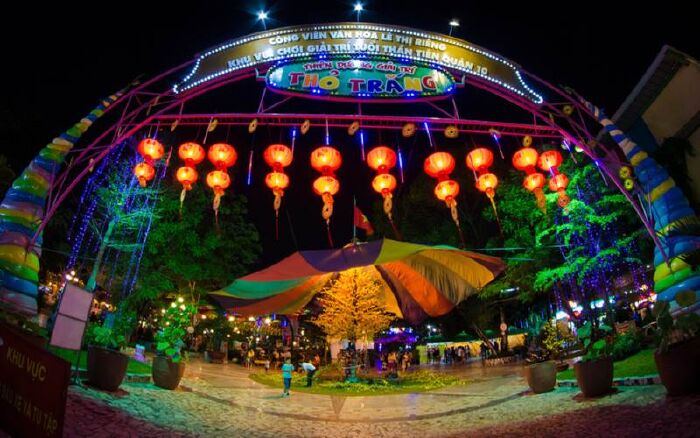 The White Rabbit-Park of Le thi Private. Photo Source: Google

This is a fun complex that has many addresses in Saigon very convenient for adults to bring children to play. This place will bring the whole family to you, especially the children, the most entertaining moments with diverse game areas, affordable prices. Free entry to both the house and the price of around 50k for games, should we also bring the children to here? It is especially evening, the more bustling the park and the shimmering.
Le Thi Private Park, Celano Tan Phu, Gia to park.
SC VivoCity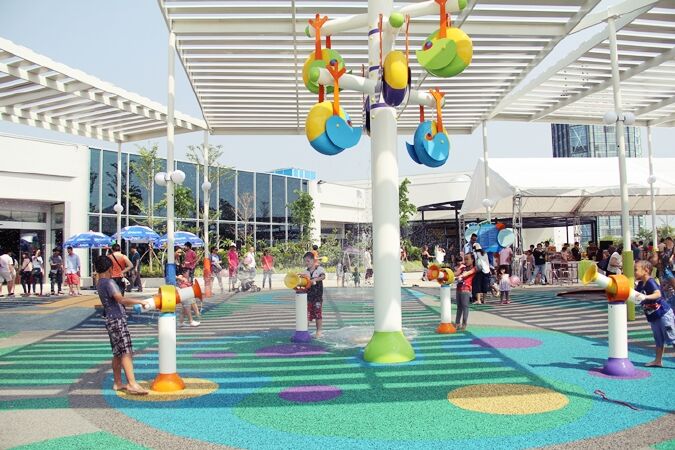 Play area for kids in SC VivoCity. Photo Source: Google

It is the location of the Sky Park Outdoor Park on the rooftop terrace. The Sky Park includes Vivo Playground and 3D wall painting area. Babies can delight in having fun on the sprinklers here.
The Apple Kids zone also features a variety of diverse games. Moreover, while the children have fun here, parents can go sightseeing, shopping delight.
Address: 1058 Nguyen Van Linh, KP. 1. Tan Phong Ward, District 7, Ho Chi Minh City
KizCiti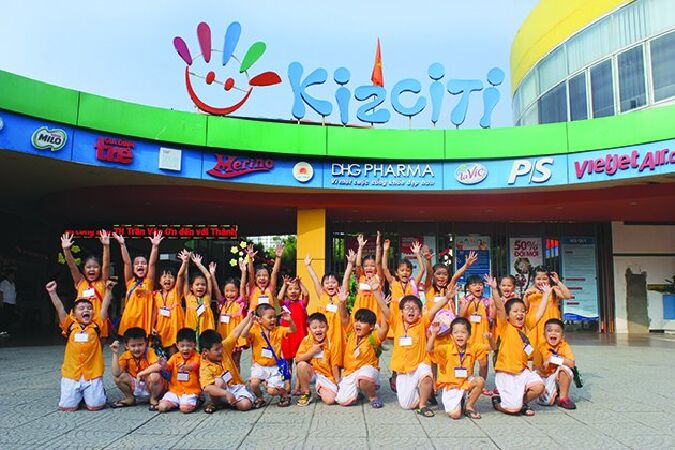 Explore KizCiti's Fun zone. Photo Source: Google

For the purpose of young children, this is the first and only miniature city that combines play and career orientation for children aged 3-15 years. Coming to this place, children are made into adults, doing the jobs they love, are empowered to do such a real "adult".
It's just a place to play, and a place for children's dreams to fly high and fly away. In addition, when going to the child will be carrying "the fruits" of their labor as a gift to the child.
Address: Khanh Hoi Park, Hoang Dieu, Ward 5, District 4
Tini world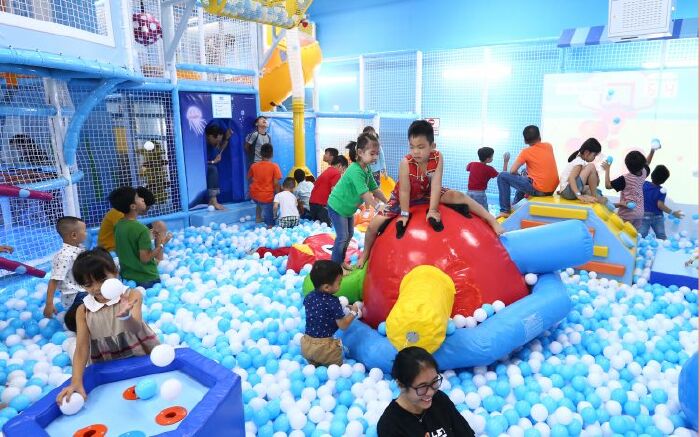 Tiniworld. Photo Source: Google

This is a fun venue that combines education ideal for small friends. It is divided into many fun areas for children to choose from: Dollhouse, Lego-shaped area, sandbox, video game area, Reading area....
In addition, Tiniworld also has an area for parents to read newspapers, drink coffee or online entertainment.
The only disks of Tiniworld:
Tiniworld Pasteur (218B Pasteur – Ward 6 – District 3),
Tiniworld Nowzone (135 Nguyen Van Cu – Nguyen Cu Trinh Ward – District 1)
Tiniworld CitiPlaza Nguyen Trai (Ground floor, 230 Nguyen Trai Street – Nguyen Phuong Trinh Ward, District 1),
Tiniworld ly Thuong Kiet (2nd Floor, 497 Hoa Binh – Ward 7 – District 10),
Tiniworld Parkson Tan Binh (60A Truong Son – Ward 12 – Tan Binh District),
Tiniworld incision (48 Hoa Su – Ward 17 – Phu Nhuan District)
Funy Land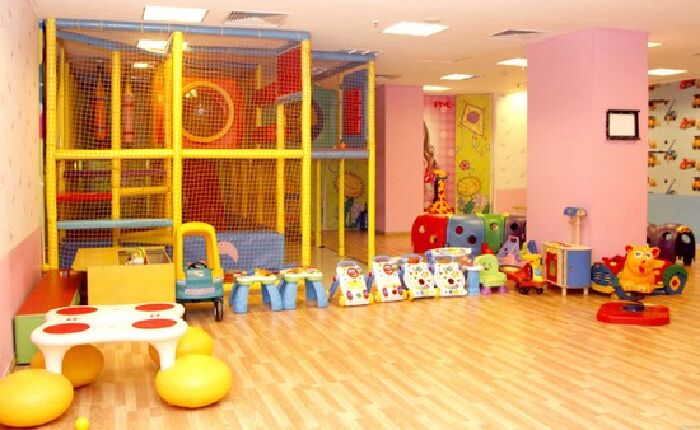 Funy Land. Photo Source: Google

Funny Land has a lot of games for kids, including the complete game: painting, painting, Lego jigsaw puzzle, with cute and friendly colors, fun space, eye-catching help baby to train fast response, patience and intelligence. Here, parents can be assured of having fun with a child or sending a baby with the existing babysitting service at the center to wander shopping and enjoy the Asian and European delights.
The advantage of this fun area is that children under 1 year old are accompanied by 1 free parent. However, Funny only for babies ages 6 – 13, limited to games with children, each child can only play within 2 hours.
Here, parents can be assured of having fun with their baby or sending a child with the existing babysitting service at the center to wander shopping and enjoy the Asian and European delights.
Sam World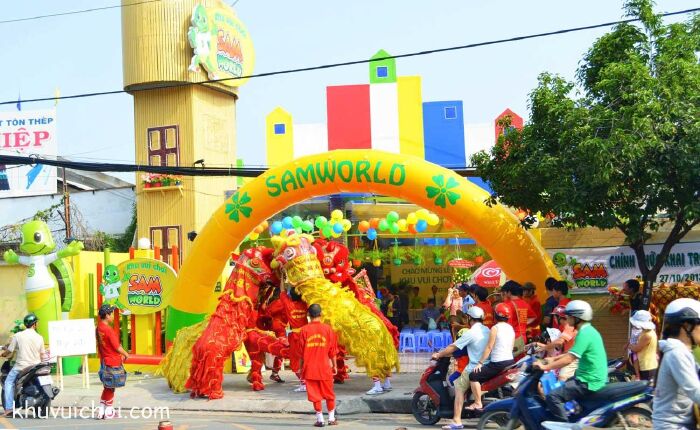 A children's play area at Sam World. Photo Source: Google

Sam World is an indoor recreation area for all ages. At Sam World are equipped with modern equipment and equipment to cater for the children's play. In particular, you will not have to worry about the sunny weather while swimming, as Sam world is equipped with an indoor water play area "coastal city" will be an interesting discovery point for those who want to adventure in the piping system, slides and a plunge pool. In addition, there are zones for self-created children such as cake area, pottery area... In addition to the children's play areas, Sam World also has an adult cafe to sit back and relax.
Vietopia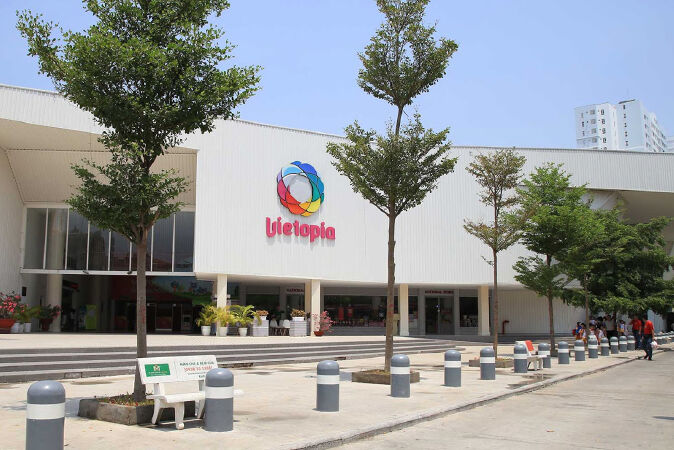 Firefighting game at Vietopia District 7. Photo Source: Google

A kind of play area for children of KizCiti breed, but located in Him Lam urban area in District 7. Here you will feel Vietopia as a miniature city or something like a school movie. This is also an interesting choice not only for children to have fun but also for the adults who are on the occasion to visit and live in the fresh air with the kids anymore.
Vietopia is an immersive education model that helps children learn about the careers and roles of each individual in society. Vietopia is designed as a real city complete with airport, hospital, fire station, bank, supermarket, radio, television station, newspaper building, theater, construction site, subway, petrol plant, training center, production plant, courthouse, CSI investigation organization...
Bringing children to play at recreation areas will help them grow physically and mentally to help them discover new things, and also have fun in crowded places who can help the children's spirit to relax, help them in making friends with new friends , it is possible to do clever things that you never did at home and help them develop their creative wisdom. Bringing children to play at real-world play is a lot of benefits for our little angels so please spend some time with our children regularly to help them grow.
Recreation area for children in Ho Chi Minh City
recreation area for children
recreation Area
Vietopia
Suoi Tien tourist area
TAG: