The 5 most beautiful tourist destinations in the North can not be missed
 With a trip to discover the North, travel lovers can choose to travel to Sapa, Ha Long Bay, Bac Ninh, Trang An – Tam Coc – Bich Dong, or Dien Bien.
Possessing distinctive cultural features, traditional festivals, historical temples and charming landscapes…, these 5 destinations promise to bring many unique experiences to visitors.
Sa Pa
Sa Pa is a familiar destination for believers who love to experience travel close to nature. If Ha Long is famous for its charming scenery, then Sapa makes visitors overwhelmed by the picture of the Northwest mountains. In Sa Pa flower season, visitors have the opportunity to "live virtual" on the roads covered with pink peach blossom, white plum blossom, pear blossom or yellow color of ripe rice… This is also one of the rare places. In Vietnam, you can experience the feeling of "snow hunting".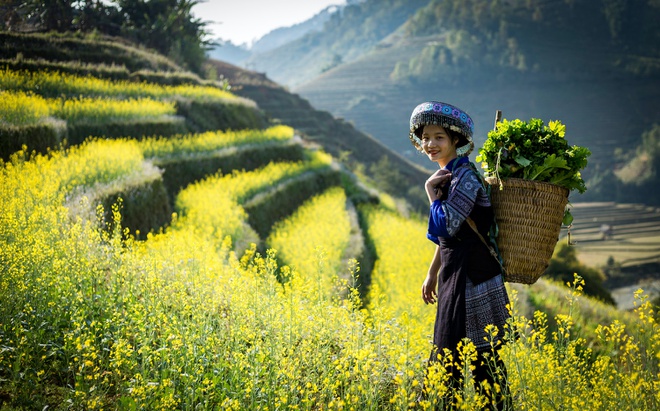 Sapa is covered with colorful seasonal flowers.
When coming to Sa Pa, visitors do not miss the local festivals such as the New Year Festival, the festival of the field, the Gau Tao festival…; visit Ta Phin and Cat Cat villages; go to the weekend market; climbing Ham Rong mountain, Fansipan peak, Muong Hoa valley; panoramic view of Sa Pa from O Quy Ho pass… Besides these attractive destinations, Sa Pa people will treat visitors with attractive local dishes such as kitchen buffalo meat, lam rice, stream fish, armpit pork…
Ha Long Bay
With a combination of nearly 2,000 small islands, caves, temples, etc., Ha Long is often compared to tourists like a realistic and vivid watercolor painting.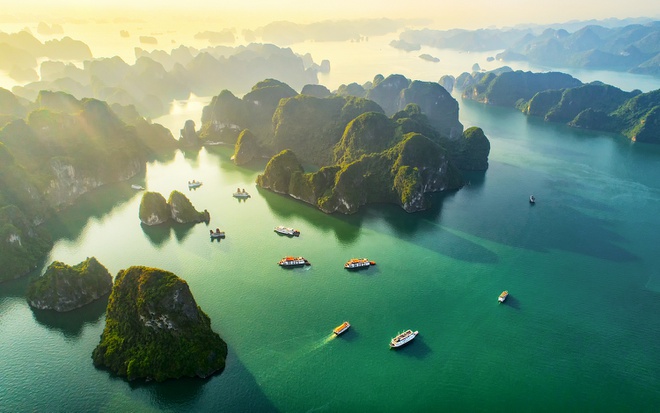 Ha Long has more than 2,000 small islands with charming scenery.
Arriving in Ha Long, visitors can explore unique stalactite and sedimentary caves. Or visitors can also take a cruise around the islands, visit local fishing villages, fish with fishermen or catch sunrise and sunset from the Gulf of Tonkin.
Van Don Airport, Quang Ninh will help visitors save travel time when traveling to Ha Long. Readers can find flights and book  tickets to Quang Ninh  on the Traveloka app.
Bac Ninh
For tourists who want to offer incense to Buddha, pray for peace and visit the pagoda, Bac Ninh is one of the places to choose. This place converges a series of ancient temples and pagodas with a history of thousands of years such as Dau pagoda, But Thap pagoda, Phat Tich pagoda, Do temple, Bang communal house… The opportunity to immerse yourself in the atmosphere of colorful traditional festivals such as Lim festival, Phat Tich pagoda festival, Do temple festival, Ba Chua Kho temple festival, Dong Ky village firecracker procession…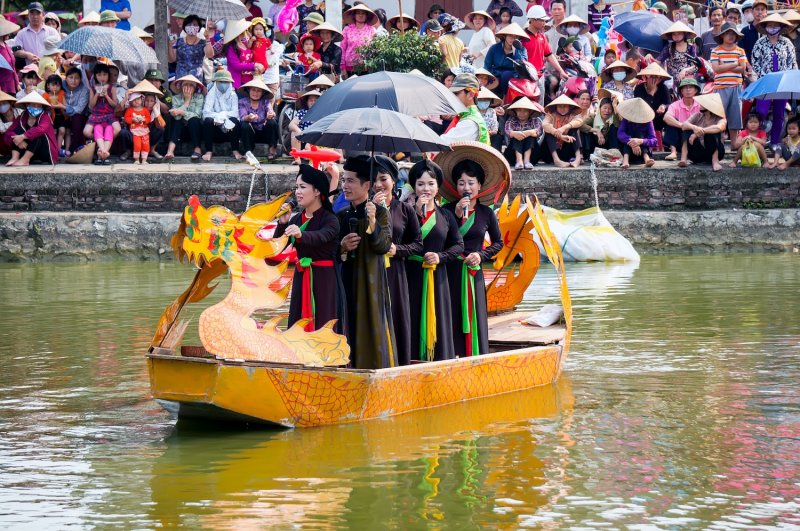 Bac Ninh is an outstanding cultural, historical and religious destination of the Northern region.
To experience the cultural beauty in Bac Ninh, visitors can enjoy the melodies from the singers of the Kinh Bac region. In addition, traditional craft villages such as Phu Lang pottery village and Dong Ho painting village will be the places to visit. Visitors also do not forget to enjoy the special dishes in Bac Ninh such as Dinh To Thai porridge, Phu thi cake, Diem village's banh khuc, Bui village spring rolls, Tich Nghi fish porridge…
Trang An – Tam Coc – Bich Dong
The trio of landscapes Trang An – Tam Coc – Bich Dong belongs to Ninh Binh province, about 100 km from Hanoi. These are three destinations known as "Ha Long Bay on land", in which Trang An owns a wetland ecosystem, trans-water caves, lakes, lagoons, valleys, and limestone mountains with ages up to 10 years old. 250 million years. Coming to Trang An, you have the opportunity to experience boating activities along the river and explore caves and limestone mountains.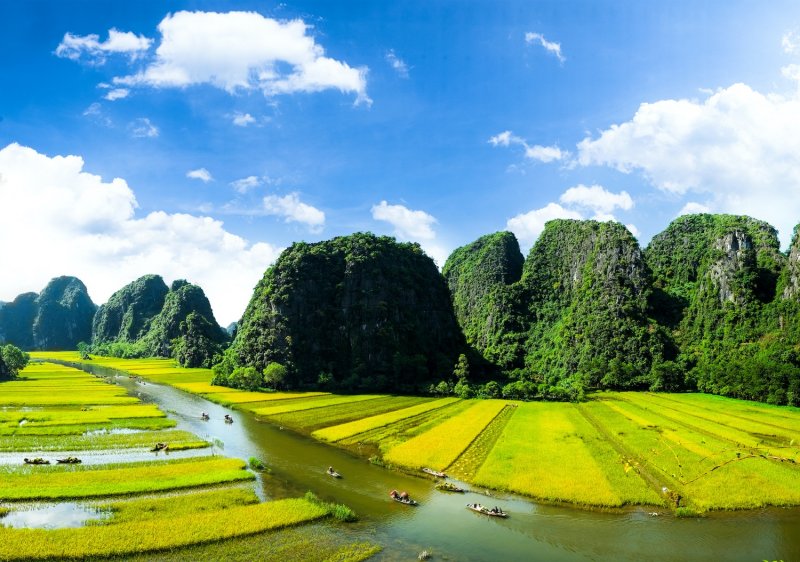 The scenery of Tam Coc in the ripe rice season.
Located in the world heritage complex Trang An, Tam Coc – Bich Dong is a combination of rice fields, sedimentary caves, limestone mountains and ancient pagodas. Besides exploring famous destinations by waterway, you can also climb mountains, walk or ride a bicycle to visit Mua cave, Tien cave, Bich Dong pagoda…
Similar to Bac Ninh, Ninh Binh has the beauty of interference between nature and religion. If you choose Trang An – Tam Coc – Bich Dong as a destination for your upcoming trip, don't miss traditional cultural events such as Bai Dinh pagoda festival, Thai Vi temple festival…
Dien Bien
Among the tourist destinations in the North, Dien Bien has a different beauty. In spring, Dien Bien puts on the pristine beauty of blooming banyan flowers, plum and peach blossoms blooming all over the hills and valleys. Going to Dien Bien, when passing one of the four great peaks of Pha Din pass, visitors have the opportunity to admire the full color of flowers in the majestic Northwest mountains.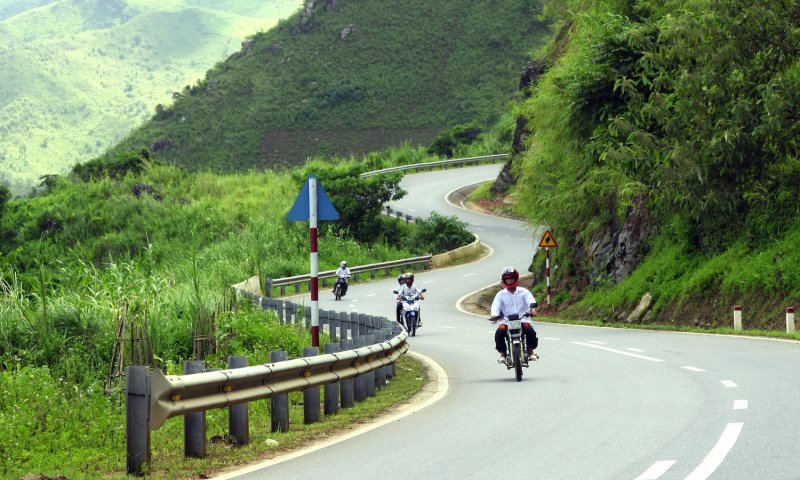 To reach Dien Bien, you have the opportunity to conquer Pha Din – one of the four great peaks of the pass.
As a land associated with many historical events, Dien Bien owns landscapes such as Dien Bien Phu Victory Monument, Muong Thanh field, A1 hill, Pa Khoang lake… Visit ethnic villages such as Men, Co My, Ten, Phieng Loi to enjoy the cozy atmosphere in the kitchen space on stilts, sip a glass of wine from the friendly locals. At the end of the journey, you can spend time checking in at Hang Tom bridge, Pa Thom cave – Xa Nhe or relaxing at Uva hot spring.
For a cost-effective trip, readers access the Traveloka online travel app to update flight ticket information, accommodation as well as receive many incentives. According to zingnews
TAG: