Visit beautiful Ninh Thuan tourist spots and forget the way back
Ninh Thuan is not only famous as a land of fruit-laden vineyards but also known to many tourists for its romantic natural landscape and beautiful pristine beaches. If you have the opportunity to set foot here, you must definitely take the time to visit these impressive Ninh Thuan tourist sites.
Popular Ninh Thuan tourist attractions for tourists
1. Nui Chua National Park
If you are wondering  where to go in Ninh Thuan, what to  do, consider visiting Nui Chua National Park – a place known as the green pearl in the heart of the desert. Arriving in the national park, you will easily feel the peaceful, fresh space, with a jade-green beach, surrounded by beautiful primeval forests. Going deep into the forest, you will discover more mysterious caves, and primates are living and preserved here. In general, Nui Chua National Park –  This famous Ninh Thuan tourist destination  will bring a lot of interesting experiences for you.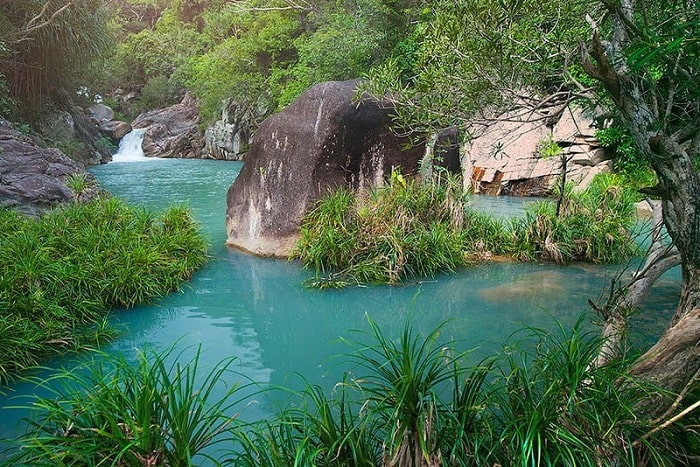 Romantic natural space of Nui Chua National Park vườn
*** Address of Nui Chua National Park: Located in Thai An, Ninh Hai, Ninh Thuan.
2. Ba Moi Vineyard
Famous as a land for growing grapes, when you come to Ninh Thuan, don't forget to visit Ba Moi vineyard here. When you come here, you will see a huge vineyard, all planted in rows, in rows, bunches of grapes are heavy with branches, hanging down below. If you are lucky to go in the ripe grape season, you can easily pick and enjoy right at the garden. Not only that, this unique space also creates a lot of beautiful photos for virtual believers. Therefore, Ba Moi vineyard has also become a beautiful place to visit and check-in in Ninh Thuan,  attracting many young people.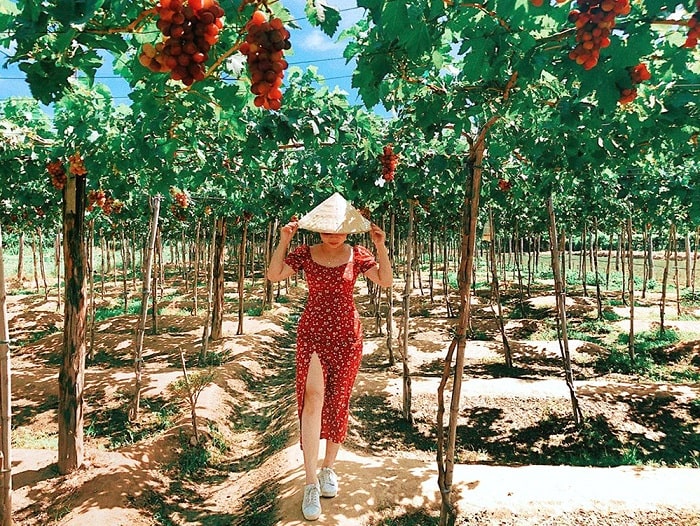 Check-in virtual living in Ba Moi vineyard
*** Address of Ba Moi vineyard: Located in Hiep Hoa, Phuoc Thuan, Ninh Phuoc, Ninh Thuan.
3. Bau Truc Pottery Village
In  the unique and impressive Ninh Thuan tourist attractions,  surely no one is unaware of Bau Truc pottery village – which is known as the oldest pottery village in Southeast Asia that still exists and operates until now. hours. According to statistics, in Bau Truc Cham pottery village, there are about 400 households, of which more than 80% of people are engaged in pottery. Coming here, you will be able to see with your own eyes a lot of handmade ceramic products, carved with different delicate patterns. Along with that, visitors also learn and discover about the process of creating ceramic products here, as well as the standard firing process of the Cham people. More importantly, you will experience making your own products.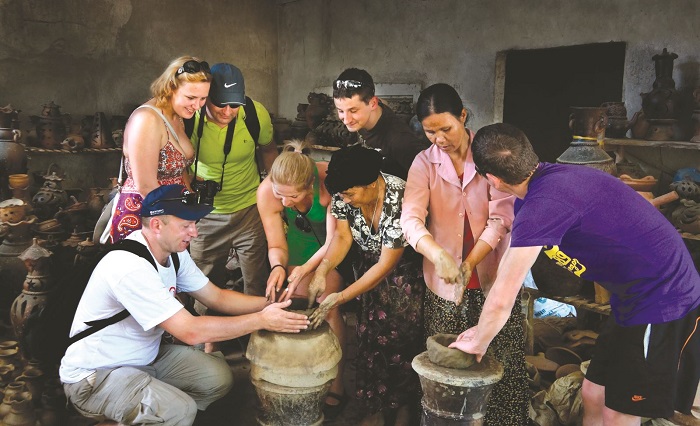 Experience making pottery in Bau Truc pottery village
*** Address of Bau Truc pottery village: Located in Phuoc Dan, Ninh Phuoc, Ninh Thuan.
4. Po Klong Garai Tower (Cluster of Cham towers in Ninh Thuan)
As an ancient tower, built for a long time from the late 13th century to the early 14th century, Po Klong Garai tower possesses a unique and impressive architectural design. The tower is located in a prime location, on the top of Trau mountain, so you can also see the majestic beauty from afar. Most of the system of Cham towers here are built of red terracotta that is put together, creating delicate lines. Around the tower is a green natural scene, creating a fresh atmosphere where you can relax and unwind. Therefore, this is also an interesting tourist destination in Ninh Thuan that you should not miss.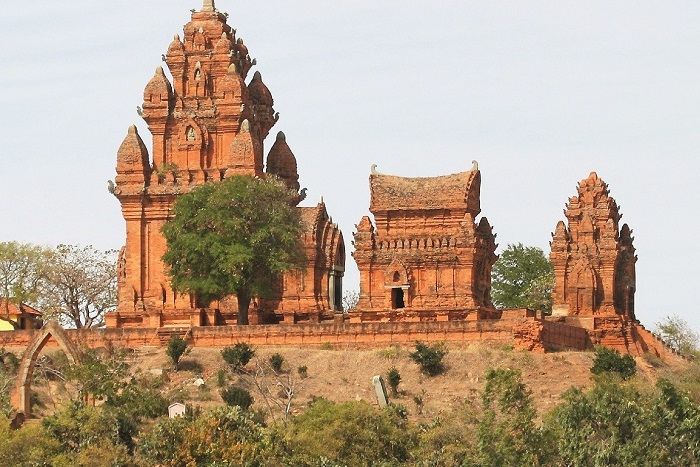 See the unique design of the Po Klong Garai tower
*** Address of Po Klong Garai tower: Located in Bac Ai, Do Vinh, Phan Rang – Thap Cham, Ninh Thuan.
5. Vinh Hy Bay
Many people say that, coming to Ninh Thuan without setting foot in Vinh Hy Bay is considered as not coming here. Because this bay is known as the most famous and attractive Ninh Thuan tourist destination . Owning a wild, romantic natural landscape, blue sea, white sand, golden sunshine, is a great resort. This perfect combination of forest and mountain tourism is something that not everywhere can have. Therefore, take your time to Vinh Hy Bay to have memorable experiences. In addition, with the majestic natural scenery, this 'backround so deep' will be the ideal place for you to check-in virtual living.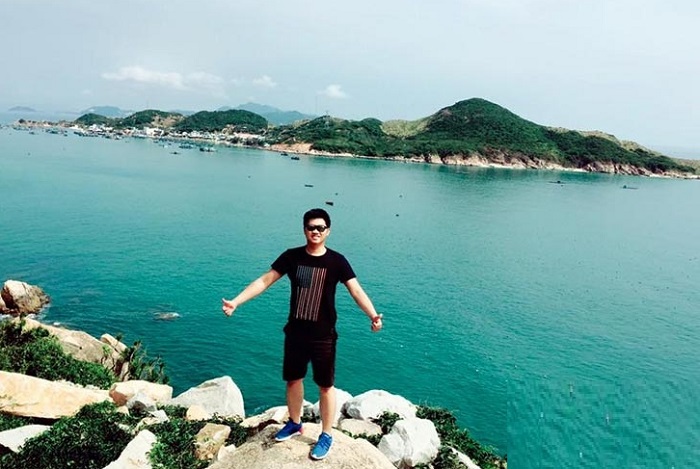 Explore Vinh Hy Bay
*** Address Vinh Hy Bay: Located in Vinh Hy, Vinh Hai, Ninh Hai, Ninh Thuan.
>See more: The most complete and detailed Vinh Hy Bay travel guide
6. Binh Tien Beach
Which tourist attractions in Ninh Thuan are beautiful and famous? If you love the sea, then Binh Tien beach resort will be a great stop. Although it is not a hot tourist destination like Vinh Hy Bay, this place is like a "hidden gem" that has not been affected much by human hands, so Binh Tien beach still retains its inherent wild beauty. The road to Binh Tien beach is quite difficult, you will have to cross challenging zigzag passes. When you arrive, a beautiful scene appears before your eyes, with clear blue sea water that can see the bottom, coral reefs with diverse and impressive shapes and colors, guaranteed to make you fall in love. .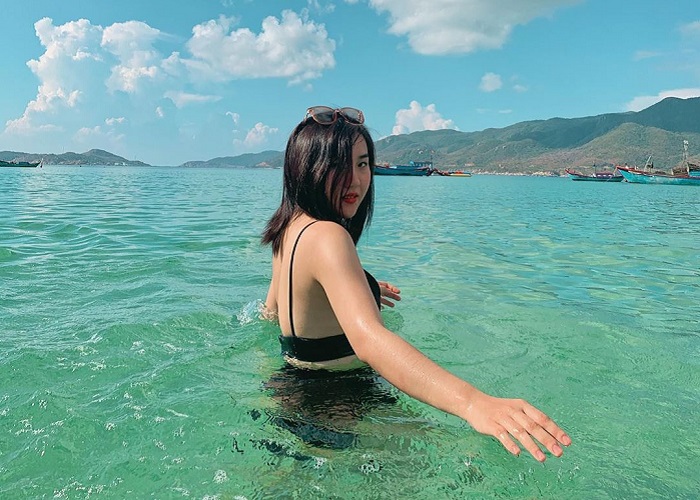 Immerse yourself in the cool, clear blue beach in Binh Tien beach
*** Address Binh Tien beach: Located in Cong Hai, Ninh Thuan.
In addition, there are still many other attractive Ninh Thuan tourist attractions, if you have time you should also visit such as: An Hoa sheep field tourist area, Tanyoli, Mui Dinh. Sakai waterfall, Horn Trau stream,…
Ninh Thuan tourism with many great choices and each destination will bring you different experiences. Therefore, hope that these famous Ninh Thuan tourist attractions will help you have more choices and have a memorable journey to discover the "country of grapes". Have fun playing!
Photo: Internet
TAG: