Top 5 interesting places to visit and travel near Hanoi
If you are looking for places to stay near Ha Noi, without knowing which points to choose? 5 Tourist attractions Here are some of the attractions to make sure you are satisfied, satisfy your passion for travel with friends. These locations are not only attractive but also very close and convenient so that visitors can navigate and explore the day. What are you waiting for without a quick hand option right away for yourself in the tourist location near Hanoi to go to the appropriate holidays or weekends.
Ba Vi National Park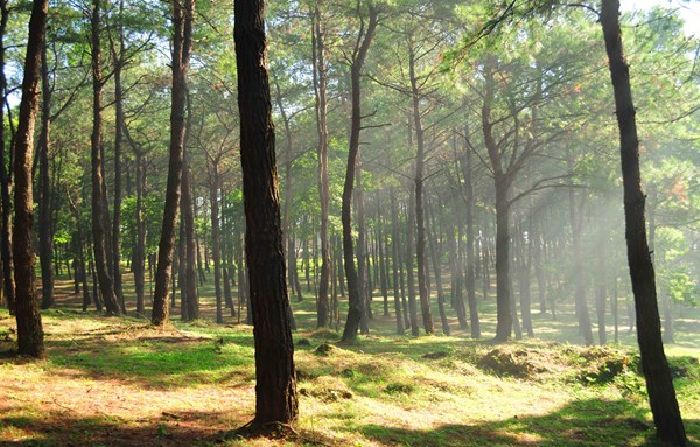 Ba Vi National Park

50km west of Hanoi, Ba Vi National Park in Tan Linh commune, Ba Vi district is just over an hour away, you have "escaped" from the hustle and bustle of the city and can mingle into the cool, fresh air here. Visitors can ride a motorbike to enjoy a free adventure, can ride a motorbike to the top of Ba Vi Mountain, climb to Thuong Temple and Uncle Ho Temple, on the way down to visit the Falling Church and Feel the pure taste of the mountains. In addition, emerging cactus garden in Ba Vi National Park is also a place for you to produce "extreme" photos. With winding mountain roads, zigzag full of adventure, Ba Vi is also an attractive choice for those who want to experience the feeling of adventure.
This is definitely a great idea if one day before graduation, you want to have a photo with your friends. What are you waiting for? Do not plan to carry your backpack to Ba Vi to "camp".
Ham Lon Mountain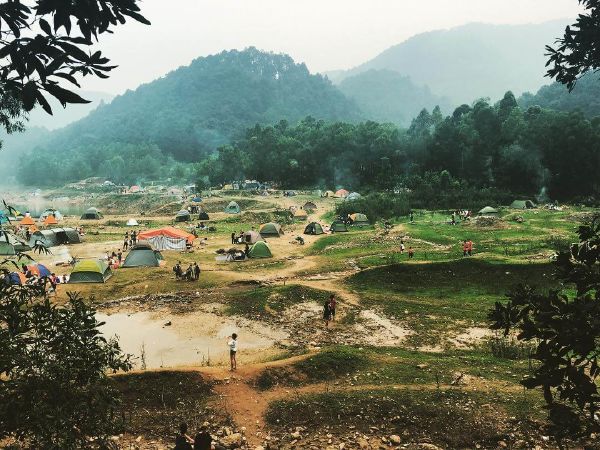 Ham Lon Mountain

Address: Ham Lon, soc Son district, Ha Noi
Ham Lon Mountain (in Ham son, Soc Son district) is a favorite destination for many young children to organize outdoor excursions. Just 30-40km from Hanoi, with natural space untouched forest pristine, airy, friends can travel by motorbike is very convenient, it only takes about 1 hour drive. Alternatively, you can bring your own food from the house, then rent services such as tents, camps and firewood in the Foothills area. There are no food and beverage services on the mountain. The cost to enjoy short stay at the swine ham is very cheap. With just about 300,000, you have the time to rest, relax at the pristine mountain of forest right in the city of Hanoi.
Tam Dao town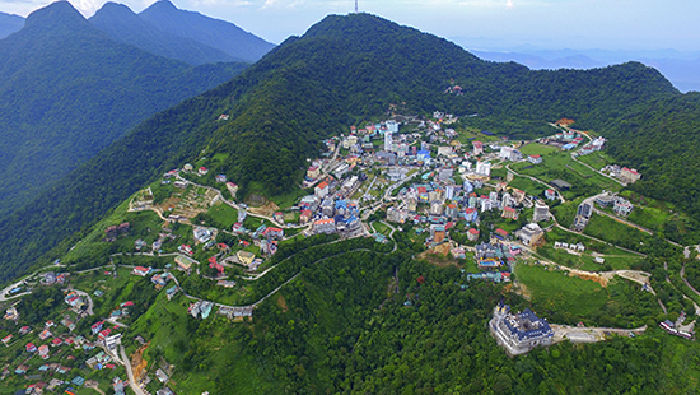 The misty town of Tam Dao

Address: Tam Đảo district, Vĩnh Phuc province
Tam Dao tourist resort is located in Tam Dao town, Tam Dao district, Vinh Phuc province, about 80km from Hanoi.
Dubbed "Da Lat in the North", Tam Dao possesses a great advantage with cool weather all year round. Each season of Tam Dao will give visitors a very unique experience and feel. Tam Dao always has lower temperatures than Hanoi, so in the summer, this is a convenient place for people to travel, avoiding the heat of the capital. In winter, this place brings a romantic and quiet beauty with dense haze, covering the whole sky and sky.
This is also an interesting place for those who love the roads. Those who have trek Tam Dao most admire in Tam Dao have unique routes that are worth exploring, even fascinating and adventurous. than conquering Fansipan peak. Covering Tam Dao are forests that change continuously according to the height of the mountain, from pristine moist tropical forests with large trunks, large leaves, interlaced vines, to conifers, low trees and bushes. humid, secondary forest planted acacia and eucalyptus at the foot of the mountain and halfway up the mountain. Up close to the top of the mountain are vast bamboo forests with small, firm, straight, dense, dense green leaves. Walking in the bamboo forest, with a hint of smoke created by the height, gives you the feeling of floating around the space ...
Moc Chau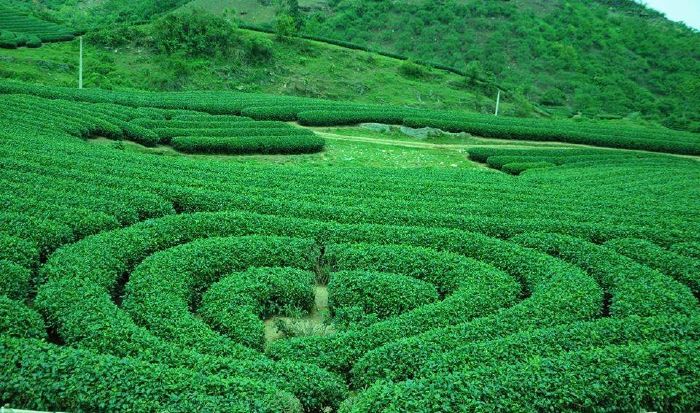 Moc Chau

Moc Chau Son La is about 300km from Hanoi.
It carries in itself the immense green tea hills, the highlands full of life, white silk woven from thousands of broccoli, warm cup of intoxicating corn wine, ... all attracted anyone once set foot. to this place.
This place is like `` Da Lat Northwestern mountain ''. Moc Chau welcomes visitors regardless of winter or summer, golden days or foggy days. In any case, this land has a beauty that is hard to say in words, you can only walk and feel. The plateau is dubbed the "paradise of flowers" because of what time of year , visitors coming here are also infatuated with countless beautiful flowers. "Poetry" is a word that can cover the beauty of Moc Chau mountains. In addition, Moc Chau also owns many historical monuments such as Son Moc Huong cave, Chuan Vien pagoda, strip Yem waterfall, Phieng peak. Luong, and the cultural versions of the Mong and Dao people in Van Ho, Moc Chau with folk songs and folk songs and green tea gardens will keep visitors from blooming.
If you are interested in exploring the routes, you should not miss to visit Moc Chau. Moc Chau has always been a pristine, beautiful plateau with visitors throughout the four seasons.
Ha Giang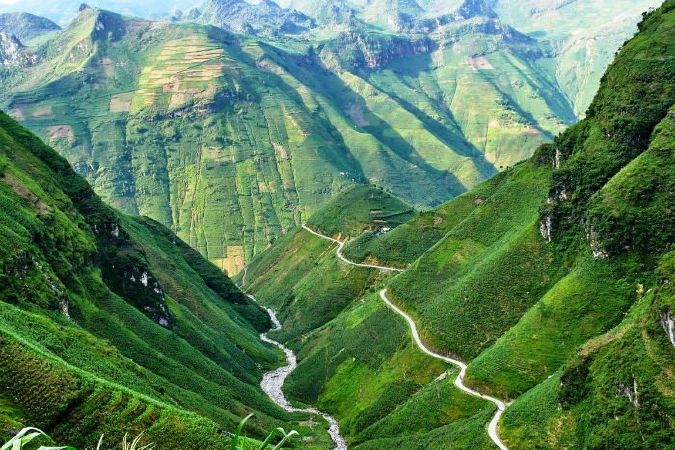 Ha Giang

Ha Giang - the leading land of Vietnam with a cool year-round climate, fresh air is an attractive tourist address for visitors. Coming to Ha Giang, you will admire many majestic and spectacular landscapes such as Dong Van plateau, Quan Ba ​​double mountain, King Meo palace, Ma Pi Leng pass, Lung Cu flagpole, and many rapids, caves Interesting will bring you great experience.
Ha Giang is also an extremely attractive place for backpackers or professional photographers who want to experience the rugged mountain passes, extremely beautiful and pristine landscapes. as beautiful as ha Giang. At the beginning of the year with the white rose of plum blossoms, the middle of the year is the season of tumultuous water, the end of the year is the fragile beauty of the triangular flower that floods the rocky plateau ... Ha Giang has 2 hot months. especially June and July. Although it is called hot, the average temperature is only about 27 degrees Celsius, and the atmosphere of Ha Giang at this time is still very comfortable and comfortable.

The above are 5 interesting places that will surely bring you a comfortable and wonderful feeling of having 1-0-2 in your life. What else to bother without carrying your backpack and go with friends!
Travel
road trips
near Ha Noi
TAG: