Quang Tri tourism visit Gio An ancient well to admire the 5,000-year-old treasure
Gio An ancient well in Quang Tri attracts visitors with its unique architecture and fresh natural space. If you have the opportunity to visit the Land of Fire, once visit this ancient well with more than 5,000 years old to admire and relax.
Where is Gio An ancient well in Quang Tri?
Gio An ancient well is located in Gio An commune, Vinh Linh district, Quang Tri province, about 20km from the famous Cua Tung beach. This ancient well is also known by many different names such as: Trang well, Bung well, Kinh well, Tep well, Ong well, Ba well, Under well, Coi well, Loi well… Besides the role of water supply. For irrigation to serve the people's living and production needs, the ancient well of Gio An Quang Tri is also a famous historical and cultural relic that attracts tourists.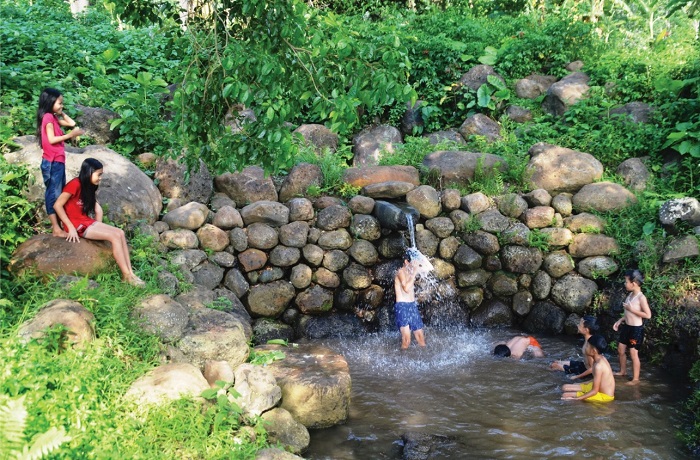 Gio An ancient well is a famous place in Vinh Linh district

How to go to Gio An ancient well in Quang Tri
Gio An ancient wells center around 21km Vinh Linh district, so travel experience Quang Tri to get to this place you are traveling by bus, plane, train or motorcycle to get to Vinh Linh. Note, for those who are far away like Hanoi/Saigon area, you can take a plane to Dong Hoi airport and continue to take a bus to Vinh Linh. Or you can take the train to Dong Ha station and then take a taxi or rent a motorbike to actively go straight to Gio An Quang Tri ancient well. 
If you ride a motorbike, you will be more proactive in travel time than other means of transport, but only suitable for those who live nearby. Starting from the center of Vinh Linh district, you go in the direction of DT76 street, turn left through the cultural house of Hao Son village -> turn left into DDT75 -> go through Gio An commune People's Committee about 98m -> pass Phan Nhat computer center -> turn right at Son 113 -> turn to Hien Luong bridge -> turn left to Ho Xa – Cap Lai to reach Gio An Vinh Linh ancient well .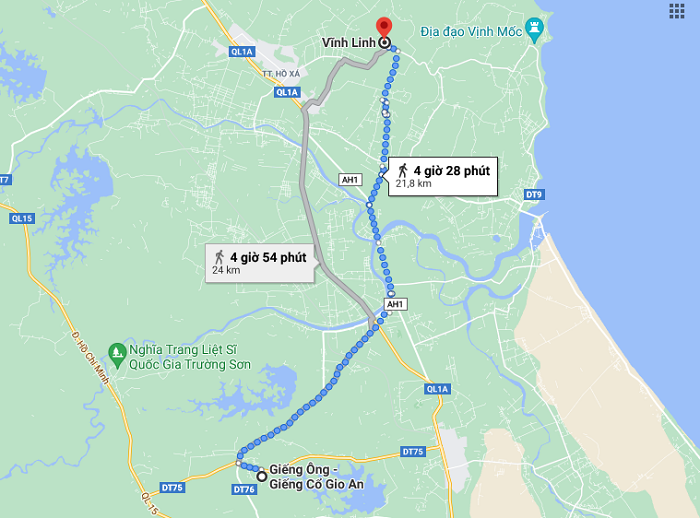 How to go to Gio An ancient well in Quang Tri

Admire the unique ancient Cham well in Gio An Quang Tri
The ancient well of Gio An Quang Tri is unique in that, the system of ancient wells is located under hills with different slopes. Because in the past, when building this ancient well, people wanted to take advantage of the underground water flowing out of the hill, so they divided it into many systems to serve irrigation purposes. That is also the reason why the ancient wells built by the Cham people here never run dry and are always green and cool. For the people of Gio An, this ancient well is considered a treasure that plays an important role in their daily life.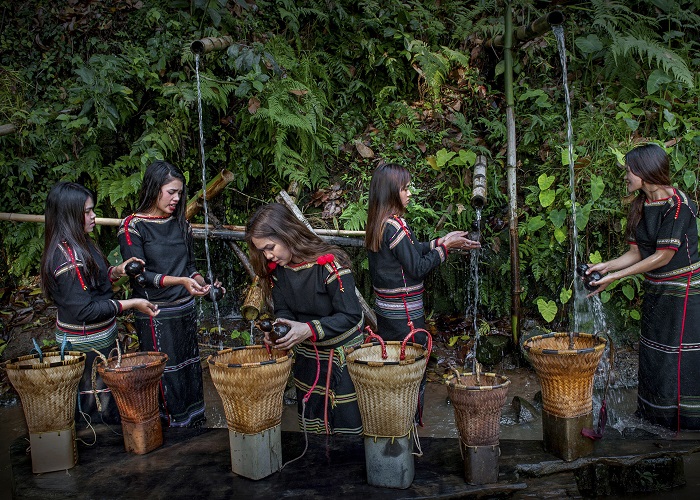 Gio An ancient well is associated with the daily life of the people here

Learning about this ancient well, archaeologists have researched and shown that the Gio An ancient well system dates back to the late Stone Age about 5,000 years. There are two types of wells that the Cham build depending on the difference of water and water source. It is the type based on the natural water source including ancient rock and sedimentation tank overflowing into the reservoir. The second type is dug well, which uses clean fresh water from deep in the ground to have a strong groundwater source. When the geysers and rock molds are stacked, it will create conditions for the water level to rise and spill out of its own mouth.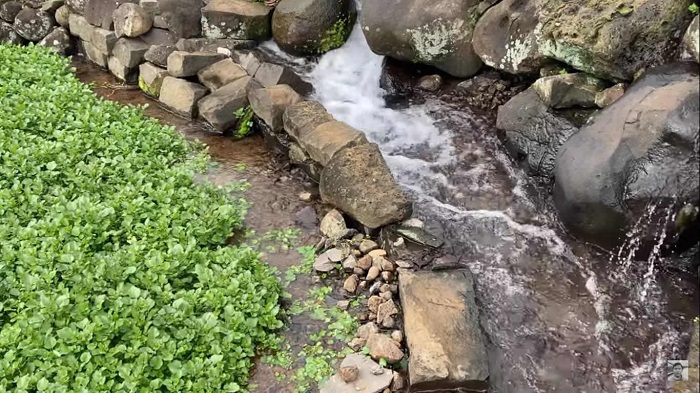 Each water source serves the irrigation needs of the people in the area
Gio An ancient well in Quang Tri has long become the subconscious of the Gio An people. Of all the communes in Gio An, only two villages do not have ancient wells, only the remaining six ancient wells located along provincial road 75 have ancient wells. However, the cluster of ancient wells from the greeting gate of Hao Son village about 500m away is the cluster of Ong – Ba well – Gai well. The reason for the name of the well is because the ancients stipulated that it was only used to bathe virgins, so it was called so to distinguish.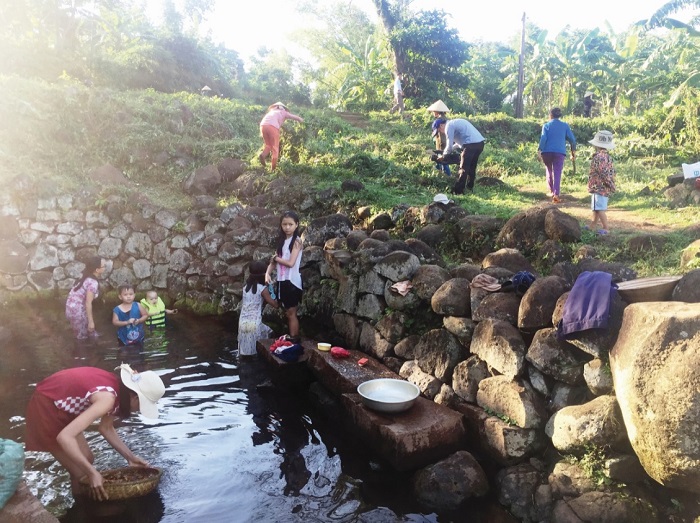 It is also the place of daily living of people in the commune
Also called Gai well because around the well there are many types of plants that are used to make gai cake. The entire system of ancient wells in Gio An has great significance in terms of daily life and cultural and artistic values, becoming a unique type of eco-tourism created by the Cham people.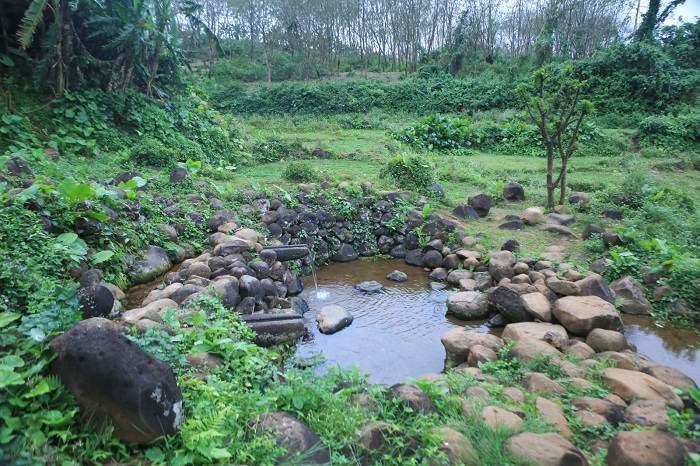 Beautiful view of the ancient well of Gio An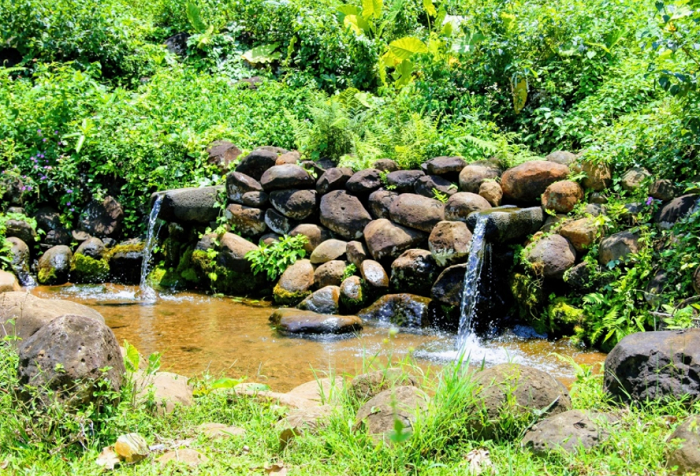 Destination not to be missed in Vinh Linh Quang Tri
Notes when visiting the ancient well of Gio An Quang Tri 
Here are some necessary notes you can refer to when visiting Gio An ancient well in Vinh Linh district : 
– If traveling by motorbike, you should bring all necessary documents and keep a safe speed throughout the journey. 
– Gio An people often cool off at the ancient stream, so you can bring clothes to enjoy the cool water in the well. 
– Gio An people are very friendly and hospitable, if you want to learn more about the history of the ancient well, you can meet fresh old people who are ready to advise visitors.  
– Note that visitors are not allowed to litter indiscriminately around the ancient well area. 
– You can combine visiting famous places in Vinh Linh district such as Ben Hai River and Hien Luong bridge , Mui Lay Lighthouse, Con Co island, Cua Tung beach …
– In terms of food, you can enjoy a lot of attractive specialties such as: Wet cake with filter flour, soup, stewed corn, vermicelli with mussels, buffalo meat with leaves, bed porridge… Refer to Gieng Que restaurant (Ho Xa town), Cay Co restaurant (Tran Phu), beef porridge restaurant (Tran Phu), Long Gio restaurant (Vinh Kim)… 

Gio An ancient well in Quang Tri has many profound values ​​and is increasingly sought by people and has become an attractive tourist attraction. So, if you have the opportunity to travel to Quang Tri , once come to Gio An commune and admire the ancient wells here.  
Photo: Internet
TAG: