Discover Kinh Chu Cave – The hottest 'Nam Thien De Luc Cave' in Hai Duong
Considered as the 'Nam Thien De Luc Dong', the sixth most beautiful cave in Vietnam, Kinh Chu cave in Hai Duong province is an attractive tourist and sightseeing destination for tourists from near and far. 
The natural scenery of Hai Duong has long made people's hearts moved by its peace and abundance. Referring to Hai Duong, people not only remember the famous mung bean cake but also the landscapes here that make many people fall in love. One of the most famous landscapes in Hai Duong is Kinh Chu cave. The place has great beauty from the landscape to the cultural and historical values ​​with a treasure of valuable ancient epitaphs of famous gods and celebrities 7 centuries ago.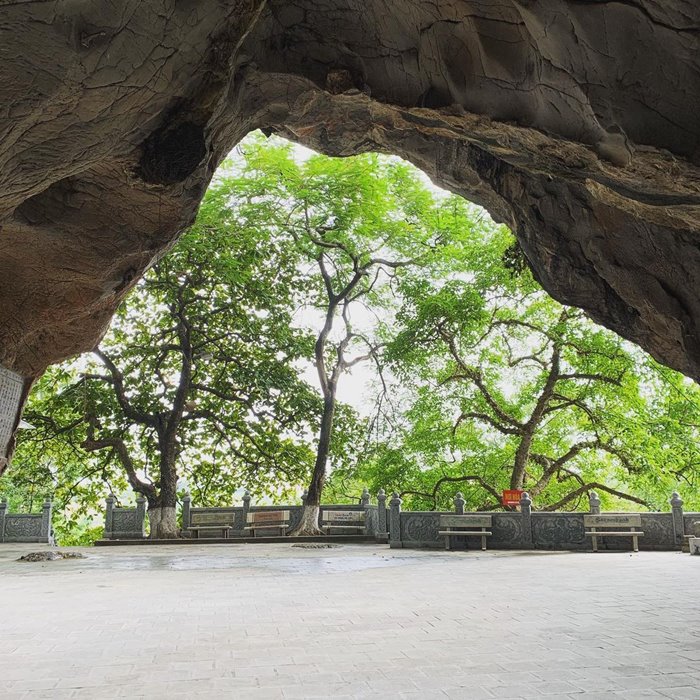 Kinh Chu Cave in Hai Duong is a famous scenic spot. Photo: @chick297

Glass Cave the beautiful landscape of Hai Duong 
Kinh Chu cave, also known as Duong Nham cave, is located in Duong Nham village, Pham Thai ward, Kinh Mon town. This place is an important part of a special national relic cluster including An Phu temple – Kinh Chu cave – Nham Duong pagoda. The name "Nam Thien De Luc Dong" is the title given to this place by King Le Thanh Tong himself.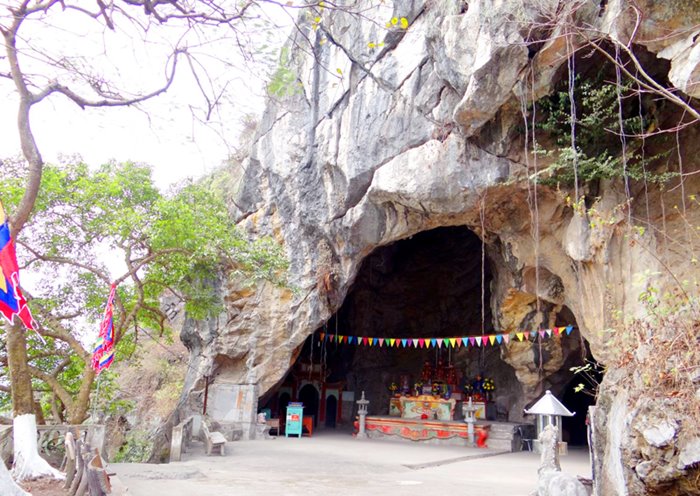 This place is named "Nam Thien De Luc Dong", which is the 6th most beautiful cave in the South. Photo: Ximgo

Kinh Chu Cave is located at an altitude of 20m from the foot of the mountain and is located above the Kinh Thay River. The East has the door facing Duong Nham mountain with beautiful scenery of the peaceful countryside, where there are fields and picturesque villages. Because it is located right on the mountain with many luxuriant trees, this place still retains the inherent wildness with green color all year round. Not as dark as many other natural caves, Kinh Chu cave is still full of light, airy and cool, and is an ideal summer place for local residents.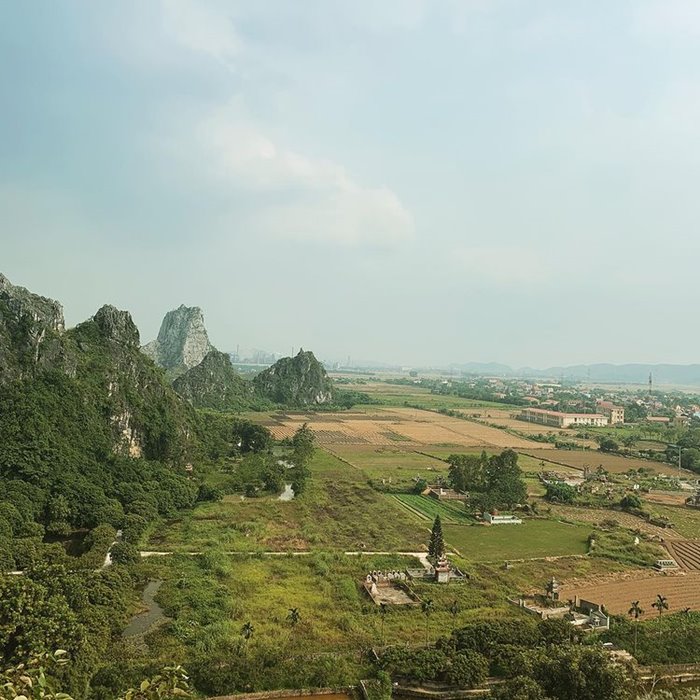 View from Glass Master Cave. Photo:@chick297
> See more:  Visiting the sacred Hai Duong Painting Temple 'gets whatever you want
Hai Duong Kinh Chu Cave consists of many mountains connecting each other, creating a very impressive scene, if you take a walk around the mountains, visitors will have the opportunity to admire the very cleft caves. pretty. In this Duong Nham mountain area, there are still many interesting caves such as Luon cave, Vang cave, Trau cave, Tien Su cave… Thanks to that, it has created a unique landscape for the whole mountain area. From Kinh Chu cave, visitors can zoom out to see the mountain of Cho Troi or Thap But which are the highest mountains of Duong Nham range or An Phu peak, Tran Lieu temple, Cao pagoda and Kinh Mon town.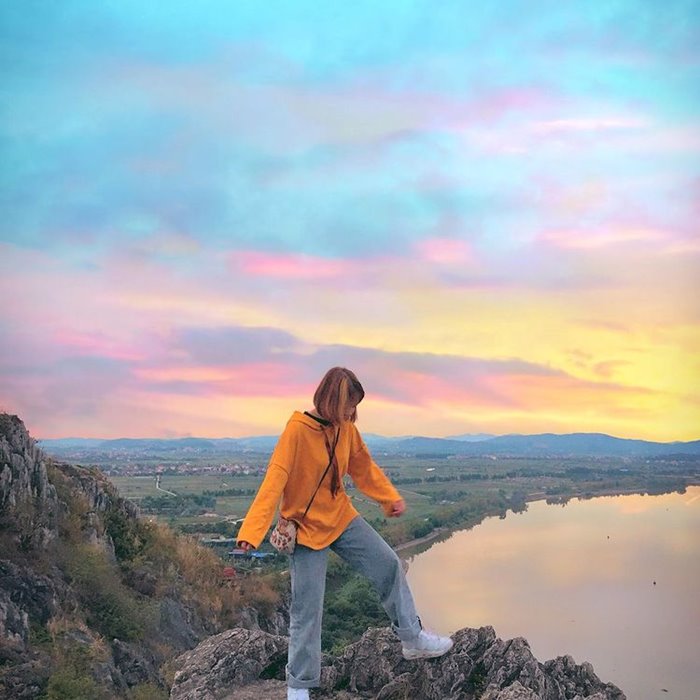 Coming to the main cave, many young people like to go around the mountain. Photo:: @phung_hien00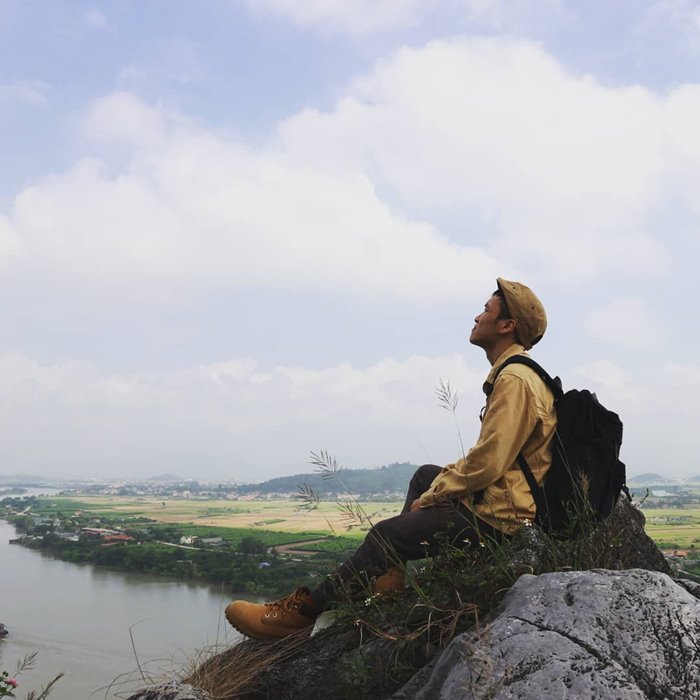 The view looks very chill from the top. Photo:@duc.phuong.94

Visiting Kinh Chu Cave, visitors will admire the strange scenery with two bell-shaped cave arches that are skillfully cut off, followed by a clear stream. The dome of Kinh Chu cave was once inhabited by thousands of bats. In the cave, there is also a pagoda to worship Buddha and King Ly Than Tong.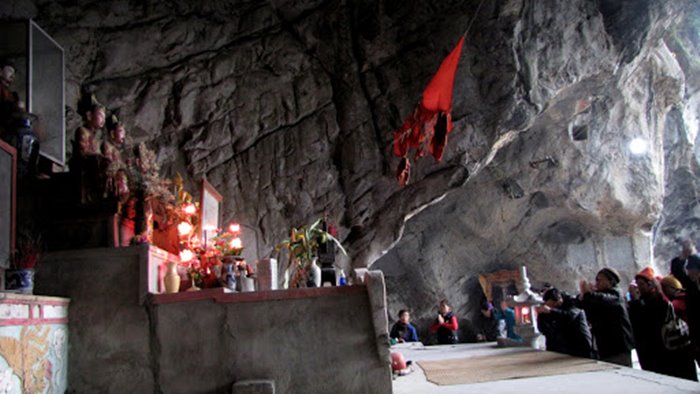 Worshiping area inside the cave. Photo: baohaiduong.com

Go to the entrance of the cave and turn to the West, in the lower area you can visit the Tam Phu Mausoleum. Although it was destroyed when the French colonialists invaded in 1950 or the American invaders bombed in 1967, the cave still retains its distinct beauty and preserves the epitaphs or sculptures of the ancients. .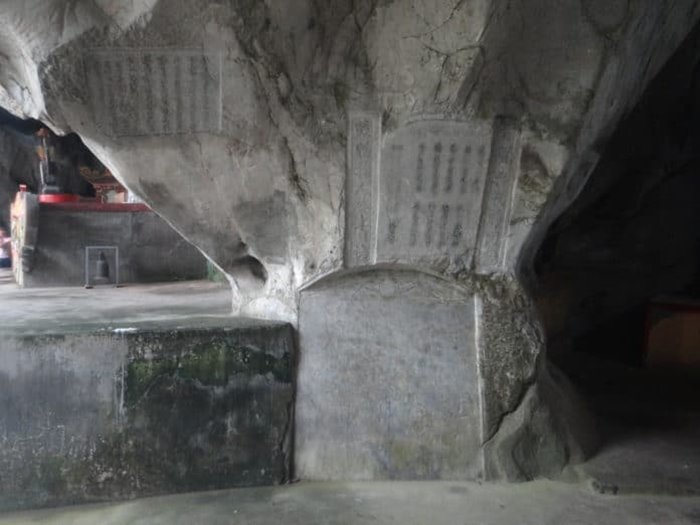 Epitaph in Kinh Chu cave. Photo: mekongsesan.vn

The precious epitaphs at Kinh Chu cave are considered precious heritages that not all caves are lucky to have. The system of steles at Kinh Chu cave is considered a national treasure, there are 54 steles carved into the cliffs and distributed in many places in the cave from low to high, with stele on the dome of the cave. A special thing is that even though it was destroyed, the epitaphs in Kinh Chu cave still remain intact with the geographical words XIV-XX. According to historians, the authors of these inscriptions are the King, the great mandarins, wanderers, and teachers… All the inscriptions on the stele are in Nom and Quoc Ngu, the content talks about Hau Buddha, registration of doctorate, names of members of the Association of General Honorable Men…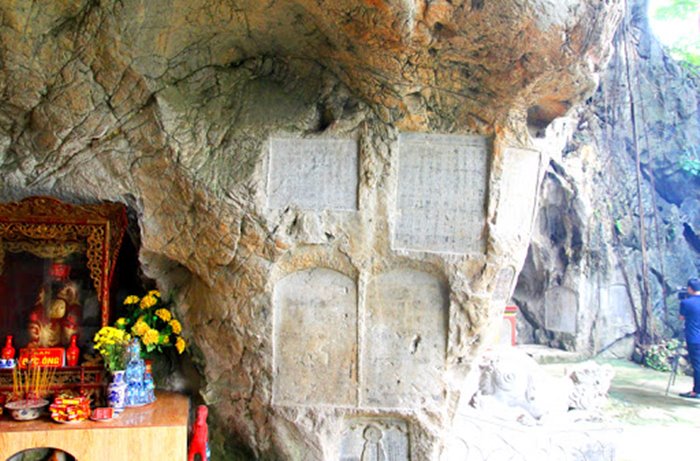 The content of the epitaphs is very diverse. Photo: dulich.org

Kinh Chu cave complex  is the pride of Hai Duong people, up to now people still embellish and protect the landscape of this place to preserve the beautiful scenery of the Northeast gateway region of the country. 
Experience checking-in Kinh Chu cave in Hai Duong 
First, you should choose the right time to visit, the most beautiful in spring when in Hai Duong there are many spring festivals, jubilant and exciting atmosphere. In addition, according to the Hai Duong travel experience of many tourists, the middle of May is also an ideal time because at this time, Hai Duong is in the lychee season and the weather is also very favorable for sightseeing and sightseeing.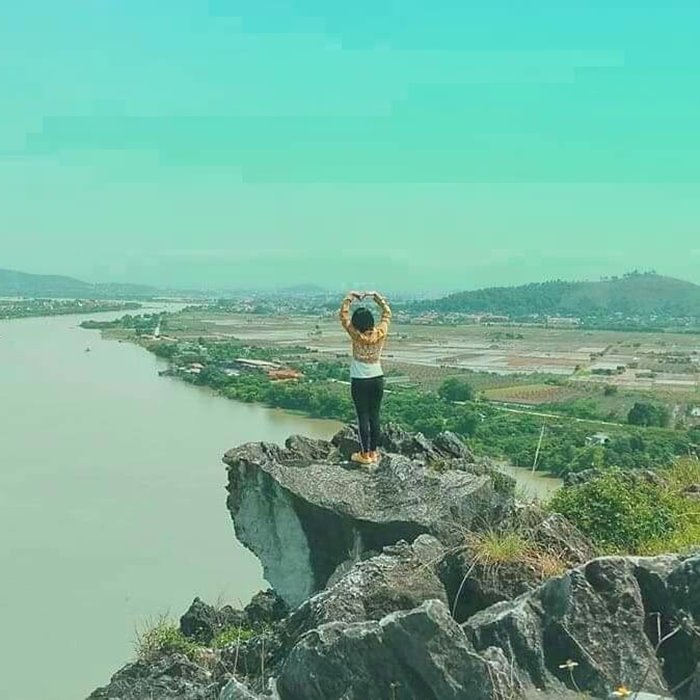 The ideal time to go to Kinh Chu Cave is spring and summer. Photo: @myuyen.205

Traveling to Kinh Chu Cave is a great experience for anyone, to come to this place, from Hanoi, visitors can choose a means of transportation that is motorbike, passenger car, train or bus. 
If traveling by car, it will only take you 2 hours to get there with the route going through National Highway 5B, the cave is located in the area of ​​​​Road 380 connecting Trieu wharf with Kinh Mon town which is very convenient. If traveling from Hai Duong city, it only takes 30 minutes.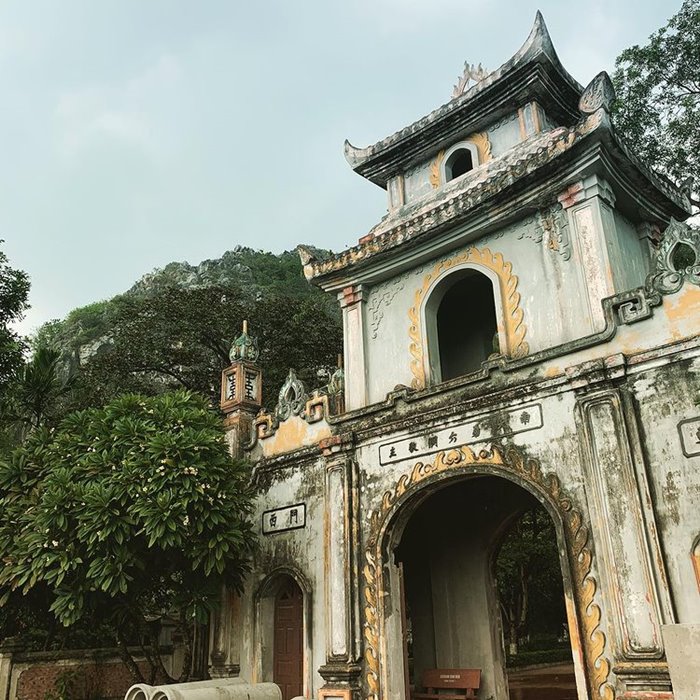 The entrance of Kinh Chu Cave. Photo: @chick297

Tickets to visit Kinh Chu Cave in Hai Duong are 5000 VND / time, you can freely visit all areas around the cave, from Kinh Chu Pagoda, Tam Phu Mother Worship Palace, National Treasures – a system of stele cleft-shaped caves around the cave area. Nearby is Cao An Phu Temple. Visiting Kinh Chu cave and Hai Duong, visitors also do not forget to enjoy the attractive specialties of this place such as vermicelli with perch, green bean cake …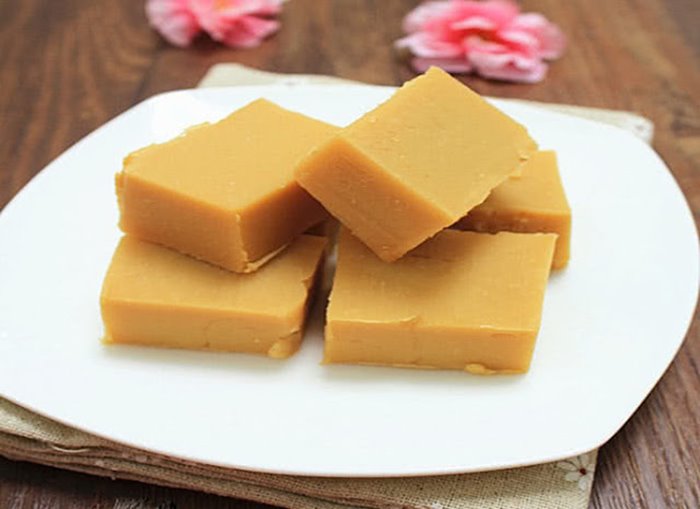 Visiting Kinh Chu Cave, don't forget to enjoy Hai Duong's mung bean cake. Photo: Wiki

Kinh Chu Cave is a unique and beautiful natural landscape in Vietnam, visiting this place visitors not only enjoy an impressive landscape but also have the opportunity to discover historical, archaeological and cultural values. Unique culture, come to Hai Duong, remember not to miss an appointment with Kinh Chu cave. 
Photo: Internet 
TAG: