Save now the list of the most sacred and famous pagodas in Chau Doc in the West
Talking about An Giang, people will use phrases like "beautiful", "special" or "sacred" to describe. In addition to the freshness of the Melaleuca forests, in addition to the uniqueness of ethnic cultures, this land is also famous for its sacred temples and shrines. So how many beautiful temples are there in An Giang? The answer will be "revealed" by Vinlove through the article TOP famous temples in An Giang as beautiful as a fairyland.
An Giang is a land with a large area and diverse nature with rich landscapes. From the fresh Tra Su melaleuca forest, the vast fields of storks flying straight, the majestic Seven Mountains, the poetic Bung Binh Thien, or the bustling markets, the mosques are imbued with the religious activities of Vietnam. Cham people, … all make up the unique attraction of the southwestern province. Referring to this land with long rivers and high mountains, it is impossible to ignore the sacred pagodas located in Chau Doc.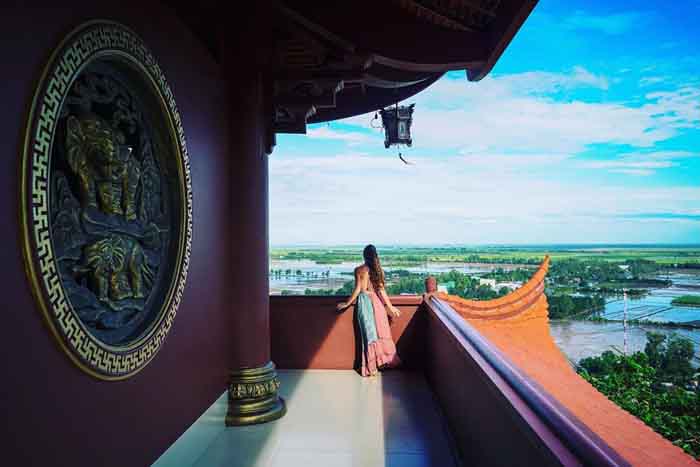 Chau Doc has many beautiful pagodas. Photo: @silcolibri
It is Ba Chau Doc Pagoda, also known as Ba Chua Xu Temple, Sam Mountain – a famous spiritual destination at home and abroad. It is the ancient pagoda of Tay An with beautiful and outstanding architecture. It is also Phuoc Dien Tu (Hang Pagoda) with poetic scenery and impressive structure, Huynh Dao Pagoda – a place visited by many people to ask for fortune, peace,… All are temples. Chau Doc is beautiful and famous for being sacred – wishing to see it, but possesses a very unique architecture and charming landscape that makes everyone want to come to pilgrimage at least once.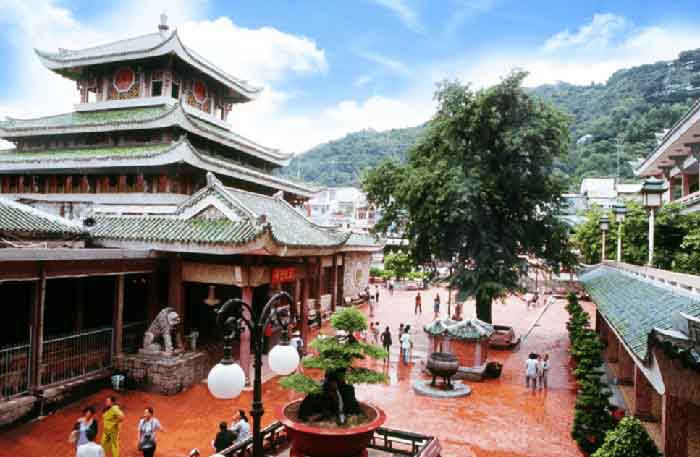 Attractive spiritual tourist destination. Photo: vntrip
Let's join LuhanhVietNam to visit and visit the famous Chau Doc pagodas below!
Top 6 most famous temples in Chau Doc An Giang

1. Mrs. Chau Doc Temple
Address: right at the foot of Sam Mountain, Nui Sam Ward, Chau Doc City, An Giang Province.
Located right at the foot of Sam Chau Doc mountain, Ba Chau Doc pagoda is also known by its more familiar name, Ba Chua Xu Temple on Sam mountain . This is the most famous religious work in An Giang attracting millions of visitors from all over the world to visit, worship, and pray for peace and fortune. The temple is also one of the important historical, architectural and spiritual relics of An Giang in particular and the Mekong Delta in general, which is being preserved and developed sustainably.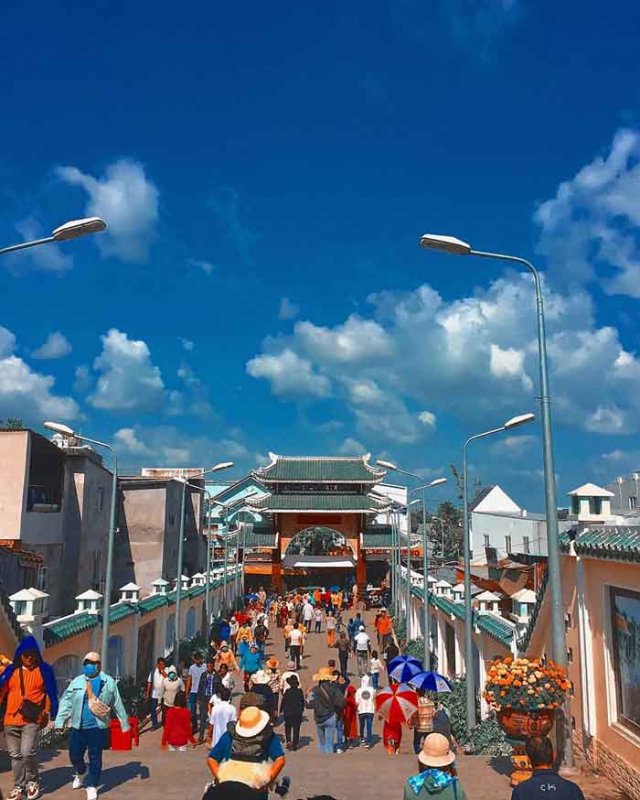 Ba Chau Doc Pagoda is very sacred. Photo: @lananhmyname
Built in 1870, Ba Chau Doc pagoda has undergone many restorations. As of 2009, this place is considered the largest temple – shrine in Vietnam.
In terms of architecture, the temple was built in the style of the word "Quoc" with a tower block. From a distance, the building looks like a blooming lotus flower with a blue tiled roof and built in the form of three levels of three floors. In the main hall of the temple worships the statue of Ba Chua Xu Nui Sam. According to researchers, this statue used to be a statue of Vishnu dating from the end of the 6th century and was cast in vermilion. In front is the altar of the Council, on both sides worshiping Tien Hien and Hau Hien. There is an Uncle altar and an Co altar on the left and right sides of the main hall. Interestingly, at the altar he worships a very large stone Linga with a height of about 1.2m. The Co altar worships a small statue of a goddess carved out of wood.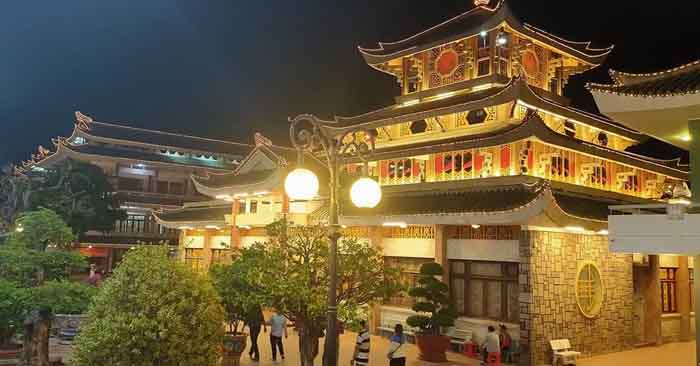 Temple of Ba Chua Xu Chau Doc at night. Photo: @fanoqua
Throne pagoda in Chau Doc famous are designed and decorated in Indian art. From each temple door to the interlocking glass and the phoenix, all of them are intricately carved and sculpted, especially inlaid with brilliant gilded vermilion.
Ba Chua Xu Temple Festival or Ba Chua Xu Temple Festival is held from the 23rd to the 27th of the fourth lunar month every year. Coming up again, this is an opportunity to attract a large number of tourists from all over the province to attend. The biggest festival of the year at this Ba Chau Doc temple was recognized as a national festival by the Ministry of Culture, Sports and Tourism in 2001.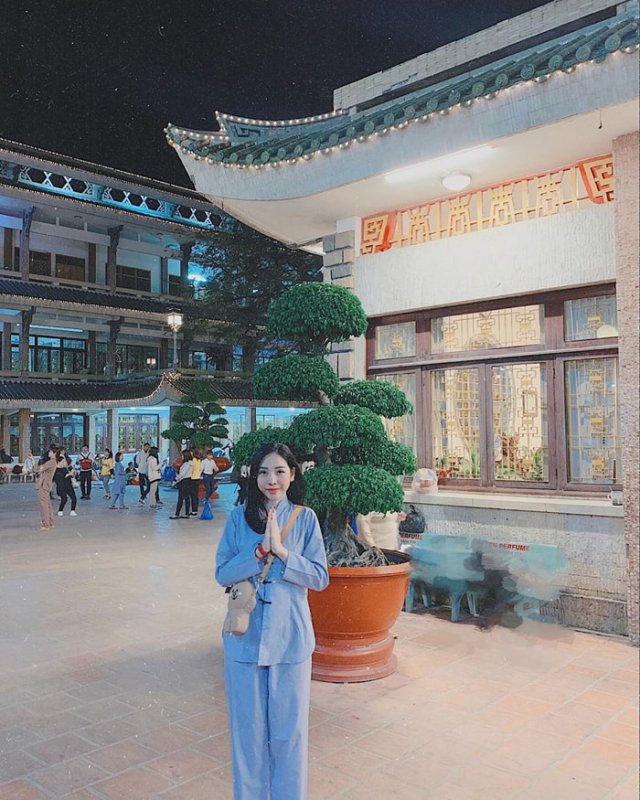 Visit Ba Chau Doc Pagoda. Photo: @rabbit_huynh
2. Phuoc Dien Tu (Hang Pagoda)
Address: The pagoda is located on the slopes of Sam Mountain in Nui Sam ward, Chau Doc city, An Giang province.
Phuoc Dien Tu is also known by locals and Buddhists everywhere as Hang Chau Doc Pagoda . According to the elders, the temple has existed for nearly 200 years and is considered one of the oldest pagodas in An Giang.
Phuoc Dien Freedom was built by Mrs. Le Thi Tho (also known as Ms. Tho) from 1840 to 1850. Initially, this pagoda was originally a small monastery, but over the years it was built and expanded as it is today.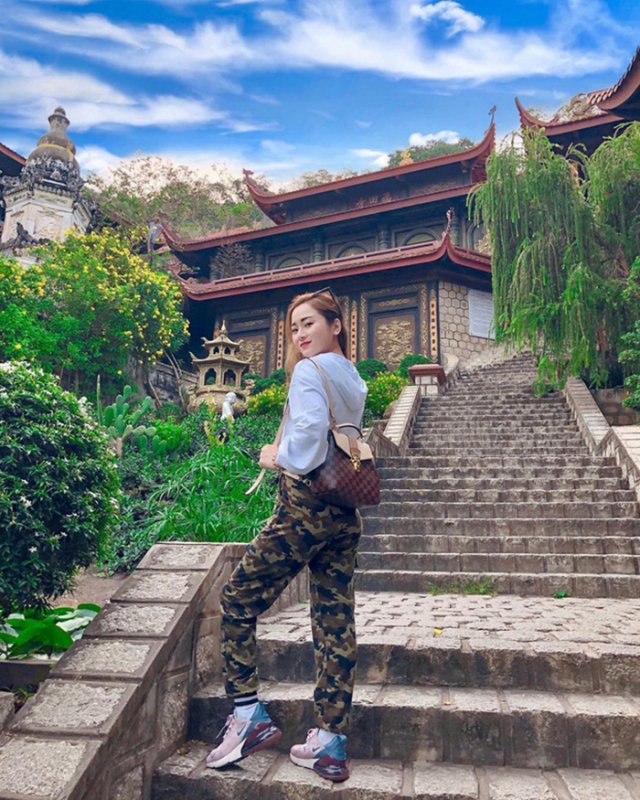 The scenery of Hang Chau Doc pagoda. Photo: vntrip
Possessing a beautiful location, firmly lying on the side of Sam Chau Doc mountain with four green trees, Hang Pagoda has a poetic and peaceful beauty. Especially, the architecture of the temple is very harmonious with nature and heaven. The works in the ancient temple are taken care of, built superficially from the main hall, the stupa of the monk Thich Hue Thien to the stupa of Ba Tho…
Inside the main hall, there are quite a lot of monuments and statues along with Buddha statues. All are delicately carved, decorated harmoniously but dignified. Visitors to this Chau Doc temple are especially impressed with the main dark brown color in the main hall, and then immerse themselves in a peaceful and quiet space to loneliness and solitude.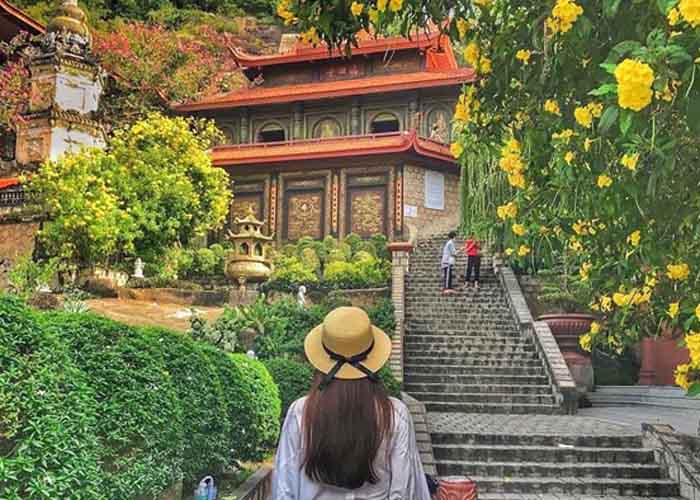 Phuoc Dien Tu has a very beautiful location. Photo: metrip
Phuoc Dien Tu Hang Pagoda was recognized as a National Historic Site by the Ministry of Culture, Sports and Tourism on July 10, 1980.
3. Tay An Temple Chua
This outstanding golden pagoda in Chau Doc is located in the complex of relics of Ba Chua Xu Temple, Tay An Pagoda, Thoai Ngoc Hau Tomb, and Phuoc Dien Tu Cave Pagoda.
Tay An Pagoda impresses visitors not only with its vibrant colors but also in the architecture and characteristic appearance of Indian temples. Moreover, this religious building also has a harmonious combination with the natural landscape. It is a splendid beauty amidst the poetic scenery at the foot of Sam mountain.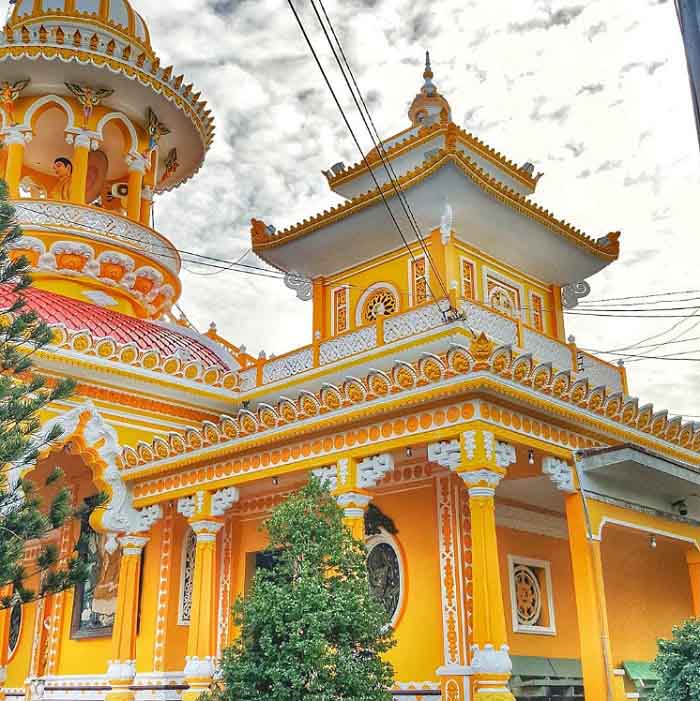 Tay An pagoda stands out at the foot of Sam mountain. Photo: @nhantutam74
The temple is located on a large area of ​​up to 15,000 m2 and has a round roof with vibrant colors, quite eye-catching, different from other An Giang pagodas with pointed roofs or peaks. The main hall of the ancient temple is quite large with wooden columns and 150 statues arranged inside and out. Particularly the 2-storey Buddha tower with the upper floor worshiping the Buddha, the lower floor is the protector located in front. But the most prominent and impressive point for visitors to the pagoda is probably the 2 statues of Hac Bach elephants outside.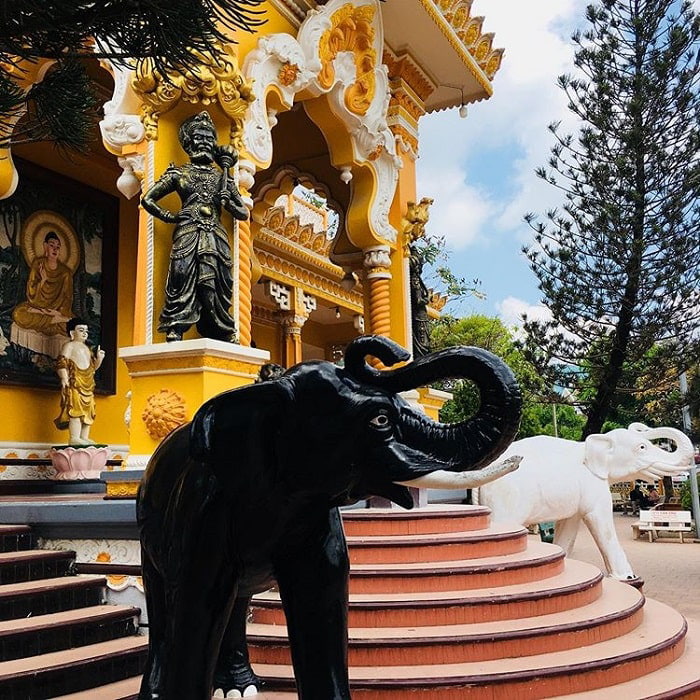 Elephant statue in front of Tay An pagoda. Photo: @my_utopian_world
Besides, the temple also has a long history of formation associated with many ancient anecdotes. Legend has it that the pagoda was built in the 19th century under King Thieu Tri and is now more than 150 years old. Experiencing many times of restoration and reconstruction, the ancient Xi'an Temple still retains its unique beauty, bringing the architecture mixed between Indian style and the traditional features of Vietnamese pagodas. Currently, the pagoda is recognized as a national historical and cultural relic.
4. Huynh Dao Pagoda in Chau Doc
Address: The pagoda is located at Vinh Dong II hamlet, Nui Sam ward, Chau Doc city, An Giang province.
If Hang Pagoda has the traditional beauty of a Vietnamese ancient temple more than 200 years old, Tay An Pagoda is a harmonious combination of Indian style and Vietnamese temple architecture, Huynh Dao Pagoda has Chinese appearance and structure. Clear flowers. The pagoda was built in 1996 with a very small initial scale, consisting of only one Tam Bao temple. It was not until this time that Huynh Dao Pagoda gradually expanded its scale and built many new buildings such as the Bell Tower, Quan Am Cac… Each project or item created an eye-catching effect but not at all ridiculous. awkward yet delicately harmonious.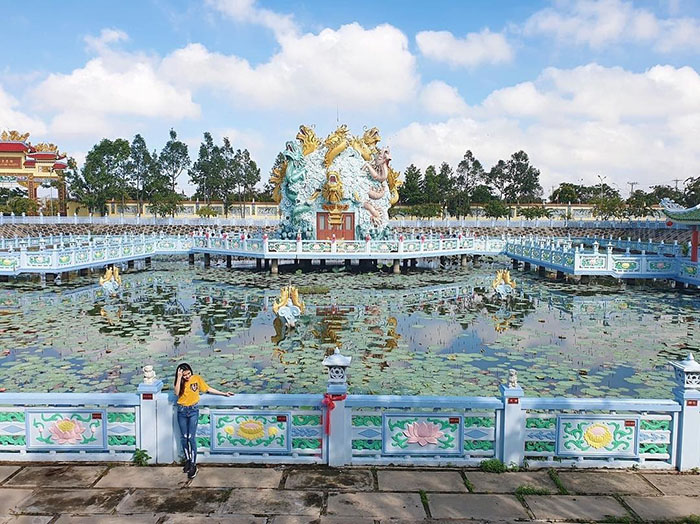 Huynh Dao Pagoda is located right on the way to Ba Chua Xu Temple. Photo: langthang.angiang
Huynh Dao Pagoda has a striking color, exuding a modern beauty, unlike other temples that often take the traditional light yellow color as the main theme.
Another special feature of Huynh Dao An Giang pagoda is that there is a church area with colorful dragon statues surrounded quite nicely, located right in the middle of a fragrant pink lotus lake.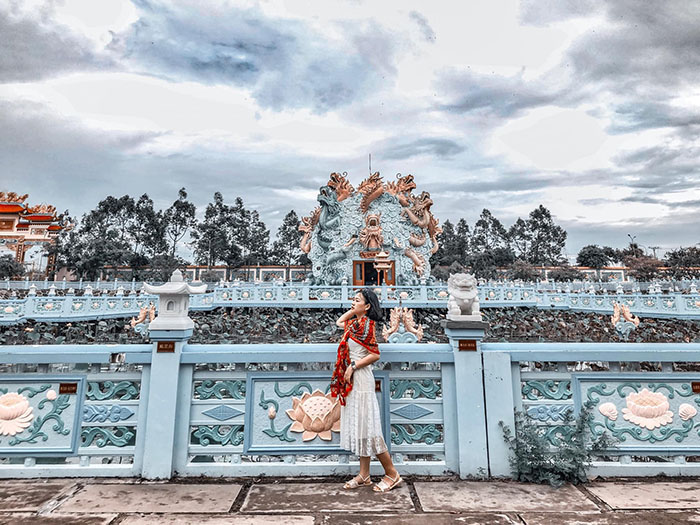 Check-in points attract young people. Photo: Hien Nguyen Thi
After entering the temple to worship and pray for peace, do not forget to walk around the temple. Because in the campus, along the paths, there are many exquisite and elaborately carved Buddha statues.
5. Long Son Pagoda
Address: located on the way to the top of Sam Mountain, Nui Sam ward, Chau Doc city, An Giang province.
Most of the temples in Chau Doc are located at the foot or on the mountainside, but Long Son pagoda is at the top of the mountain. Perhaps that is why this religious site possesses quite beautiful and attractive terrain. When traveling to An Giang and checking in to Long Son pagoda, you can enjoy the experience of climbing Sam mountain and take a look down at the immense rice fields stretching endlessly below.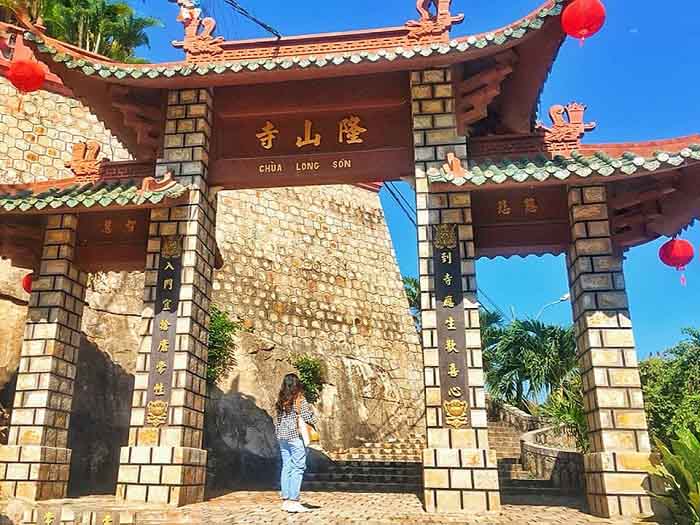 Long Son Pagoda is located on the way to the top of Sam Mountain. Photo dulichmientay
Even many visitors have compared the beauty of this place to a giant silk carpet below. This is the ideal tourist destination for those who do not like noise and bustle and "fall in love" with the peaceful and quiet beauty.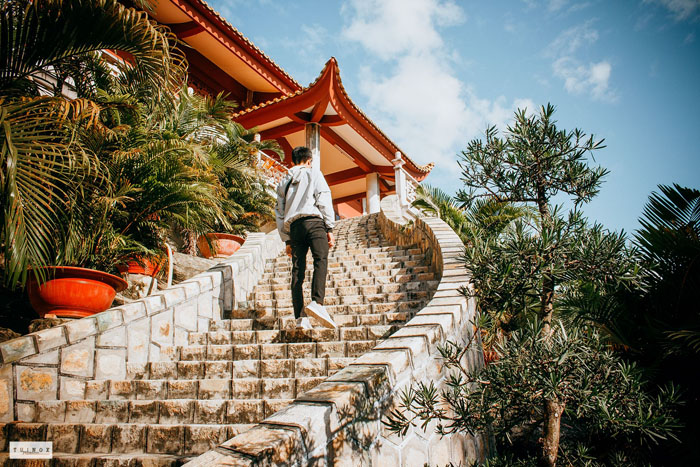 Long Son Pagoda with poetic beauty. Photo: vntrip
Long Son Pagoda also has a beautiful design and decoration with its characteristic red color. According to Chau Doc backpacking experience and visiting pagodas, you should go around first to observe and admire each statue of Quan Am and Bodhisattva with a relaxed appearance, then enjoy the echoes in the air. space of the place of practice.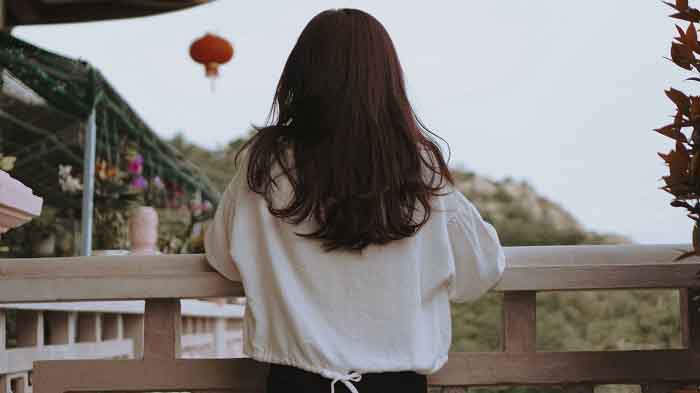 Ancient and peaceful temple. Photo: @Khanh H Nguyen
6. Tomb of Thoai Ngoc Hau
Address: formerly in Vinh Te commune, now in Nui Sam ward, Chau Doc city, An Giang province.
In the list of temples in Chau Doc , there is also Thoai Ngoc Hau's mausoleum, also known as Son Lang by locals. This is both a tourist attraction and a relic bearing cultural and historical imprints of great significance. Because the work worships and commemorates Mr. Thoai Ngoc Hau – a talented and virtuous mandarin who has great merit in reclaiming, establishing land, digging ditches, … for the whole An Giang region. He is considered a sage who had great merit in the process of building An Giang from the wasteland to becoming lush, bringing a more convenient and prosperous life to the people.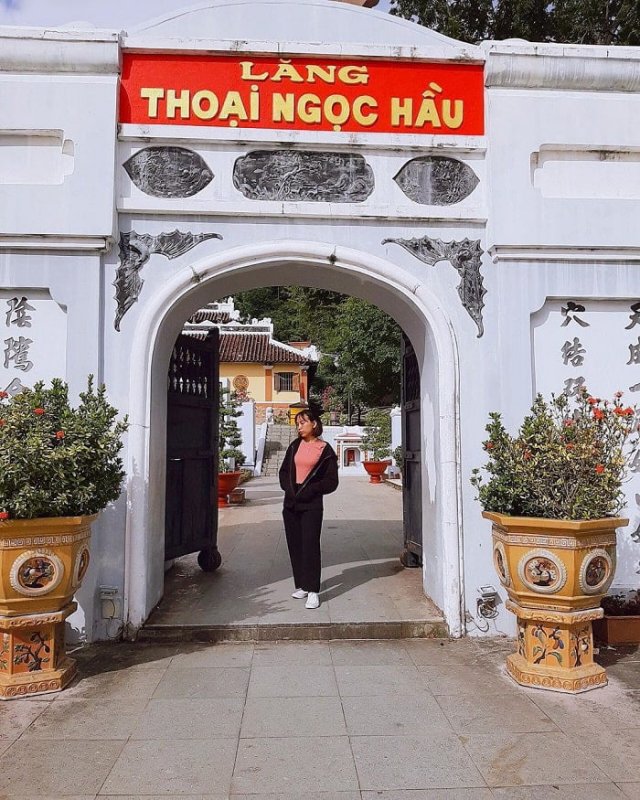 Visit the Tomb of Thoai Ngoc Hau. Photo: @yenhu99
People still respect and appreciate his contributions to the land of An Giang. Therefore, since ancient times, people have built a mausoleum with a large and superficial architecture, including:
– The main mausoleum, worshiping him and his two wives. This area has been painted with white paint mainly since the 20th century under the Nguyen Lords. There are also many anonymous tombs in the grounds with different shapes.
– The upper temple area with the altar in the middle has a bust of Mr. Thoai Ngoc Hau wearing a crown and sophisticated decoration.
– Antiquities display area with many valuable items.
If you have the opportunity to travel to Chau Doc, remember to take the time to visit the Mausoleum and learn more about the life of this sage.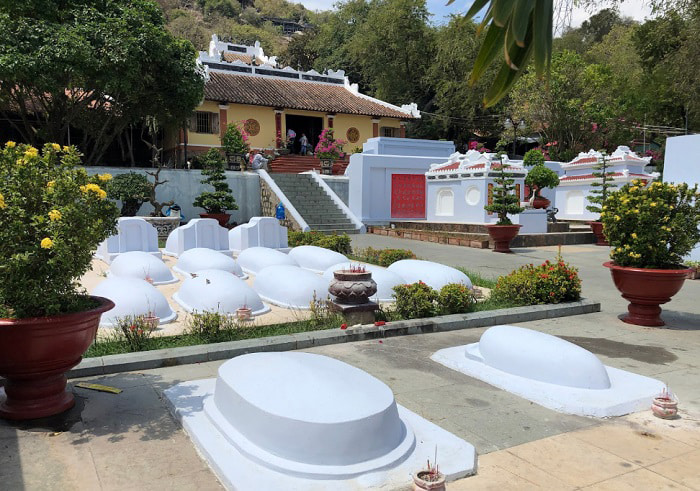 The tomb worships him and his two wives. Photo: @thamhiemmekong
7. Visit Sam . mountain relic complex
If you have spent time visiting Chau Doc An Giang temples, remember to visit the tourist area and  Sam mountain mural village right next door. If you are afraid to climb the mountain, you can choose to travel by cable car to Sam mountain to both relieve fatigue and enjoy the whole scenery of An Giang with a very good view.
Notes when visiting pagodas in Chau Doc
Because most of Chau Doc pagodas are famous for being beautiful and sacred, they attract a lot of visitors every year. Especially on the occasion of the festival, there are quite a lot of people on Ba's day. Visitors who come at these times remember to keep their belongings carefully, to prevent pickpockets or robberies. Another note is that you should not accept gifts from strangers, before buying anything here, you also need to ask the price first to avoid being yelled at too high.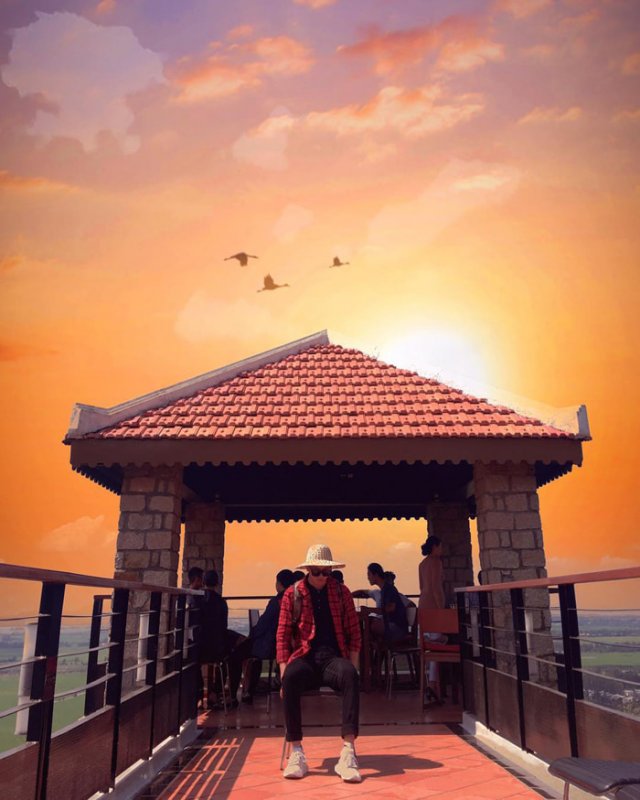 Visit Sam Mountain nearby. Photo: @phanphuphat14197
When going to religious buildings and pagodas in Chau Doc , you also need to dress modestly, move gently and follow the instructions and regulations of the destinations.
After going through the top 6 famous temples in Chau Doc An Giang as beautiful as a fairyland, remember to make a note on the list to check in and visit when traveling later. Wish you choose the right destination as well as the most convenient time to travel to An Giang for you and your family and friends.
Photo: Internet
TAG: