Immerse yourself in nature where Ngoc Suong resort is located on Cam Ranh Bay
Ngoc Suong Resort is an eco-resort located in the south of Cam Ranh Bay, a great stopover for a summer trip.
As one of the beautiful resorts in Central Vietnam , Ngoc Suong Resort , also known as  Yen Bay Resort, is located in Binh Lap village, Cam Lap commune, Cam Ranh, Khanh Hoa. This area is about 46km from Cam Ranh airport and about 90km from the center of Nha Trang coastal city .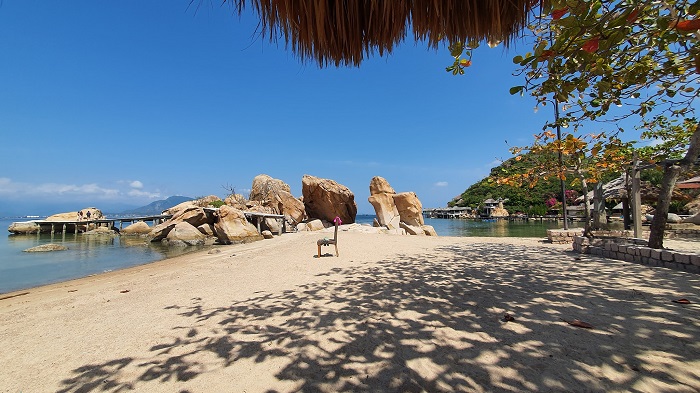 Private beach at Ngoc Suong resort
What's interesting at Ngoc Suong resort?
This resort has a beautiful location in Cam Ranh Bay, where there is a gentle beach, gentle waves with attractive natural scenery. Ngoc Suong Resort combines a unique location with architecture in harmony with nature, interspersed between rocks and colorful flowers. The beautiful landscape should be chosen by many filmmakers as a backdrop.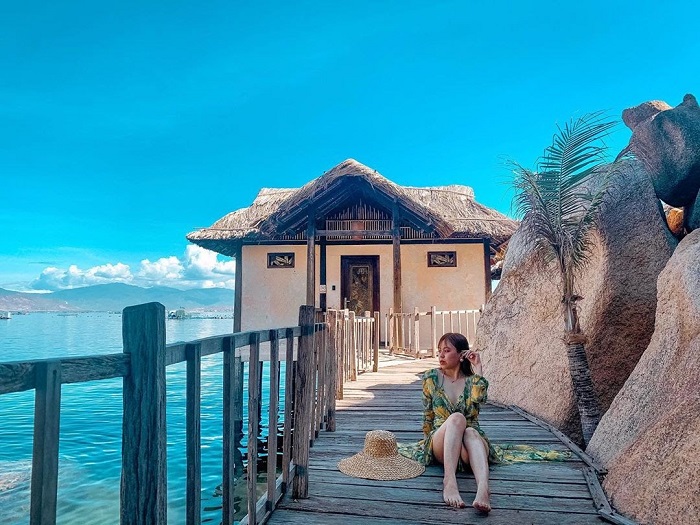 Ngoc Suong Resort stands out in the midst of the immense sea and sky
The attractive thing is that all the rooms here are built on the sea, during the day you can catch the sunrise and the first rays of the sun, and at night you can lie down to enjoy the wind, watch the moon and stars in a private space, just for you. These unique private bungalow room types are the perfect getaway for an unforgettable stay.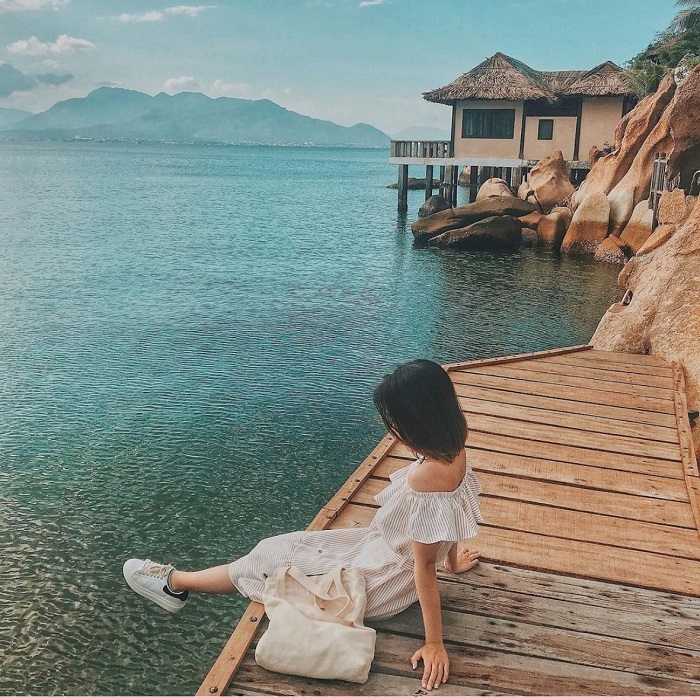 This place is also the filming location of famous movies
From these rooms, you just need to open the door of the room, even lying on the bed can look out over the immense sea and sky, extremely relaxing. These rooms are all built of wood, combined with thatched roofs in the style of coastal houses, with simple but luxurious interiors.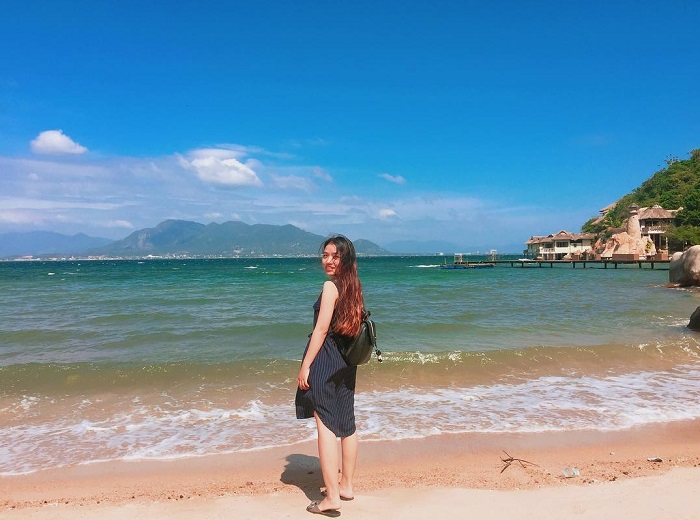 Admire the beautiful natural scenery and enjoy the unique rest and relaxation services
Not only having beautiful scenery, Ngoc Suong resort is  also famous for its wooden bridge going to the middle of the sea, making visitors feel like they are "lost" between the sea and the blue sky.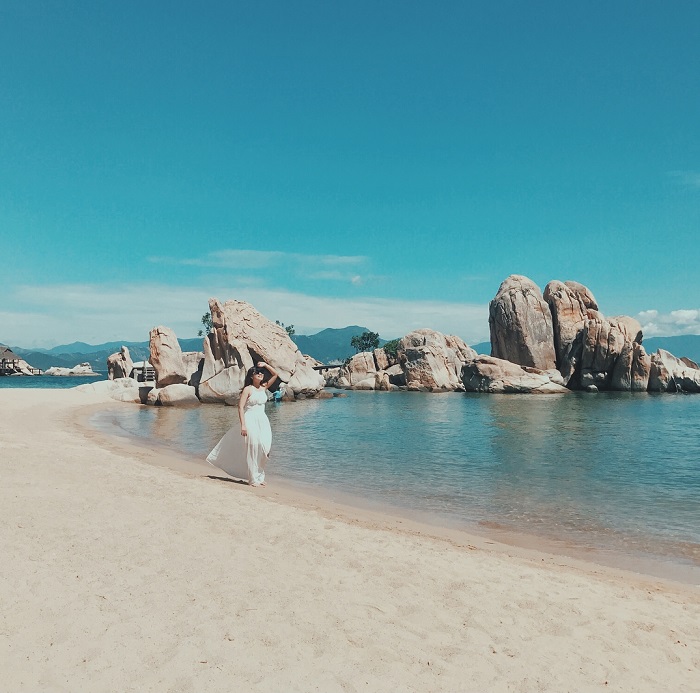 A natural setting that makes visitors relax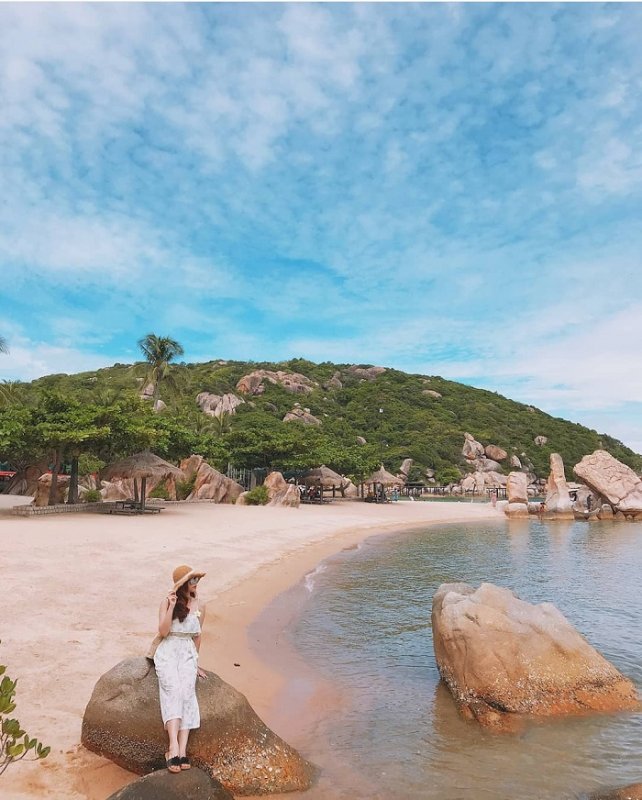 The beach is dotted with big rocks
How to get to the resort?
This resort is located in a remote area of ​​Binh Lap village and in the Cam Ranh Bay area of ​​Khanh Hoa province . From Cam Ranh airport, it will take about 47 km to the resort, about 1 hour and 10 minutes. If you go from Nha Trang city, it will take about 81 km. When coming here you can choose by car.
The nearest tourist destination also in the same area is Binh Ba island, you can combine the trip with a visit to Binh Ba island which is also an interesting Khanh Hoa tourist destination.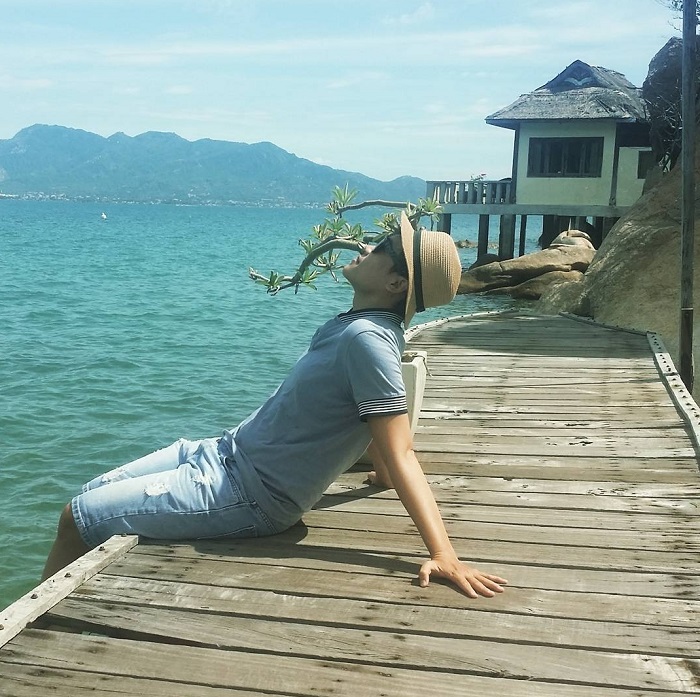 This resort is located in a remote area of ​​Binh Lap village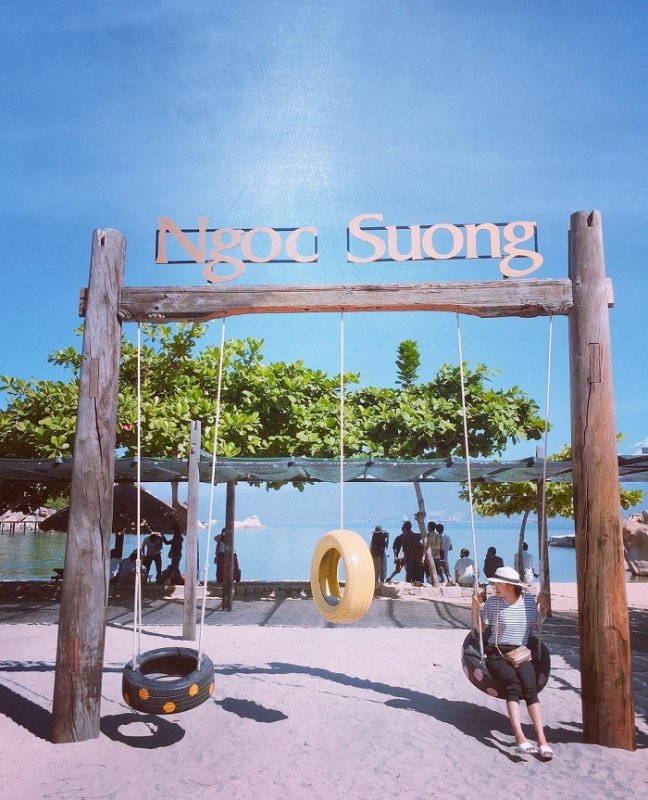 The 4-star resort takes advantage of the natural botanical landscapes on site
What to play when coming to Ngoc Suong Resort?
Many reviews of Ngoc Suong Cam Ranh resort think that coming here is the most interesting thing to do is swim and soak in the clear blue water of Cam Ranh Bay.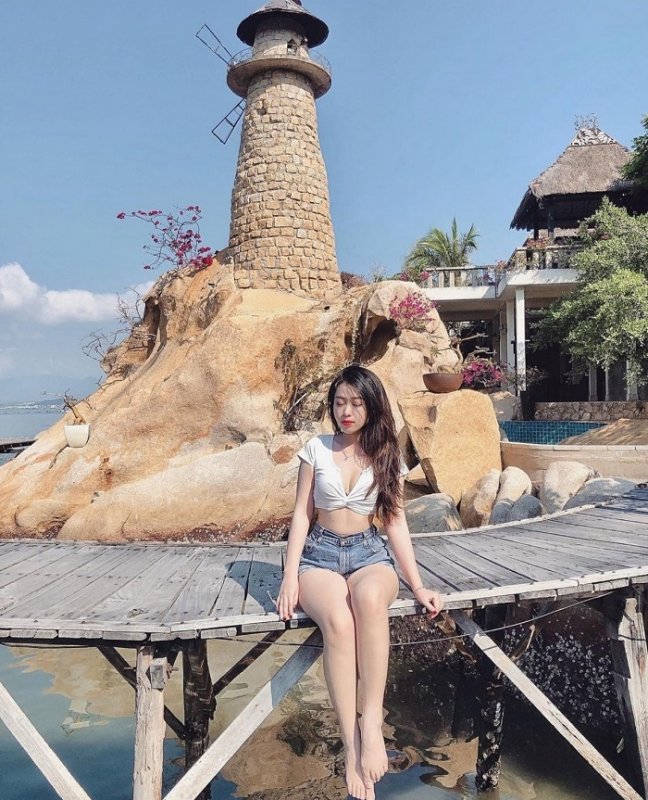 The lighthouse as a photo backdrop
As the private beach of Ngoc Suong resort , Binh Lam beach still retains its pristine and charming beauty. Tall coconut trees running along the white sand are embracing the blue sea water. The cool clear sea water combined with the fine white sand will definitely make you want to swim all day long.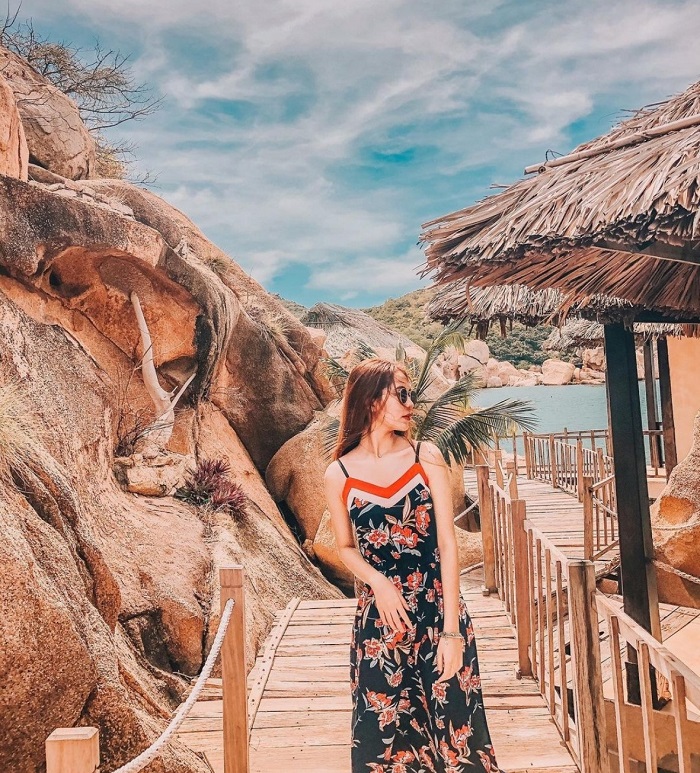 Lots of beautiful backgrounds for your photos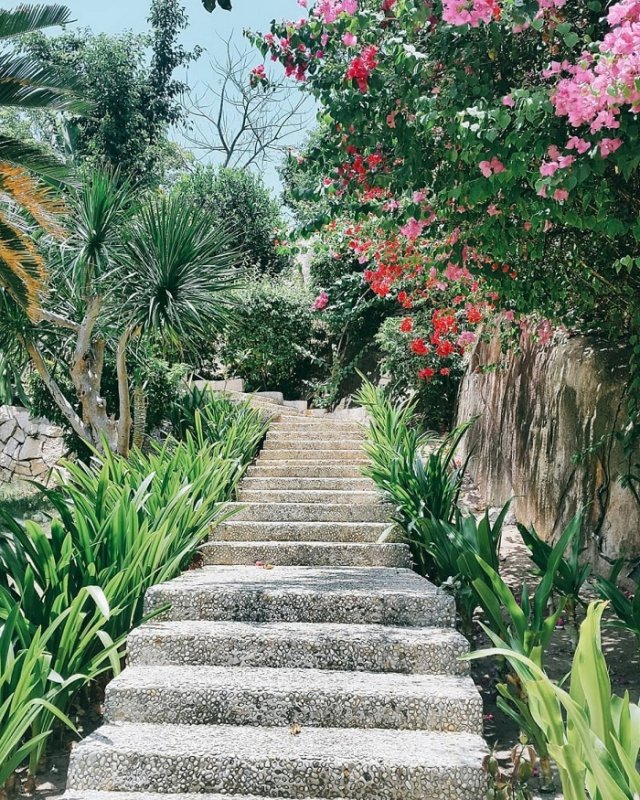 Natural scenery with grass and flowers in the resort
Swimming in the sea is not enough, here you do not forget to take pictures of extremely luxurious and romantic virtual life because this resort has unique architecture such as lighthouses, large rocks, looming bugalows. on the beach and especially all kinds of flowers to frame your extremely lovely photo.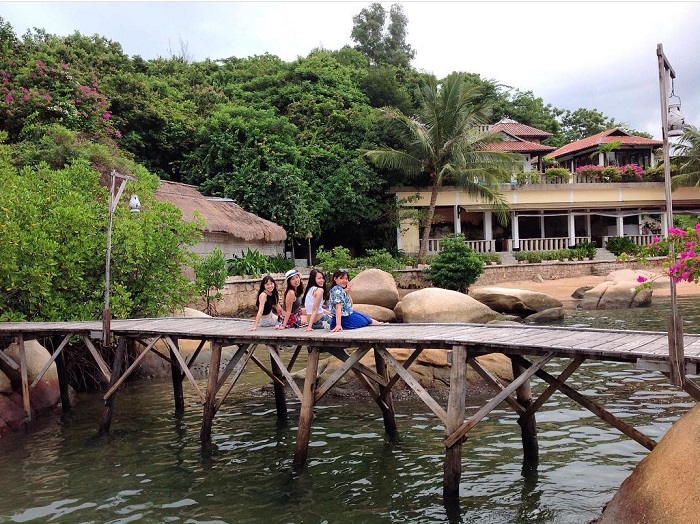 Wooden bridge reaching out to the sea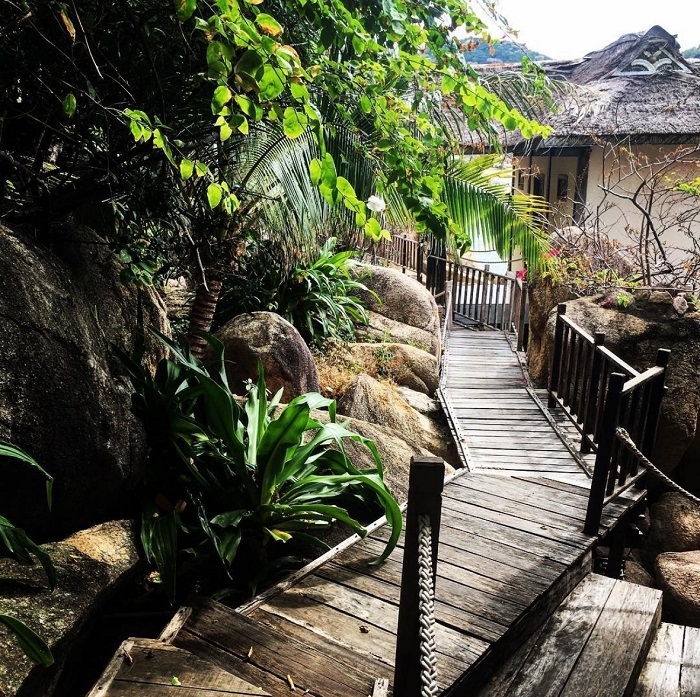 A peaceful corner in the resort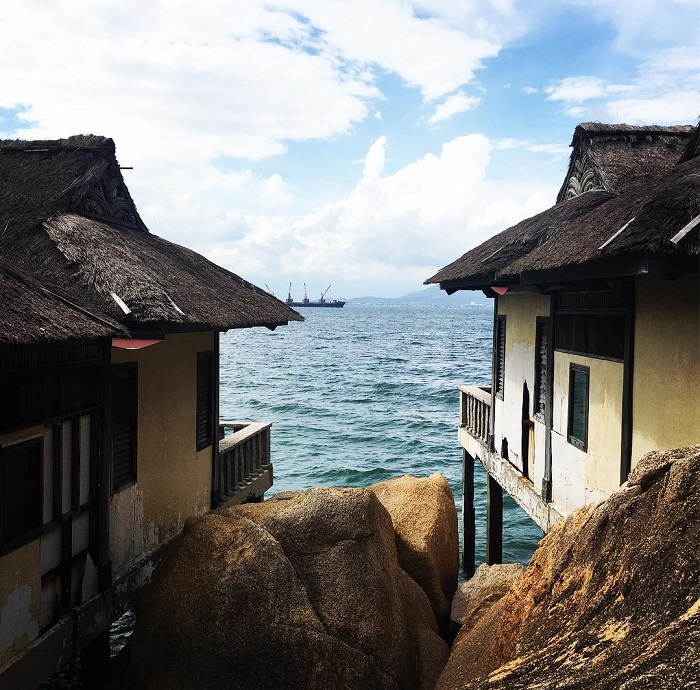 Bugalow houses with sea view
One more  review of Ngoc Suong resort about dining, seafood and Vietnamese rice restaurant serves tourists with a rich menu, wild-caught, keeping the fresh taste of seafood. In addition, the price of food inside the resort is affordable and guests can bring their own food at no extra charge.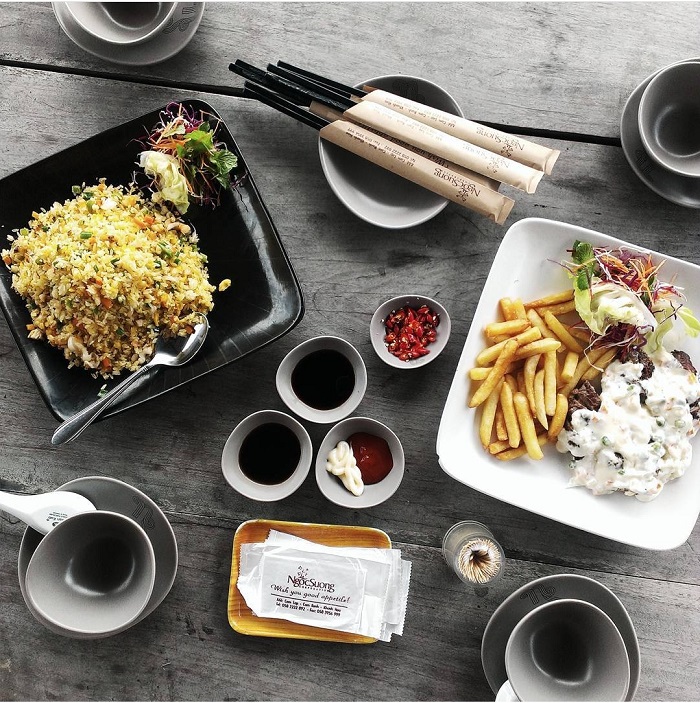 Ngoc Suong Restaurant
So  how much is Ngoc Suong Resort if you don't stay here? There are 2 types of services here, which are for visitors booking rooms at the resort and the second type is for visitors who only buy tickets to visit and have fun during the day. Normally, the standard room is about 1 million to 2 million and the room price here on the holidays will be about 800-1 million more expensive. If you do not stay, you only need to pay the entrance fee of 50k per person (subject to change).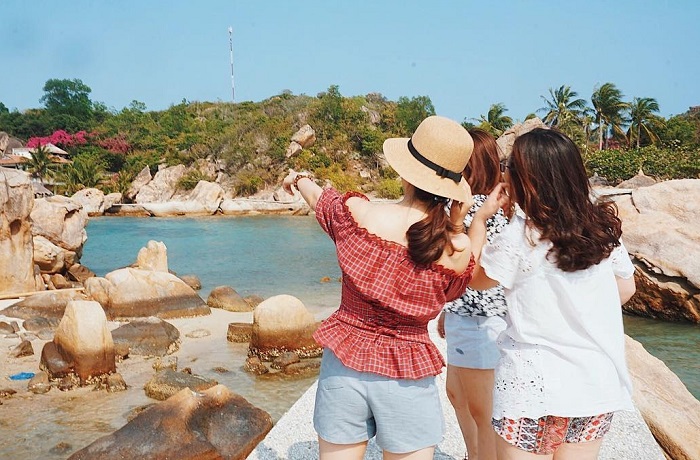 The resort is famous for being blessed by nature with beautiful scenery on the deserted bay.
With immense sea space and rows of houses facing the sea, Ngoc Suong resort is the ideal destination for a peaceful and comfortable vacation!
Photo: Internet
TAG: