Set up a team to 'break the island' of a brand new camping cafe in Thu Duc
If you do not want to check-in at famous but easy-to-reach places such as Ben Thanh market, Notre Dame Cathedral or City post office, a camping cafe in Thu Duc is a great destination for you. for you in your trip to Saigon.
Located on the top floor of a building at No. 25A, Street 3, Binh An Ward, District 2, City Thu Duc – Ho Chi Minh Square 39 – cafe camping ( Cafe Camping High-Class ) The first in Vietnam is a very HOT destination in the young community.
The formation of a camping coffee space in Thu Duc
According to Mr. Khuong Duy – the owner of a camping cafe in Thu Duc  , the high-camping model has developed quite strongly in many Asian countries such as Korea, Japan, and Thailand and has been responded by many people. because of the convenience as well as the cost is quite reasonable. 
Therefore, he has brought this unique form of camping coffee to Vietnam with the hope that Vietnamese people can also enjoy that wonderful space. Above all, I want to eliminate many people's prejudices about camping that it is a sacrifice of needs and a lack of utilities.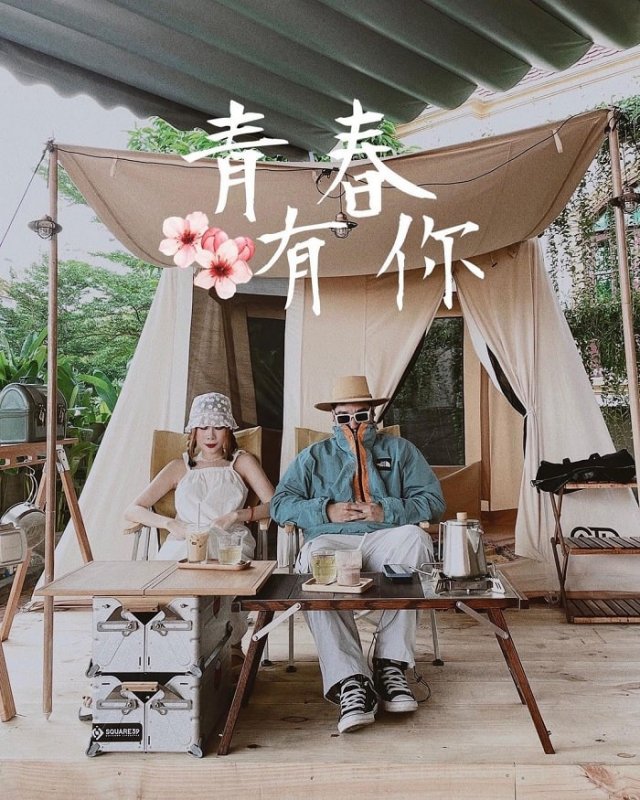 The unique space of the shop (Photo @caothanhnga)
In addition, choosing a beautiful small space on the rooftop of a building in the inner city rather than a spacious and airy land in the suburbs is due to complicated epidemic conditions, people cannot If you are traveling far away or to a crowded place, the Square 39 cafe is an extremely safe and worthwhile form of camping.
Very chill scene at the camping cafe in Thu Duc
The first impression that the 2-in-1 coffee shop in Thu Duc brings is a space with fully furnished tents, beds, air-conditioners, toilets, water heaters, tables and chairs, and an arranged kitchen. Reasonable layout so you will not feel too confused and cramped.
Typically, right in front of the tent will be a set of tables and chairs for dining, next to it is a kitchen and a place to store "usable version goods" such as pans, pots, kettles… for cooking. If you go in pairs, the table will be small, and if you go in large groups, you will have a separate tent to talk and enjoy food. Far away from the railing, there is a set of beautiful small wooden tables and chairs so you can relax and chill with the clouds.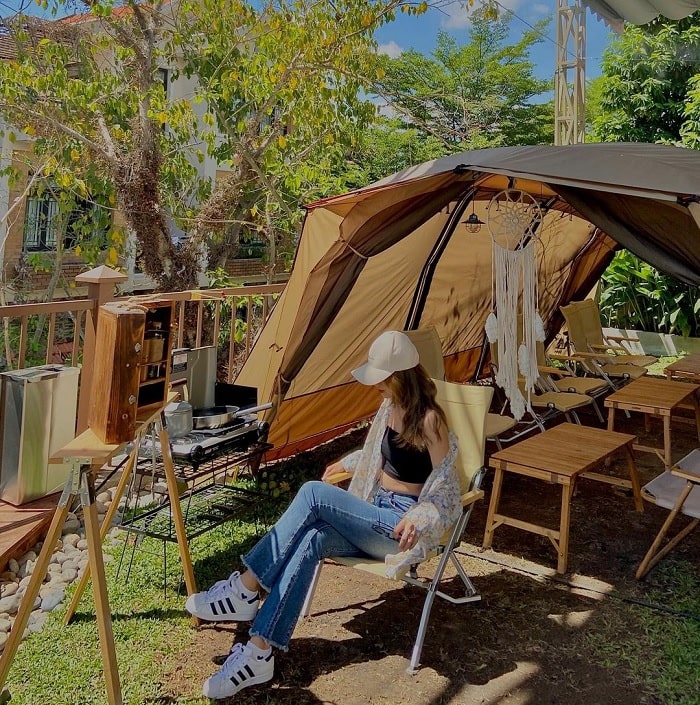 The space is very full (Photo @minhthu.ngye)
Moreover, because it is an outdoor space, the camping cafe in Thu Duc has very delicately planted a lot of trees to bring fresh and cool air to visitors, and is also equipped with both fans and Cooling steam system to "cool off" on days without natural wind, so you won't have to be afraid of the heat of Saigon.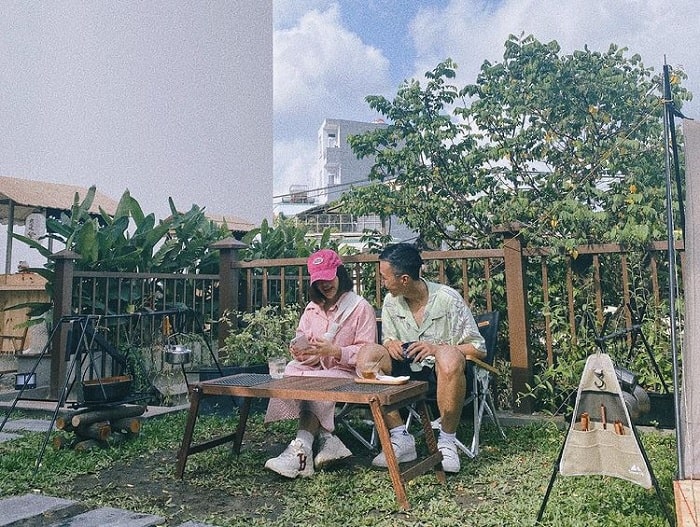 The space is full of green (Photo @imihg)
In particular, unlike popular types of camping such as bushcraft, which specializes in survival by making use of what is available in nature, high-camping is about relaxation so you just need to bring a relaxed mind. was able to experience an enjoyable and comfortable picnic with the available facilities provided here.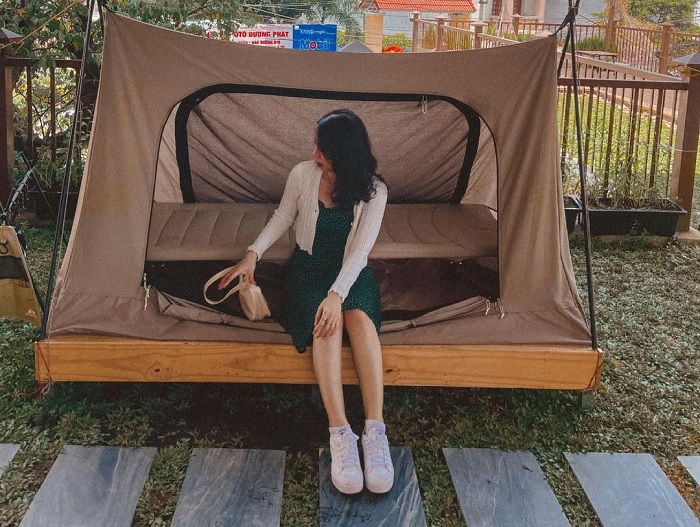 This place has everything for you to experience (Photo @lnn961112)
Each time this first camping coffee space in Saigon has a different beauty, but the most beautiful is probably still the moment in the early morning when the dawn rises or in the evening when the sunset falls. space, making this place also bring a strange romantic and poetic features. Revealing, this is also the ideal time for your photos to become the most sparkling and magical.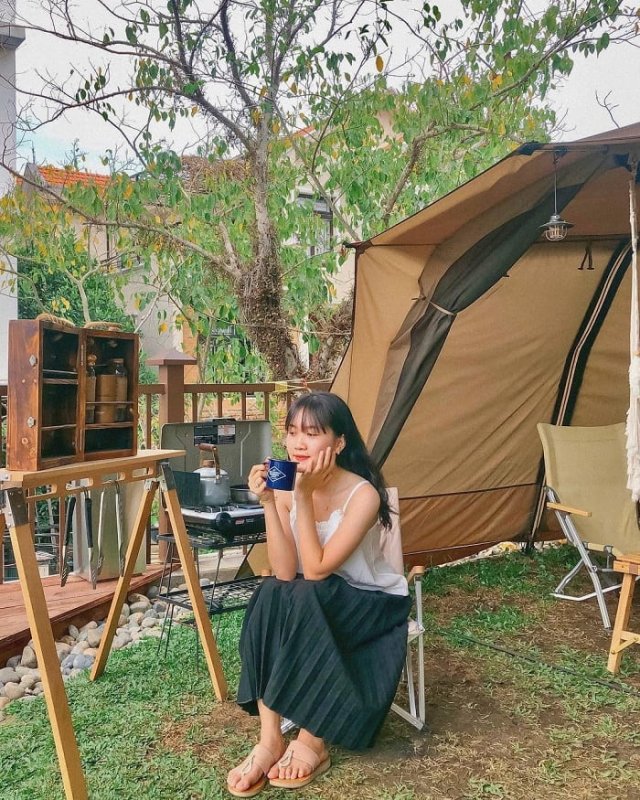 Fresh scene in the early morning (Photo @tuyetlinh.0201)
Besides, drinks are also a big plus point of Square 39 , because the drink menu is extremely diverse with coffee, juices, crushed ice and cool and delicious smoothies decorated beautifully, in the afternoon. In the evening, you can also enjoy delicious foreign beers and delicious grilled dishes, guaranteed to last a long time.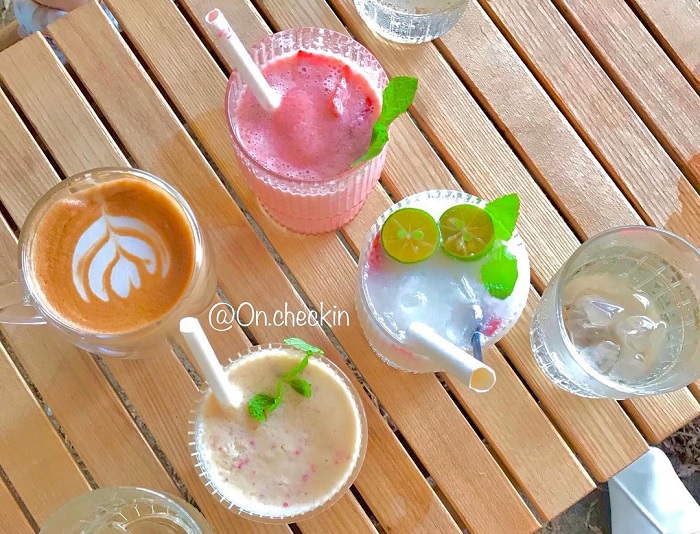 Drinks are super delicious and beautiful (Photo @oncheckin)
However, the most attractive point for visitors is probably the experience of dining and chatting in the cool space of the night dew and the wind, beside the flickering bonfires and under the sparkling starry sky like the Milky Way. will give you the feeling of being away from the noise, stuffiness and pollution of the city. Especially if you stay here overnight, you can also admire landmark 81 and the scene of Saigon city when the lights are on, extremely bright and charming.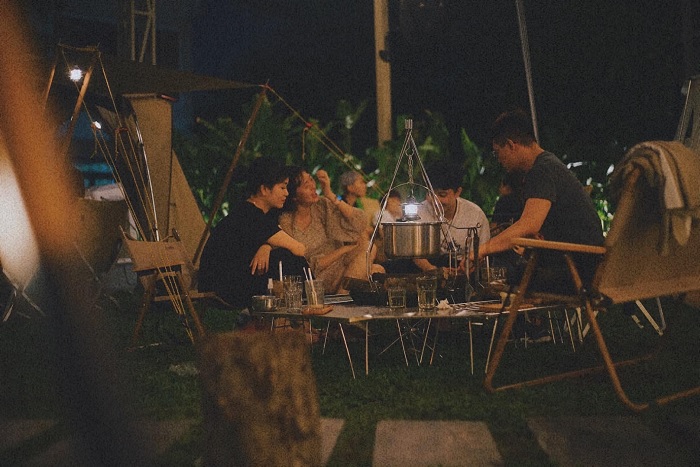 Cozy atmosphere in the evening (Photo FB Phuc Truong)
Some information you need to know at a camping cafe in Thu Duc
– Opening hours: from 7 a.m. to 10 p.m. daily.
– Reference price: from 39,000 VND to 62,000 VND / drink.
– After 5pm, craft beer and imported beer (alcoholic beverages) will be served.
– Free parking right downstairs.
– During the epidemic, the shop only accepts 20-30 guests / day, so it is very safe.
– Visitors when coming here can bring pets to chill with.
– Square 39 is in the demo stage, so the conditions are still incomplete, so you guys can comment to make the shop more and more perfect after the experience.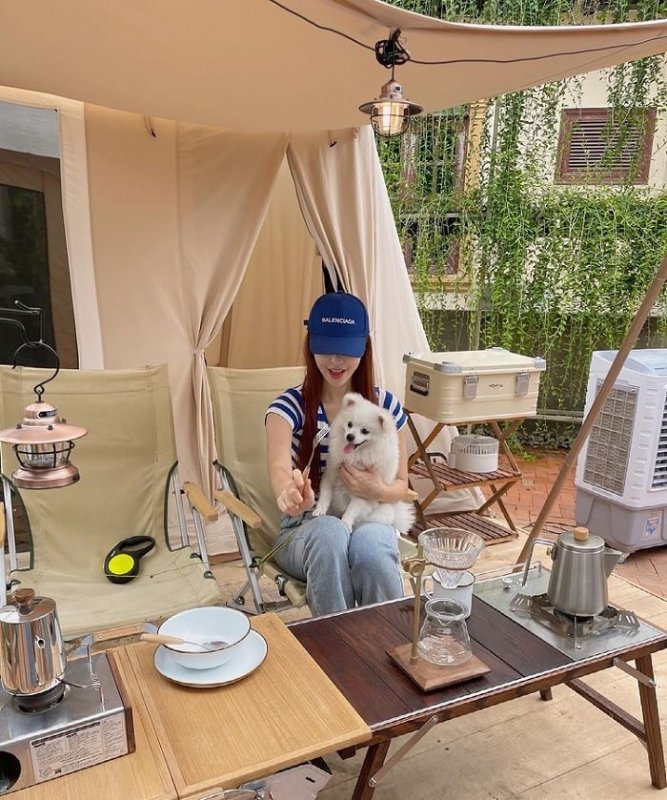 You can even bring your pet to the bar (Photo @bokttoonga)
If you do not have time to go far from Ho Chi Minh City but still want to experience the feeling of camping and chilling with nature, then the camping coffee space in Thu Duc is the ideal destination for you. friend.
Photo: Internet
TAG: