Explore Bo Hon Island in Quang Ninh admiring the beautiful scenery and kayaking
Ha Long is famous for its many beautiful bays and islands that captivate people and attract visitors. Among them, Bo Hon Island, Quang Ninh, is a famous tourist destination that you should not miss when you have the opportunity to visit the beautiful coastal city. 
Where is Bo Hon Island in Quang Ninh?
Bo Hon Island in Quang Ninh is a very famous island on Ha Long Bay. This is one of the attractions that attracts a large number of daily visitors. This island has an area of ​​about 3.8 km and is located about 20 km from Tuan Chau Island. This is considered the home of many rare animals.
For first-time tourists coming to this island, they will not be surprised by the majestic and fanciful beauty on the island. A few names that cannot be ignored are Trinh Nu cave, Sung Sot cave, Ho Dong Tien cave, Luon cave, and Trong cave. In which, each cave will have its own unique beauty that makes visitors only know how to compliment the beauty and fall in love with the way back.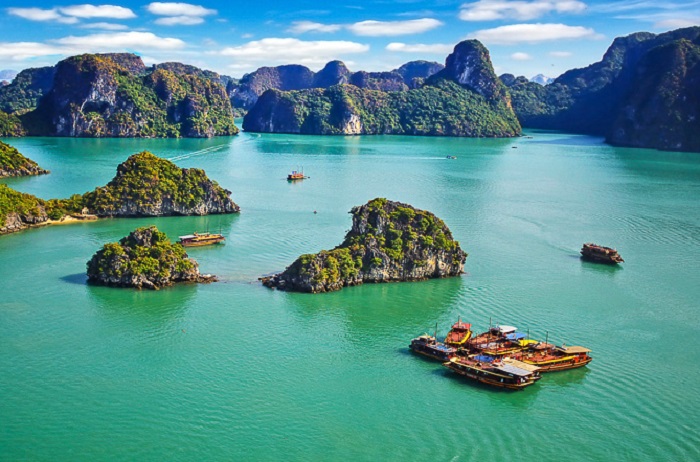 Bo Hon Island is a very famous island in Ha Long Bay

The ideal time to visit Bo Hon Island
Visitors can visit Bo Hon Island at any time. However, the most ideal time to go to Bo Hon Ha Long island will be from September to April next year, at this time the weather is quite pleasant and suitable for traveling and sightseeing.
In the summer it is also great to go, but remember to bring an umbrella to avoid rain and sun and apply sunscreen. When visiting, visitors should go early in the morning or in the afternoon to avoid going in the hot afternoon.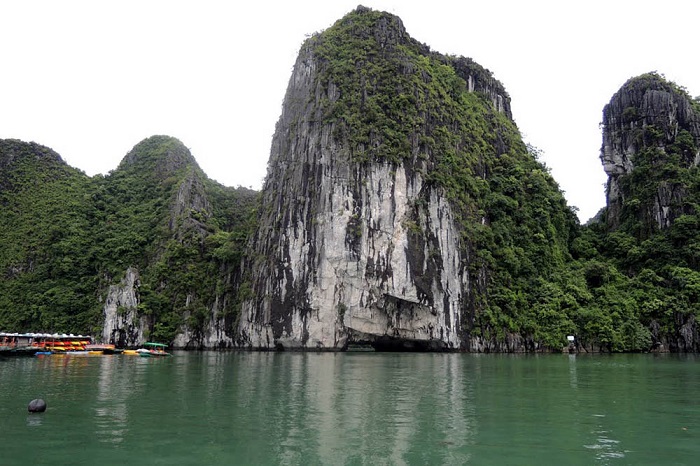 Visitors can visit Bo Hon Island at any time

How to get to Bo Hon Island in Quang Ninh
You can travel to Ha Long by many different means such as bus, private car, plane or choose Hanoi Ha Long tour. After arriving in Ha Long city, you continue to move to Tuan Chau. At Tuan Chau international port, tickets to visit the islands are sold and specific instructions are given. 
The journey to Bo Hon island will be on route 2 (going to Titop island, Sung Sot cave, Luon cave). With a duration of about 6 hours. Or visitors can choose to move to this attraction by private boat, Halong cruise tour does not need to care about buying tickets.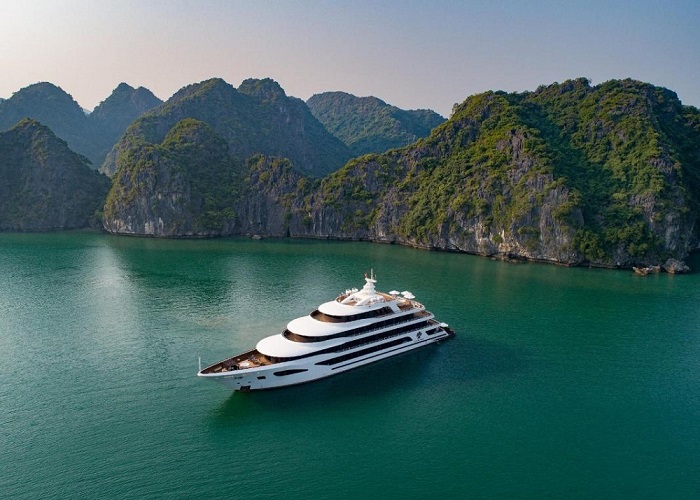 How to get to Bo Hon Island in Quang Ninh by boat?

Explore Bo Hon Island in Quang Ninh
Traveling to Bo Hon Island in Quang Ninh, you will admire the magnificent caves and participate in many interesting fun activities. 

Admire the system of caves
In the journey to discover Bo Hon island, visitors will admire the beautiful cave system here such as: 
Surprise Cave
In 1900, when the French came to Ha Long, they discovered this cave. It is also because of being so amazed at the magnificent beauty inside the cave that the name "La Grotte des Surprises" roughly translates to Sung Sot cave" was born. This is also the cave that was selected by the famous magazine CNN Travel in the top 7 most beautiful caves in Vietnam.
To visit the cave, visitors will have to go by stairs about half a kilometer long to reach the cave. This cave is hidden in the cliff and is divided into 3 rooms from wide to narrow. You will feel like going into a narrow alley and suddenly coming out to the broken street in the beautiful shimmering scenery inside with stalactites, stone statues with many unique shapes.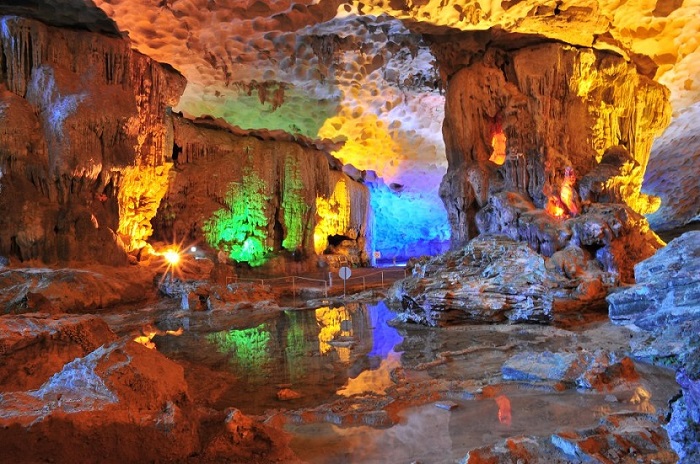 Beautiful Surprise Cave

Luon Cave
This cave is located on Bo Hon Island in Quang Ninh and about 14km south of Bai Chay. This place is likened to a masterpiece of nature in four seasons, with azure water and steep cliffs. Near the water's edge, there is a gate that looks like a bow that is opened at the foot of the island. When coming here, visitors not only can visit to explore the cave but also experience interesting boating activities. It will certainly bring many unique and unforgettable experiences to visitors.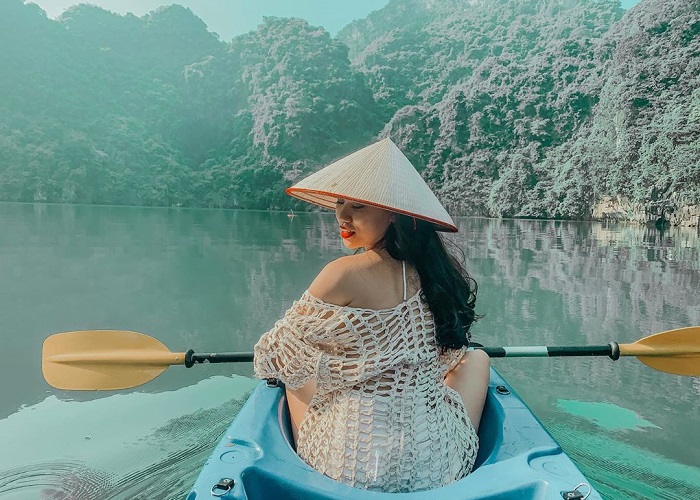 Luon Cave is located on Bo Hon island in Quang Ninh. Photo: halotravel

Virgin Cave – Drum Cave
These are two caves that often have couples in each journey to discover Ha Long. In which Trinh Nu cave is up to 7000 years old. In front of the cave, visitors will see a stalagmite that looks like a beautiful girl lying on her side, letting her hair fall in the wind towards the sea. Going to the Drum cave, you will hear a very strange sound, the sound of drafts reverberating like drums. In addition to visiting the cave, the special attraction of this cave is that it is associated with the legend of a very thrilling love.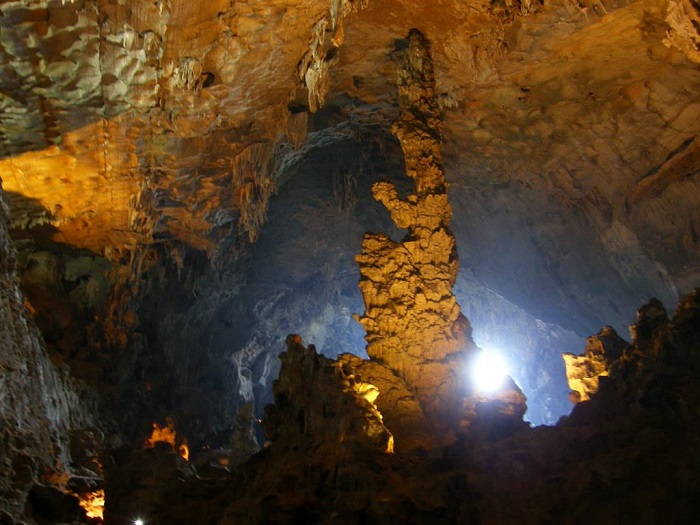 Virgin Cave – Drum Cave

Ho Dong Tien Cave
A special feature of this cave is that "in the cave, there are caves, fairies and lakes". The cave is enclosed in the mountain and deep inside will be a small lake. According to an old legend, this place is a place where fairies often go to bathe because of the quiet desert and beautiful scenery here. Therefore, the name Ho Dong Tien cave also originates from there.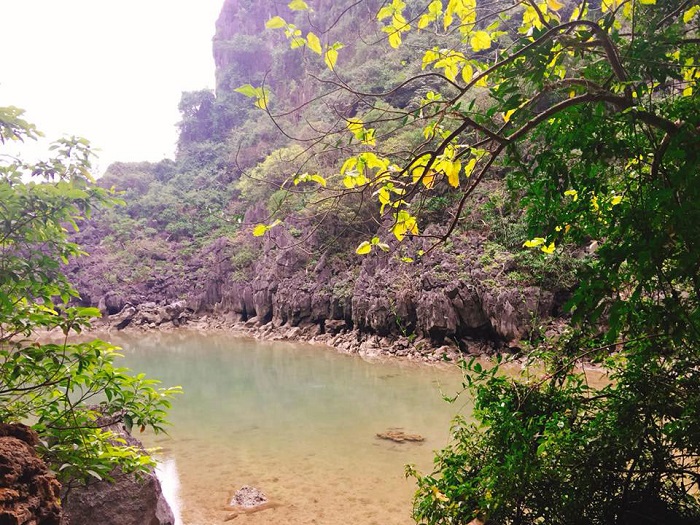 The beautiful Ho Dong Tien Cave

Entertainment activities
Experience visiting Bo Hon Island in Quang Ninh, in addition to exploring the cave, you must not ignore the entertainment activities here which are also extremely interesting. Visitors with good health can experience climbing activities to discover more interesting things on Bo Hon island.
Some other activities you can experience on the island such as: Kayaking is very interesting, fishing, squid fishing or watching the sunrise and sunset on the sea, sunbathing and practicing yoga on the deck.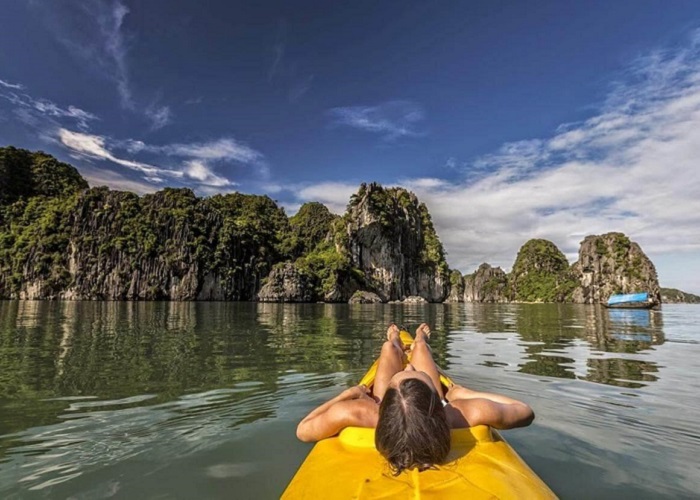 Kayaking to enjoy the beautiful scenery on the bay

Bo Hon Island in Quang Ninh is really a destination that brings many great things and experiences for you. With a diverse and unique system of beautiful caves along with many other entertainment activities, it will make your Ha Long trip more experiences and unforgettable.
Photo: Internet
TAG: