Go Co ancient village – 'sleeping Champa princess' in Quang Ngai
Sa Huynh is not only famous for its blue beach, white sand, and romantic sunshine, but also captivates visitors with its unique cultural heritage and the place to keep those precious memories is the ancient village of Go Co Binh. peaceful and poetic.
Introduction to Go Co ancient village
Go Co or Xom Co is an ancient village located in Long Thanh 2 hamlet, next to An Khe lagoon and overlooking Sa Huynh beach of Pho Thach commune, Duc Pho district, Quang Ngai province and far from the center of Quang Ngai city. about 60km to the south.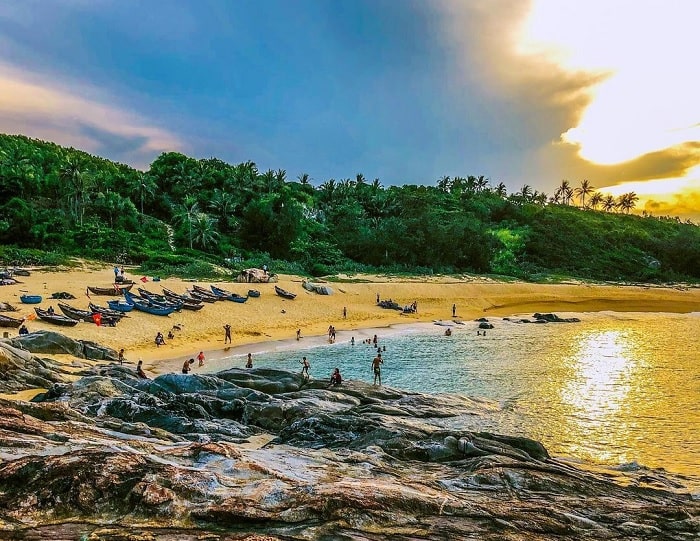 Peaceful village in the morning sun (Photo @cinnamoncruises)
The village has only about 105ha, with only 83 households, the road is winding and bumpy, but because this place used to be the "owner" of Sa Huynh culture, it contains many typical values ​​of the culture. ancient Champa and Dai Viet culture, so it was dubbed the "treasure" of Quang Ngai.
With beautiful nature, impressive geological heritage cultural heritages and friendly and enthusiastic people, Go Co ancient village is a destination that you cannot miss in Ly Son – Sa Geopark. Huynh.
What's attractive about Go Co ancient village?

Peaceful, poetic scenery
The process of urbanization and modernization has caused many villages to gradually lose their inherent pure nature, but Go Co fishing village is still peaceful in green grasslands with buffalos grazing, with plots of land. The golden terraced fields looming behind the ancient trees and with the towering mountains stretching as beautiful as the pictures, make us feel like we are "transmigrating" to an innocent and poetic childhood.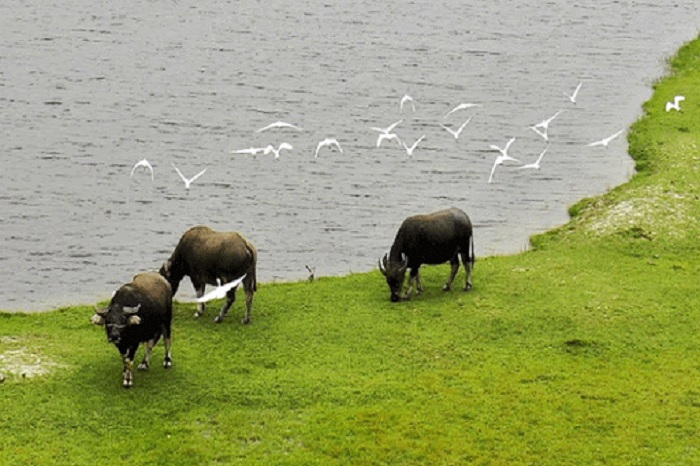 The village brings us back to our childhood
In addition, in the village, there are still houses with palm leaf roofs, walls and doors made entirely of bamboo, and simple rustic wooden tables and chairs, adorned with a few strips of woven lanterns. clouds, surrounded by colorful trees and flowers, bringing a quiet ancient color like the setting in a historical movie that we often watch on TV.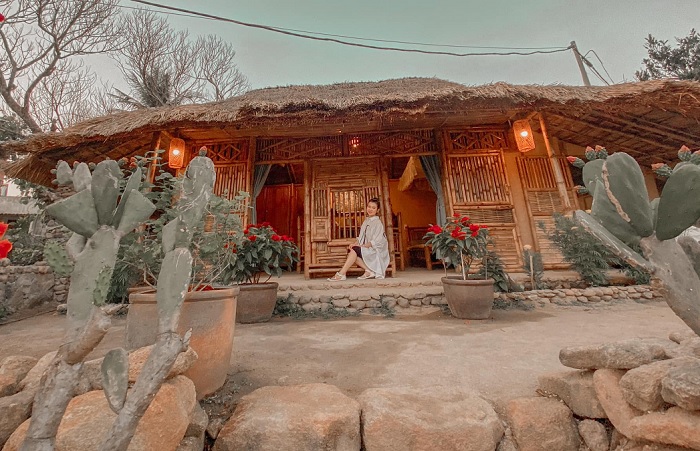 As beautiful as the scenes on historical movies (Photo Fb West Tiger)
In particular, in the village, there is no squishy music, neither convenient sharpness nor any pubs, plus the bumpy and winding road is a bit difficult, so the space is always peaceful and quiet like a teenage girl. So that anyone who comes to Go Co ancient village  will feel like they are lost in another world – where there is no noisy car horn, no dust, only laughter, waves and waves. only wind.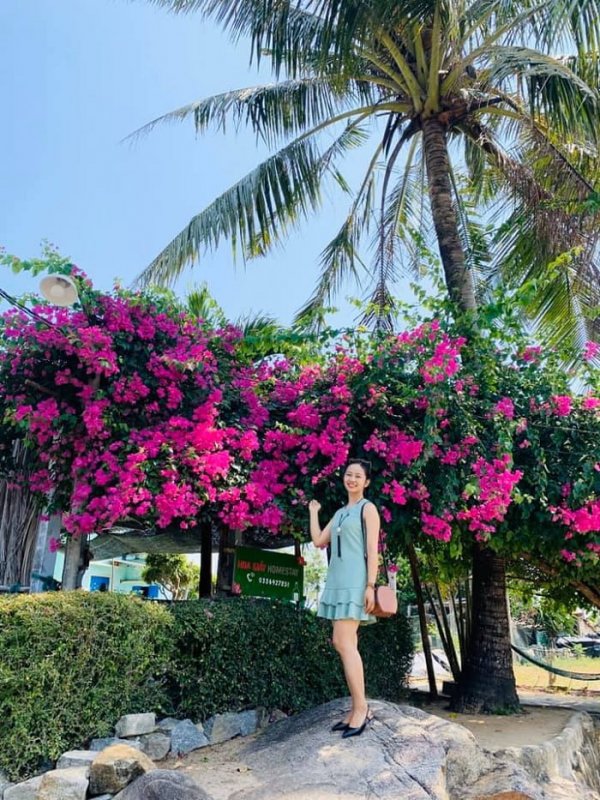 The scene in the village is very peaceful (Photo Facebook Huong Ly)
Bring the unique beauty of Champa – Sa Huynh
The ancient Sa Huynh people used stone as an indispensable item in life, from building walls to build houses, preventing wild animals, protecting gardens to making embankments to keep land. And when you come to Go Co village in Quang Ngai, you will see metamorphic rock everywhere – a rock dating from 250 to 400 years ago.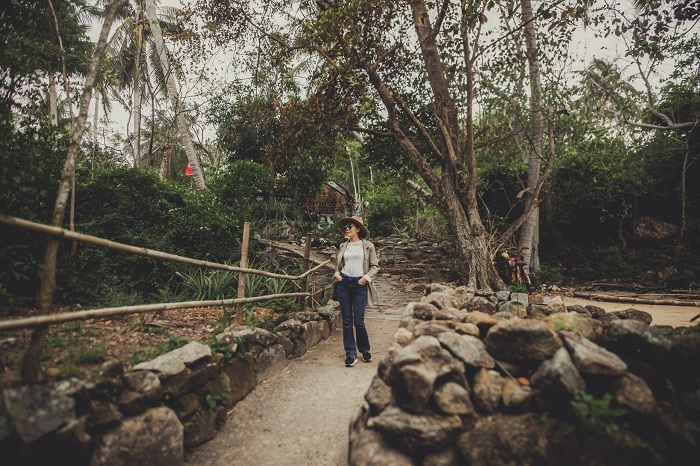 Every village is stone (Photo: Duy Sinh)
Large and small rocks stacked on top of each other to form paths, stairs, fences, fields, stream banks, stone houses and temples, even in the village there are 12 Cham wells built of stone that have existed. For hundreds of years, today it has been covered with moss but is still intact as in the beginning, that's why the village is called "Cham princess – Pa sleeps long in the middle of Sa Huynh culture space. woke up one day."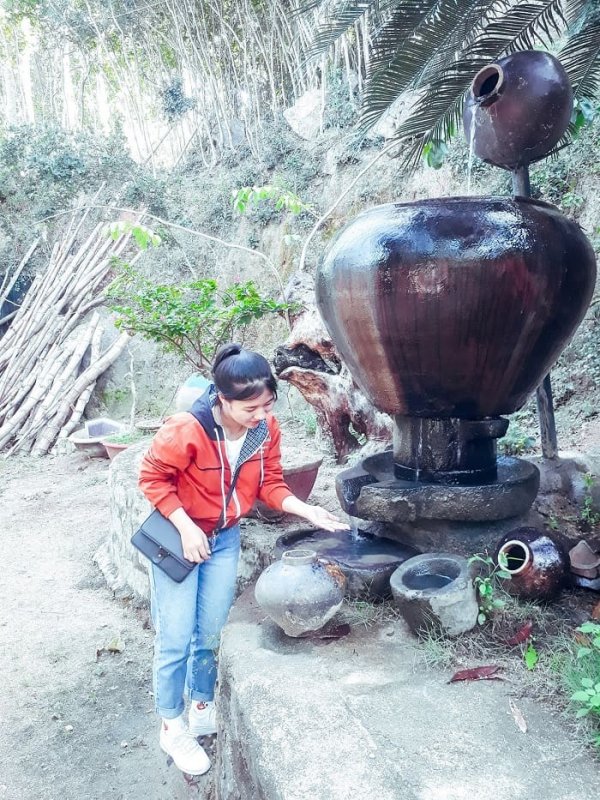 Still preserving many unique Champa culture (Photo FB Thanh Tra Huynh)
It is known that the stone tunnels used to be the place where mighty warriors hid and protected the villagers during the war, and the system of ancient wells has been and is a source of life to nourish generations, as well as the The traditional connection between the Cham and Vietnamese cultures of the ancients, therefore, is preserved by the people of the ancient village of Go Co as sacred products.
Honest and friendly people
Not only the ancient, contemplative and rustic scenery, but also the pure, enthusiastic and hospitable people in Go Co Sa Huynh village also make visitors "behind the heart". They always greet you with big smiles on their faces and are always ready to sit down and tell you long stories about war memories and wonderful memories with the village from the past. Guaranteed to keep you hooked.
Life here is not cluttered, chaotic and noisy like the lavish urban places out there, but it is quiet, idyllic, slowly drifting in the sound of cocks crowing in the early morning and the sound of insects at night.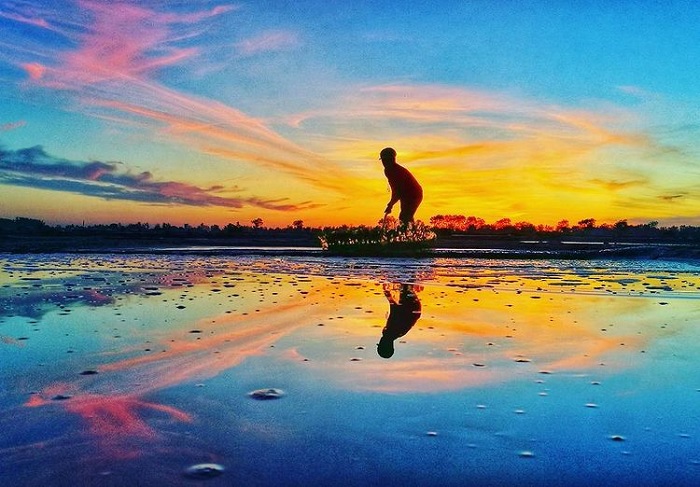 The beauty of labor in the village (Photo @di.rong.danang)
The people here not only know how to farm, knit boats, knitting baskets or nong nia, extremely beautiful baskets for you to buy as gifts, but also know how to knit nets and catch fish, so you can join them. With you guys sitting on a beautiful basket boat and floating in the middle of the sea to fish for shrimp, it will definitely be an extremely memorable memory.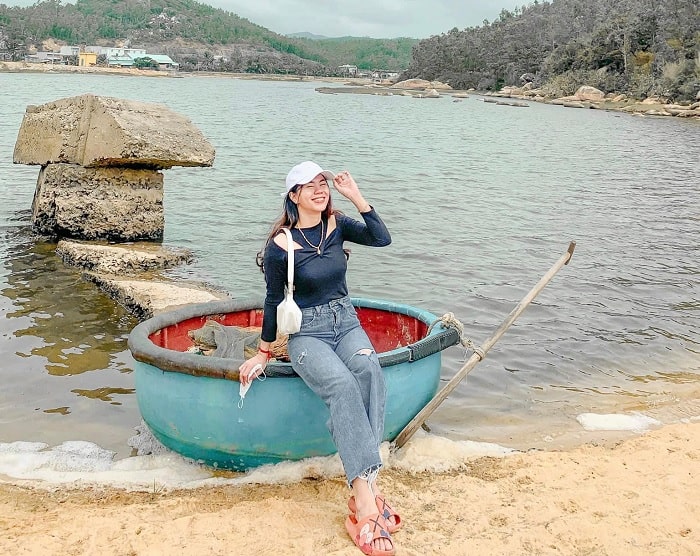 Sitting on a basket boat to the sea is an interesting experience (Photo FB Withered Pucca)
In particular, they work not in a hurry but relax steadily, sometimes even singing a few tunes as a way to relieve pressure. This is also the interesting feature of Go Co ancient village that makes anyone who comes here to travel must love.
Even though it has been through hundreds of years with many ups and downs, the folk songs of the people singing the charms, singing the opposites, singing the lake and especially the hut song are still indelible in the spiritual life of the people, even it still exists. become the "underground water" to nourish the spiritual culture of the people here.
Come to Go Co village and listen to melodies such as: "Sending my heart to my father", "To Duc Pho my hometown" or "Before leaving"… from the clear voices of the ladies and gentlemen. her, you will see the heart like being caressed, soothed, becomes strangely sobbing.
Diverse and delicious cuisine
Go Co village not only welcomes visitors with all kinds of typical potatoes and tubers of the sunny and windy Central region, sweet cakes made from the skillful hands of women and girls, but also delicious dishes. delicious products of the sea such as shrimp, crab, fish, scallops, snails, clams, oysters…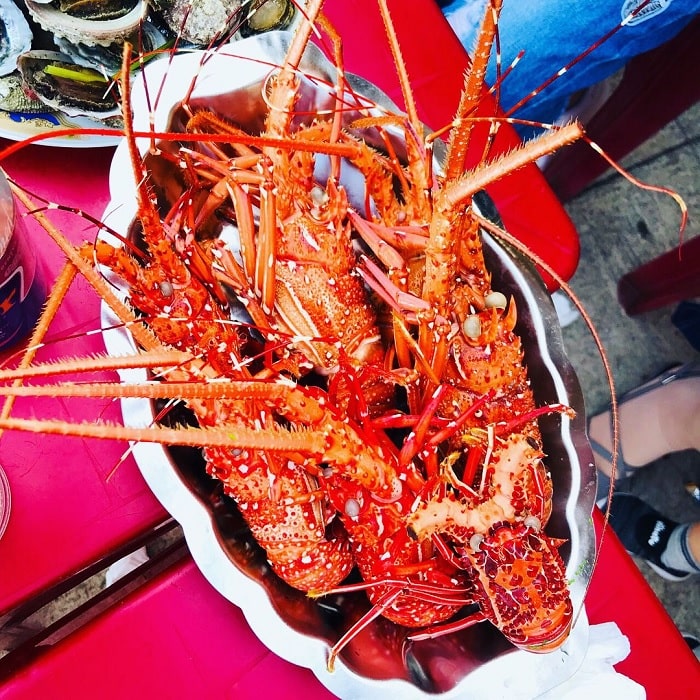 Super delicious lobster dish (Photo @nhuphuong265)
Revealing, the soup with dragon tongue – sea bass, milk oysters cooked with Giang leaves or steamed April squid with ginger are super famous dishes here that you definitely have to try.
How to move to Go Co ancient village
From the center of Quang Ngai city, you take a motorbike or car to the East to Quang Trung Street, to the roundabout, take the 2nd exit onto National Highway 1A towards Ho Chi Minh City, and so on. THANH LONG CONSTRUCTION ENTERPRISE, turn right onto an unnamed street, then turn left at Cam Tan Restaurant and go about 800m, then turn right to reach the village. 
Note : these are roads in the commune without names, so if you are afraid of getting lost, just ask the locals to make sure.
To tourism in Quang Ngai without visiting the ancient village wood there – "treasures" of the Sa Huynh heritage then your trip is indeed very flawed jog.
Photo: Internet
TAG: