To reach this islet you have to travel on an underwater path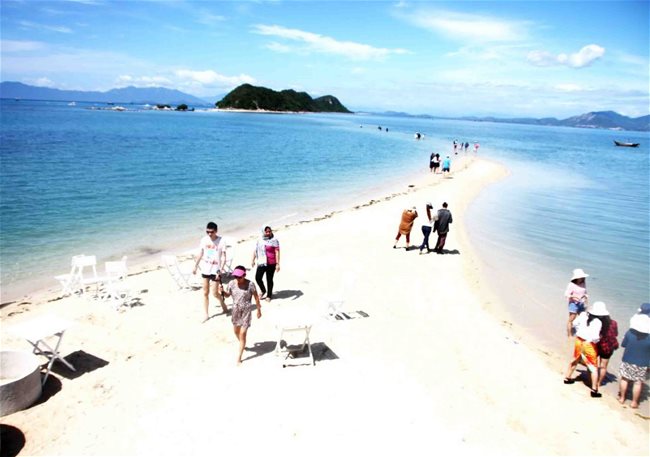 The natural walking path which connects Diep Son and Hon Giua islets - PHOTOS: KHUE VIET TRUONG
HCMC - Among the numerous islets in Van Phong Bay, Khanh Hoa Province, are Diep Son, Hon Giua and Hon Duoc islets. Diep Son and Hon Giua islets are connected to each other by a natural walking path which is submerged in the sea at high tide.
Among the three islets, Diep Son is the biggest. The island, which is in Diep Son Village, Van Thanh Commune, Van Ninh District, is home to tens of households whose livelihood is fishing. On islet are a 130-meter-tall mountain having the same name and a source of groundwater.
Diep Son began to be known to Vietnamese travelers in 2016. They arrived in Diep Son to admire the unique path stretching 700 meters between Diep Son and Hon Giua islets. The path emerges at low tide.
From Nha Trang, the capital city of Khanh Hoa Province, tourists travel around 60 kilometers and pass the Hien Luong Bridge to come to a beautiful coastal street. Traveling about 400 meters on this road, visitors will reach Van Gia fishing port where they catch a high-speed boat to go to Diep Son Islet. A round-trip ticket is VND200,000 per guest. Travelers to the port on motorbike can park their vehicle at local houses at a cost of VND10,000 each.
From the small port on Diep Son Islet, travelers walk to a wooden bridge to reach the 100-meter-wide natural walking path in the sea. The closer tourists are to Hon Giua, the more flooded the path becomes.
Around 250 meters from the path is a fishing village. But to reach the final point, travelers have to cross a beach full of seaweed and stones. On the beach, there are tables and chairs as well as hammocks, soft drinks and simple dishes offered by local households.
Two rows of thatched huts leaning against the mountain are where travelers can take a rest. They may sit on chairs arranged under parasols on the sandbank.
The islet has become more touristy than before. Yet visitors can still enjoy fresh seafood at small eateries and take deep breath of refreshing sea breeze.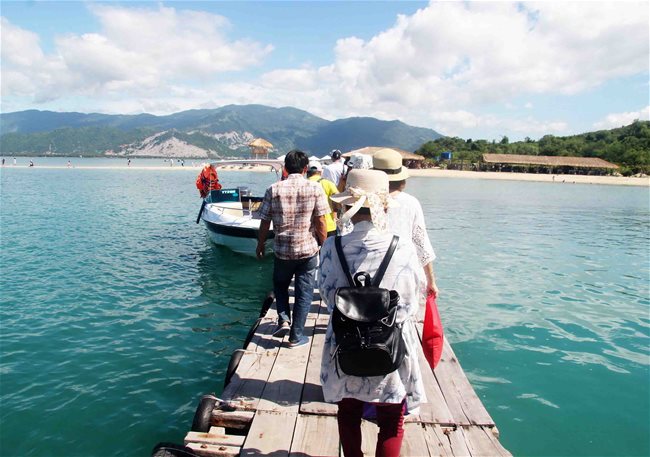 The small port on Diep Son Islet
TAG: