Lai Vung-style fermented pork roll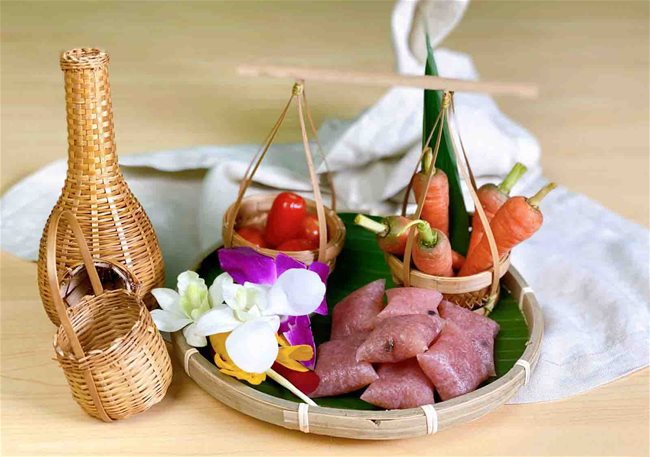 Lai Vung-style fermented pork rolls
HCMC - Lai Vung District in the Mekong Delta province of Dong Thap is well-known by nem, (fermented pork roll), its unique specialty.
Nem, which means fermented pork roll in provinces in the Mekong Delta, is a popular food here. However, nem in Lai Vung District of Dong Thap Province is arguably the best of its kind. According to inhabitants in the district, the local nem is ascribable to a woman named Tu Man who lived in Tan Khanh Village, Lai Vung District, 60 years ago. Ms. Tu Man at first prepared the fermented pork rolls for her family's parties. Diners were surprised at the tastiness of her nem and asked her the secret of making them. Since then, Ms. Tu Man's fermented pork rolls took root and have become popular in Lai Vung and the surrounding localities. It has also gone beyond the province to travel far and wide across Vietnam.
Despite its seemingly simplicity in preparation, a cook making nem should focus on ingredients. First, flesh from ham or ham leg is ideal. The second ingredient is pork rind which helps the fermented rolls crunchy. The spices include pepper, garlic and sugar. A note should be taken here. While red chili is a common spice in versions of nem in other localities, Lai Vung nem makes use of local green chili only available in the district. Albeit a "supplementary ingredient," green chili with its strong taste must be used to enhance the flavor of these fermented rolls.
An ideal fermented pork roll must have a ratio of eight parts pork and two parts pork rind. These rolls are wrapped in chum ruot (Phyllanthus acidus) leaves or vong (Erythrineme orientalis) leaves to create a natural sour taste. Before being wrapped in banana leaves, slices of green chili and a clove of garlic are added.
Nowadays, the tastiness of Lai Vung nem is somewhat different from the old one because some ingredients have been replaced and pork and pork rinds have been prepared by machines, not by hand. However, the Lai Vung-style fermented pork rolls remain a favorite specialty for visitors to Dong Thap.
TAG: