A glimpse of ancient China at Ong Bien Hoa temple
Ancient Vietnamese pagodas are not rare works, but ancient temples with Chinese architectural style like Ong Bien Hoa pagoda are not found everywhere.
About Ong Bien Hoa Pagoda
Ong Pagoda is a folk name to refer to the shrines and assembly halls of Vietnamese or Vietnamese people of Chinese origin dedicated to worshiping saints, historical figures or Buddha gods. Currently, in Vietnam, there are a total of 6 Ong pagodas, especially in the South, there are 2 temples in Can Tho and Dong Nai.
Accordingly, Ong Bien Hoa Pagoda is also known as That Phu Ancient Temple or Quan Thanh De Temple, because it worships the god Quan Cong, symbolizing loyalty, filial piety, filial piety and righteousness. Previously, the temple was located at Chau Dai Pho, Cu Lao Pho, and now it is in Hiep Hoa commune, Bien Hoa city, Dong Nai province .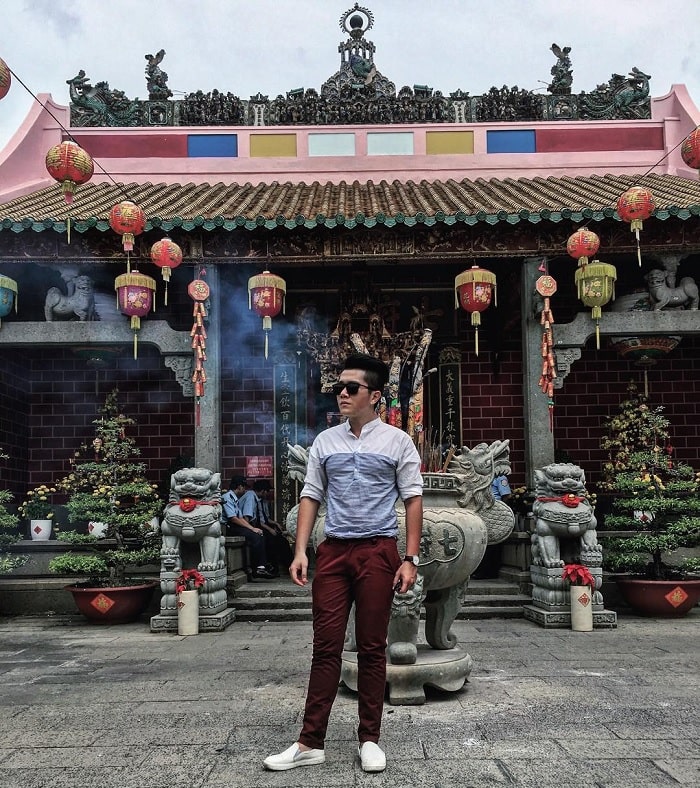 Ancient Ong Pagoda in the heart of a modern city (Photo @voviet88)
The temple was built around 1684, so far it is more than 330 years old, so it is considered the oldest temple in the South, and at the same time marks an important historical milestone of the Vietnamese and Chinese. in the process of reclamation and expansion of the unspoiled southern land.
Experiencing many changes of time, harsh weather and the destruction of war, Ong temple in Bien Hoa was almost completely damaged, so it had to go through many restorations. in 1817, 1868, 1894, 1927 and the largest in 2009-2010 to get the impressive appearance today. 
In particular, in 2011, the temple was ranked as a national historical and cultural relic by the Ministry of Culture, Sports and Tourism , so it always attracts a lot of people to visit and pilgrimage every day.
The unique architecture of Ong Bien Hoa pagoda
The Throne of the Ancient Temple welcomes visitors by a towering three-way stone gate. Although the pagoda's name is written in Chinese characters, the roof is covered with yellow and green yin-yang tiles, and the top is delicately carved with two dragons while waiting for the dragon, the gate is bright red eye-catching, adding a few red lanterns hanging, so no one can ignore it.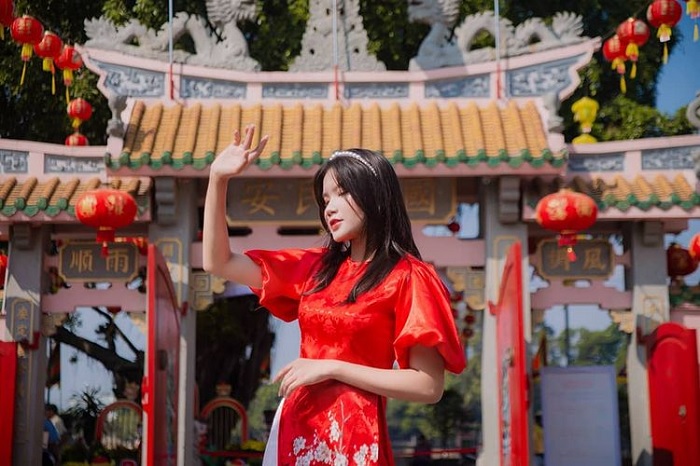 Eye-catching temple gate (Photo @1zuong0pao2.sle)
Besides, the pagoda is also surrounded by a pink brick wall 2.5m high, in front overlooking the peaceful Dong Nai river and the ancient si tree shading the roadside, giving it both ancient features. Just a little bit modern.
Although it has undergone many restorations, the architecture of Ong Bien Hoa pagoda is still kept intact as the original, with the typical Chinese temple style, which is the shape of the word "Ku" arranged in the "internal interior" structure. foreign public", including a building in the middle, also known as the main hall in the shape of the word "Cong" and the two sides are auxiliary works called Dong Lang and Tay Lang.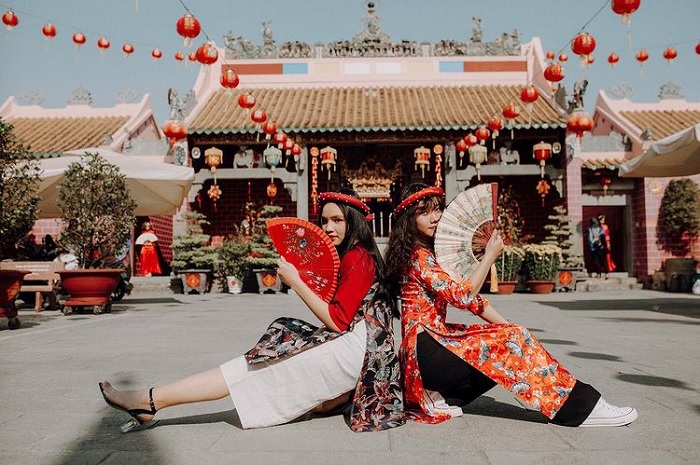 The pagoda has the familiar Chinese character Khau (Photo @neyux_ah)
The roof of the pagoda is covered with red yin and yang tiles that have been tinged with moss and the top of the roof is attached with a glass pipe in the traditional style of Vietnamese pagodas. On the tiled roof are art works showing the basis of Chinese beliefs such as statues of Mr. Nhat, Mrs. Nguyet and festivals of Tuong singing, bridge kicks, court dances, etc., which are delicately sculpted from poisonous green glazed ceramics. unique, making no one can take their eyes off.
The wall of Ong Pagoda in Dong Nai is paved with a layer of pink bricks, both creating accents and making the space of the pagoda seem brighter. This is also the point that makes it more similar to Ong Pagoda in Can Tho , except that the yard is more spacious and airy, with more miniatures, such as a giant glass vase and a more elaborately built gate. , so if you just glance at it, you will easily be mistaken.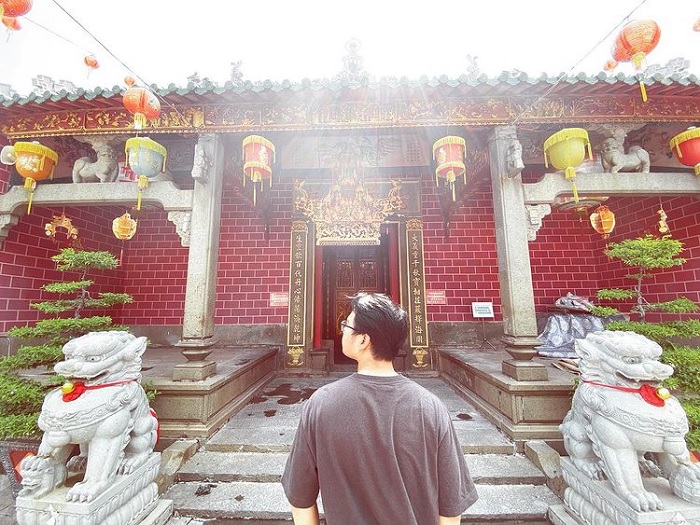 Unique pink wall (Photo @vincentnk.duy)
However, the most prominent place of the pagoda is probably the main shrine area, including Tien Dien, Trung Dien and Hau Dien connected together along a straight axis from the outside to the inside, bearing bold Chinese characteristics, with pillars and roofs. The tiles to the door are all gorgeous and powerful red.
In particular, on the columns, there are parallel sentences and horizontal diaphragms engraved with golden words praising Quan Cong's prestige, along with the lamellas, contraptions, parasols, hammocks, altars, etc., which are delicately carved with figures. images of gods, mascots, flowers and scenes of people's activities such as carrying water, cutting firewood, etc.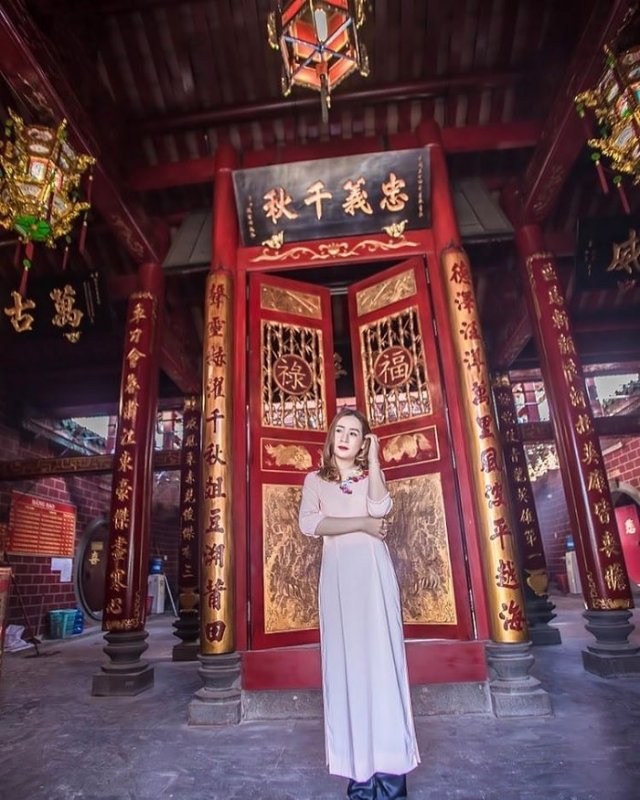 The building has noble yellow and red colors (Photo @angel240592)
In the middle of the main hall, the statue of Quan Cong (ie Quan Thanh De Quan) is dressed in blue brocade, exuding majesty and majesty. Besides worshiping Quan Binh and Chau Xuong Hau – his adopted son and loyal hero. The other two worshiping rooms next to it worship Thien Hau Thanh Mau and Kim Hoa Nuong Nuong.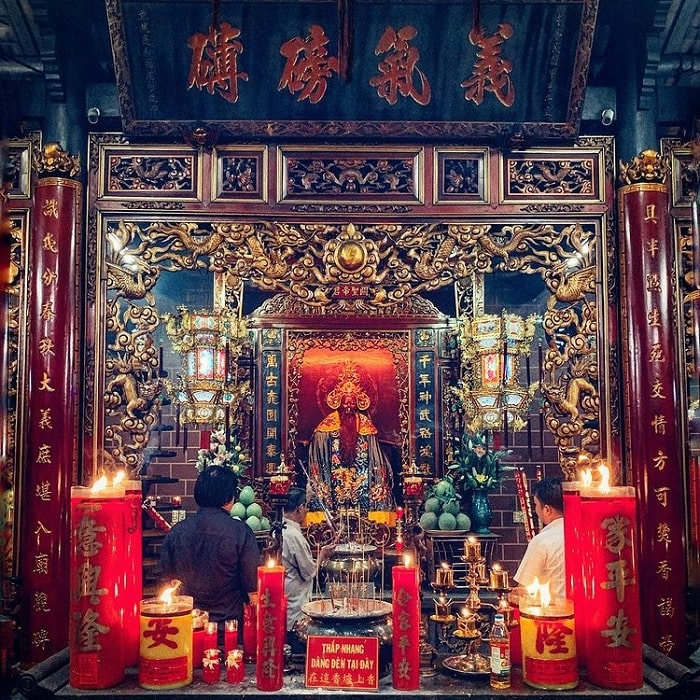 The main shrine of Quan Cong (Photo @binh__huynh)
In addition, inside Ong Bien Hoa pagoda, there are many other worshiping places scattered throughout the place of worship: Buddha Mother Chuan De, Nguyen Quan, Mother Do, Mother Sanh, Bao Cong, Than Tai, Ngu Hanh Nuong Nuong, Thai The, Guan Yin Bodhisattva and mascots such as dragons, tigers…
Typically, Quan Am Cac (Quan Am shrine) has 2 floors behind the newly built main hall, so it has a very Vietnamese design. Or the building on the left used to be Phuoc Chau restaurant, now to worship the God of Wealth.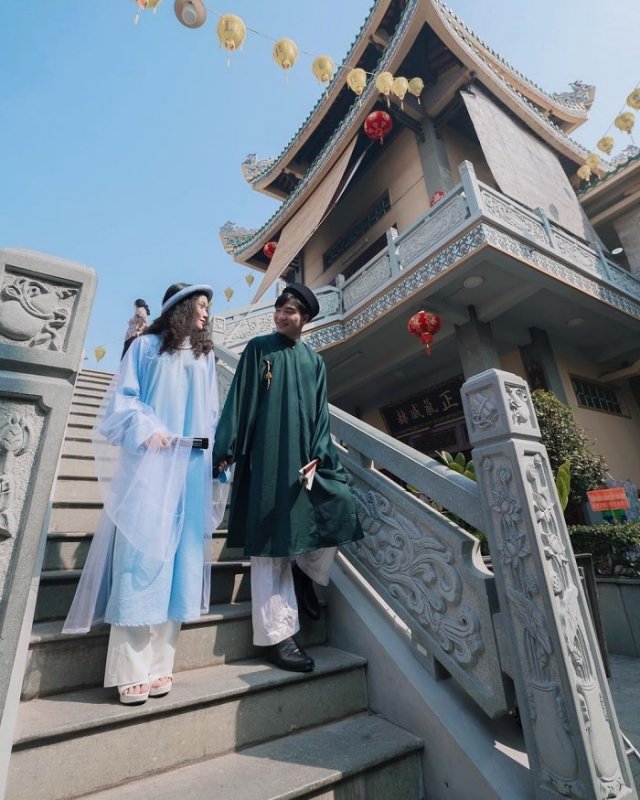 Quan Am has a different architecture (Photo @neyux_ah)
Activities not to be missed at Ong Bien Hoa Pagoda
It is known that Quan Thanh is an extremely sacred god, so on holidays, Tet or even the 1st and 10th of every month, many people bring offerings and incense sticks to pray for peace. , health, luck, prosperity and good luck for yourself and your loved ones.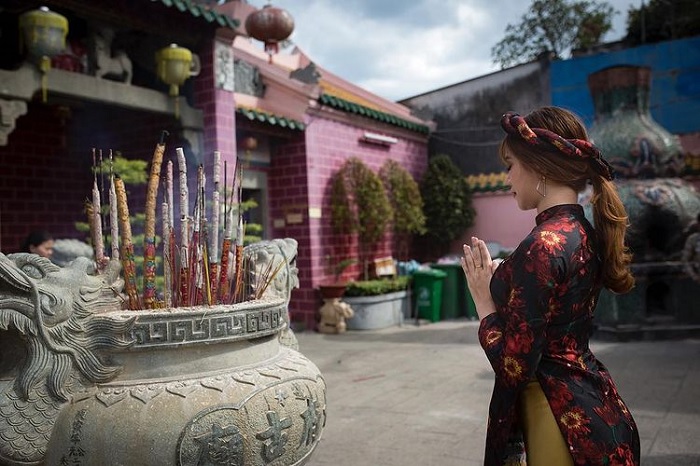 Anyone who comes here must worship Buddha (Photo @tranphuongnam1710)
Besides, because Ong Bien Hoa Pagoda exudes an ancient, quiet "breath" like the background of ancient movies, if you come here with a flowing ao dai, traditional Nhat Binh costume or other costumes Clothes with bright red colors will "buy" a lot of "luxurious – genuine – smooth" virtual live pictures.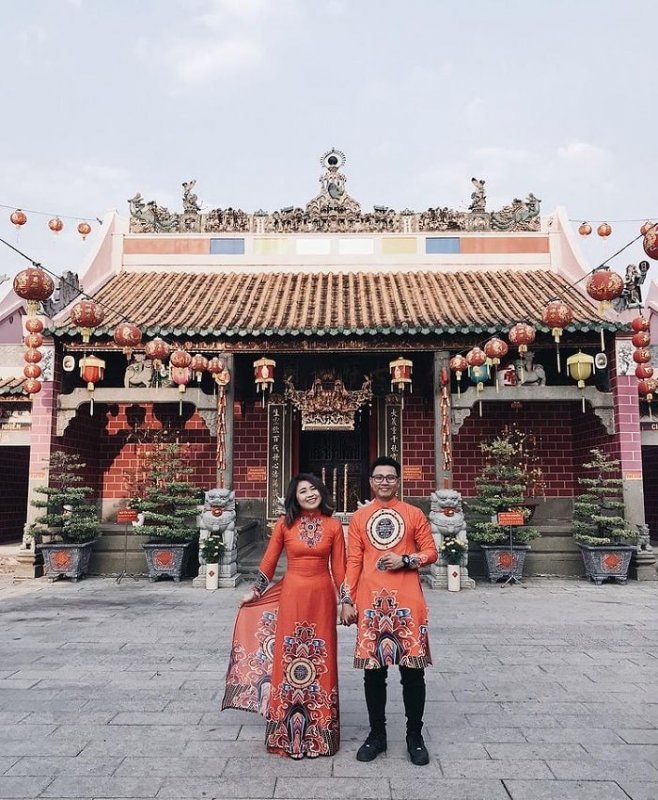 Wearing a little bit of sur tone is always beautiful (Photo @tonngodong)
You can also buy couplets, unique calligraphy paintings or lucky charms at the shops on the premises as good luck gifts for your family after your visit to the temple.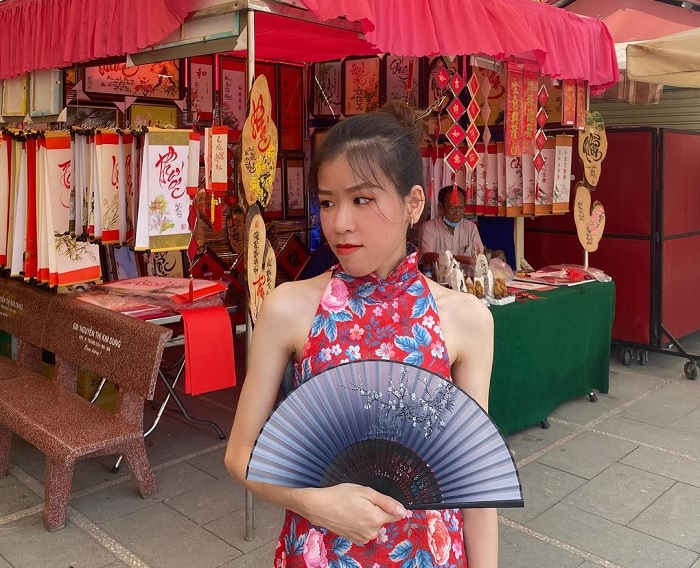 Don't forget to buy calligraphy as gifts (Photo @anpt_ph)
In particular, from January 10 to 13 every year, this place often takes place the biggest Ong Pagoda festival of the year, to connect the folk beliefs of the two traditional Vietnamese and Chinese cultures and to worship the gods. Tien sage had the merit of expanding and building the prosperous land of Bien Hoa as it is today.
At this time, people inside and outside the province flocked to a lot, filling the roads and campus of Ong Cu Lao pagoda , to see the ceremony to invite and welcome (welcome) the god, the incense offering ceremony, the worshiping ceremony to the heavens, the release of Phuc Qi Bridge (balloons with wishes), release of Hoa Dang, traditional performances of the Chinese community such as: Don ca tai tu, ancient tuong singing, lion – monk – dragon dance, calligraphy performance and participation participate in folk games…makes the atmosphere extremely vibrant and bustling.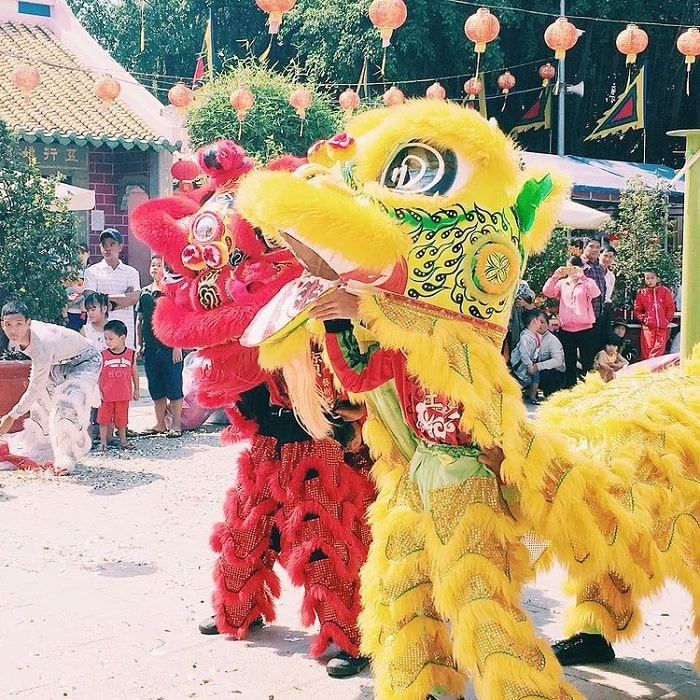 The festival has many attractive programs (Photo @rita.pum269)
In addition, if you are a lover of excitement and shimmering lights in the evening, you can also come on other big holidays such as: feast of Ong, feast of Ba, festival of Vu Lan… definitely will not do. you must not be disappointed.
If you are bored with the modern, crowded and noisy tourist areas of Dong Nai, then go to Ong Bien Hoa temple. to feel the peace of mind and the good traditional culture that remains forever with you. time.
Photo: Internet
TAG: