Sea view bars in Phan Thiet 'chill forget sorrow'
If you have fallen in love with the poetic beauty of the immense sea, but cannot afford to miss the exciting and bustling entertainment venues, the sea view bar in Phan Thiet is a destination that you should not miss.
Top 5 sea view bars in Phan Thiet attract 'chirping' customers

1. Chameleon Beach Bar
Walking along the coast of Phan Thiet, visitors will immediately be attracted by a unique European-Latin American style bar called Chameleon Beach Bar. The shop has both the classic features of a wooden house with thatched roof and unique seashell-shaped rattan chairs, and the modern style of a round glass table set under the whispering green coconut trees in the garden wind, creating a magical check-in corner that everyone loves.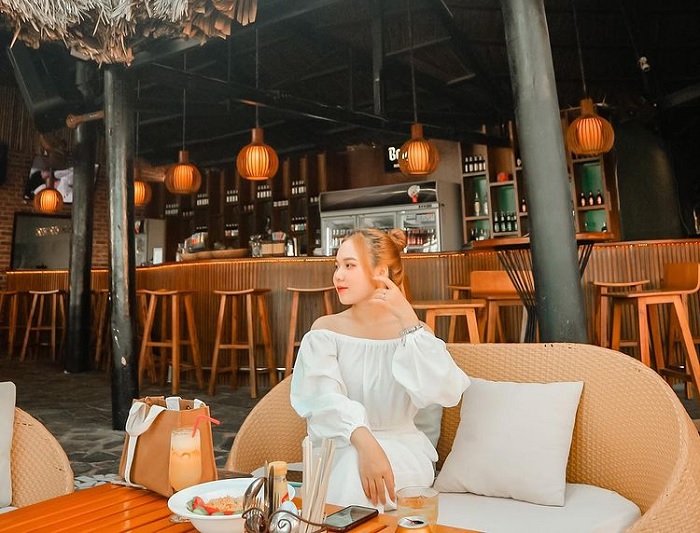 The shop has a modern and classic style (Photo @nttmi)
In addition, this sea ​​view bar in Phan Thiet is also designed with many specialized spaces for virtual living such as: brown wooden beds with white cushions placed close to the sea and eye-catching blue cars, helping visitors to relax and enjoy themselves. can sip a glass of cool water in the cool sea breeze and watch the vast sea, and can buy 1001 refreshing Instagram photos, what could be better than this.
Especially in the evening Chameleon Beach Bar also has a bar serving delicious beer, unique cocktails, top music, colorful lights and charming DJ, promising to bring you an extremely memorable experience.
Besides, the brand of this sea ​​view bar in Phan Thiet is also typical Thai dishes such as pad thai, papaya salad, tomyum, etc., made by Thai chefs. Professional, so it's extremely flavorful and delicious, it's worth a try.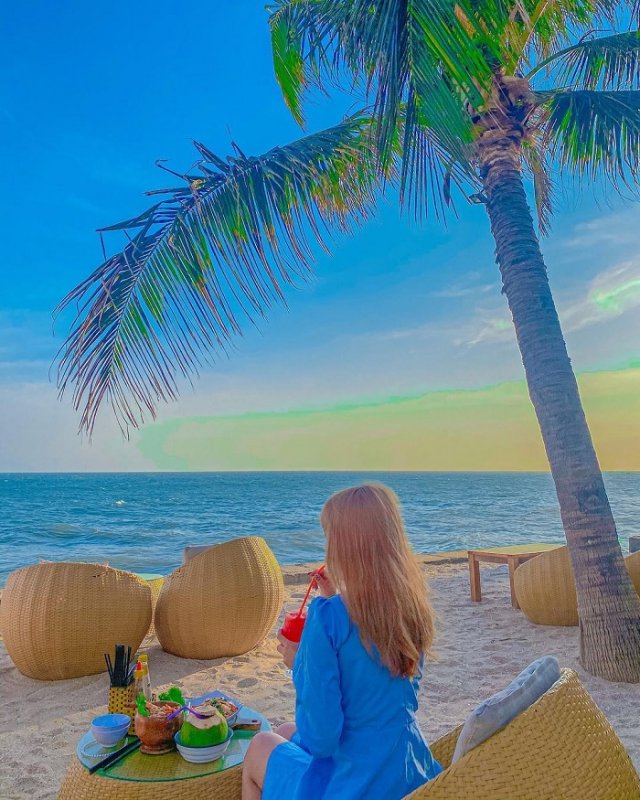 Thai food is the best seller of the restaurant (Photo @th_tuyenn)
Address: 138 Nguyen Dinh Chieu Street, Ham Tien Ward, Phan Thiet City, Binh Thuan Province.
Opening hours: from 9 pm to 1 am daily (except Monday).
2. Dragon Beach Bar
Dragon Beach Bar can be said to be one of the most famous sea view bars in Phan Thiet with a spacious, airy open space and a unique design with blue lazy chairs like the color of the sky placed right by the sea. allowing visitors to comfortably lie down, read a book or chill with the immense sea.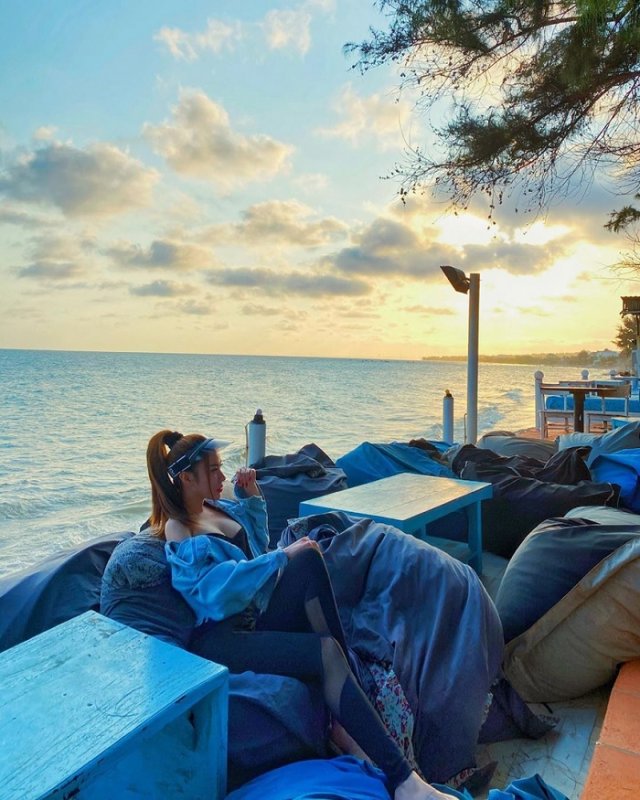 Exquisite area attracts customers of the shop (Photo @trangmilkk)
Moreover, due to the large space of the restaurant, there is also a free swimming pool for those who do not like to swim in the sea can comfortably "cool off", and this is also the place to hold a pool party in the evening. With sizzling electronic music and all kinds of games, interesting circus performances, it's guaranteed to be "coffee" for sure.
However, the point that makes Dragon Beach the most attractive sea view bar in Mui Ne is thanks to its drinks prepared with extremely unique flavors by experienced professional Western bartenders, so if you simply If you like interesting drinks, this is also not a bad destination.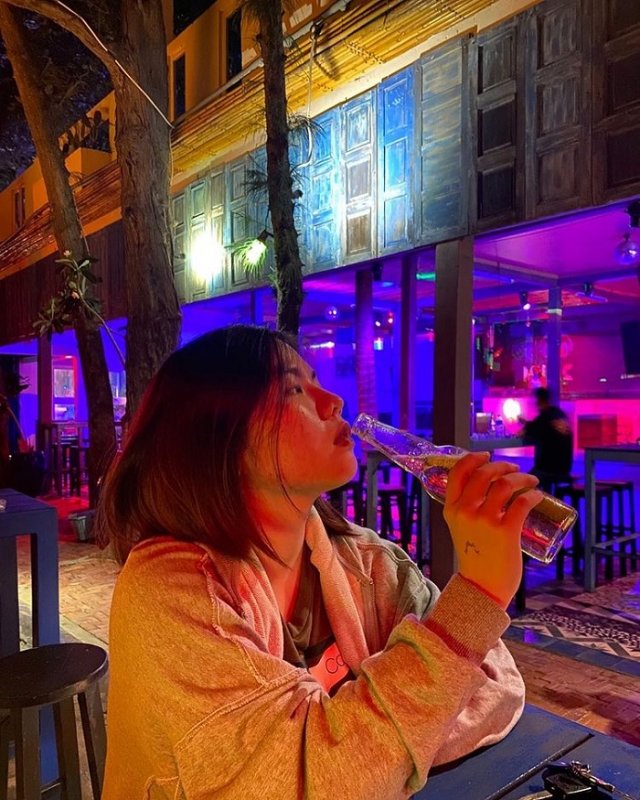 Drinks are a huge plus point of the shop (Photo @realhuong11)
Address: 120/1 Dinh Chieu Street, Ham Tien Ward, Phan Thiet City, Binh Thuan Province.
Opening hours: from 12:30 a.m. to 3 a.m. daily.
3. Blackbirg Bar
If you are a lover of peace, don't like to dance to loud music, just want to sit back and enjoy a cool cocktail and watch the charming sunset over the sea in gentle acoustic music, Deep down, Blackbirg Bar is the most ideal sea ​​view bar in Phan Thiet for you.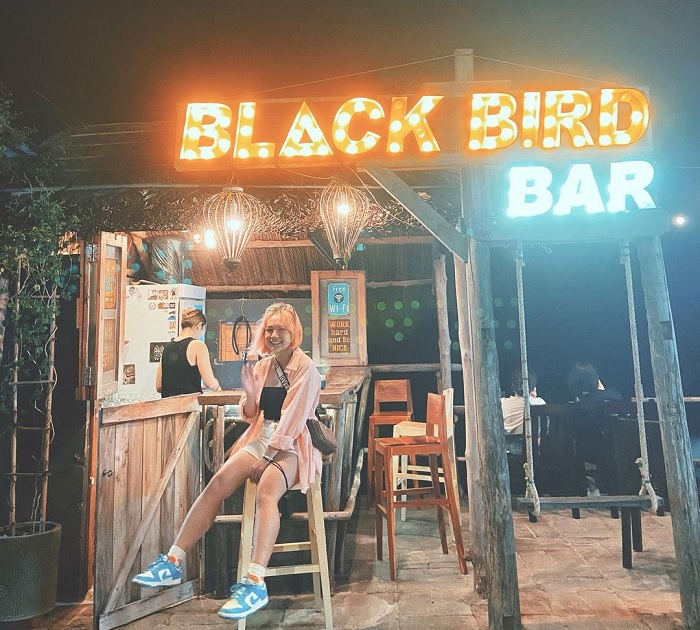 The restaurant's peaceful space (Photo @nonosomnianao)
The restaurant is simply decorated with a small bar like a lovely wooden hut located close to the sea, next to an airy, windy courtyard with brown wooden tables and chairs with bold contemplation of time, above the Hanged with bright light strips and several brightly colored paper lanterns, making us feel as dear and cozy as coming home.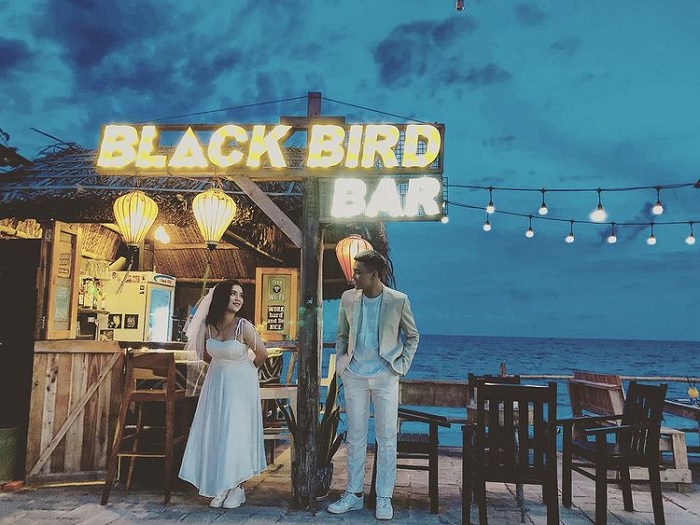 Close and cozy like a dear home (Photo @blackbirdmuine)
Address: 165 Nguyen Dinh Chieu Street, Ham Tien Ward, Phan Thiet City, Binh Thuan Province.
Opening hours: 16:00 to 23:00 daily.
4. Nirvana Beach Club
Another super beautiful sea view bar in Phan Thiet that you cannot ignore is Nirvana Beach Club. If Blackbirg Bar Mui Ne brings a bold Vietnamese space, this place has a very Western style because the owner is a foreigner, so not only Vietnamese tourists but also foreigners visiting the shop are very crowded. .
Although the space of the bar is a bit small, the programs here are very diverse: sometimes there are impressive entertainment shows, sometimes there is a lively music party, other days are gentle and mellow acoustic songs. , even Nirvana Beach Club has a romantic space to enjoy Wine, Cocktail, Cigar or Shisha, so no matter what style you have, this place has it all.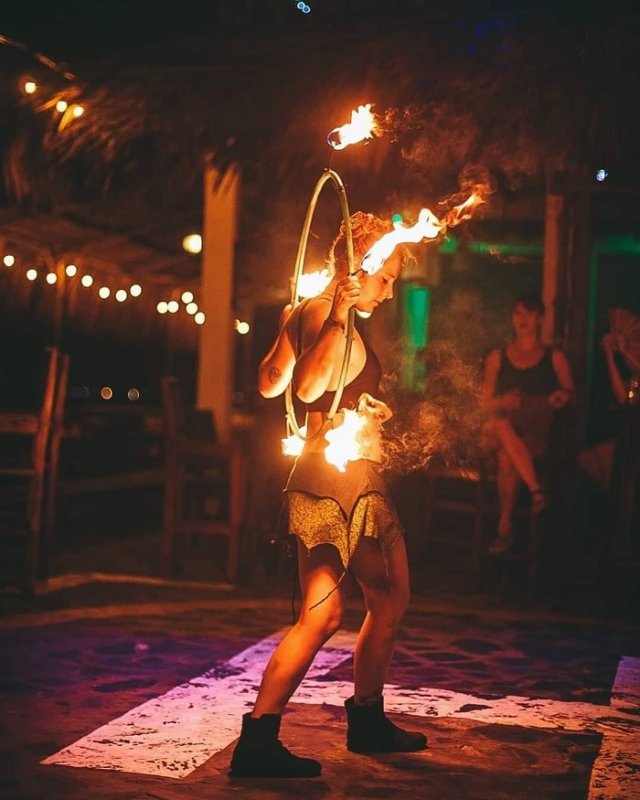 Fascinating evening art show (Photo @hoopixie)
In addition, the restaurant also impresses with the super beautiful sea view, the cool, natural breeze of nature, the extremely dedicated and enthusiastic service style of the staff, especially the delicious dishes. Delicious, diverse from traditional to modern, so this is an extremely interesting night out place in Phan Thiet for you.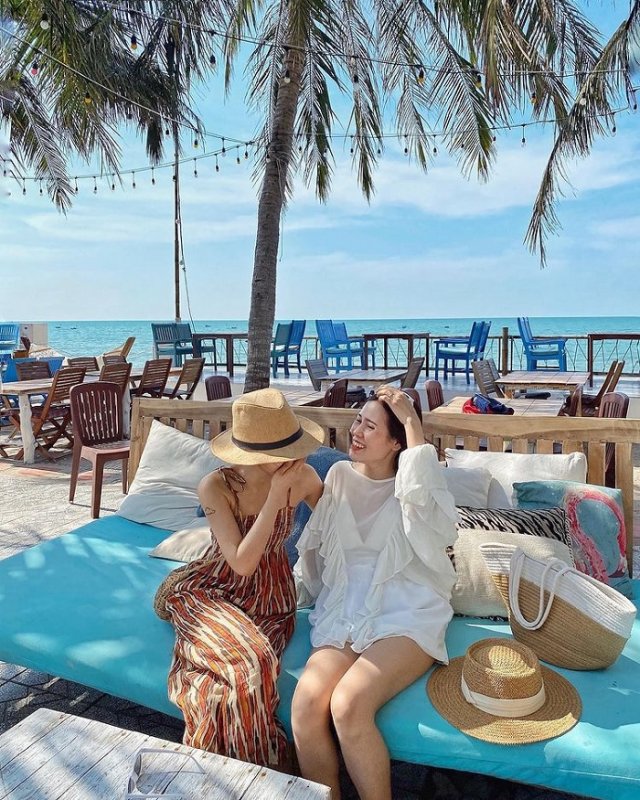 The restaurant's beautiful sea view (Photo @quinnquinn08)
Address: 120 Nguyen Dinh Chieu Street, Ham Tien Ward, Phan Thiet City, Binh Thuan Province.
Opening hours: from 5pm to 2am daily.
5. EVA Hut Mui Ne
EVA Hut Mui Ne was originally a small hotel in Mui Ne town, but because the bar here is so famous, it has been included in the list of sea ​​view bars in Phan Thiet that visitors should not ignore.
The special thing of EVA Hut Beach is that its bar is located right in the hotel's cool green flower garden, with soft tables and chairs and curtains fluttering in the wind to create a space. full of dreams like a fairy tale place.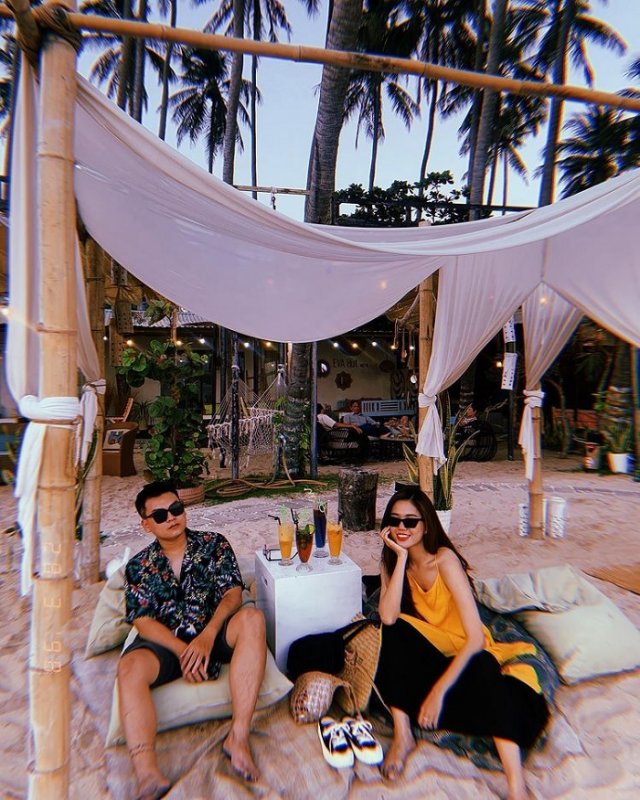 The shop's poetic space (Photo @thuthu.ng1316)
You can lie down on the lazy chairs or go to the beach to enjoy your passionate cocktail and catch the romantic sunset scattered on Mui Ne beach, oh, just thinking about it makes me feel happy. very happy.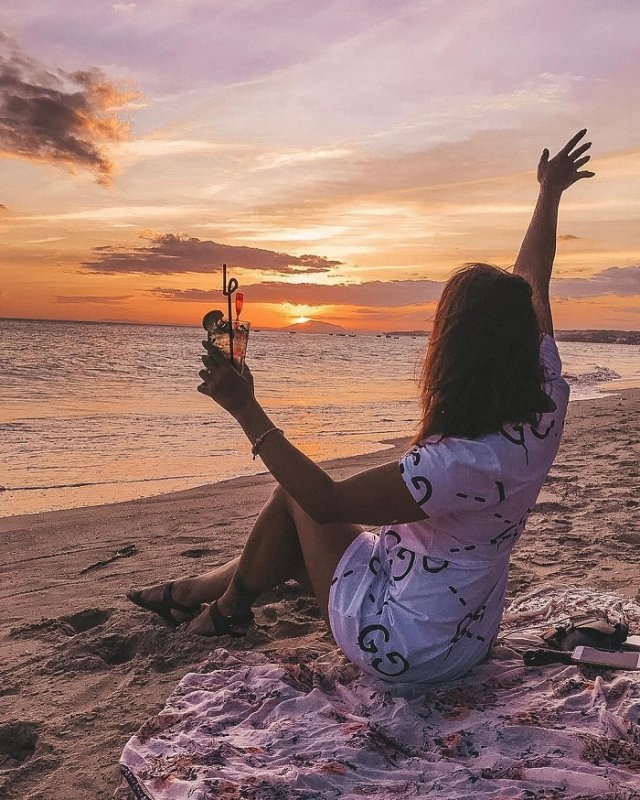 Enjoy the beautiful sunset at the bar (Photo @berbenitckaya)
Address: alley 202 Nguyen Dinh Chieu street, Ham Tien ward, Phan Thiet city, Binh Thuan province.
You both want a place to chill and don't want to miss the beautiful moments at the beach, the sea view bars in Phan Thiet is an extremely ideal destination for you.
Photo: Internet
TAG: