Rare in Hanoi: Bun cha sandwiched with grilled bamboo sticks, selling hundreds of servings every day
Bun cha sandwiched with bamboo has long been a mark in the hearts of the people of the capital since ancient times. Instead of using iron grills to grill, grilled meat using bamboo sticks will create a more special flavor for the dish.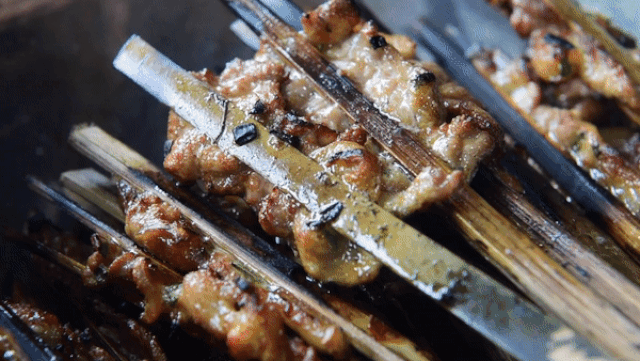 Bun cha has long been a familiar dish to the people of the capital. Not only that, through the descriptions of writers Thach Lam, Vu Bang, Bang Son, bun cha is also the quintessence of Ha Thanh cuisine.
Referring to old Hanoi cuisine, almost no one can forget bamboo noodle soup sandwiched. This simple dish that is imbued with the flavor of the North Vietnamese village is also a gift that everyone who comes to Hanoi should taste it once.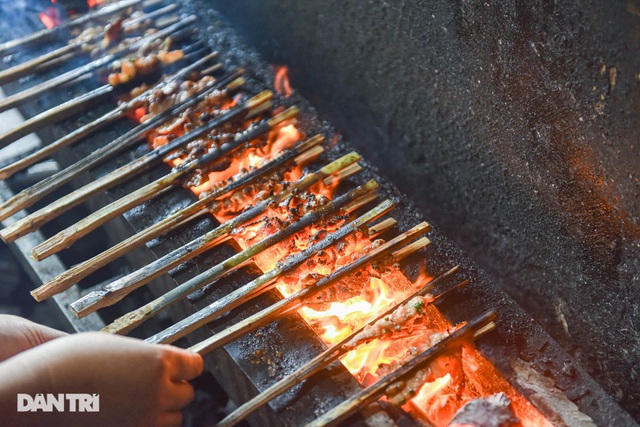 Instead of iron grills, grilled meat and grilled meat are grilled with bamboo sticks to create a more special flavor of the dish.
In Hanoi, there are many restaurants selling vermicelli, from the busy central streets, to the sparsely populated peri-urban areas. However, with bamboo noodle soup, there are not many shops to sell, in which the bamboo noodle shop Mrs. Bay Dang on Vo Chi Cong street is more popular.
Ms. Nguyen Thi Huong has continued her career from her mother-in-law for 25 years. Before that, from Thai Binh hometown to become the bride of the capital, she helped her mother-in-law to sell bun cha at Buoi market (Tay Ho, Hanoi).
"My mother-in-law has been selling vermicelli since 1945, I came back to work as a bride and helped her to sell it. After my mother died, my wife and I kept my parents' profession, 25 years ago," said Huong.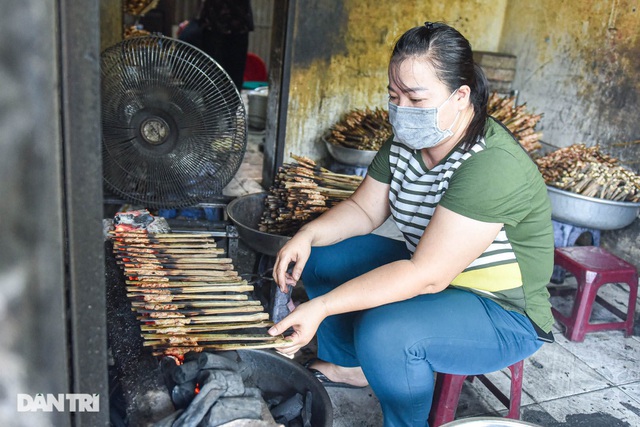 Huong inherits her in-law's parents-in-law profession.
While the vermicelli and the dipping sauce are similar to other traditional types, the way of processing the ball is the main difference. Instead of clamping iron grills to grill, people use bamboo sticks and create a special flavor for the dish.
Bamboo noodle soup is not too difficult to process compared to ordinary vermicelli, but it requires more meticulous and long-time steps, and has to invest in bamboo sticks … so most people choose to trade. normal vermicelli business for compactness.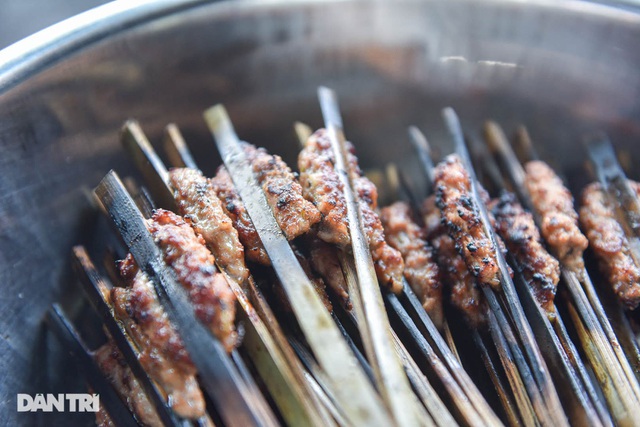 Sticky bamboo noodle soup usually has 2 types of cha, which are grilled and chopped pork rolls. To make grilled pieces, you must use delicious bacon.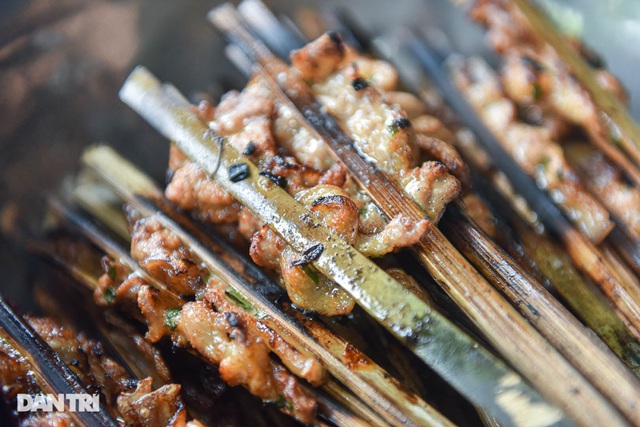 To make chopped pork rolls, you must use lean shoulder meat.
In which, the most important stage is when marinating meat with spices are fish sauce, pepper, sugar, monosodium glutamate, crushed dried onions …
The marinade must not be too light, or too salty, because they have to calculate how when eating, the rolls are dropped into the bowl of sauce that the person enjoys. This process requires a skilled marinator, otherwise it will ruin the flavor.
About half an hour after seasoning, the meat is sandwiched in fresh bamboo sticks. The butcher also needs to be skillful to keep medium heat, always turn his hands so that the outside of the meat is sliced ​​yellow, the inside is soft and smeared with the aroma of bamboo, creating a charming characteristic flavor.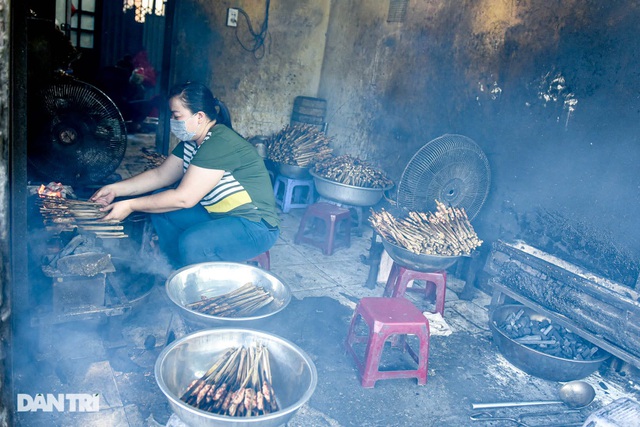 Grilled pork rolls sandwiched on a sizzling bamboo stick on a charcoal stove, smoke is rising, scenting the whole neighborhood, making it impossible to refuse anyone passing by.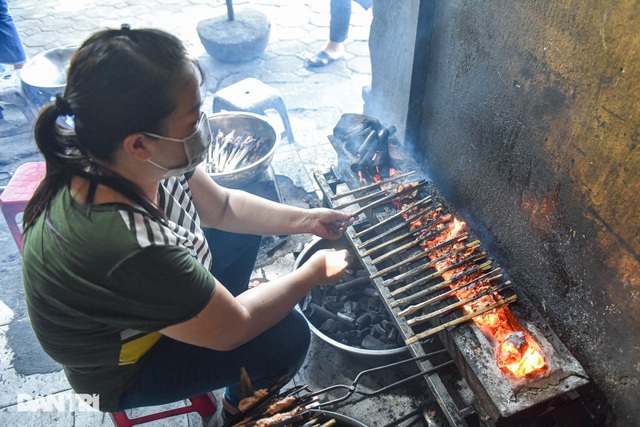 The owner of the shop revealed that in order for them to be delicious, they must bake 2 fire.
Ms. Huong added that the special thing about the bamboo noodle dish is in the fresh bamboo bars, when grilled on hot coal, the water from the fresh bamboo sticks seeps into the meat, making the pieces. Cha is fragrant, sweet and has a natural flavor.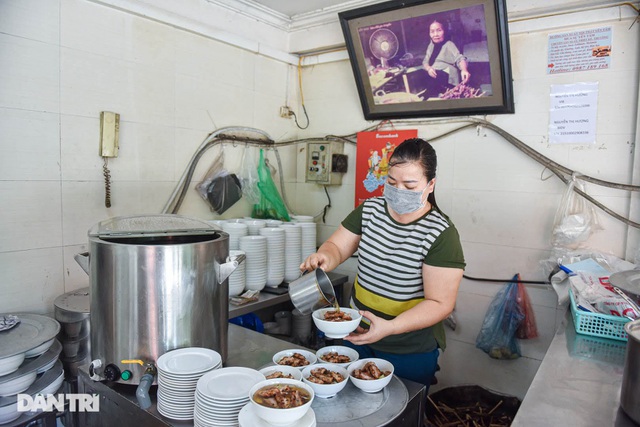 When the guests eat, the pies are removed from the clip of the bamboo stick, put into a bowl of prepared sauce with chopped green papaya.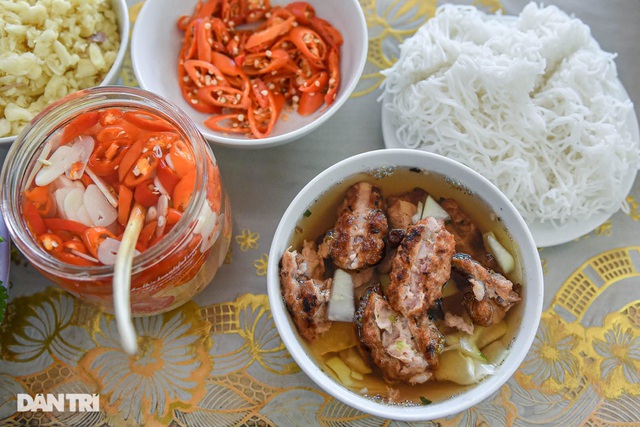 When enjoying, guests can optionally add crushed garlic, fresh chili, and ground pepper powder to the bowl of sauce.
This dish is eaten in any season, also delicious, but the most attractive is on cold days, when the hot spicy spices and the heated bowl of sauce will make the eater feel comfortable. , warm …
According to Huong, on average, each day the shop sells from 200-300 sets of bun cha. For over a week now, due to the influence of the Covid-19 epidemic, she has mainly sold and brought home. At the restaurant, there are also partitions to prevent epidemics.
With a working age of decades, Huong's bamboo noodle soup still attracts many familiar customers from the time her mother-in-law sells, many people go to school and work far away, have the opportunity to return to Hanoi to visit her shop. stay awake.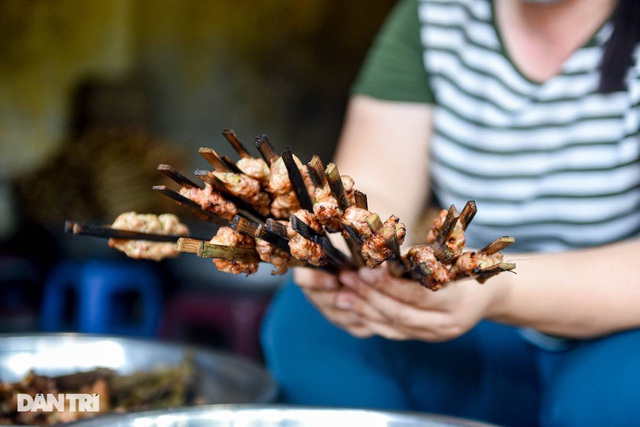 This long-standing delicacy of Hanoi is in danger of being lost, because bun cha is now often sandwiched on a grill over charcoal for convenience.
Each Hanoi dish has its own unique features, special taste and its own way of enjoying it. There are dishes where one can only find a distinct flavor in one place that cannot be found anywhere else. Follow Dan trí
TAG: