The beautiful streams in Phu Quoc fascinate visitors at first sight
Phu Quoc Pearl Island is always an attractive destination for tourists with beautiful beaches and landscapes. Phu Quoc is also famous for many beautiful streams that attract a large number of tourists to visit and enjoy virtual life pictures.
Beautiful streams in Phu Quoc tourists love to love
Here is a list of the most beautiful springs in Phu Quoc Island , you can refer to your upcoming trip: 

1. Stream Tranh      
Address: Duong To, Phu Quoc, Kien Giang.

Stream Tranh is a very famous tourist resort in Phu Quoc. This tourist destination is located about 9km east of the town center of Indochina. This is classified as one of the beautiful streams in Phu Quoc that tourists should not miss. This stream was formed as a result of small streams on Ham Ninh mountain. Weaving into the mossy rock rapids and forest canopies with a total length of about 15km.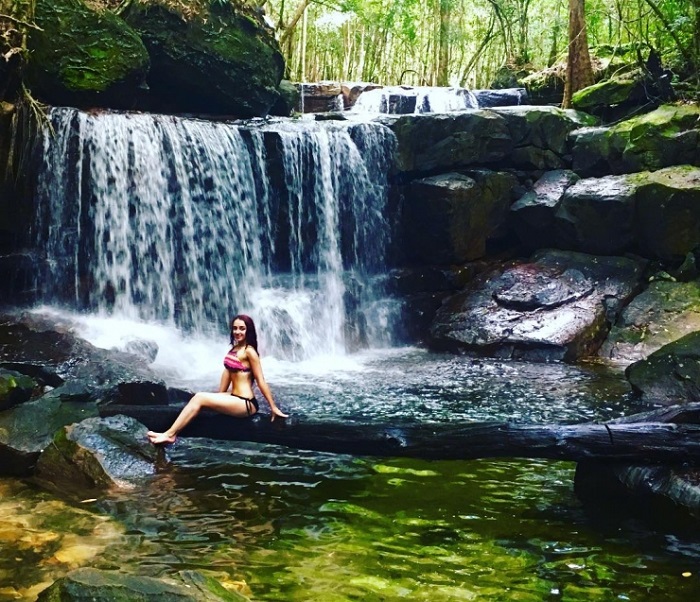 Phu Quoc Painting Stream attracts tourists. Photo: vntour

True to its name, when visitors come here will see a picturesque natural scenery. This place is surrounded by lush greenery with all kinds of flowers fragrant with strange grass. The fresh and cool spring water flows gently and gently, but in the sections flowing through the rocky rapids, it is quite intense white. From the foot of the stream, visitors will follow the road paved bumpy to the source about 300m to have the opportunity to explore the mysterious nature here. Here, visitors can relax in the stream, camp, roast fish or lean back on the flat rocks to listen to the stream gushing and the birds chirping, which will definitely make the mood very excited.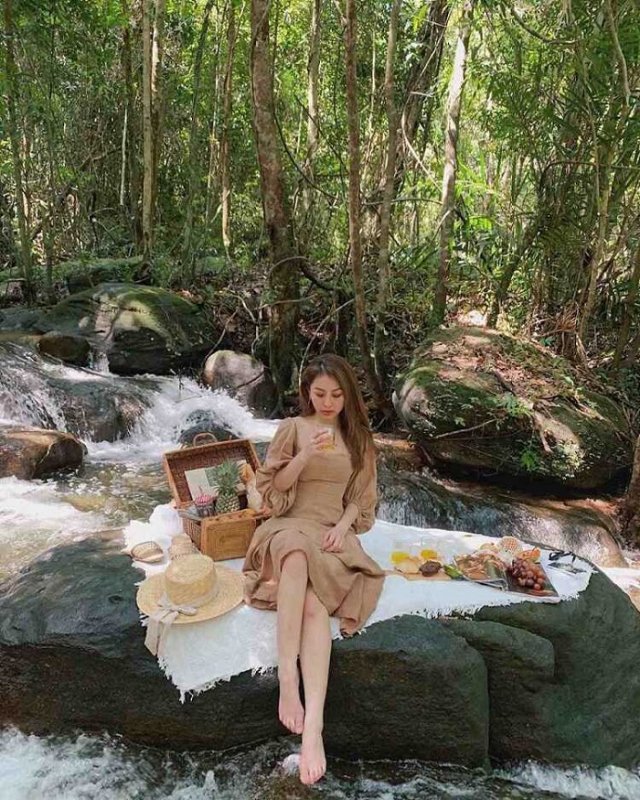 Attractive destination for visitors on weekends. Photo: 123didulich

Besides, there are also many mysterious caves here. There is a bat cave located at an altitude of about 200m to 50m deep, with countless beautiful and very fancy stalactites. There is a small note you should visit in the rainy season and should not come in May and February. In addition, when you come to Tranh stream you can enlist to visit Da Ban stream.

2. Da Ngon Spring  
Address: Cua Duong, Phu Quoc, Kien Giang

Da Ngon Stream is located in the northeast of Phu Quoc Island. This is one of the beautiful streams in Phu Quoc but is not known by many tourists. The reason is that the geography is quite dangerous and tourism has not been strongly encouraged.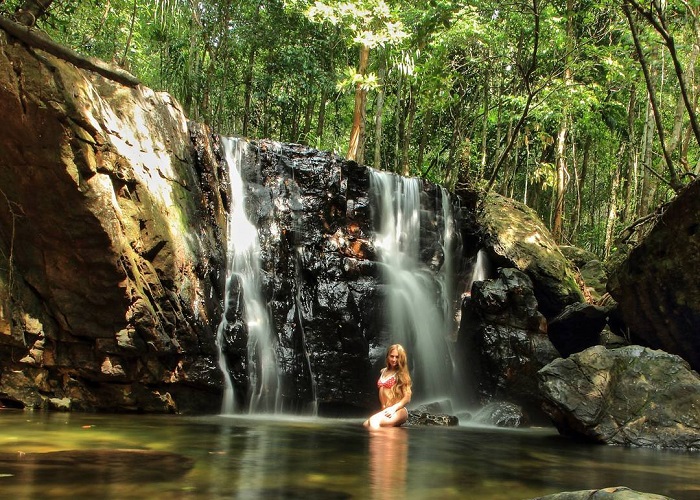 Relax and bathe at Da Ngon stream. Photo: khamphadisan

When you come to Da Ngon stream in Phu Quoc, you will feel the majestic beauty of nature here. This is a very suitable tourist destination for travelers who love to explore and love adventure. The majestic appearance of this stream is compared to not much different from Dray Sap waterfall and Dray Nu in Buon Maat highland. When you come here, tourists can also visit to explore the extremely rich vegetation along with the purple sim flowers that add to the beauty here. This is really the ideal paradise for us to get rid of all the worries and sorrows of life.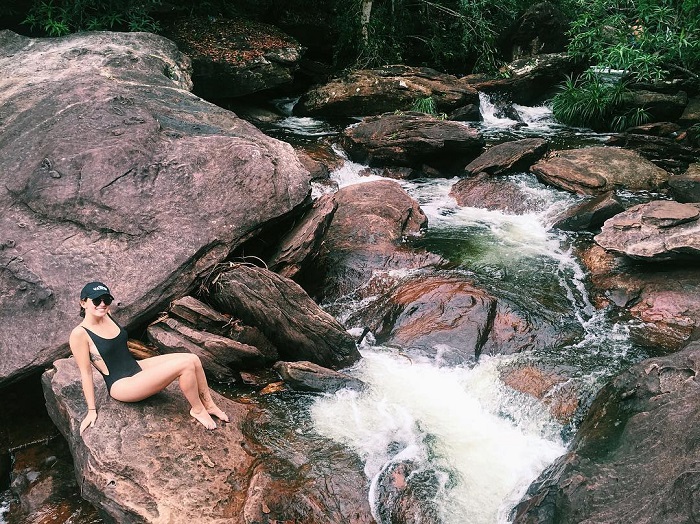 The beautiful rocks in Da Ngon Phu Quoc stream attract tourists. Photo: place

Unlike Tranh stream, visitors have to go in the rainy season to be beautiful and have water. With Da Ngon stream in Phu Quoc you can go all months of the year and the waterfall is still rushing back. However, often tourists will choose in the dry season to facilitate sightseeing and avoid slippery.

3. Da Ban Spring     
Address: Cua Duong, Phu Quoc, Kien Giang

Location Da Ban stream is located in the northeast of Duong Dong town (Dinh Cau, Night Market). The guide shows the way for tourists to depart from Duong Dong town, then go back to the North of the Island and continue to follow the signposted path to Da Ban stream. Here visitors must stop at the gate of the resort and follow the bridge or cable-stayed bridge to cross the stream into the forest.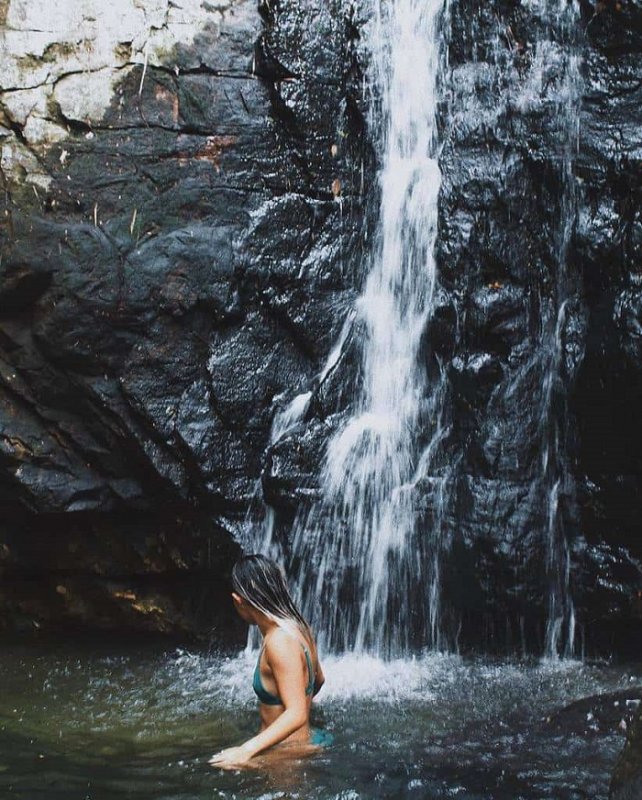 Beautiful waterfall in Da Ban stream. Photo: vtbay

The topography of Da Ban stream is not too rugged and convenient to move. This is considered a beautiful stream in Phu Quoc with a rather pristine beauty, the more beautiful it is. With small waterfalls and natural lakes that are rated to a moderate depth with many ideal bathing spots for guests.
Not only that, when you come here, you can also participate in many other activities such as camping, dining, and enjoying the fresh air here.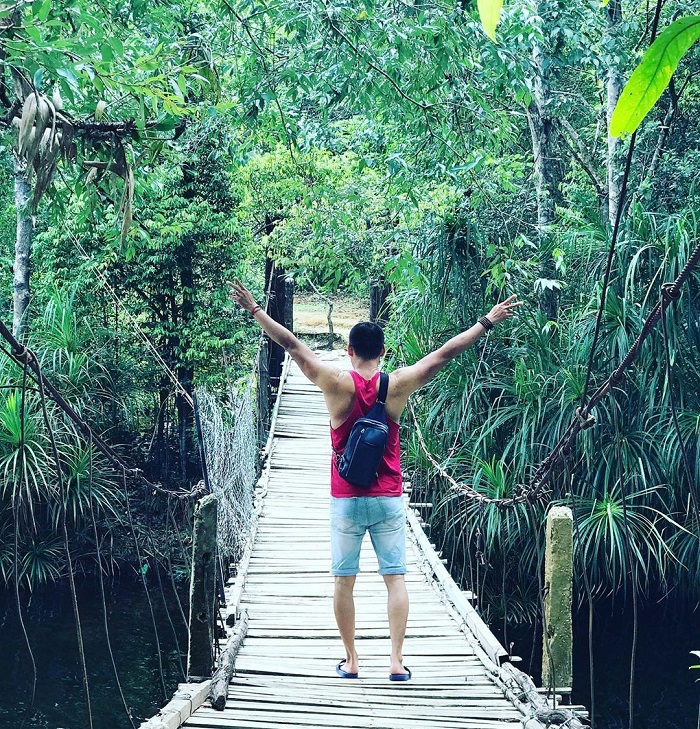 Fresh natural scenery at Da Ban stream. Photo: place 

Some notes when visiting the streams in Phu Quoc
When visiting the beautiful streams in Phu Quoc , you should also "pocket" the following notes for the most complete trip: 
– Should choose compact and lightweight furniture for more convenience in moving to avoid carrying a lot of trouble when traveling. 
– Bring hiking sport shoes for convenience when traveling. 
– Bring clothes to bathe in spring to delight in relaxing and refreshing. 
– You can buy food and drinks on the stream to enjoy.
– When riding slippery sections, pay attention. 
– Should follow the team to avoid separating the group to go alone.

With useful information, everyone knows that the beautiful streams in Phu Quoc attract tourists today . Hope to help you choose an interesting tourist destination and have more wonderful experience when coming to the pearl island.
Photo: Internet
TAG: