Rotten crab vermicelli "eating and covering the nose" challenge diners in Gia Lai
The black, thick, "smelly" broth served with vermicelli, crispy pork skin, raw vegetables, … creates a "famous" dish in Gia Lai.
Rotten crab vermicelli (also known as crab vermicelli, rotten crab vermicelli) is a specialty in Pleiku mountain town, Gia Lai province. Locals call this dish so it is distinguished from crab vermicelli or other crab dishes.
As the name suggests, rotten crab vermicelli consists of 2 main ingredients: vermicelli and crab. But completely different from other vermicelli or crab dishes, this dish makes diners only cautious because it has an unpleasant odor, emanating from the thick black broth.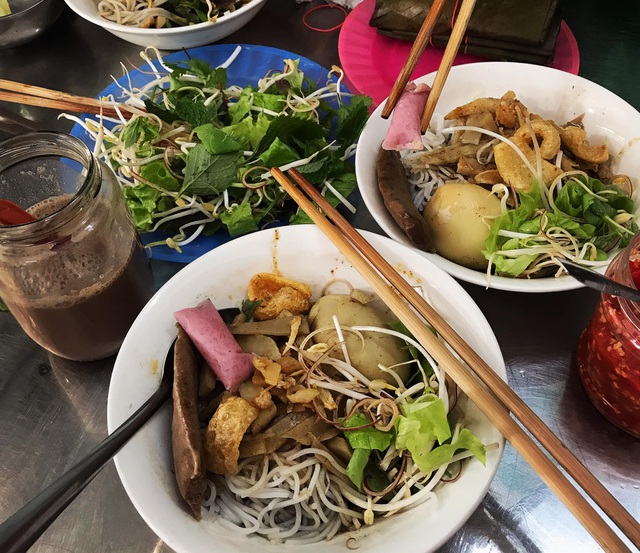 Rotten crab vermicelli – a dish that makes diners hear the name "alienated" but get used to it, then "crave it" (Photo: MokoNail).
To make rotten crab vermicelli, local people often use crab caught in Phu Tho field (ie Dong Xanh, An Phu commune, Pleiku city) for its delicious and delicious taste.
Processing this dish is also quite a feat. Fresh field crabs, after buying, are washed, removed the apricots, crushed or crushed, and filtered for water. Fresh crab juice is fermented for about a day and night until it turns black and smells strong, slightly thorny, then processed.
When incubating, crab water must ensure enough and right time to have a standard aroma. If the crab water smells too heavy or has little smell, the noodle is not delicious when cooking.
The fermented crab juice is then simmered over the fire and then sliced ​​fresh bamboo shoots. The longer you boil it, the sweeter the bamboo shoots release, making the broth even richer. They add cooked duck eggs to the pot of water, when customers order food, they scoop it out and fill it with a bowl of vermicelli.
At first glance, the crab noodle dish alone makes diners "sweat" because of its less attractive appearance. The dish only consists of vermicelli, bamboo shoots, a few pieces of crispy pork skin with scallions, peanuts, with a dark, thick broth, and the smell of thorns.
However, when enjoying familiarity, you will feel the delicious taste, characteristic of this "famous" dish.
Rotten crab vermicelli served with raw vegetables. Diners can order more shrimp crackers, sour spring rolls, rolls … and fill with crab water to cover the inside of the filling. For the dish to have a fatty, delicious texture, you should enjoy with boiled duck eggs cooked with broth. The egg "dyed" is black, with a hint of fermented crab.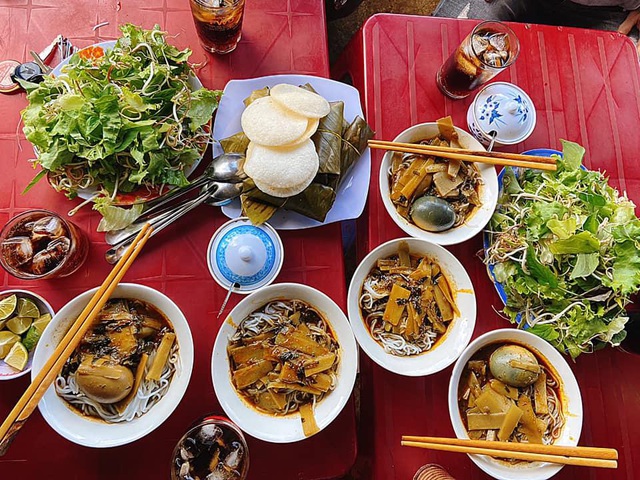 A complete bowl of crab vermicelli is a harmonious combination of thick broth, fried pork skin, peanuts, peanuts, spring rolls, and rolls … that make diners remember (Photo: Quyen Nguyen).
For the first time, many people enjoy the rotten crab noodle dish for the first time, but if anyone has eaten it, they will see a characteristic delicious taste. The pungent, heavy aroma of the broth and the sour, salty taste at the tip of the tongue are the feelings of diners when tasting mountain town specialties.
Mix the ingredients, slowly enjoy and sip the remaining crab juice, diners feel like all the essence of the dish is dissolving slowly in the mouth.
Each serving of crab vermicelli costs about 10,000 – 15,000 VND. Although popular food makes many people afraid at first, it is a "famous" specialty in the highlands. Follow Dan trí
TAG: