What does Cat Ba Monkey Island have from Vietnamese to tourisms guests?
If you find that other pristine islands on Lan Ha Bay are a bit lacking in the "breath" of life, come right to Cat Ba Monkey Island that is both poetic and vibrant.
Where is Cat Ba Monkey Island?
Monkey Island is a small island in Lan Ha Bay belonging to Cat Ba archipelago and about 1km fromCat Ba town, Hai Phong city by bird flight.
It is known that the island was originally named Cat Dua because on the island there are many luxuriant wild pineapple trees that rise over the roof. But after the forest rangers brought more than 20 monkeys to the wild here, making them fly and jump everywhere, the name "Monkey Island" was born.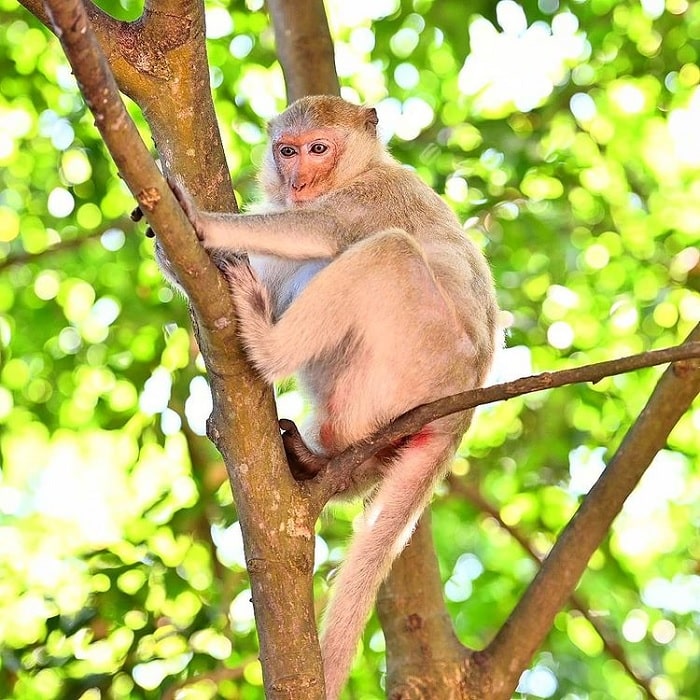 On the island there are many monkeys (Photo @hmtungx)
How to move to Cat Ba Monkey Island
To reach Cat Ba Monkey Island , visitors have to go to Beo wharf in town, then buy train tickets with prices from 80,000 VND to 100,000 VND / person / one way, plus tickets to visit the island of 50,000 VND / person and boat tickets. Pick up to the island is 10,000 VND / person / time. If you book a package tour to visit many other places in the island, the ticket price can range from 200,000 VND to 1,000,000 VND / person (depending on the type of boat big or small).
Normally, boats will pass through the peaceful Cai Beo fishing village with green wooden houses floating on the boat and then arrive on the island, so the total travel time will take about 15 to 25 minutes.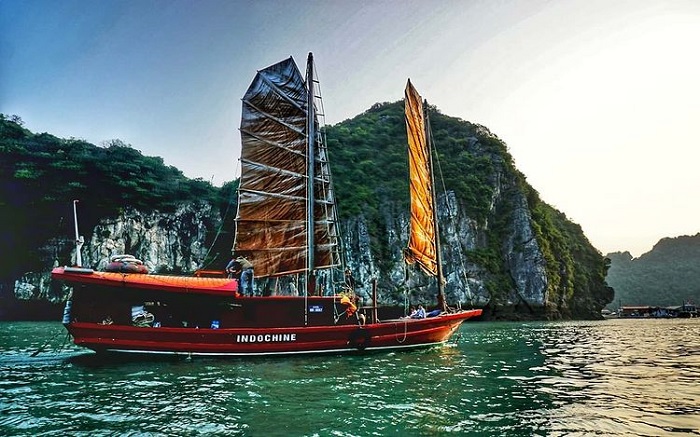 Train going to the island (Photo @ surabhi.happyme)
Memorable vacation at Monkey Island Cat Ba
Cat Dua Island is not too wide, only about 3km in circumference, but in exchange for majestic green mountains, fine white sand is cleverly made up of marine students such as shells, shells, shrimp, crabs. Over millions of years and 2 super beautiful natural beaches make this place always lacking in footsteps of visitors to visit.
Cat Dua Beach 1
This is the main beach, longer and wider on Cat Ba Monkey Island , with long stretches of pure white sand embracing the clear sea water seen at the bottom and blue as if wanting to blend in with the sky, helping visitors have You can comfortably swim in the sea and participate in exciting kayaking activities on the water, so it attracts a lot of visitors to experience.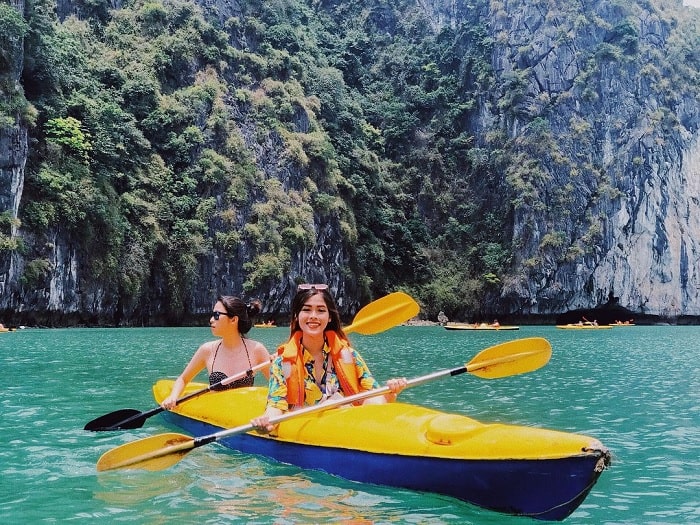 Kayaking is a super fun experience (instagram photos)
Moreover, here you can also climb to the top of cat-ear rock along the stone trail to see the whole scenery of Lan Ha Bay with various unique islands bobbing on the blue water. There are a few ships and boats floating along the water, as beautiful as the painting of a talented artist.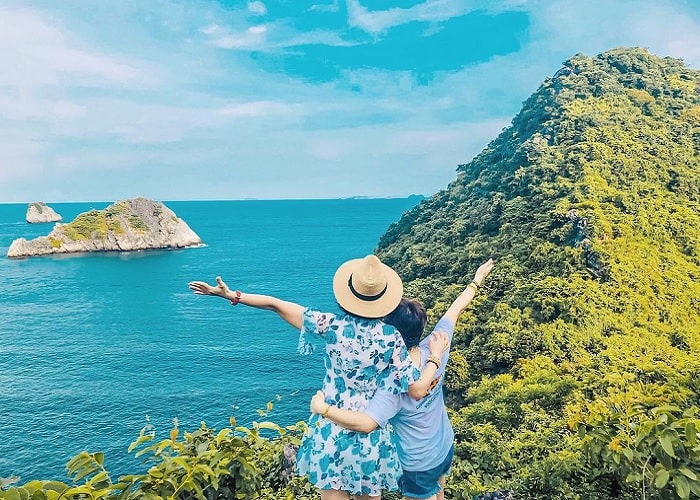 A poetic and majestic mountain (Photo @ tien.tien.hien)
And then, after struggling and tired of being tired of the young water, you can stop at the restaurant on the edge of the sand to sip a glass of cool drink, feel the cool breeze blowing and watch the rays. Warm sunshine is kissing on the surface of Cat Dua 1 sea , oh, how wonderful.
Cat Dua Beach 2
The second beach of Monkey Island in Cat Ba is narrower because it is hidden behind a tiger-shaped cliff, but is invested in more luxury tourist services – more genuine – smooth, so it will be very suitable for tourists "bear spending". and have a "rich" purse.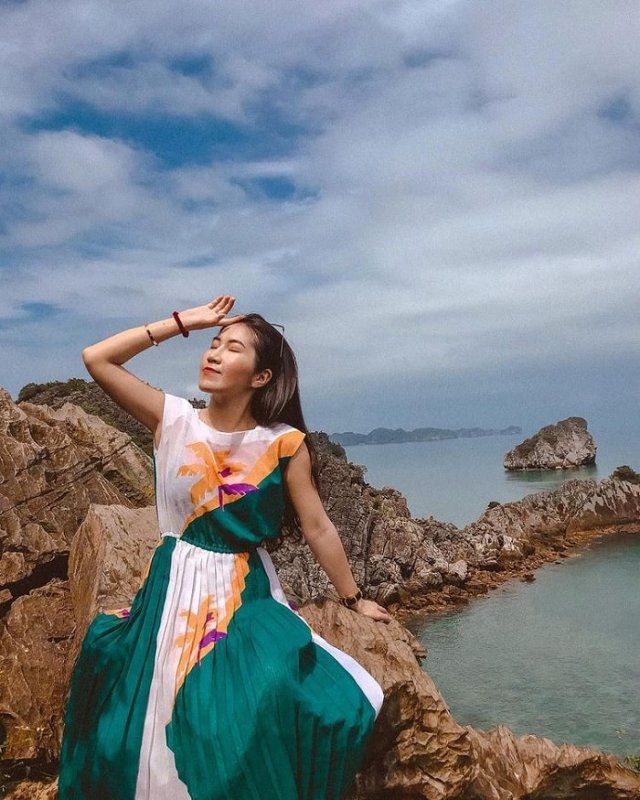 The beach has a super impressive terrain (Photo @noababie)
In addition to swimming, visitors also come here to experience a diving tour to see the diverse ecosystems under the sea including colorful coral reefs and colorful fish, with the price of about 1,000,000 VND / person / person. 30 minutes. Of course, you will be fully equipped with modern protective equipment and professional instructors so just enjoy it.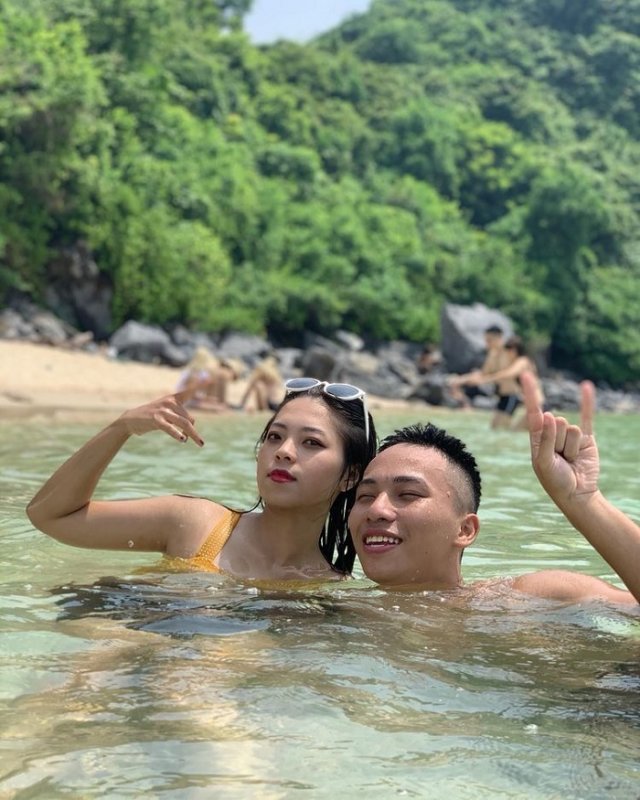 Bathing is the most attractive activity (Photo @ watermelon1908)
In addition, in Cat Ba Monkey Island, there is a garden of hundreds of square meters planted with many kinds of trees such as pineapple, maple, si or white apple … so it attracts a lot of birds to park and sing. resonating in the sky, creating an extremely melodious and attractive concert song.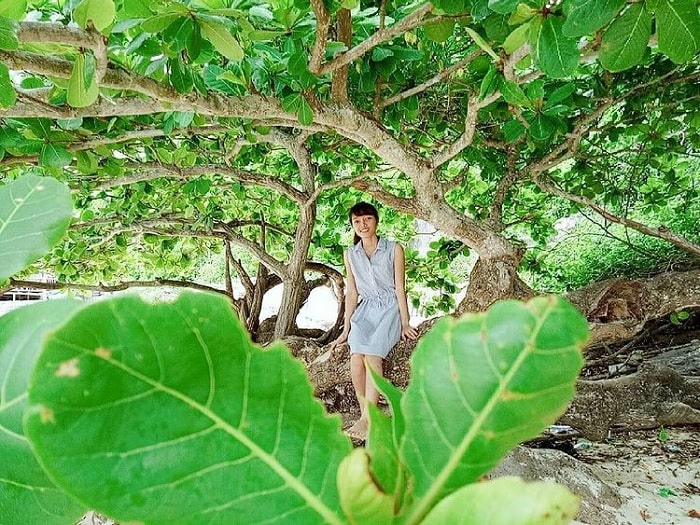 The garden is green and lush (Photo @ doc.thi.no.315)
Revealing, the wild pineapples here are not only beautiful, but also soaked as a cool drink that is very cool and dried as a cure for diabetes very effectively, so if you can pick them up, do not throw them away. But please bring it back as a souvenir.
And the most interesting thing at Monkey Island in Hai Phong that no tourist can ignore is the cute monkeys. Because of the good living environment and frequent visitors, the "children" are extremely friendly and gentle, just seeing the person giving food is accepting, even running out to beg, without any shyness. be shy at all.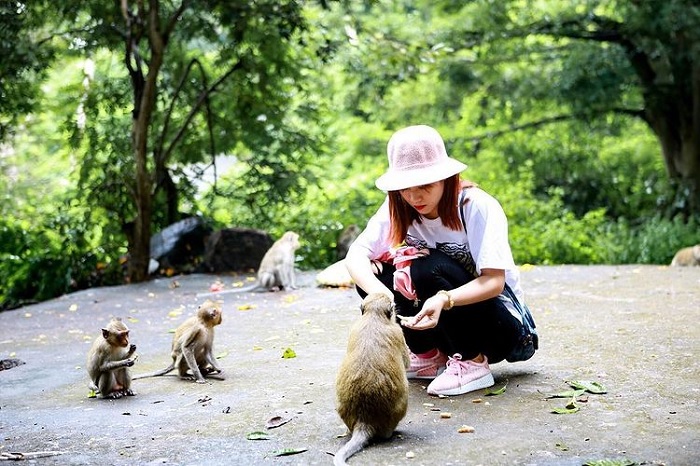 Monkey is very sociable (Photo @chacdin)
Anything: from fruits like bananas, apples, tangerines, plums to confectionery and soft drinks like coca or milk, they can "eat socks", and anywhere: from branches, the beach, railing or furniture … can be their place to rest and mischief, look super love too.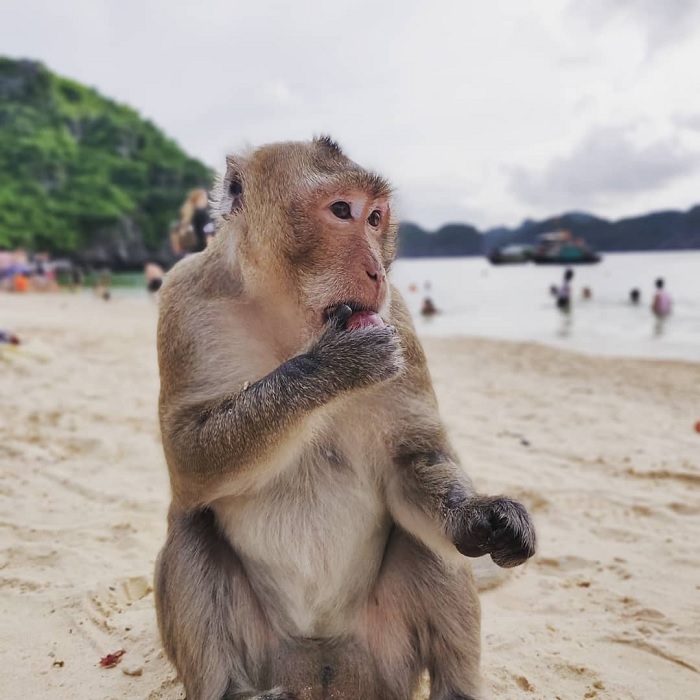 Monkeys can eat anything (Instagram photo gallery)
Note : the mother monkeys holding their babies will be a little more fierce than usual, so don't be foolish to tease them or their babies.
Resting at Monkey Island Cat Ba
Currently, at Cat Dua 2 beach in Monkey Island , there is a luxury resort named Monkey Island Resort with 30 rooms built in the style of eco-friendly bungalow and full of equipment such as: air conditioner, air conditioner. hot and cold, TV, fan, internet, free wifi …
In particular, the resort also has a private blue swimming pool and a restaurant serving guests' dining on the beach under the warm sunset or under the sparkling starry sky, along with fire-burning activities. camp, organize BBQ parties and sing karaoke on the sand, so you must definitely try the feeling of staying here once.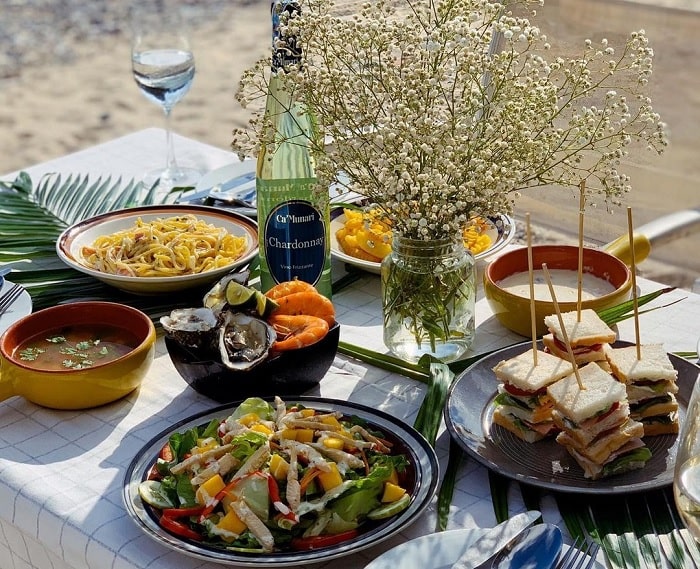 The restaurant has delicious food (Photo @catbamonkeyislandresort)
Reference price: about 1,600,000 VND / night / room in low season and about 3,000,000 VND / room / night in high season.
Summer comes, the famous beaches are always in a crowded state, so if you want to have a private space to immerse in nature and heaven, do not miss Cat Ba Monkey Island .
Photo: Internet
TAG: