Night porridge shop attracts customers with 50 dishes
HO CHI MINH CITY – More than 20 years of opening, Mrs. Lan's porridge shop 211 on Chau Van Liem Street has about 50 dishes, attracting late-night diners in District 5.
The porridge shop was built by Mrs. Trinh Que Lan (64 years old) and her sister in 1998. Initially, the shop was located on Hai Thuong Lan Ong Street, then moved to No. 15, Chau Van Liem Street, Ward 14, District 5 as The current.
The restaurant's white porridge dish is favored by diners thanks to the aroma of delicious rice, mixed pineapple leaves, smooth, pureed porridge seeds. The pineapple leaves in the shop are selected fresh stalks, washed, then rolled up and put directly in the porridge pot, not pureed to get water, so the porridge still keeps the pure white color of the rice grain.
"Initially, the restaurant only had about 3 or 4 dishes, customers came to eat, they asked for this dish or the other, gave their suggestions and then gradually had many dishes like the present. Long-term cold like pickles, sausages, sauerkraut … so it doesn't take much preparation work. Other dishes must be cooked every day, "said Ms. Lan, the owner.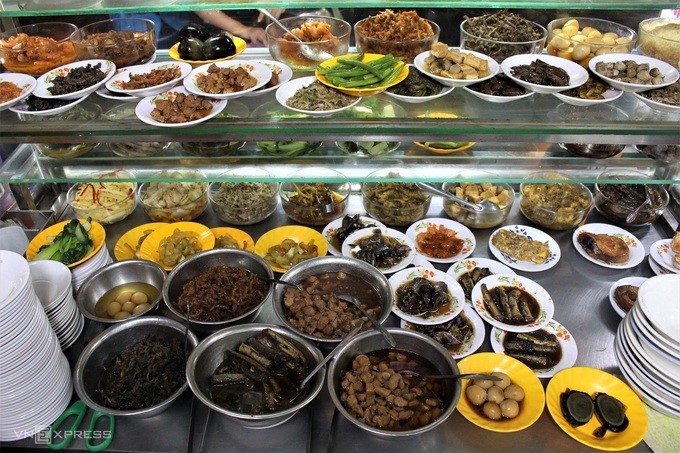 The dishes are displayed in the glass case, divided into small portions according to the plates, the customers order the dishes to be served quickly. Photo: Huynh Nhi
The menu of the restaurant includes 50 vegetarian dishes, salty, prepared by the owner. The food at the restaurant ranges from familiar dishes served with white porridge such as salted duck seeds, braised meat, pickled fish sauce, cotton rubs to less common dishes such as sausage, fried salted cabbage eggs, and steamed goby fish with pepper … suitable with the taste of Chinese, Vietnamese and foreign visitors.
The most attractive dish of the restaurant is three grooves. According to the owner, before Covid-19, foreign customers often come to the shop to buy canned baskets and bring them home in large quantity. "Three knots has a sour taste mixed with a sweet taste. Many diners like to have a three-notch water to eat with porridge," said Lan.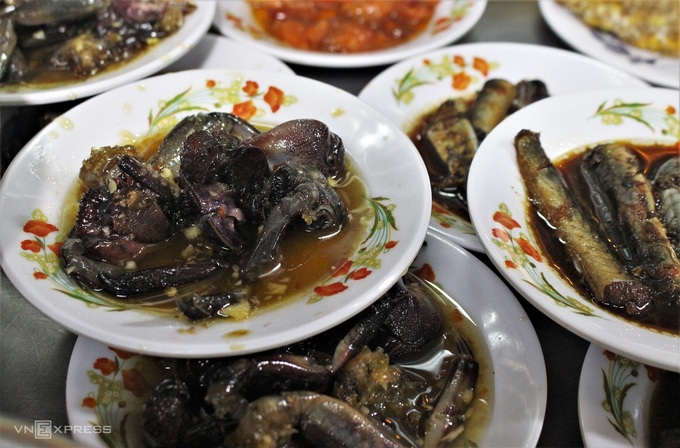 Three grooves in the shop are sold for 20,000 VND / piece. Photo: Huynh Nhi
In addition to the main dishes, the restaurant also serves stir-fried and boiled green vegetables such as lotus root, broccoli, green beans, bok choy, sauteed water spinach … This is a rare spot in white porridge shops in HCMC.
Because there are many dishes, the shopkeeper has to think about a flexible way to charge customers to avoid confusion. The dish is placed in small plates of its own color, each color is a price. For example, the food in the yellow plate costs 10,000 VND / dish, the white plate with blue cotton is 15,000 VND / dish, and the red plate is 20,000 VND / dish.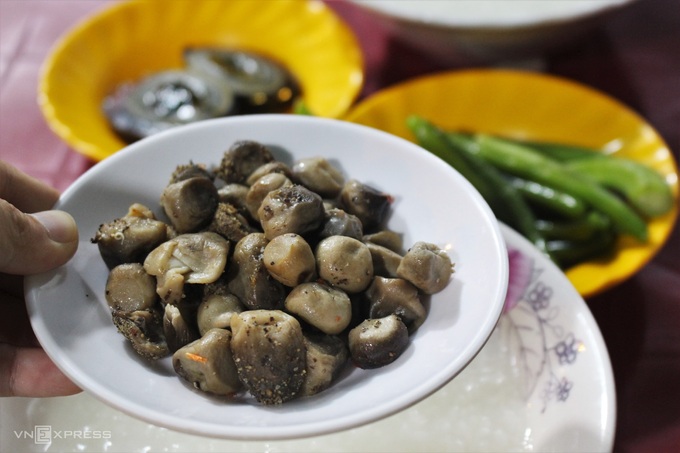 A group of diners' meal of mushrooms with pepper, botanical duck seeds, green beans, fried okra and 2 servings of white porridge is priced at 45,000 VND The dishes are both affordable and affordable. Photo: Huynh Nhi
The owner of the shop has plastic tables and low chairs to serve a maximum number of 20 people. The shop is open from 16am to 2pm every day. The restaurant is most crowded at around 22:00, at this time many people go out, come back from work late, often eat a bowl of white porridge to warm their stomach. In addition, Ms. Lan also sells sticky rice, rice, porridge, ribs porridge, minced meat porridge … priced from 20,000 VND for customers to have a variety of choices. Follow vnexpress
TAG: