5 beautiful campsites near Hanoi for the holidays
On the anniversary of Hung Kings Commemoration, and April 30 to May 1, you can refer to 5 campsites with fresh air right near Hanoi.
1. Ba Khan, Hoa Binh
Ba Khan, Hoa Binh is a hot "hot" place to check – in online. It is located between Mai Chau and Moc Chau so you can visit easily. The forgotten Ba Khan rose up every day, becoming a name that was sought after by many people who love traveling and enjoying immense river life.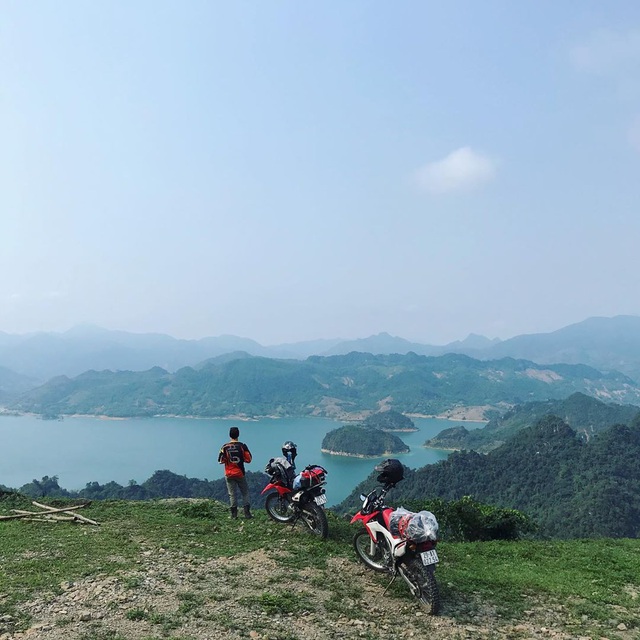 Ba Khan is the camping ground for a great day off. (Photo: @ blacksheep2810)
Ba Khan is located in Mai Chau district, Hoa Binh, just 120km from Hanoi. This place is nestled peacefully at the foot of Thung Khe pass. The road to Ba Khan is quite difficult, but you will admire the scenery of Muong houses on both sides and lilies fields mixed with beautiful cat-ear rocks.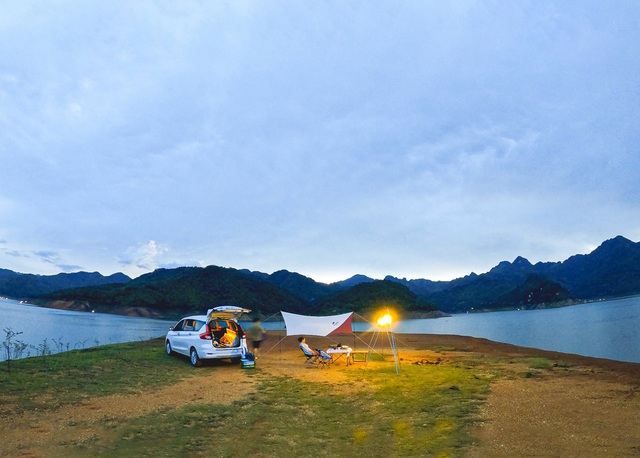 Ba Khan has been chosen by many people as a camping ground every weekend. (Photo: Go camping together)
Ba Khan Hoa Binh is a suitable place for all visitors to visit, excursion or picnic at any time of the year.
From the center of Hanoi city, you move in the direction of Thang Long Avenue and then follow the direction of Hoa Lac – Hoa Binh expressway.
Or there is another way to go to Hoa Binh is that you can follow NH6 through Ha Dong, Xuan Mai to Hoa Binh. Then go up Tan Lac to the foot of Thung Khe Pass and turn right. Continue for about 12km more to Ba Khan commune.
You can find the location using this map link.  https://goo.gl/maps/VcC4fKzereGchwPL7 
2. Hien Luong, Da Bac, Hoa Binh
Hien Luong is a commune in Da Bac district, Hoa Binh province.
This place has the advantage that cars with low undercarriage can go down to the edge of the water. The weather in Hien Luong commune is quite cool, suitable for camping in harmony with nature, away from the smoke and dust of the city.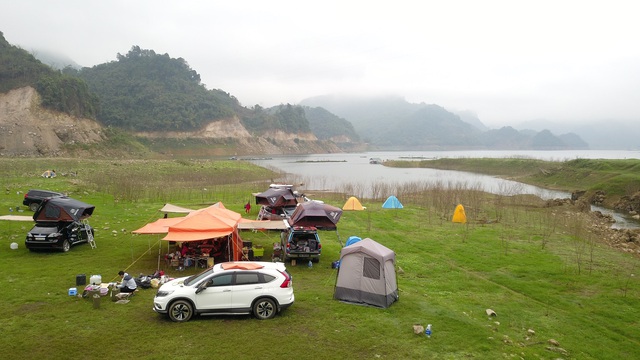 Many families choose this location on the weekends to camp for a picnic. (Photo: Pham Tuan Dat).
The location you can look here for a camping picnic. https://goo.gl/maps/nchK1ydTH9iuZZxU8
3. Chom Nui Lake, Soc Son
Chom Nui lake is about 40km from Hanoi (60 minutes by car) in the territory of Soc Son district – Hanoi. 
Contrary to the bustling, noisy and smoky city, it has a fresh air and clear blue water. That is why the Chom Nui Lake area is considered an ideal camping place for many young people and small families every weekend.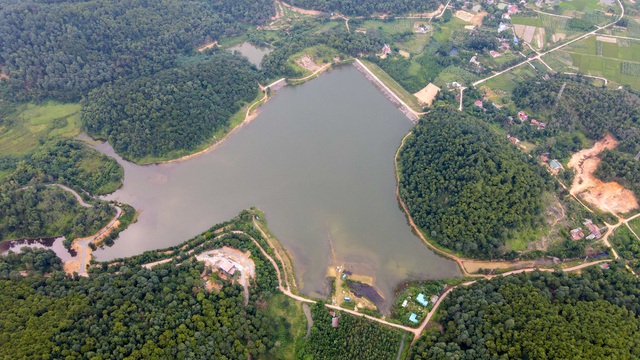 Panoramic view of Chom mountain lake viewed from above.
With charming scenery blessed by nature, this place is suitable for picnics with friends, camping, eating barbecue …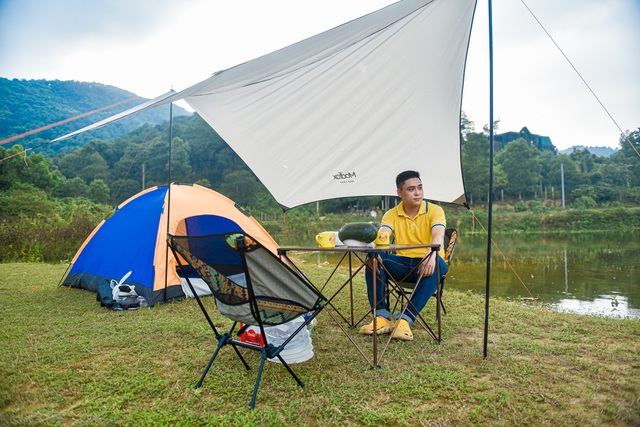 This is a pristine experience tourist destination, so there are no shops selling utensils or food or drinks around. When you come here, you need to prepare your own essentials.
It is quite close to Hanoi, so you can go to Chom Nui Lake by motorbike in the direction of Thang Long Bridge or Nhat Tan Bridge.
You can easily find this place by clicking on the coordinate location 21.3156199,105.8085403 on the Google Map.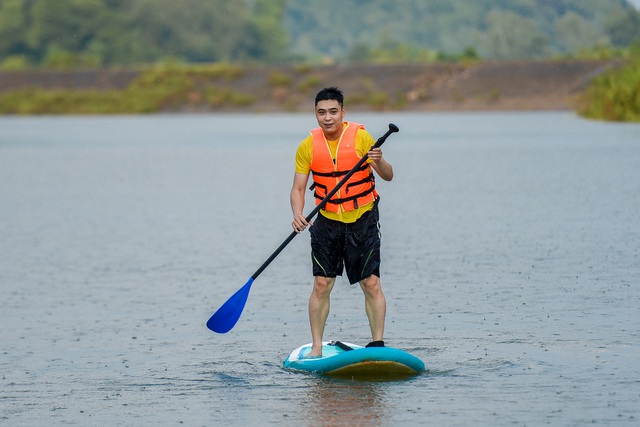 Here you can prepare your own SUP boat and climb on the lake feels very wonderful.
4. Ham Pig, Soc Son
Ham Pig Mountain is the highest mountain (about 462m), located on Doc Ton mountain range in Soc Son – Hanoi, about 40km from Noi Bai expressway. At the foot of Ham Pig mountain is Nui Bau lake very wide, clear blue water, clean, suitable for backpackers or pic-nic groups to camp overnight.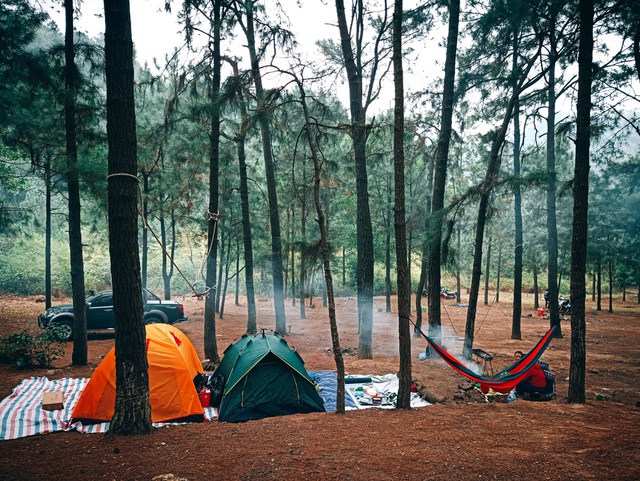 Many families choose Ham Pig mountain as a camping place every weekend. (Photo: Giang Pham).
In the past 1 or 2 years, Ham Pig Mountain has become a fairly popular address in the world of backpackers. Ham Pig Mountain is a place where many people go for picnics, weekend picnic because the way is convenient and cheap.
The location you can look to this dust-free camping place. https://goo.gl/maps/qYQJ8GyacJJLymvH6
5. Ho Van Tri, Dong AnhAbout 24km from Hanoi if you travel by car about 40 minutes. Coming to the first place, you can feel the wonderful, fresh and quiet atmosphere here. The large lawn along the lake can accommodate up to 200 people. Opposite is the golf course so the landscape is extremely poetic.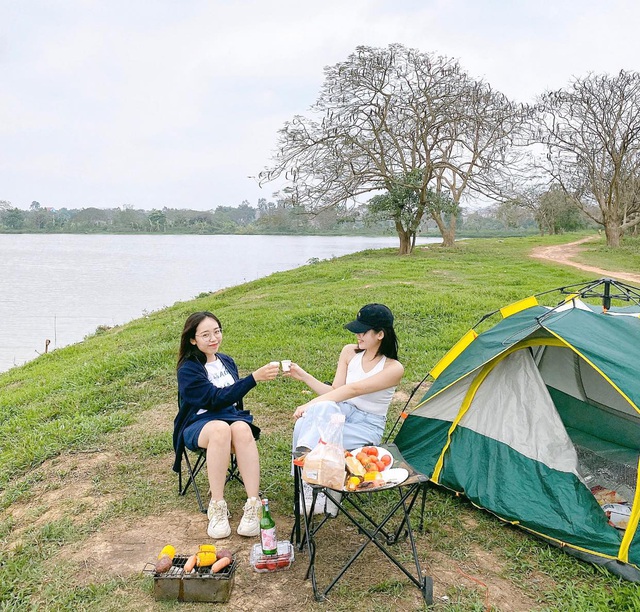 The atmosphere at Van Tri Lake is very cool, suitable for overnight and day camping. (Photo: Dieu Nguyen).
You can find Van Tri lake via the link. https://goo.gl/maps/ncdz4KrGJiY4kBxh9
Follow Dan trí
TAG: