Revealing the top 8 best two-bowl pho restaurants in Gia Lai to eat is enchanting
Traveling to Gia Lai and eating two-bowl pho is something that most tourists want to experience, there are many delicious two-bowl pho restaurants in Gia Lai for you to come and enjoy. 
Two bowls of pho have long been a famous specialty of the great land of the Central Highlands. This special pho with attractive taste and special serving style is always a favorite choice of customers when coming to Gia Lai mountain town. Because it is a famous specialty, in Gia Lai the atmosphere for you to find a two-bowl noodle shop, but not everyone knows the list of the best two-bowl pho restaurants in Gia Lai to come and enjoy. If you still do not know where to go to enjoy Gia Lai cuisine with a delicious two bowl of pho, the following suggestions will be enough to make you satisfied.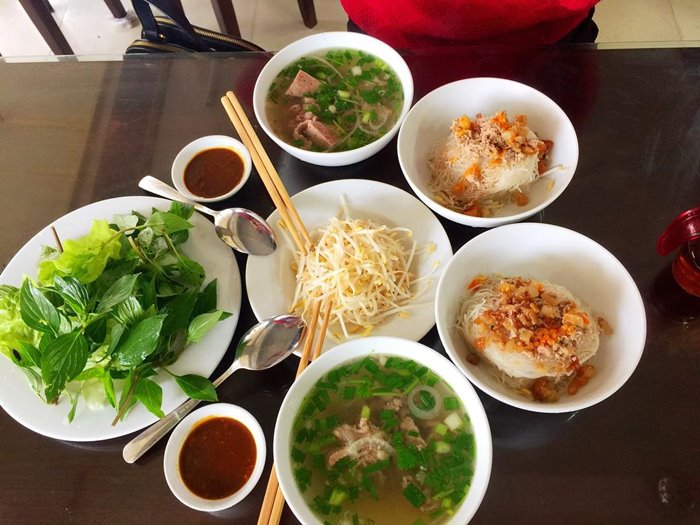 Gia Lai has no shortage of delicious and attractive pho shops. Photo: @ quinquin_1903

Note the list of two-bowl pho restaurants in Gia Lai that are famous for enchanting diners near and far 
1. Hong Dried Pho 
In Gia Lai, almost everyone knows about Hong pho, this is the famous two bowl noodle restaurant in the mountain town. Even the Hong Hai Pho brand has developed its brand to both Saigon and Dong Nai. Pho Hong, formerly known as Dai Hung, was also famous for a while, after the current owner took over, he changed his name to Pho Hong and kept that brand to this day.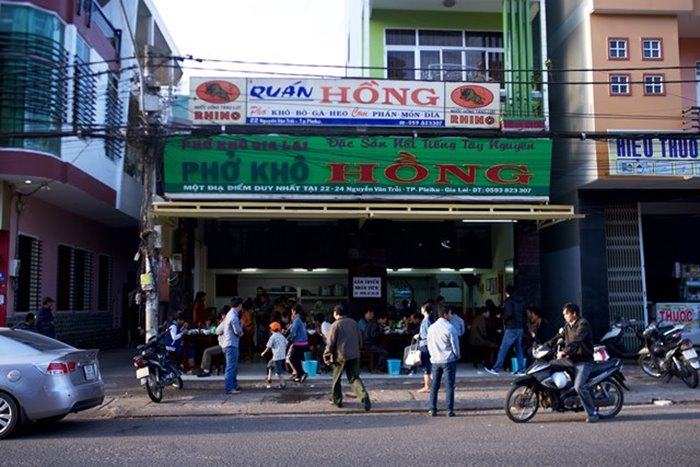 Pho Hong is a famous brand of Gia Lai. Photo: giadinhvietnam
Hong Gia Lai two bowl pho restaurant is located in the heart of Pleiku city, so diners are very easy to come to enjoy. The space of the restaurant is not too large but clean and airy. Hong's two-bowl of pho has a very strong taste, the broth features beef flavor, fragrant pho, various toppings with fresh vegetables.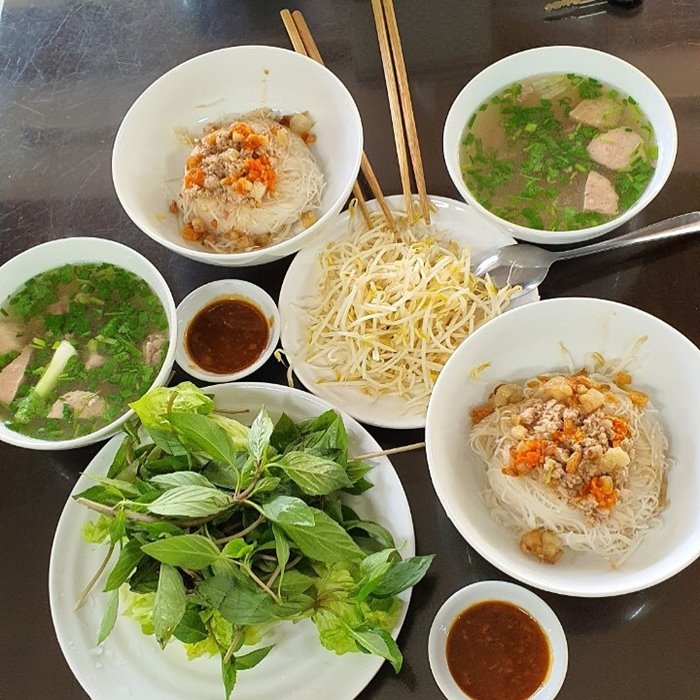 The taste of Hong Hai Pho has always fascinated visitors. Photo: @ kaihn3
Address: 22 – 24 Nguyen Van Troi, Hoi Thuong Ward, Pleiku City, Gia Lai
Opening hours : 05:00 – 14:00 
Price: 25,000 – 35,000 VND
> See more:  Gia Lai's specialty of rotten crab vermicelli hears its name 'smelly', but the more you eat it, the more you eat it
2. Ngoc Son Dry Pho
Along with Pho Hong, Ngoc Son restaurant is also a famous name on the Gia Lai culinary map with famous two-bowl pho. Ngoc Son Pho was opened in the last years of the 60s, founded by Mr. Nguyen Van Phan. with the name Asia Dong, initially sold chicken dried pho. After the shop, the name was changed to Ngoc Son because his son continued to succeed.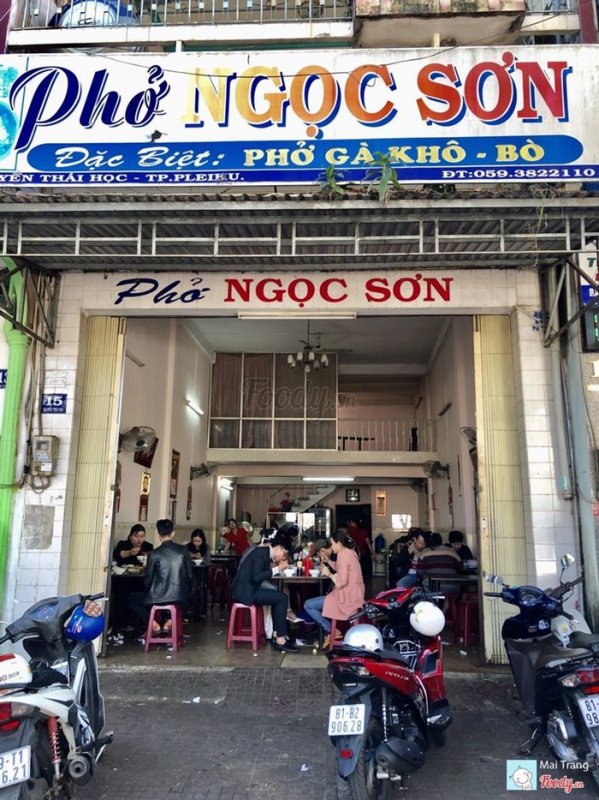 Pho Ngoc Son is located in the center of Pleiku. Photo: foody
The shop is also located in the central area of ​​Pleiku with a spacious space and especially a delicious pho taste. The dried noodles here are moderately chewy, the black soy sauce is very special, the topping is varied, add attractive raw vegetables, The soup bowl is very rich and meaty, a portion of pho at Ngoc Son looks full and attractive. . Another plus point is that the service style at Ngoc Son restaurant is very agile, so you will not have to wait long despite the crowd.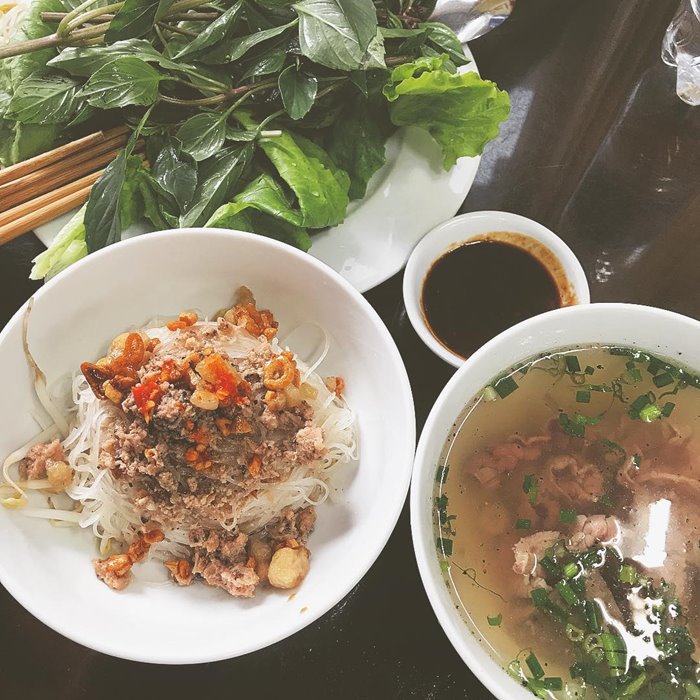 Plump bowl of pho, attractive topping. Photo: @pikanguyen
Address: 15 Nguyen Thai Hoc, Ward Hoi Thuong, Pleiku City, Gia Lai
Opening hours: 05:00 – 14:00 
Price: 35.000d
3. Quan Hiep – Pho Kho
Quan Hiep is one of the two bowl pho restaurants in Gia Lai that is most loved for its special taste. The shop is located in Yen Do ward, center of Pleiku with clean, airy space, tables and chairs arranged scientifically. The dry noodle dish here also includes 2 large bowls with a bowl of fragrant beef broth and a bowl of full topping dry pho, when eaten, you will mix and can add soy sauce according to taste.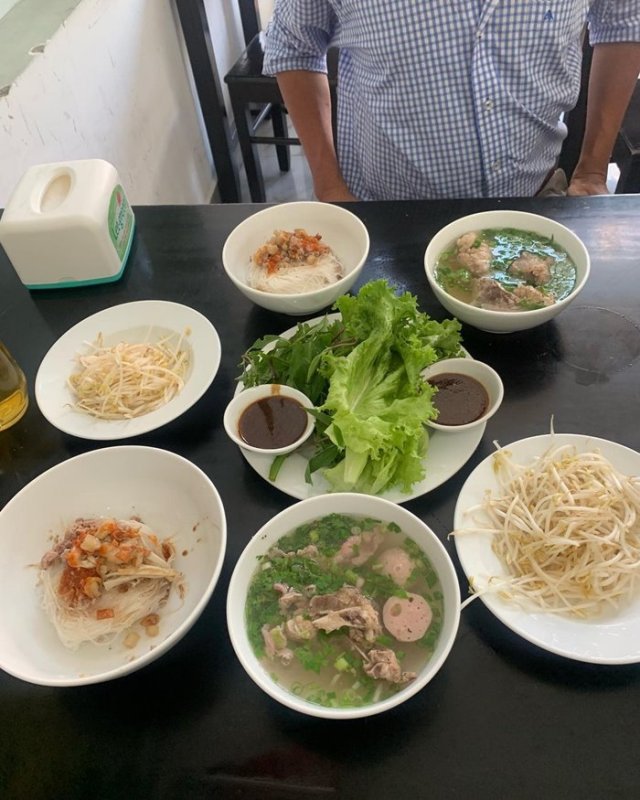 Pho at Hiep restaurant has a strong flavor. Photo: @ richmiu197
Not only attracts customers with delicious pho, Hiep is also visited by many customers because the owner is very funny, enthusiastic service style. One limitation at Hiep restaurant is that it is only open from morning to noon, so you need to come here in the morning to eat pho. 
Address: 60 Nguyen Trai, Yen Do Ward, Pleiku City, Gia Lai
Opening hours:  6: 00h-12h
Price: 25,000 VND
4. Baby Tu Dry Pho
Baby Tu is also a very familiar name to Gia Lai people when they want to eat dry pho. The restaurant is famous for many years and thanks to its location on a large road surface, it is easy for customers to find. Be Tu restaurant's space is very wide and airy with private parking space, so you don't need to worry about finding parking space when you arrive. Be Tu dry pho has an equally attractive taste as other shops with a cup of sweet beef broth and an attractive bowl of mixed noodles, rich topping, and fresh vegetables, so the pho here is always expensive.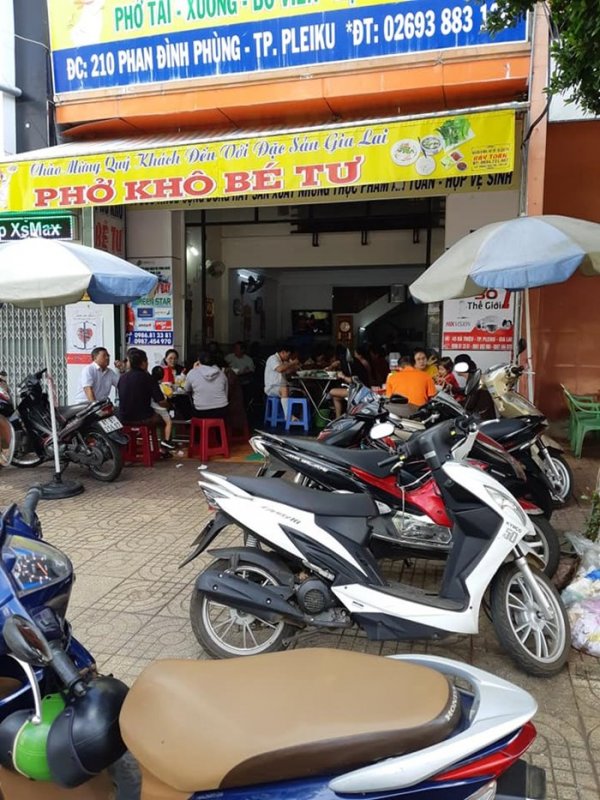 The parking space of the restaurant is very spacious. Photo: FB Pho Be Tu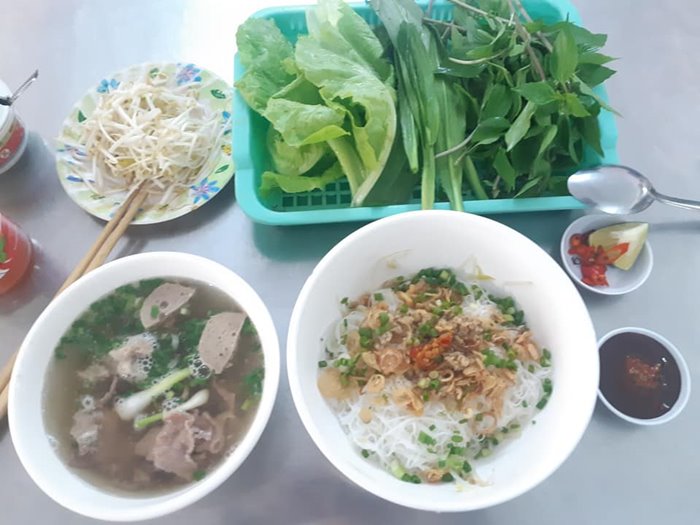 The pho here is also very attractive. Photo: FB Pho Be Tu
Address: 20 Phan Dinh Phung Ward, Yen Do, Pleiku City, Gia Lai
Opening hours:  6:00 -22h
Price: 25,000 VND
5. Tau Ly dry pho 
While other two-bowl pho shops in Gia Lai are open all day or just in the morning, Tau Ly is open in the afternoon, which is convenient for diners who cannot get up early to drop by. Tau Ly restaurant has a fairly popular space but clean and airy. The pho here attracts diners because of the characteristic sweetness of the broth and the delicious black soy sauce, you can adjust the same amount when mixing pho. At Tau Ly restaurant, the meat in the bowl of broth is quite a lot, you can order cooked or undercooked meat to enjoy.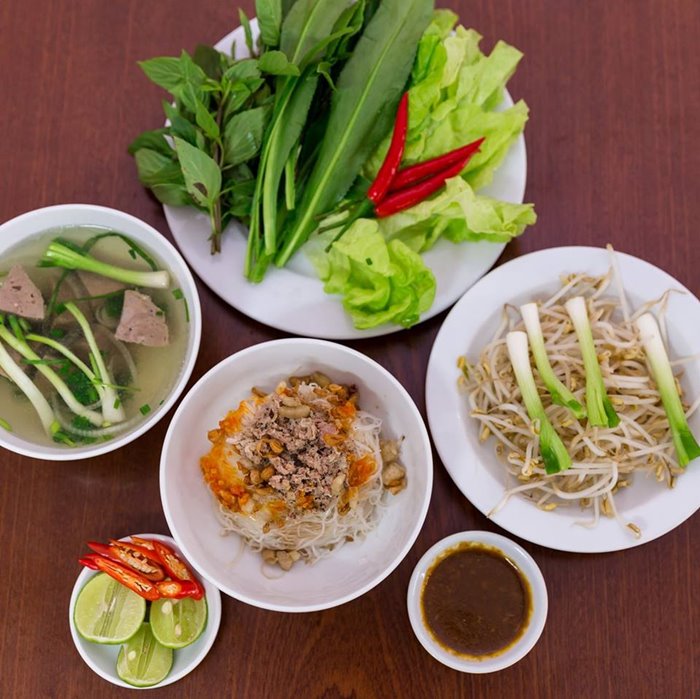 Pho Tau Ly is an attractive destination for those who like to visit in the afternoon. Photo: afamily
Address: 5 Doan Thi Diem, Ward Dien Hong, Pleiku City, Gia Lai
Opening hours: 15:00 -20h
Price: 20,000d
6. Ngoc Linh Chicken Dry Pho
If you want to find a two bowl pho restaurant in Gia Lai with the best chicken taste , go to Ngoc Linh restaurant. The shop is also located in the central area so it's easy to find. Especially, unlike the usual ones, Ngoc Linh's two bowls of pho uses hill chicken so the meat is firm and sweet, the broth is clear and sweet. Pho is also separate with the chicken and onion fragrant, when you eat it, you mix it with black soy sauce and add vegetable seeds and onion prices depending on needs.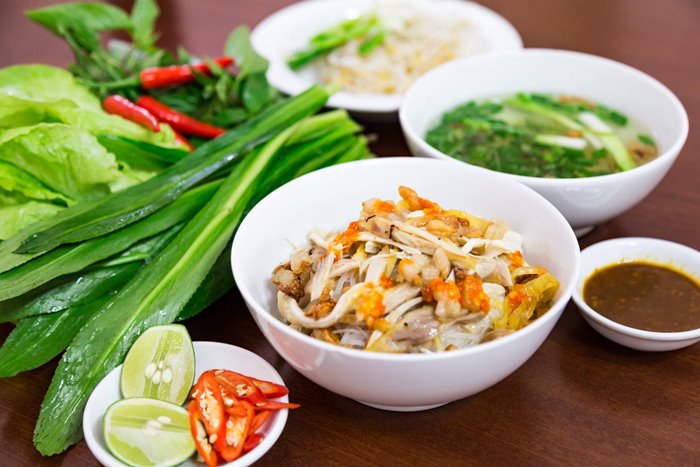 Two bowls of chicken noodle soup is super attractive. Photo: Foody
Address: 46 Phan Boi Chau, Hoi Thuong Ward, Pleiku City, Gia Lai
Opening hours:  6h15: 00-22h
Price: 30.000d
7. Women's dry pho restaurant 
Pho Nu restaurant is 40 years old in Gia Lai, so it is very popular with the local people. The great taste of two bowls of pho here has always made many people miss it. Soft, sour noodle, mixed with super attractive topping, fresh and hot beef broth. The current Pho Nu restaurant is quite wide and airy, due to the increasing number of customers coming. If you want to eat pho with two standard Gia Lai dishes , do not miss the Nu restaurant.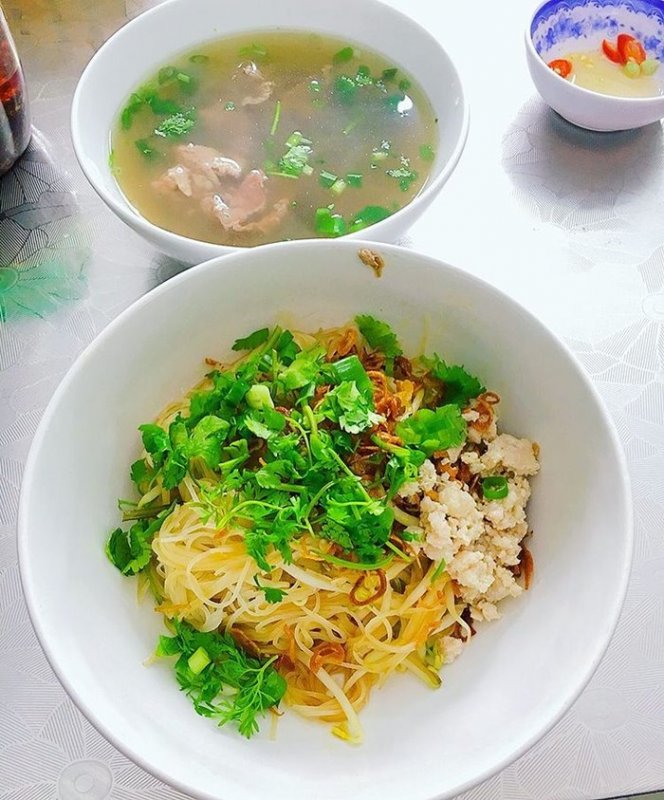 Pho two restaurants of Women makes diners remember. Photo: @ keomut925
Address: 50 Nguyen Du, Tay Son Ward, Pleiku City, Gia Lai
Opening hours : 5:00 am – 5:00 pm
Price: 25,000 VND
8. Pho Hanh 
Located on one of the busiest food streets in Pleiku, it is not difficult to understand that Pho Hanh restaurant is always crowded. The shop owns a prime facade, bright and clean space, the owner is very friendly, so it is satisfied with customers. The dry pho here has a very specific taste, strong, diners can taste more black sauce or chili sauce according to their taste. The broth bowl has a lot of minced meat, diners can choose beef, chicken or mixed …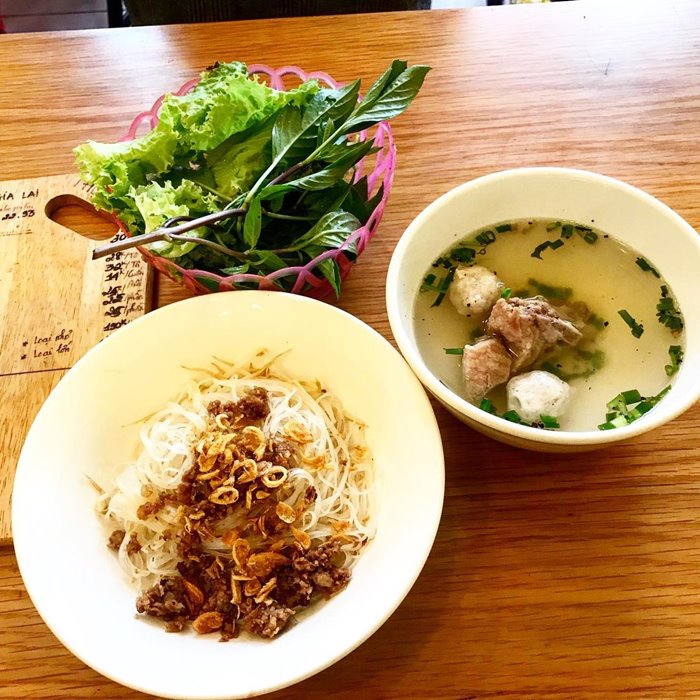 Pho Hanh Gia Lai standard. Photo: @vanbich_nguyen
Address: 13 Le Loi, Tay Son Ward, Pleiku City, Gia Lai
Opening hours:  7:30 am – 22:00
Price: 30.000d
People often say "hundred hear no equal to one see, one hundred see not equal a try" so when coming to Gia Lai, remember to find famous dry pho to enjoy. The two-bowl pho restaurants in Gia Lai above are all prominent names with attractive flavored pho that will not disappoint you. 
Photo: Internet 
TAG: