Explore the wild and attractive Bu Dang Elephant waterfall in Binh Phuoc
Bu Dang Elephant Waterfall is one of the famous destinations of Binh Phuoc province. It has a wild and majestic natural landscape of mountains and forests with a cool green atmosphere, so when visiting here, visitors will feel very happy and comfortable.
Let's follow Vinlove to learn about this attractive tourist destination in Binh Phuoc! Surely this will be one of the great travel destinations for you.

About Bu Dang Elephant Waterfall
Belonging to the Bu Lach Grasslands community in Dong Nai commune, Binh Phuoc province, Elephant waterfall is famous for its wild, rustic and rustic beauty. The scenery here makes anyone visiting will feel excited and loved. Because compared to other tourist destinations in Binh Phuoc, Bu Dang Elephant Waterfall has a lot more special and attractive. This place is typical for a waterfall with bold beauty and mountains that only in Binh Phuoc has.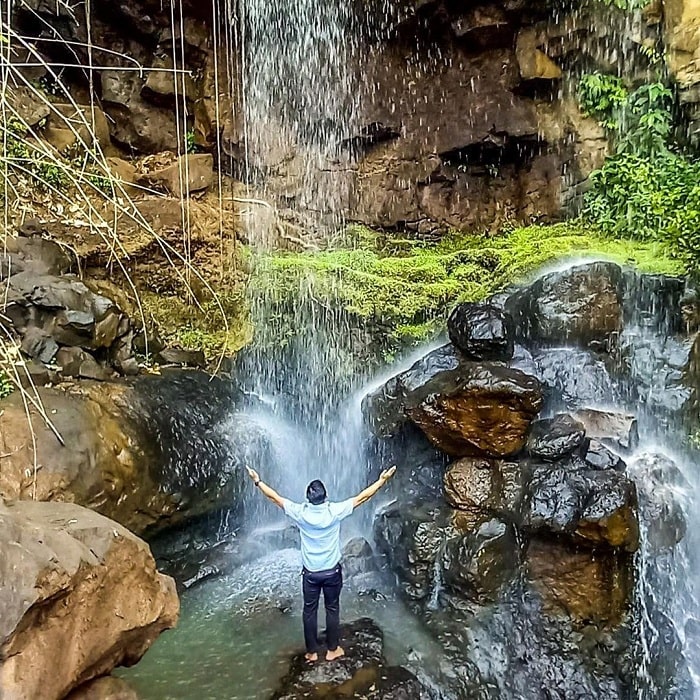 Photo: @ phung_cuong087
This waterfall has been preserved and preserved by the local government. Therefore, to this day, Elephant waterfall has always been one of the beautiful and famous waterfalls for its pristine beauty as in the beginning.
In 2017, Binh Phuoc Elephant Waterfall  was recognized as a provincial relic and this is the place to preserve the famous flora and fauna of this region. Around this waterfall is also where the M'nong people live. Therefore, when you come here to visit, you will have many interesting things to explore, from the natural mountains and forests to the daily life of the people here.
To get to the Elephant waterfall to visit, you will have to go through a very difficult and difficult road. Because the road leading to here is not flat, but very rough and rocky. In particular, the dirt road here is red so travel needs to be very careful. Especially in the rainy season, you should pay attention to wearing low shoes and use a car to go if you want to conquer this road. Because the car will help you pass the pass and climb the slope stronger without worrying about stalling.
Explore the beauty of the majestic Elephant waterfall
This waterfall is called Elephant waterfall because there are many large rocks stacked on top of each other and when viewed from above, you will see the shape of the waterfall looks like an elephant. Therefore, the name Bu Dang Elephant Waterfall is also from there. This waterfall has a width of up to 13m, a height of 14m and a slope of about 90 degrees. Around the waterfall are green trees, cool with a clear blue stream, cool next to it.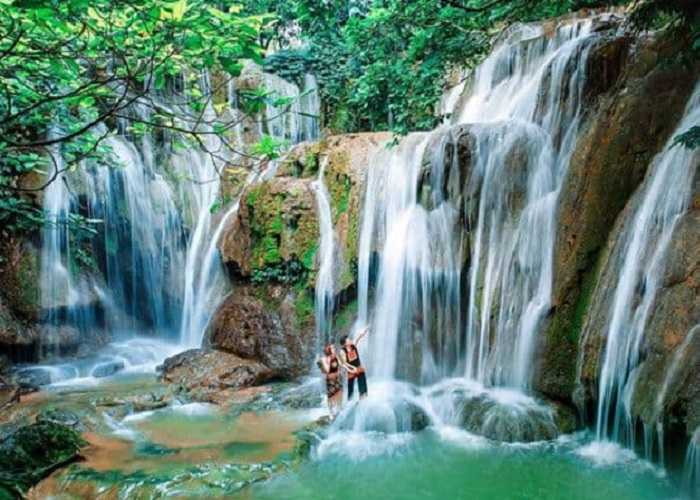 The attractive beauty of the Elephant waterfall in Binh Phuoc
Not only that, the two sides of the waterfall are interwoven cliffs with dense and dense trees. All have contributed to creating a beautiful natural scenery for this Binh Phuoc tourist destination . When coming here to visit, visitors will feel the richness as well as the intense vitality of the plants and flowers here.
Everything seems to be preserved here as it was in the beginning. Everything from the ecosystem to the rolling waterfall is very beautiful and attractive. Especially, when you come here, you will be immersed in nature and feel the purity and purity of the mountains and forests of Binh Phuoc. Here, everything is different from the noisy and bustling life of a prosperous, urban place, but instead feels light, smooth and refreshing and pleasant.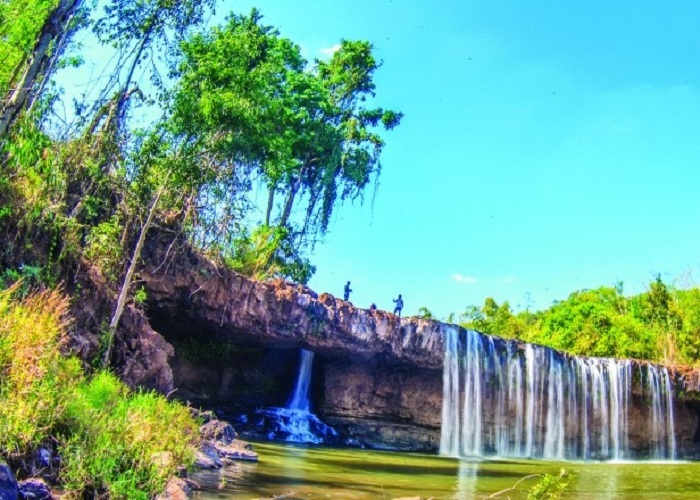 Elephant Waterfall is one of the tourist destinations that many people visit when traveling to Binh Phuoc
Everything here makes visitors feel relaxed. Because perhaps for this reason, Binh Phuoc tourism cannot ignore a wonderful destination like Bu Dang Elephant Waterfall. This destination has cool and pleasant weather. Due to the specific climatic conditions in Binh Phuoc is divided into two distinct seasons, the rainy season and the dry season. If you want to come here to visit, choose the spring time to go. This is the most beautiful time of the year to explore Elephant waterfall. In addition, going at this time will also help you move more smoothly. Trees are also green, more proliferating. Therefore, the natural scenery is also more beautiful and poetic.
In the rainy season, the water at Elephant waterfall rushes flowing, white all over an area, in the dry season, the water flow is softer and more gentle. Interwoven somewhere is the chirping of birds and the sound of leaves rustling in the wind. Together, they contribute to create a unique and unique mountain dance for Elephant waterfall.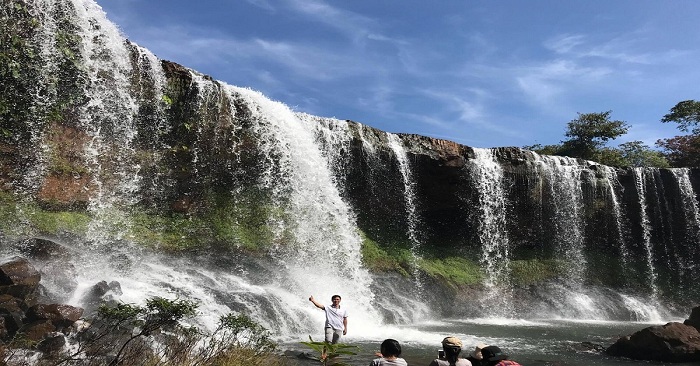 Coming to Elephant waterfall to visit, visitors will discover a lot of beautiful and majestic natural scenery
Coming to Elephant waterfall in addition to sightseeing, you can also participate in some outdoor activities such as fishing, boating on the lake. These are all interesting activities to help you have a most meaningful trip to Binh Phuoc.
After visiting the mountain and forest natural scenery at Elephant waterfall, go to S 'Tieng village to explore and explore the life and customs of the people here. From there, you can better understand their daily life and know more unique and interesting legends surrounding the majestic Bu Dang Elephant waterfall .
When you come here to visit, do not forget to participate in the challenge of walking through the forest to be able to fully see the landscape here and breathe the clear blue air. cool that only at Elephant Falls.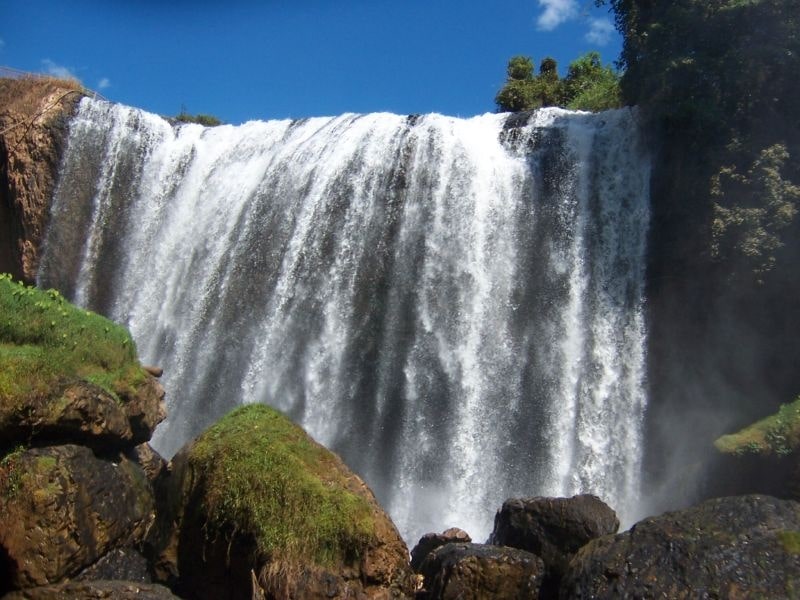 An image of the majestic Elephant waterfall looks down from above
Some things to note when visiting the Elephant Waterfall of Binh Phuoc
To make the trip to Elephant waterfall travel smoothly and smoothly, you should prepare in advance. From booking air tickets, cars, trains to preparing belongings and luggage. This tourist destination has a geographical location a bit far from the center. Therefore, you should go in groups and should ask the help of indigenous people to help them show the way, to avoid getting lost when going to the Elephant waterfall to visit.
Before planning your Elephant Falls exploration trip, you should preview the weather forecast to choose when Bu Dang is sunny. That will be more reassuring because if you go at a time when it rains, the way will be very dangerous and difficult.
Hopefully, with the suggestions above about Bu Dang Elephant Waterfall , you will have another great sightseeing destination to come when traveling to Binh Phuoc. Wish you have a useful sightseeing trip and do not forget to read the next articles of Vinlove for more interesting discoveries.
Photo: Internet 
TAG: