Braised hybrid pork with bamboo tube: Specialties in mountains and forests of the Central Highlands
Referring to the cuisine of the Central Highlands, surely many people will immediately think of the grilled pork-bamboo hybrid pork dish of Dak Lak province. This dish becomes even more famous when it has just entered the Top 100 special dishes of Vietnam in 2020-2021.
Braised hybrid pork with bamboo tube – unforgettable highland flavor
Not only attracted by the majestic landscape, immense greenery, the mysterious Central Highlands also attracts tourists by the typical dishes, bearing the style of the mountains and forests.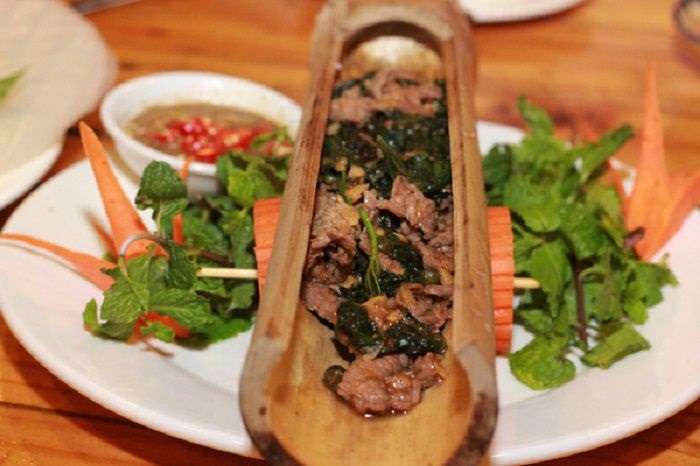 The eye-catching and attractive appearance of the hybrid pork steamed on the young tube. Photo: Dan Viet
In particular, the grilled pork hybrid dish of Dak Lak province is known by many people for its irresistible delicious taste. If you have the opportunity to travel to Dak Lak, try to go to Kotam Community Ecotourism to enjoy this specialty – the Top 100 special dishes of Vietnam in 2020-2021.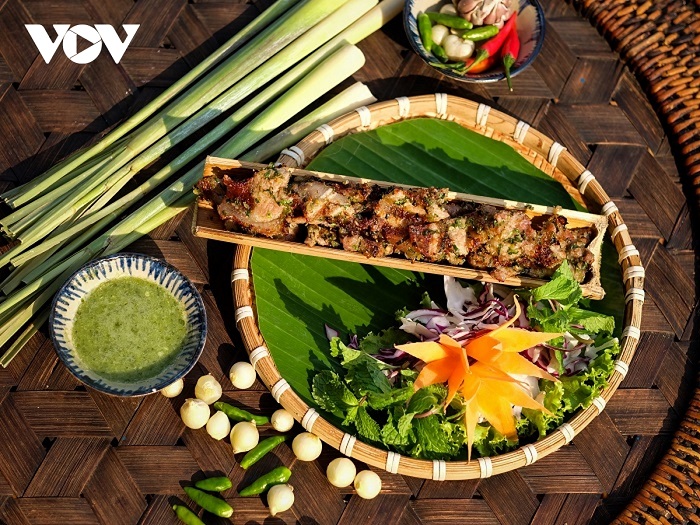 This dish has just entered the Top 100 specialties of Vietnam in 2020-2021. Photo: VOV
Hybrid pork is bred from grass and wild boars. Thanks to that, this pork has a crunchy taste than regular pork. When eaten, the meat is chewy, sweet and especially fragrant. Grilled pork-grilled hybrid pork has a unique way of processing in the style of the Ede ethnic group, but inherited the quintessence and variations to be more suitable for modern life.
How to make a special dish of steamed hybrid pork with grilled bamboo tube in Dak Lak
The ingredients that make the steamed hybrid pork grilled with bamboo pipes are all natural available at Kotam Community Ecotourism Area . In it, as the name suggests, the main ingredient is hybrid pork and other spices such as green pepper, chili, cilantro and white leaf.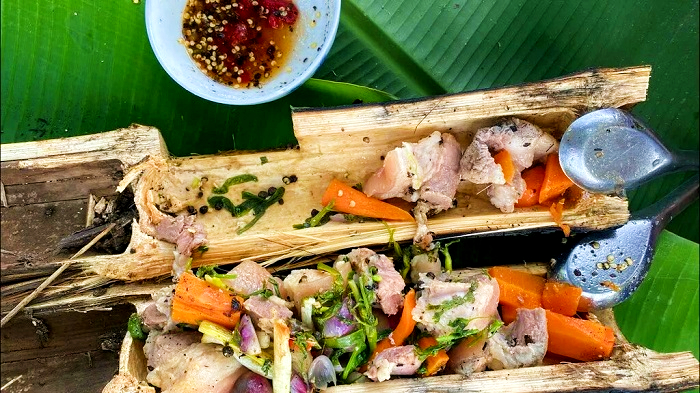 The ingredients for grilled pork bred with bamboo tubes must be fresh and delicious. Photo: tin247
Depending on the time, the spices may change seasonally because they are grown naturally in the resort. It is worth noting that the ingredients must be very fresh, green, including the bamboo tube.
The new bamboo tube has an easily recognizable sweetness, and when grilled with meat, it creates a delicious and delicious taste. Spices are also hand-cooked by the chefs. Every step is done by human hands. Because of this strict requirement, the selection of raw materials needs meticulousness and care.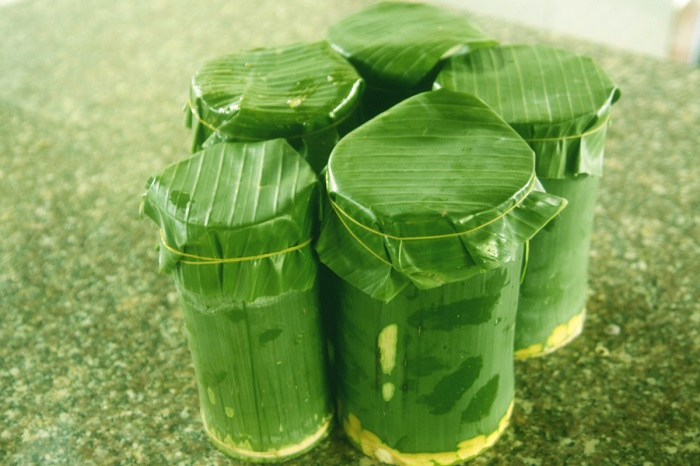 Bamboo pipes are covered with banana leaves. Photo: vov
In particular, because it is the main ingredient in the bamboo tube grilled pork hybrid , the selection of pork must be very careful. It is the use of hybrid pork that creates the unique feature of the dish that is not available everywhere. The meat chosen must be very fresh, delicious, full of fat and balanced skin, not excess.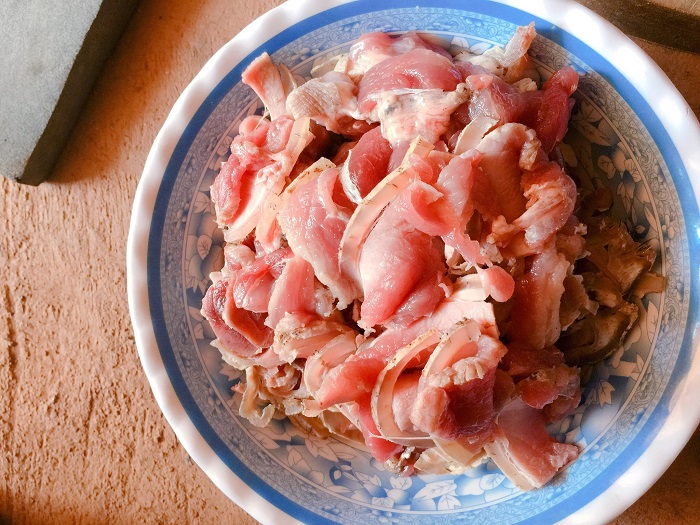 Pork must be selected carefully, must be fresh, have a full range of lean skin balance. Photo: amthucquetoi
The ingredients are mixed and marinated for about 15 minutes to allow the spices to soak into each fiber. Then, the hybrid pork is put into a bamboo tube, covered with banana leaves in the tube and baked over embers for about 1 hour.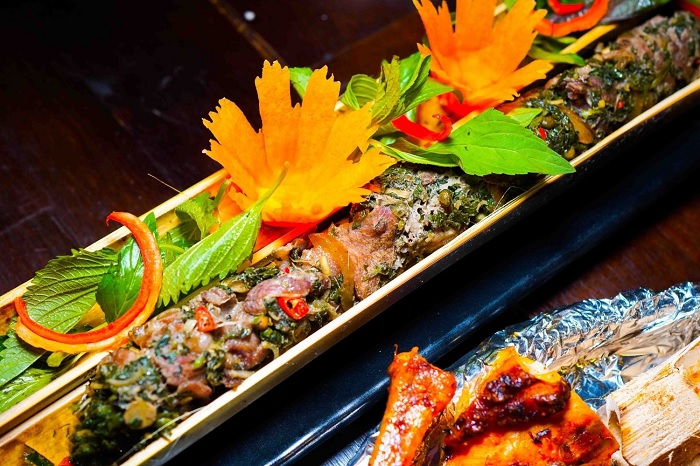 The main ingredient of this dish is hybrid pork, green pepper, chili, cilantro and white green leaves. Photo: foody
Grilling on a charcoal stove requires chefs to pay close attention so that the meat is not burned, to turn the bamboo tube regularly so that the grilled pork hybrid is cooked evenly. When the outer shell of the bamboo tube turns yellow, the aroma from the meat begins to emit.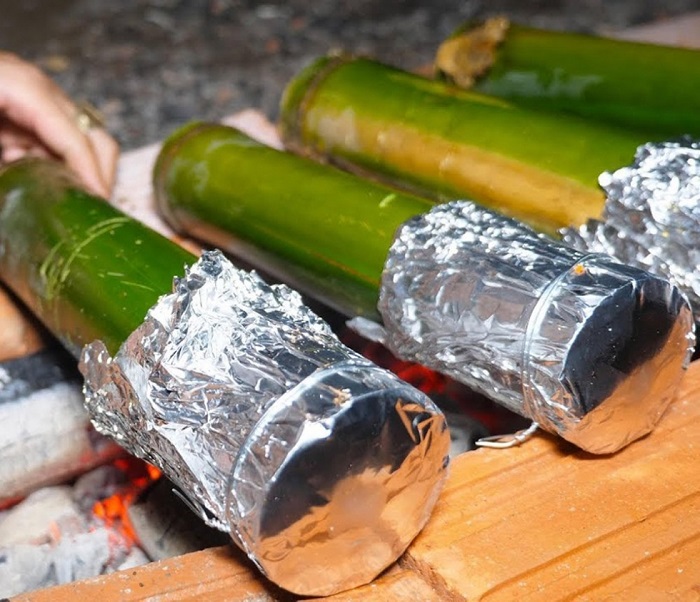 Meat will be roasted over embers and care must be taken not to burn. Photo: dulichdaiviet
Hybrid pork when grilled with fresh bamboo tube has the main plus point is that it keeps the softness, the crispy skin, the fat when eating is not greasy and is especially fragrant.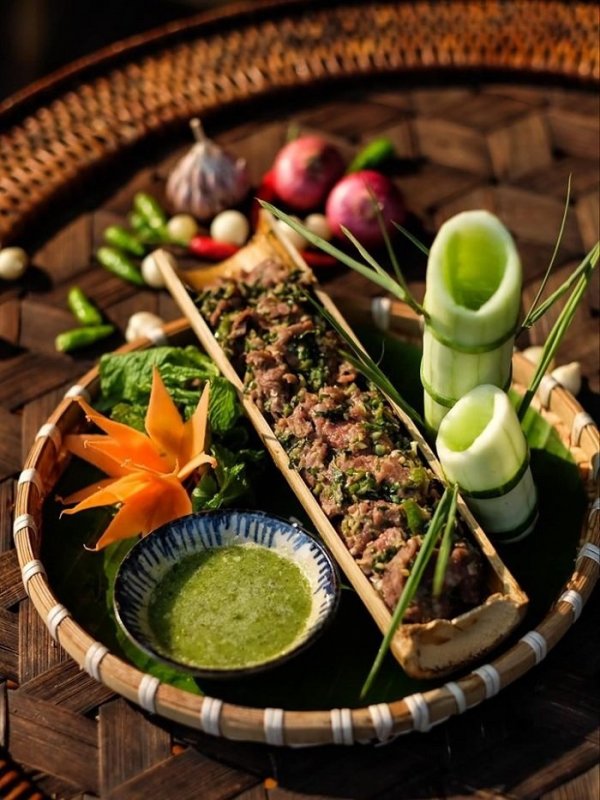 Grilled grilled pork with bamboo tube is eaten with raw vegetables, salt and green pepper. Photo: Topplus
You can eat grilled hybrid pork with a bamboo tubes with salt and green chili and herbs. The pungent taste of chili, the aroma of meat blends together to create a specialty dish that attracts tourists in Dak Lak .
 
How to get to the Kotam Community Ecotourism Area to enjoy steamed hybrid pork on bamboo tube
Kotam Community Ecotourism Area is located at 789 Pham Van Dong Street, Tan Hoa Ward, Ea Tu Commune, City. Buon Ma Thuot, Dak Lak province . This place is 50 hectares wide, characterized by mountains and forests of the Central Highlands, with a diverse ecosystem that many tourists visit in Dak Lak.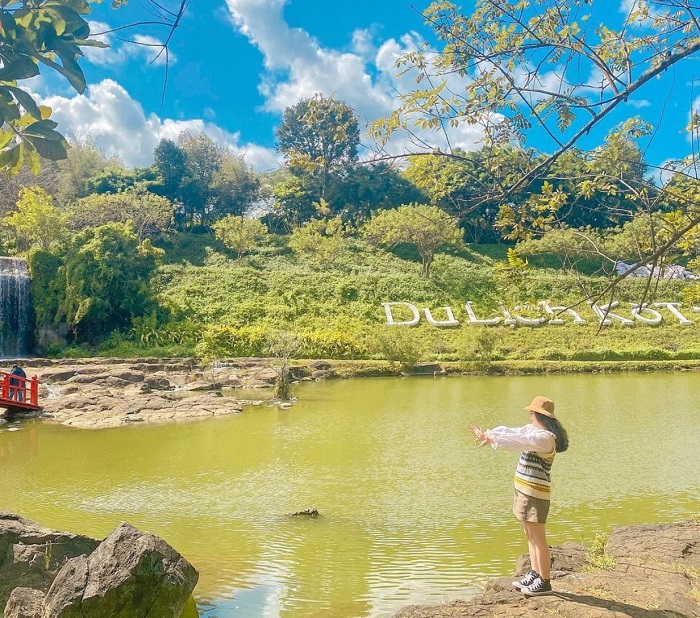 Kotam Community Ecotourism has a diverse ecosystem. Photo: thuytrangg2308
8km east of the city center, to get here, visitors can take Quyet Thang bus about 20 minutes to arrive.
If you move from Buon Ma Thuot airport, you will only take about 10-15 minutes by taxi. The road is also very easy to find. From the airport, go straight Nguyen Luong Bang, turn right to Pham Van Dong, just go straight ahead.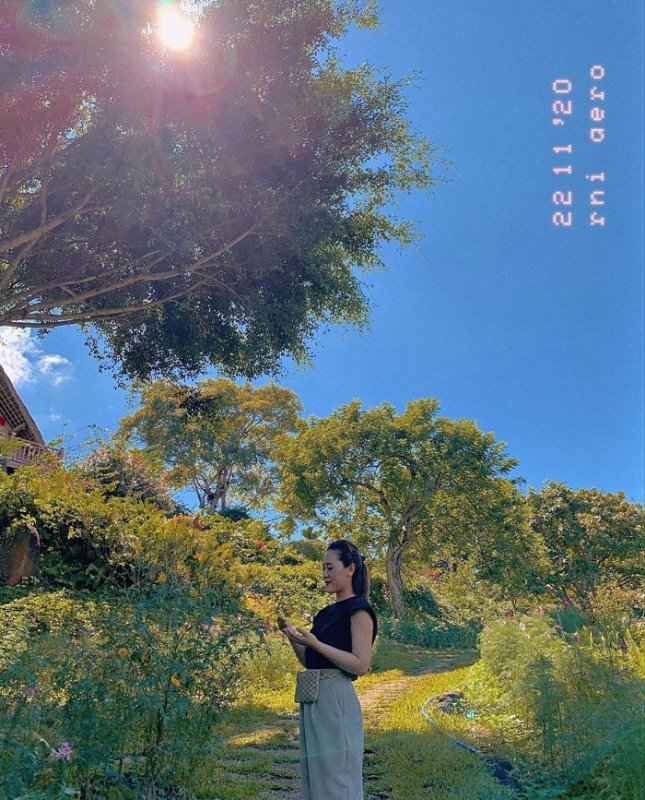 In addition to enjoying the specialty of grilled pork on bamboo tube, this place also has many interesting attractions. Photo: thach_thao_pham
At the Kotam Community Ecotourism Area, in addition to enjoying steamed hybrid pork with bamboo tube, you can visit, enjoy the fresh air of nature, experience camping, boating, and mingle. enter the campfire atmosphere, gongs, enjoy Can wine, watch oval dance, check in at stilt houses bold Ede ethnic culture …
TAG: