Experience to go to Pac Mo to admire the enchanting beauty of Lang Son
Pac Mo Lake is an attractive destination for tourists when they have the opportunity to visit Lang, with a peaceful and beautiful natural landscape like a water-color painting. So you know how to move to this famous lake and what to play here? Save now the full experience of discovering Pac Lake of Lang Son right here. 
Where is Pac Mo Lake in Lang Son? 
Pac Mo Lake is located in Huu Vinh commune, southwest of Bac Son, about 2km from the town center. This place owns water taken from mountain circuits so it is very clean and cool. Pac Mo Lake has the role of providing irrigation water for people here, but also has a beautiful landscape. The special thing is, this lake never runs out and the lake surface is always flat, reflecting on the folds of the stilts.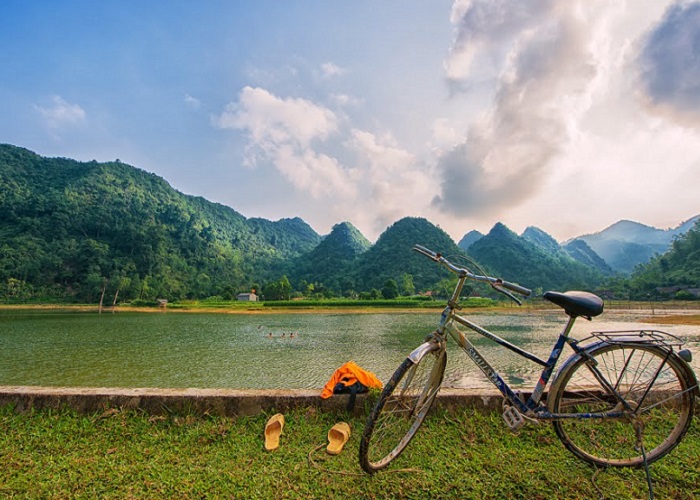 Pac Lake Lang Son owns a peaceful scene
Near the lake Pac Mo Lang Son is Bo Loong well, associated with the legend of the birth. According to the people here, in the past, the lake was always dry, but on a heavy rainy day, a white magic buffalo rammed hard against the cliff next to the lake and entered the slot. Since then, this place has running water around the clock to provide water for the entire area of ​​the lake. Curiously, the water coming out of the well is cloudy in color and is very cool.  

How to move to Pac Mo lake
Experience in Pac Mo Lake, to move to this famous lake in  Lang Son , you first need to move to Bac Son town. Departing from Hanoi, you can go by bus or private vehicle. As follows: 
– Passenger car: Take the bus from My Dinh, Gia Lam, Giap Bat stations … run the route through Bac Son, Lang Son. Ticket prices fluctuate about 100,000 VND / person. 
– Private vehicle: If you want to be active in travel time, you can travel by motorbike or self-driving car to Nhat Tan bridge -> Highway 18 -> Hanoi expressway direction -> to Thai Nguyen -> to Bac Son town. Or you can go in the direction of Thang Long bridge to Noi Bai -> Soc Son -> Thai Nguyen, go straight to Bac Son. 
Note, if traveling by private vehicle you should keep a safe speed and bring all the necessary documents.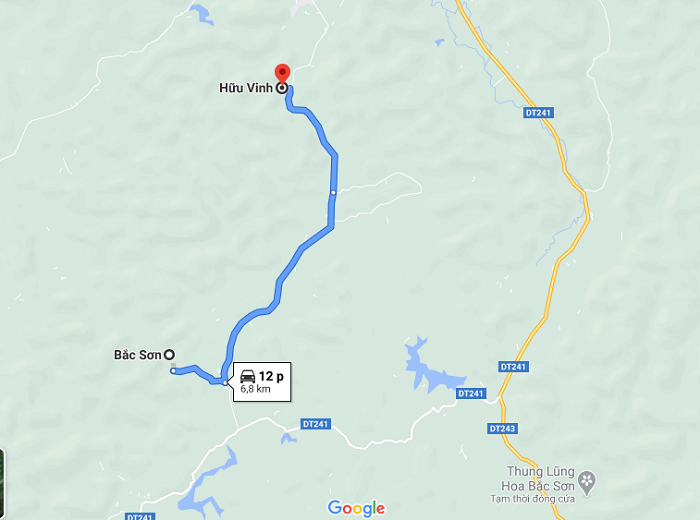 How to move to Pac Mo lake
Pac Mo Lake – a beautiful ink painting in Lang Son 
What is in Pac Lake in Lang Son ? Pac Mo attracts tourists with its charming, peaceful landscape and fresh air. Coming to this beautiful lake, you will admire the charming and poetic landscape of the country. The area of ​​the lake surface is always smooth and shines like a giant mirror that stands out among the mountains and forests of the Northeast. From Pac Mo Lake, you will admire the stretches of green trees in the distance, along with the mountains and stilt houses at the foot of the mountain creating a beautiful picture.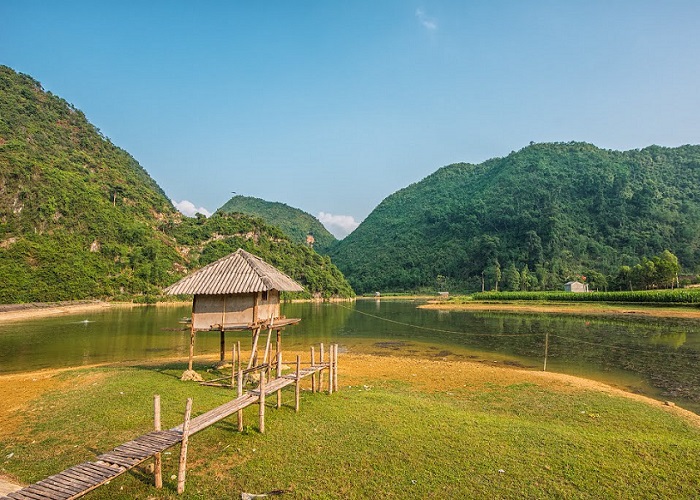 Beautiful natural scenery in Pac Mo lake
Next to the lake is an impressive Bo Loong well with a moss-colored beauty and thrilling stories. This place brings charming and special beauty associated with the beauty of the mountains and forests here. Together with Bo Loong, Pac Mo possesses a poetic and lyrical landscape next to the immense green trees. The water here in the cool summer, visitors can relax soak and admire the beautiful scenery here.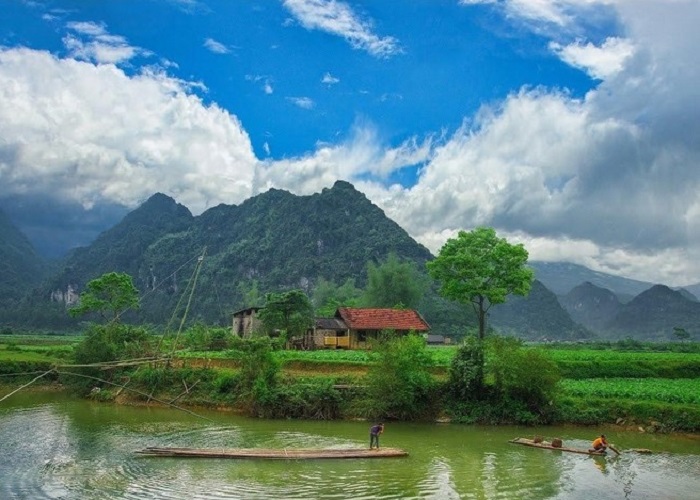 Mountains and trees are immense near Pac Mo Lake
From Pac Mo lake, it is very close when moving to Ru Hon cave, famous for its extremely dangerous cliffs with large high arches being deeply ingrained. This place attracts tourists with wild and beautiful landscapes, such as dragon head, stone waterfall, stone drum, female palace, and unique monster stone.  

Learn about the cultural life of people living near the lake
Visiting Pac Mo, visitors can not only admire the beautiful landscape here, but also visit the village of ethnic minorities living at the foot of the mountain. You will talk to the people here, learn about the unique features of culture, life and activities. If you want to stay overnight to visit the beautiful scenery around the Pac Mo area, you can ask people to stay and eat here. The ethnic people living here are very friendly and hospitable, so do not hesitate to ask for sleep and eat here.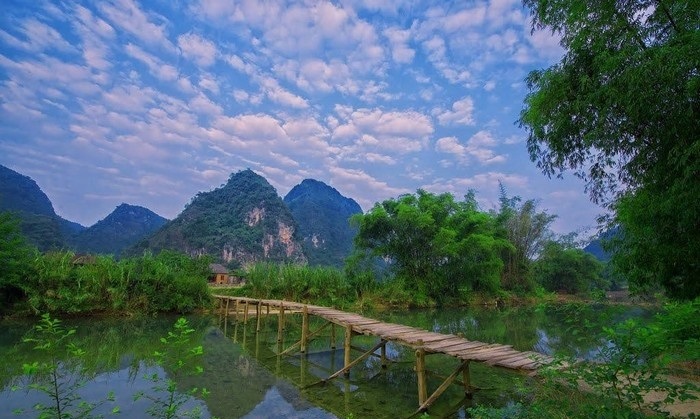 Admire the charming beauty of the country at Pac Mo Lake
Notes when visiting Pac Mo Lang Son lake
The trip to Pac Mo Lake will become more complete with the following useful notes: 
– When you go to Pac Mo, you can come at any time, which is ideal. The most beautiful is that you should go from July to November, at this time you can combine to admire the golden rice fields in Bac Son. 
– Eating and drinking there are many specialties of Lang Son such as: Black banh chung, sticky rice, tangerine, grilled fish, donut … 
– It is possible to combine visiting other famous tourist destinations in Bac Son such as: Mount Na Lay, Bac Son flower valley, Quynh Son cultural tourist village ,  Dang Mo waterfall , Bac Son insurrection museum .

Above are the whole sharing experiences to go to Pac Mo Lang Son lake: How to go, what to visit, and note. Hopefully, with the above useful information, it will help your trip become complete and discover the most enjoyable experience. 
Photo: Internet
TAG: