May waterfall tourism – a beautiful and wildly beautiful destination of Thanh
Traveling to Thanh Hoa May Waterfall, you will be immersed in the wild, majestic natural scenery, ecstatic and overwhelming human hearts, and experience many other interesting and attractive activities. 
Thanh Hoa tourism is not only attractive by poetic and lyrical beaches but also by many beautiful waterfalls. Among them, the most beautiful and famous is the May waterfall. Not only is considered the most beautiful waterfall in Thanh, but May waterfall also hides behind a thrilling and fascinating legend. Right now, we will travel together to May waterfall to see what is interesting here.
Where is May Waterfall?
May Waterfall is a beautiful waterfall located in Dang Thuong village, Thach Lam commune, Thach Thanh district, about 50 km from Thanh Hoa city center. May Waterfall together with Elephant Waterfall are considered the two most beautiful waterfalls in Thanh Hoa and are located in Thach Thanh district.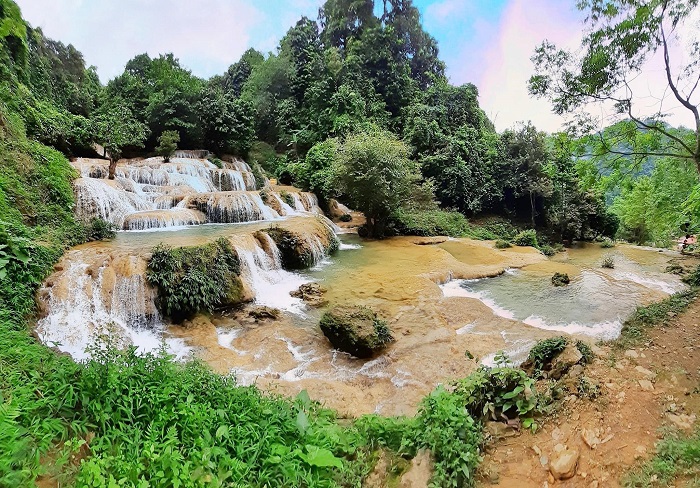 May Waterfall is a beautiful waterfall of Thanh Hoa
Thanh Hoa May Waterfall is also known with other names as " Nine Ranks of Love " waterfall. According to legend, in the past, there were 9 fairies, once traveling on earth, accidentally passed a beautiful waterfall. Due to the irresistible beauty of this waterfall, 9 fairies showered here.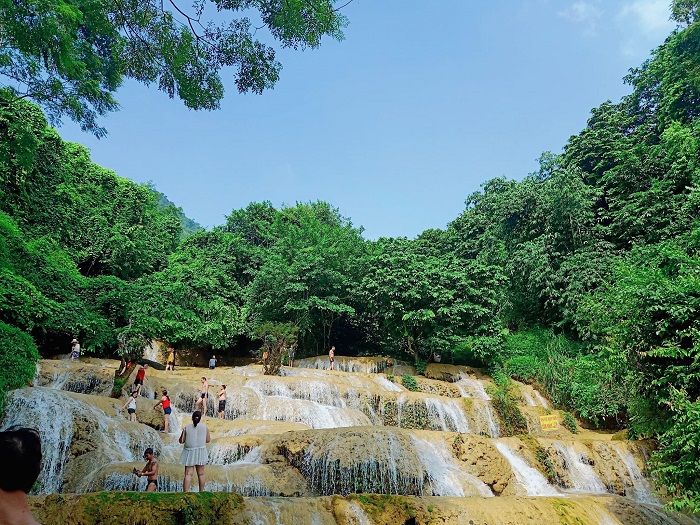 May Waterfall is also known as Nine Tier Love Waterfall
May waterfall belongs to the majestic Truong Son North limestone mountain system. The stream of water pouring from an altitude of about 400 meters downwards, divided into 9 floors of small falls resembling steps, creates a majestic, wild and magical natural landscape, making anyone when placed. foot to also must be surprised.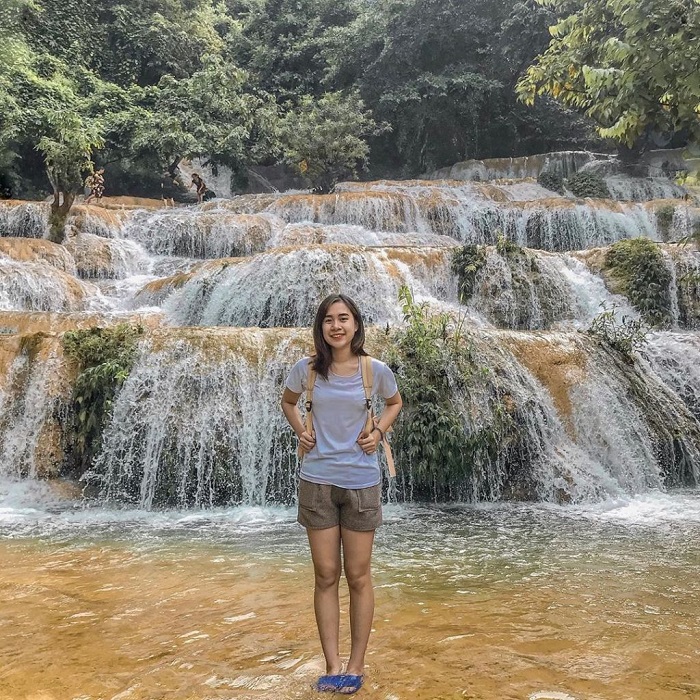 The beauty of the waterfall makes anyone surprised when they arrive
What time of year should you travel to Thac May?
According to Thanh Hoa's travel experience , the most ideal time to explore this place is summer, especially from June to August every year. This is the time when it rains, the water will flow more violently, releasing white foam, cool, extremely suitable for cooling in hot summer days.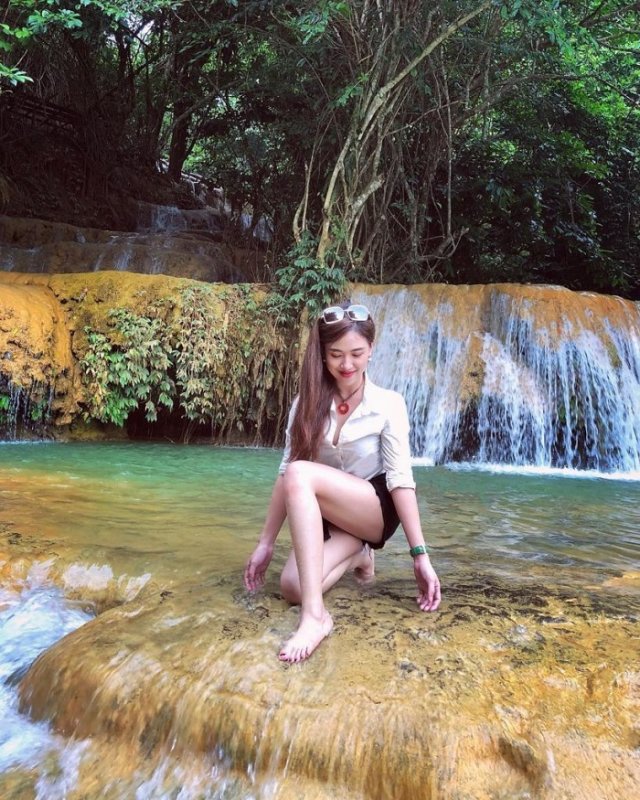 Summer is the best time to travel to Thac May
How to go to Thanh Hoa May Waterfall
Waterfall is located more than 150 km from the center of Hanoi capital, right next to Cuc Phuong National Park. The fastest and most convenient way to go to May Thach Thanh waterfall is to follow the Ho Chi Minh trail.
From the center of Hanoi, you follow NH6, to Xuan Mai and Chuong My intersection, turn left. Continue to move across Cuc Phuong bridge, to the top of Song Ngang bridge, turn right, not cross the bridge. Continue about 10 km, you will see a junction, turn left a little further to reach May Thanh Hoa waterfall .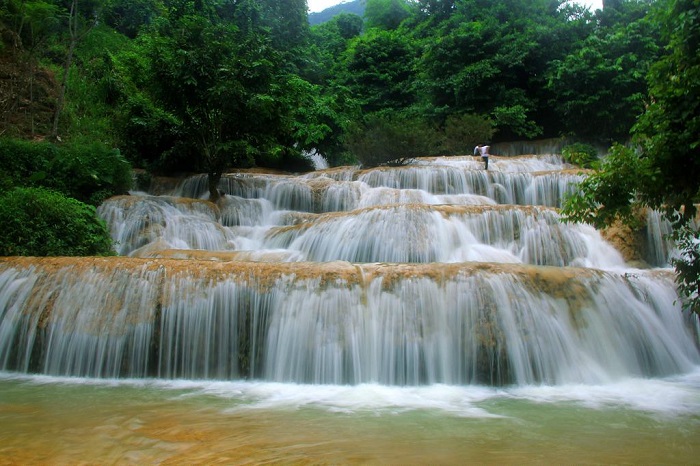 Tourist Thanh Hoa May Waterfall
Where to travel to May waterfall?
According to Cloud Waterfall travel experience , here is a list of some ideal places to stay that you can refer to for your upcoming trip:
Cuong Lam Guest House
Address: Zone 1, Kim Tan Town, Thach Thanh, Thanh Hoa
Phone: 091 223 87 89
Hai Son Guest House
Address: QL45, Thanh Kim, Thach Thanh, Thanh Hoa
Phone: 0237 3656 555
Kim Dai Thanh Guest House
Address: Kim Tan, Thanh Kim, Thach Thanh, Thanh Hoa
Phone: 0237 3877 953
Hoai Phuong Guest House
Address: Thach Cam, Thach Thanh, Thanh Hoa
Phone: 096 154 20 31
If you do not want to stay at a motel, you can rent a house on stilts right at the foot of the waterfall for only about 50,000 VND / person / 1 night.
What is Thanh Hoa May Waterfall interesting?

Admire the beauty of the Nine Levels Love Waterfall
On the road to May waterfall tour , you will have to go through a simple and rustic wooden bridge made of wood trees spanning Ngang river. As soon as you arrive, you can hear the water rumbling, echoing the mountains and forests.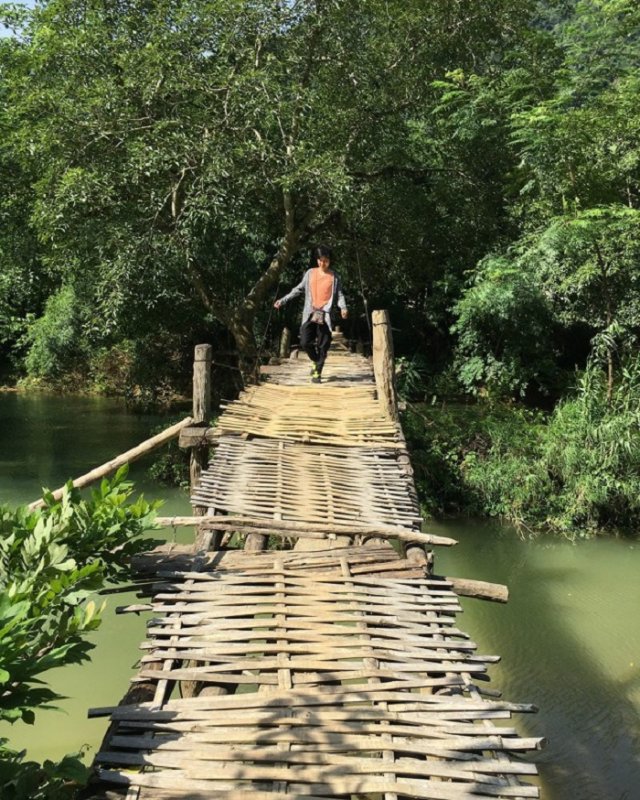 Small bridge leading to May waterfall
Coming to May waterfall, the first feeling is the amazement at the image of a waterfall that looks like the eye-catching, magnificent and equally poetic and lyrical terraced fields.
The legend of May waterfall tells that when 9 fairies were bathing here, suddenly Ngoc Hoang ordered them to call them to heaven. All 9 fairies rushed back and left 9 footprints to form 9 floors of the beautiful waterfall as this day. People here also say that couples who love each other if they bathe at May waterfall, they will be married and live happily ever after. That is why the May waterfall is also known as the Nine Tier Love Waterfall . In addition to the nine majestic falls in the middle, May waterfall also has Cha waterfall, Mother waterfall and Con waterfall. The two sides of the waterfall are covered with ancient trees giving shade.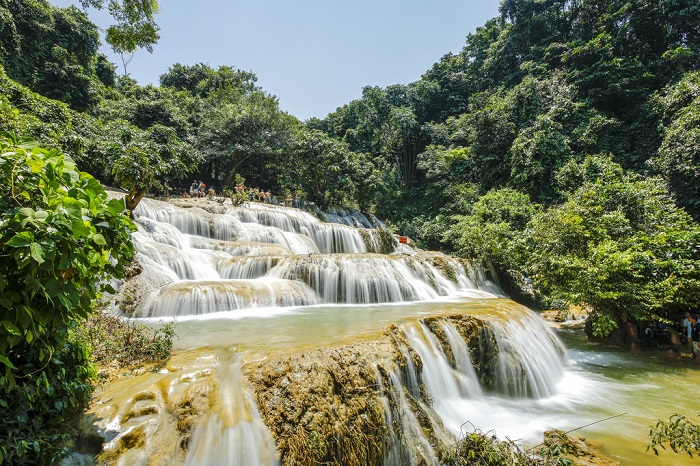 The beauty of Thanh Hoa May Waterfall
Visiting Cuc Phuong National Park
May Waterfall is located right inside the beautiful area of ​​Cuc Phuong National Park. Therefore, when traveling to Thac May, you will have the opportunity to explore an extremely rich and diverse flora and fauna here.
Take pictures to check in with the falls
The beautiful natural scenery at May waterfall is sure to be a great virtual live background, allowing you to make the most sparkling check-in pictures. And also because of the story of 9 love levels, May waterfall is always the place for wedding photography that many couples love and choose.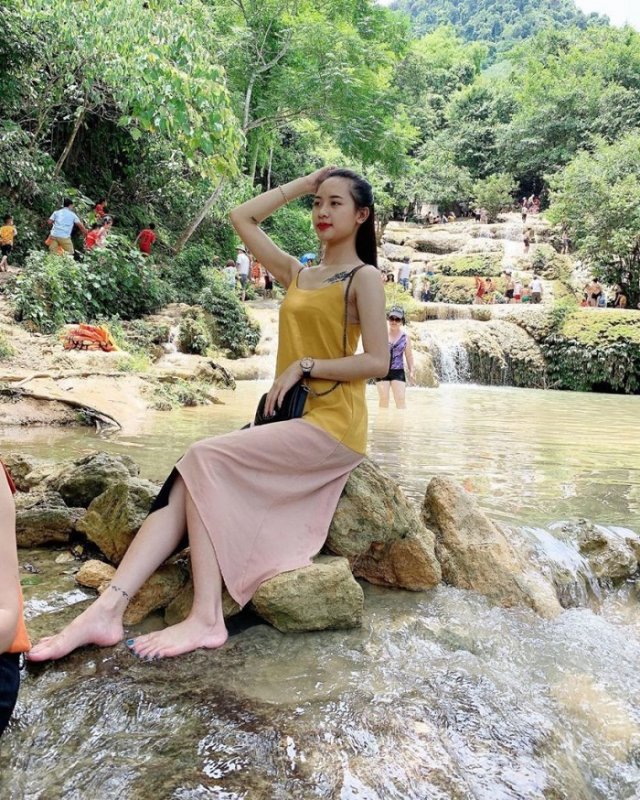 Check in Thanh Hoa May Waterfall
How much is the ticket to visit May waterfall?
Currently, Thanh Hoa May Waterfall Tourist Area is completely free for visitors. You only have to spend about 10,000 VND parking fee only. Besides, you should also donate to the security – environment fund here from 5,000 VND to 10,000 VND.
Although there are not many entertainment and entertainment services, May waterfall with its charming beauty is always an interesting destination that you should not miss in your upcoming Thanh Hoa trip . Hopefully the information shared above will also help you have a fulfilling and memorable trip.
Photo: Internet
TAG: