Overwhelmed with the garden of agricultural products, the garden is full of fruit and flowers, blooming with flowers
Young people who are passionate about planting trees are surprised when they see the image of a rooftop farm with fruits and flowers blooming of "urban farmer" To Thi Thuy Hoan.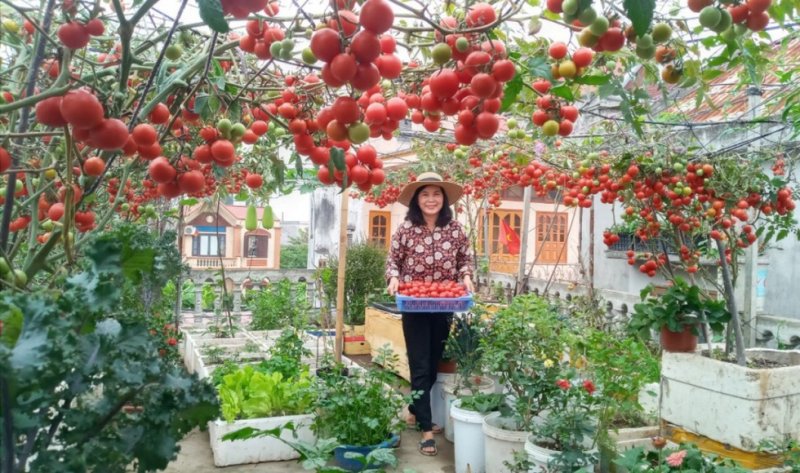 The terrace garden is as beautiful as the "paradise of agricultural products on the cloud" of Mrs. HoanNVCC
When Mrs. Hoan (living in Hai Phong) shared the fruits of her rooftop farm on social networks , many young people with the same passion for planting trees had to admire and admire, many of them could not believe their eyes. That was the result that Mrs. Hoan got from the rooftop in the heart of the city.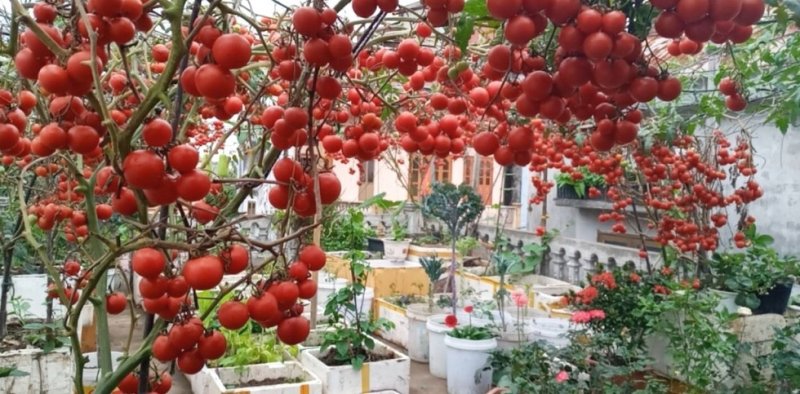 Red, ripe octopus tomatoes make Mrs. Hoan's garden shimmeringNVCC
Thanks to the Covid-19 translation, there is a terrace farm
Doing business in trading seafood for export, so the Covid-19 epidemic season from the previous year has affected Ms. Hoan's business. Staying at home due to social isolation is an opportunity for Ms. Hoan to fulfill her long-standing wish, a rooftop agricultural garden , to both provide daily vegetables and fruits for her family to have a garden. relieve stress after a tiring day at work.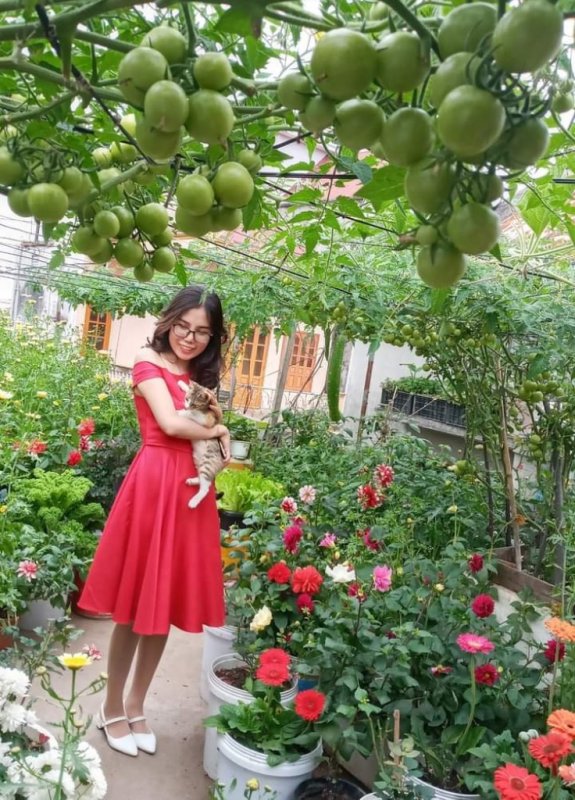 "Heaven" virtual living on the rooftop of Mrs. Hoan's family
.NVCC
"I've been passionate about planting trees for a long time. I remember one time I went to her house in Ho Chi Minh City to play, seeing her rooftop vegetable garden and liked it very much, wishing that someday I could also plant the same terrace garden. But the business is too busy to grow, until I have time to stay at home because of the social gap, I have been able to fulfill my cherished passion for a long time ", Ms. Hoan expressed to reporters Youth .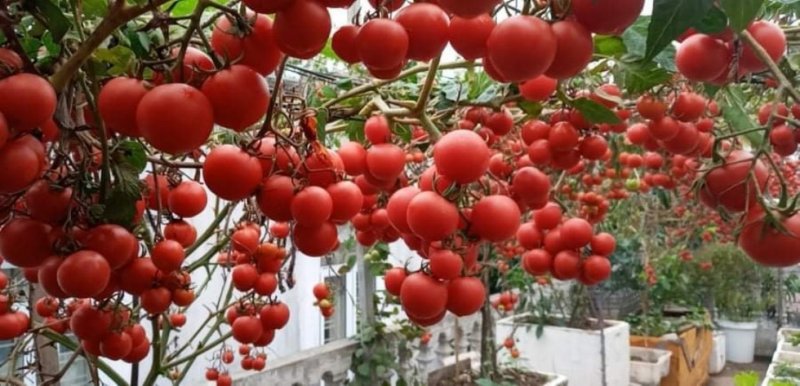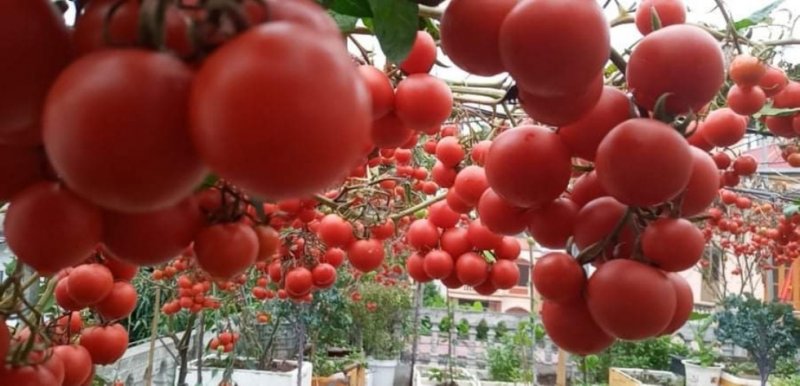 With self-researching and researching and processing all kinds of nutrients for plants, the yield of terraced agricultural products of Mrs. Hoan will be big, round and full of fruit.NVCC
Although not much experience with tree planting But with her curiosity and inquisitive nature, Ms. Hoan went to tree planting groups to exchange and do more research by herself. Ms. Hoan told reporters: "At first planting trees, I recalled very basic knowledge, such as plants need fertilizer, need water and soil, especially the roots have enough oxygen and ventilation for plants to grow. 
Then I came up with a semi-hydroponic growing method, and designed the planting pots by myself. I take advantage of the foam boxes and plastic cans. In the barrel, we do not punch the bottom, but the edge, about 15-20 cm from the bottom, then punch a plastic can, and put the can on the bottom of the barrel. The mouth of the can toward the edge of the barrel was chiseled, making the outlet for water, helping the roots to clear, just enough moisture and water for the plant every day while saving soil. At first just thinking like that and then trying to see how it is not expected to be tested is very successful ".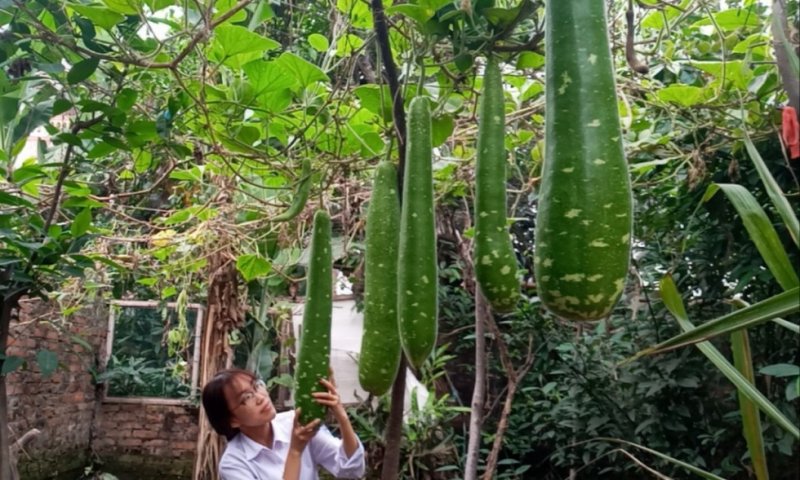 Vote wrongly
So passionate about planting trees that Ms Hoan kept tinkering with her research and experimenting with ways of thinking, there were many days when Mrs. Hoan was struggling on the terrace until 11:00 PM. And then the result she got was that the agricultural garden on the terrace had the wrong fruits, the green vegetables and the flowers were competing and blooming, making many people see "dying to death".
Take advantage of everything to save money
Currently, Ms. Hoan's garden grows a variety of agricultural products, including gourds, squash, tomatoes, and vegetables. In particular, Ms. Hoan also combines agricultural production plus growing flowers such as roses, dahlia, or even chrysanthemum, but only picks edible leaves, and the stems and tops for plants to grow and flower beautifully. extremely. So Ms. Hoan's terrace garden has both failed to bear fruit and has flowers blooming beautifully like a "paradise of agricultural products on the cloud" that everyone wants to visit to live virtual.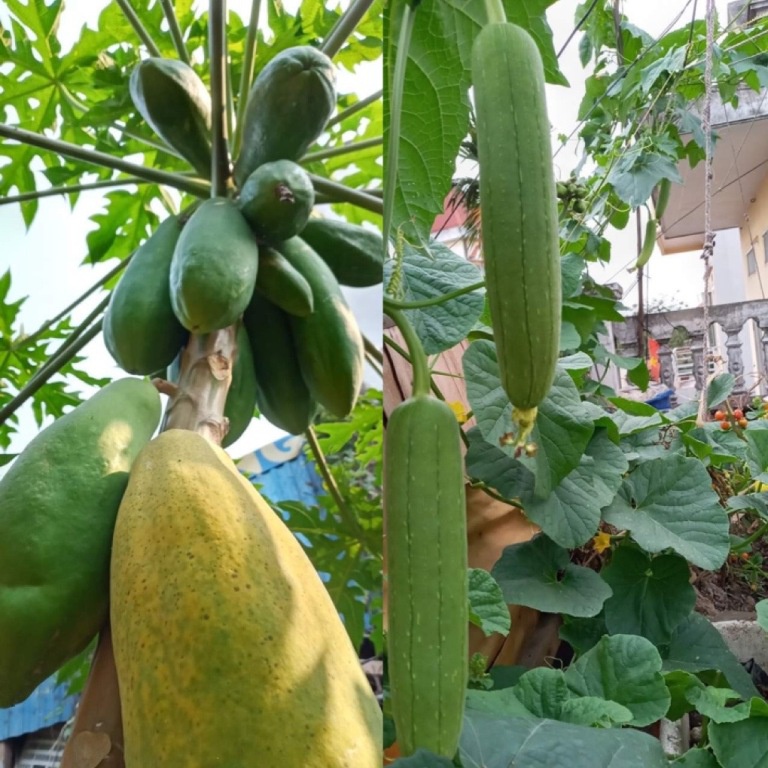 Papaya and melon on the terrace.NVCC
Looking at the results of agricultural products "thousands of people love" like that, I thought that Mrs. Hoan spent a lot of money to invest, but everyone was surprised when Mrs. Hoan shared. "Growing agricultural products on the terrace, but I have nothing to pay, except a little money for buying seeds in the beginning."
After saying that, Mrs. Hoan elaborately explained: "At first, we spent a little money to buy seeds, but later on when we were able to grow, we would let them seed themselves for the next season. On the land, my neighbor's house is building a house, so I asked to plant it. Downstairs, I spend about 10m2 raising vermi-compost to plant trees. Since Do Son is famous for its buffalo fighting festival, many households raise buffalo, so I asked for buffalo manure to raise earthworms. Cinnamon vermi-compost is extremely good for plants. Not only that, I sell jellyfish salad, so I generate a lot of leftover vegetables, tubers and fruits, so I take advantage of them to incubate and plant trees. Doing this does not take too much care, but the plants are still very productive because of enough nutrients ".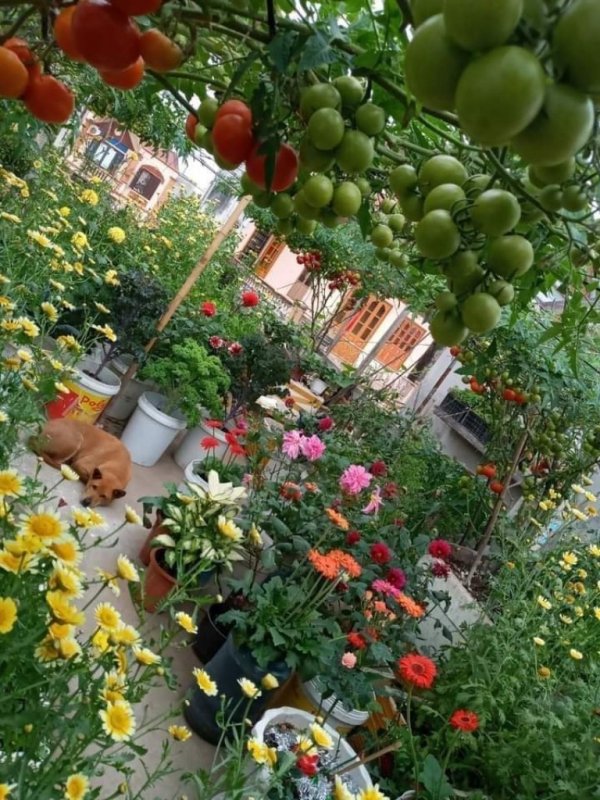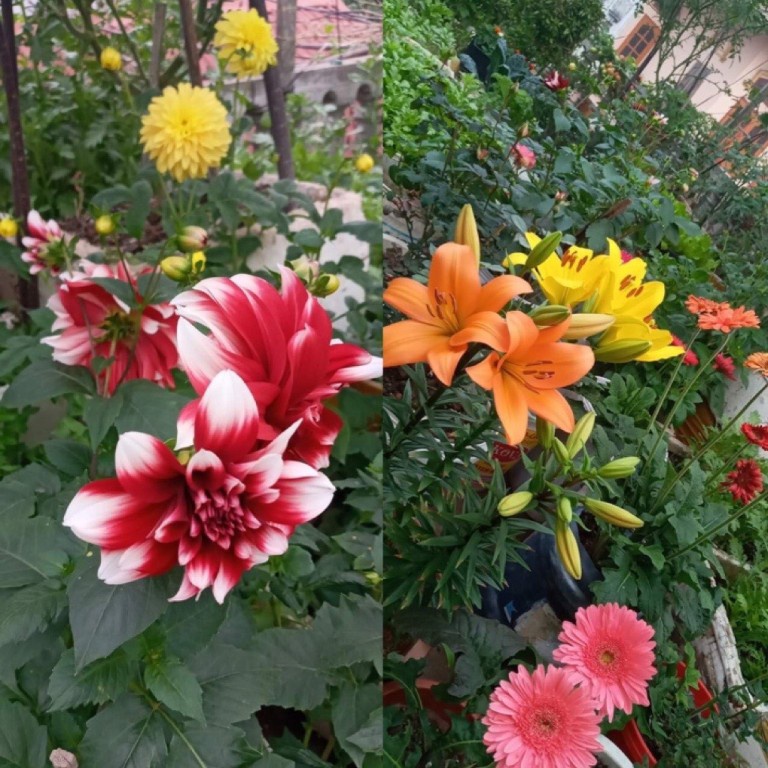 All flowers bloom.NVCC
In particular, octopus tomatoes are difficult to grow, but the tomato trellis that Ms. Hoan planted on the rooftop is very wrong with fruit, every fruit is ripe and full. Ms. Hoan revealed: "It is true that this octopus tomato trellis grows beyond my expectation, because I only grow in foam boxes. But in addition to vermi-compost, each time I make jellyfish mannequin, the remainder of the banana corn I bring is sliced ​​with probiotics, then bring this nutrient to the plants. Thanks to that, my octopus tomato rig produced so many fruits that everyone came to play and said that there was no time to sit and count the number of fruits ".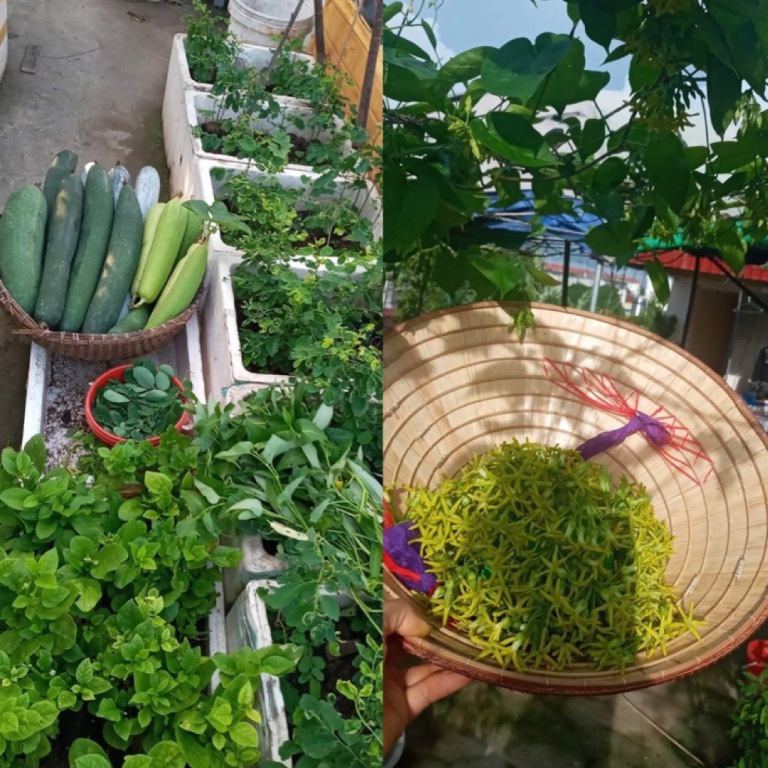 Every harvest
Ms. Hoan said that because she has to do business all day and does not have much time to take care of her, she often chooses to grow only plants and vegetables that rarely eat leaves. For example, spinach, jute, lettuce … but vegetables like choysum, just don't take care of them for 2 days, they will eat the leaves clean.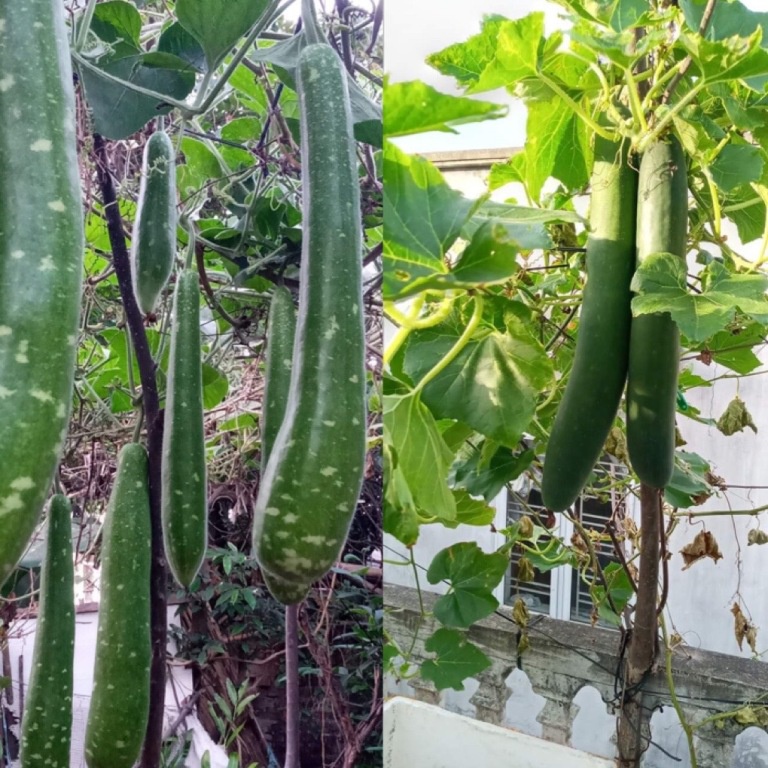 Each fruit is also popping up on the branches, but everyone who looks at it is tired
With Ms. Hoan now, no matter how pressured life is, just going to her garden how much fatigue will disappear. She even shared: "Since the day there was this rooftop agricultural garden, many times business was so boring, I left to go to the terrace to take care of the trees and watch the garden. In general, I love it, and thanks to it, life is always happy every day ".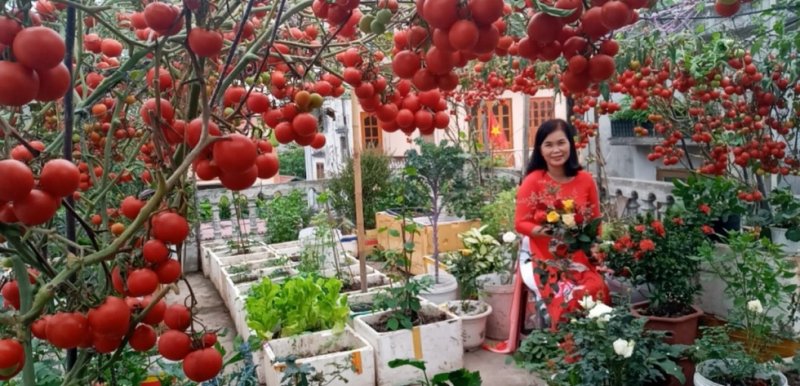 For Ms. Hoan, the rooftop agricultural garden is her passion and "paradise" for her family to relieve the stress of everyday life.
Far from planting farmers?When seeing the image of the fruit of Ms. Hoan's fruitful agricultural products, many young people deeply admire and secretly wish to own such a garden of thousands of people.
Nguyen Thi Mai Trang (living at 47 Lac Long Quan, P. Phuoc Tan, Nha Trang City) has endlessly complimented: "Both my sister and I are very passionate about planting trees, but planting it all the time is not going to get any results. . Seeing Ms. Hoan sharing a rooftop farm, I wished I had the same garden. Especially the ripe red octopus tomatoes that, oh, I love it.
Dang Thi Minh Anh (Bac Rach Chiec Apartment, District 9, Ho Chi Minh City) could not believe her eyes, shared: "Really seeing those images at first I thought that planting in the garden was not sure. Like that, let alone grow a terrace. But actually, people are so good now, growing terraces in the city but more than farmers in the countryside. I admire so much if only having a rooftop agricultural garden like that, living virtual every day, I would like to change too much.
Follow Thanh Nien Online
TAG: