Noodles shop has no signboard: Someone comes to buy snail soup for cold rice
Although there are no signboards, there is no specific name, but for decades, if people live around Khuong Thuong street, almost all know Co Nga snail vermicelli.
Noodles shop has no signboard: Someone comes to buy snail soup for cold rice
Noodles shop was taken over by Ms. Nga from her mother-in-law. More than 50 years ago, her mother-in-law and villagers of Khuong Thuong carried vermicelli to the old town for sale, after many relocations. Until 2002, the new noodle shop sold permanently in the alley 592 Truong Chinh (Dong Da, Hanoi).
"In the past, my mother-in-law carried noodles to sell around the old town, at that time used firewood to steam water, light oil lamps to sell. By 2002, when my mother was old, she stopped selling. My couple took over the noodle shop. snail to date ". Ms. Nguyen Kim Nga shared.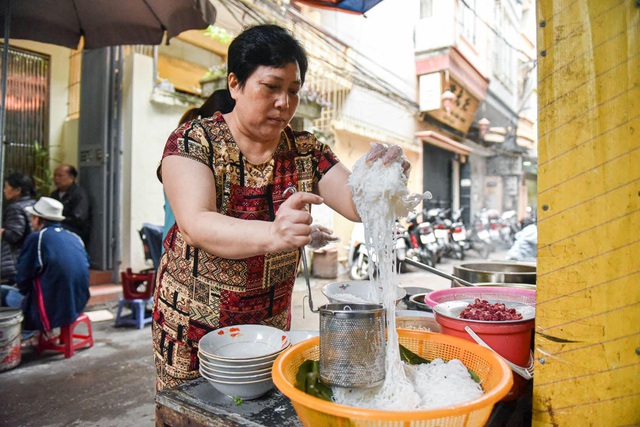 Bun snail shop has no signboard, nestled in a small alley on Truong Chinh street.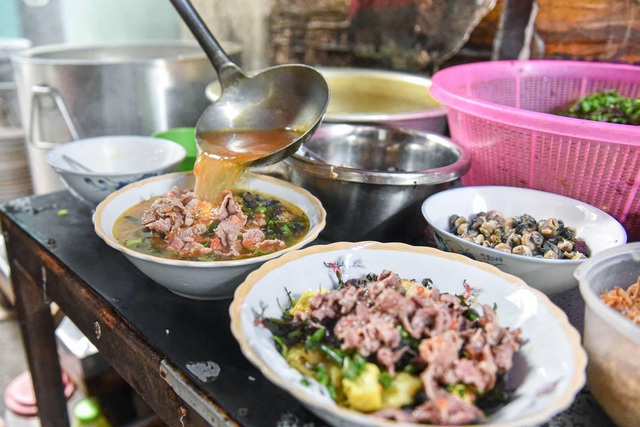 Bun snail is made according to the traditional recipe of Nha, Mrs. Nga's mother-in-law left.
Bun snail is one of the typical dishes and familiar everyday with Hanoians. Bun snail is present in most streets or markets, but not every place is delicious and delicious for customers to remember.
Many visitors come here and often joke that: Co Nga snail noodle is addictive, because nowhere the vermicelli bowl has such a special taste: hot snail broth, tomato aroma, vinegar, glutinous wine.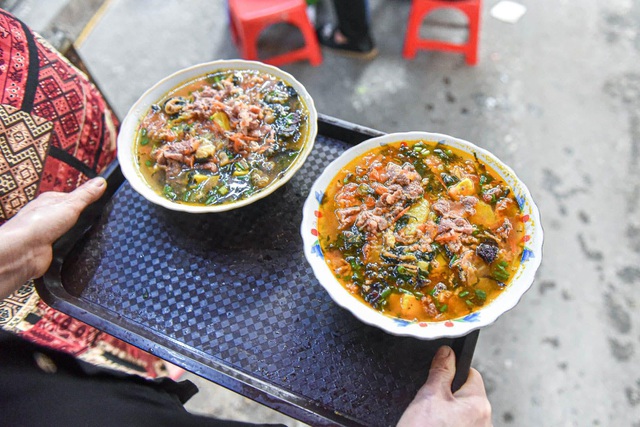 The bowl of soup is hot, crispy, the broth is fragrant and bold, not too sour like many other vermicelli shops.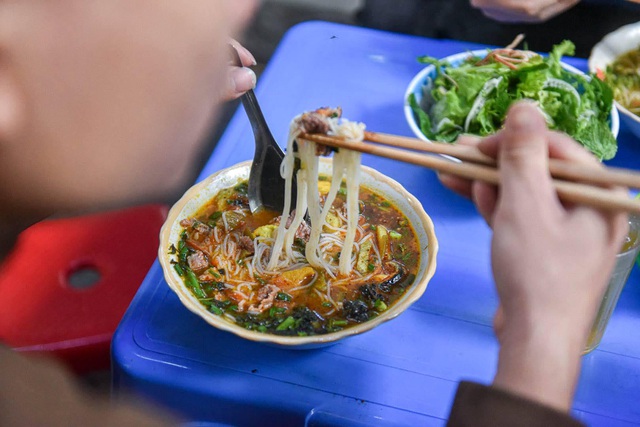 Most diners like to eat mixed food, including stuffed snails, screws and poached beef.
Ms. Nga recalls that in the past, when the economic conditions were difficult, people did not have money to buy vermicelli, so they used to buy snail broth for cold rice. Today, vermicelli is more available, but sometimes there are still some elderly people coming to the restaurant, bringing a pair of cage to buy only snail soup with cold rice, eat in the morning to change meals.
The shop has stuffed screws and screws. Snail soaked for 3-4 hours, washed, boiled until then removed the snail, washed. Previously, where customers eat, pick snails there, but today due to a large number of customers, Ms. Nga has to remove all snails first.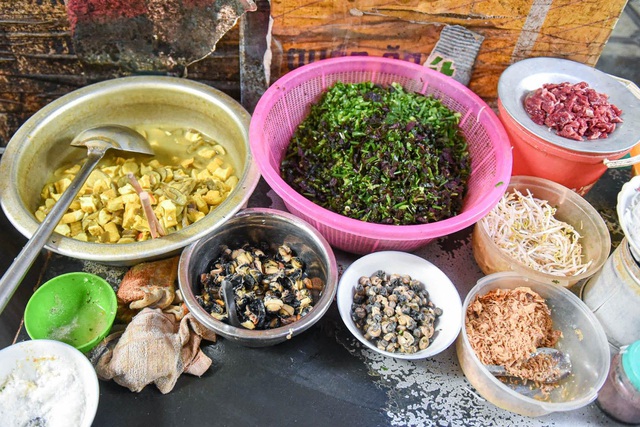 All the materials are laid out on just over 1 square meter, nestled into one side of a small alley.
Only open for sale every day from 6:30 a.m. to 11 p.m., Ms. Nga sells 150 bowls of vermicelli, on days when customers are out of stock early.
"Every 5 am, my wife and I get up and prepare to cook broth, boil snails, pick snails, make vegetables. Until 6:30, they can sell the first bowl, many people coming soon have to wait," said Nga.
The indispensable ingredient of the bowl of vermicelli is banana and beans: Bananas must be boiled first and then fried, fried beans are golden, stir-fried with bananas and turmeric. The most important is the pot of broth with a combination of 3 popular ingredients: Tomatoes, sticky rice wine and snail broth. Suddenly Miss Nga sticky wine has to order from Hung Yen.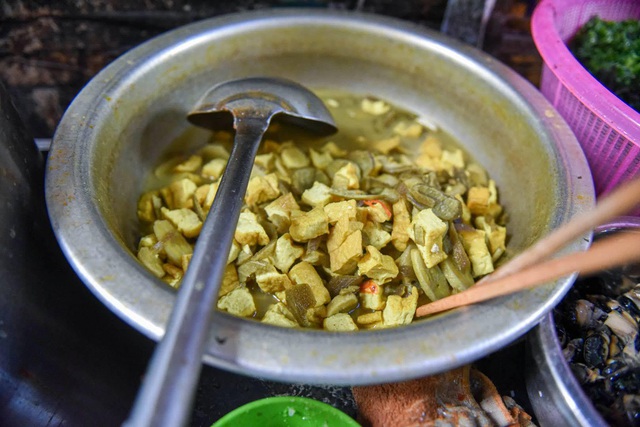 Stir fried bananas and beans with turmeric, they just sell most of them to keep them hot.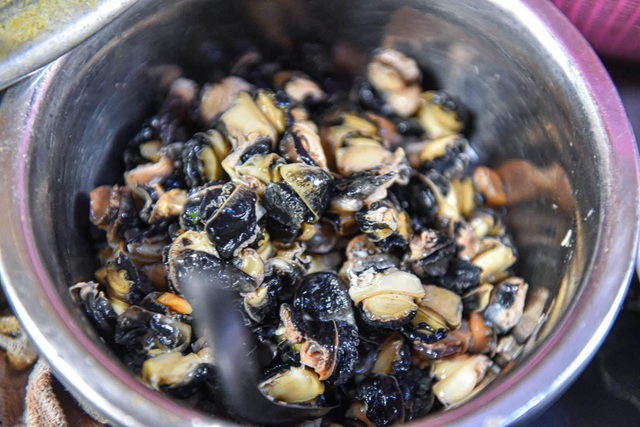 Snail stuffed is ready, crunchy and fragrant.
There are diners in Ha Dong, Linh Nam or on the old town still do not hesitate to go to Khuong Thuong to eat the traditional vermicelli here, many said that they have eaten noodles since the day her mother-in-law sold them on Go. Dong Da.
Three sisters Lien, Ngoc and Trinh are all familiar customers to eat vermicelli from the time of Nga's mother selling: "We ate from when she was 9 years old, at 42 years old, and still came here to eat. After moving to Khuong Thuong, I had to grop and find the restaurant forever. Vermicelli here has a different taste and cannot be found anywhere.
I gave a lot of chili to the vermicelli so it was hot, so I had to eat it with bean sprouts to cool it down. In the past, every time we went to eat vermicelli, the sisters brought along a bag of homemade bean sprouts so that she would blanch over and put them in a bowl of vermicelli ".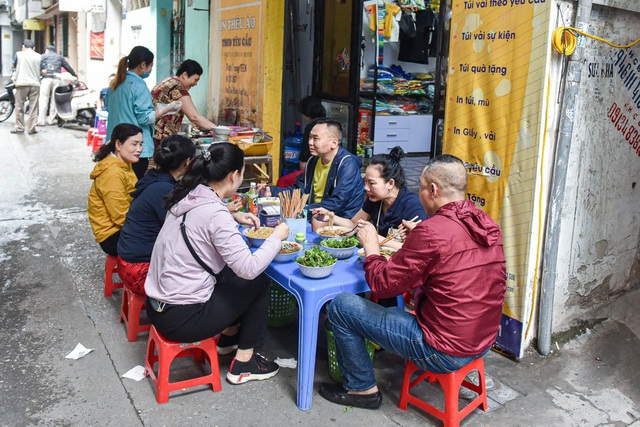 Three sisters and sisters Lien have been customers of the noodle shop for over 30 years.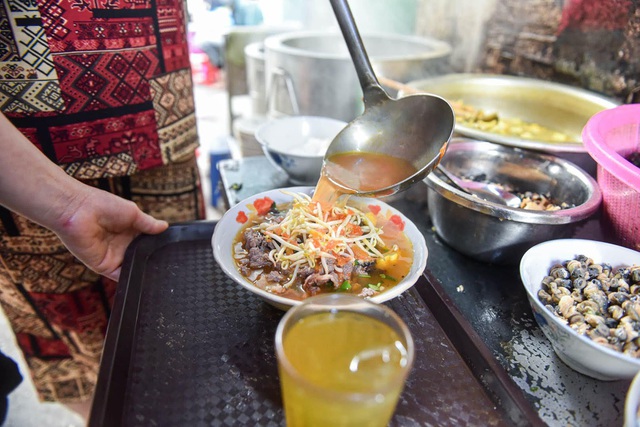 Ms. Nga said that only customers in Go Dong Da who came to eat had to add bean sprouts to the bowl of vermicelli because they have been familiar with her since the day her mother sold it there.
With only 40,000 VND, you can enjoy a bowl of vermicelli filled with mounds, with large, crunchy snail meat, spicy broth, golden fragrant wine, mixed with perilla vegetables, banana beans. Follow Dan trí
TAG: