Water sports in Mui Ne
BINH THUAN – Kayaking, SUP rowing, surfing, kite surfing are recommended sports for visitors.
Mui Ne is the sea cape, a famous tourist destination of Binh Thuan. When you come here, besides visiting golden sand dunes, swimming in the sea, visitors can also experience the water sports, with the following adventure nature.
Kayaking and SUP
From Ho Chi Minh City, visitors can take the train to Phan Thiet station and travel by taxi to Mui Ne for about 300,000 VND. Some hotels and resorts here have shuttle service, visitors contact beforehand.
SUP rafting sunrise on the fishing village is one of the most attractive experiences. Around 5:15 am, tourists move from the property to the fishing village, then rent a kayak or SUP. Tourists who do not know how to rowing should choose a tour to visit the fishing village for about 250,000 VND, which will include boating services and a guide.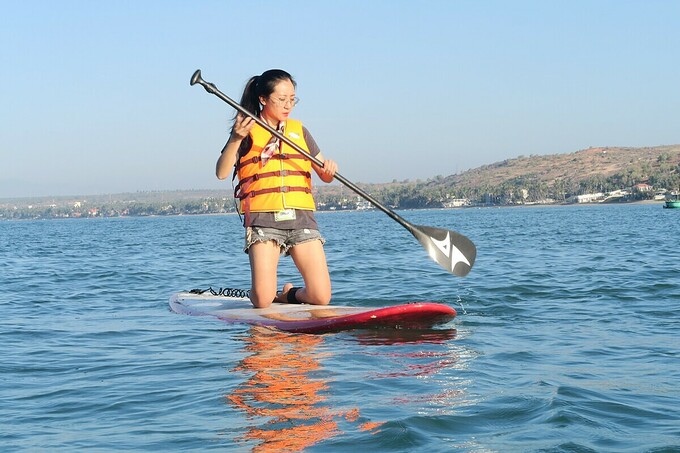 SUP is a water sport suitable for all subjects. Photo: Thanh Hang
A sunrise tour on the fishing village lasts 1 hour, does not include instructional time to play and practice paddle. Visitors will visit fishermen's fish cages, squid rafts, watch them as bait and visit Ong fishing mausoleum at the fishing village. On bad weather days the tour will not be organized.
These are 2 sports that are suitable for a wide range of customers such as adults, children and beginners. Guests need to prepare light sportswear, hat, sunscreen and clothes to change when wet to continue the journey. After the SUP and kayak rowing tour ends, guests have breakfast at the fishing village to continue surfing or return to their accommodation to relax.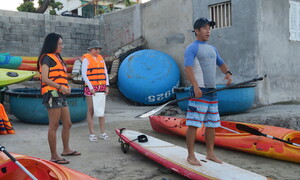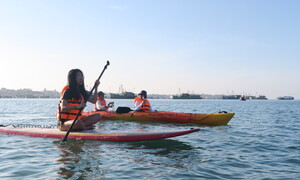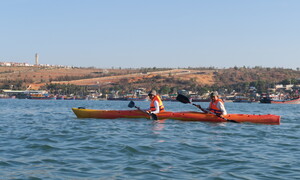 Surfing and kite surfing
9am is an ideal time to surf at shallow arc-shaped beaches, typically Ong Dia rocks. The rental price here is 150,000 VND / hour. For first-time visitors, you can register for a course priced at 800,000 VND / hour, including games.
Surfing requires balance and life jackets will not be worn, as maneuvers are difficult. However, the training sites were all shallow beaches and at a time when the sea did not have too large waves, to ensure safety.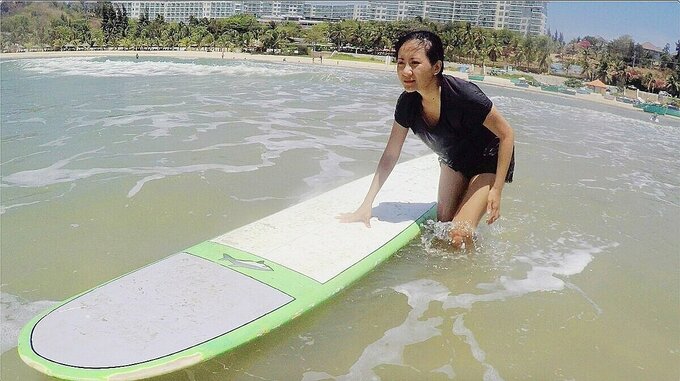 People who cannot swim can still get access to surfing. Photo: Thanh Hang
Kite surfing is considered a relatively difficult water sport, unlike SUP paddling, kayaking or surfing, kite surfing requires players to know how to swim freely at sea, have good physical strength to control the kite first. strong winds.
A guide here shared, Vietnamese guests are less interested in kite surfing because it takes time to practice. A person who has never had experience in kite surfing needs an average of 10 hours learning the basics, of which the first 4-5 hours are needed to learn how to control a kite.
The right time to play kite surfing is in the northeast monsoon season (November – March) around noon to mid-afternoon, with the most ideal wind conditions. The cost for a kite surfing course is about 5 million VND / 10 hours. After learners know how to play, they can rent a kit for about 600,000 VND / hour. Players who are not proficient in surfing will not be able to rent kits.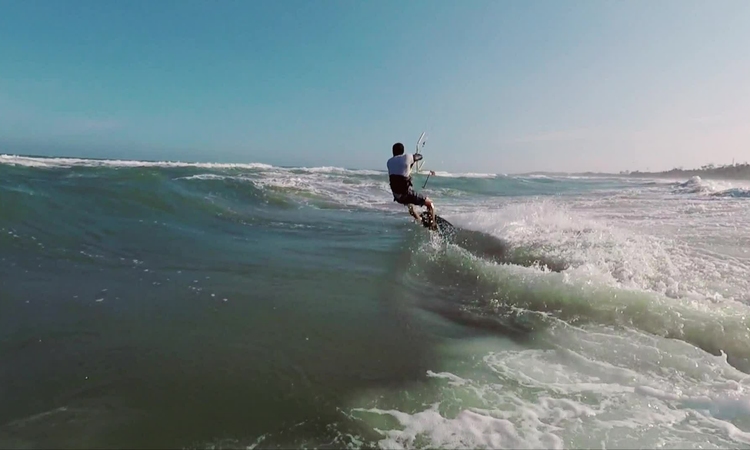 Note:
In addition to the above subjects, in Mui Ne, there are other water sports such as windsurfing, water motorcycling … Most of the sports require physical strength, for manual equipment control, people play may cause pain in the arm and chest muscles later on. The coaches of all subjects require students to protect their heads first in the event of being dropped into the water. Swimmers will approach the subjects faster. All water sports require the player to have no heart problems or epilepsy.
The monsoon season in Mui Ne is divided into two seasons: October, November – April, May is the northeast monsoon and May – September is the southwest monsoon. Accordingly, the suitable monsoon season to play water sports is the northeast monsoon season. To prepare to play these sports, tourists need to wear lightweight swimwear, careful sun protection, and swimming goggles. Follow vnexpress
TAG: