Top 7 Hotels in Thai Binh with beautiful view, the most famous cheap price
If you are planning to live in Thai Binh but do not have suitable accommodation, this article Vinlove will suggest hotels and resorts that are both lovely and convenient for your trip. . Surely these are very useful suggestions for you.
Petro Thai Binh Hotel
As a combination of modernity, tradition and the intersection of Asian and European culture, when coming to Thai Binh Petroleum Hotel , you will feel comfortable with modern facilities and amenities. sincerity in the service of the hotel.
Thai Binh Petroleum Hotel is the best 4 star hotel in Thai Binh. The hotel includes 170 rooms, including 140 Superior rooms, 15 Deluxe rooms, 18 luxury suites and 01 room for the Head of State. All rooms are fully equipped with high-class furniture, ADSL, wifi, IDD international telephone, satellite TV, fire alarm, electronic safe, hairdryer, mini bar, … Not only stop In design, the hotel also becomes expensive because of the view point of the whole Thai Binh city and extremely convenient for you to visit famous places here. From here you move to tourist destinations very easily such as Tran Temple, Keo Pagoda, Bach Thuan garden village, flower garden city …
The price of the listed room is from 680,000 for Superior rooms to 9,900,000 for President suite room. The price includes free breakfast at the restaurant on the first floor, tea and coffee in the room, using the gym and free swimming pool, room service (24/24) …
CONTACT INFO:
Address: 458, Ly Bon, City. Peaceful.
Hotline: 84-36 3658 222
Website: www.petrothaibinhhotel.vn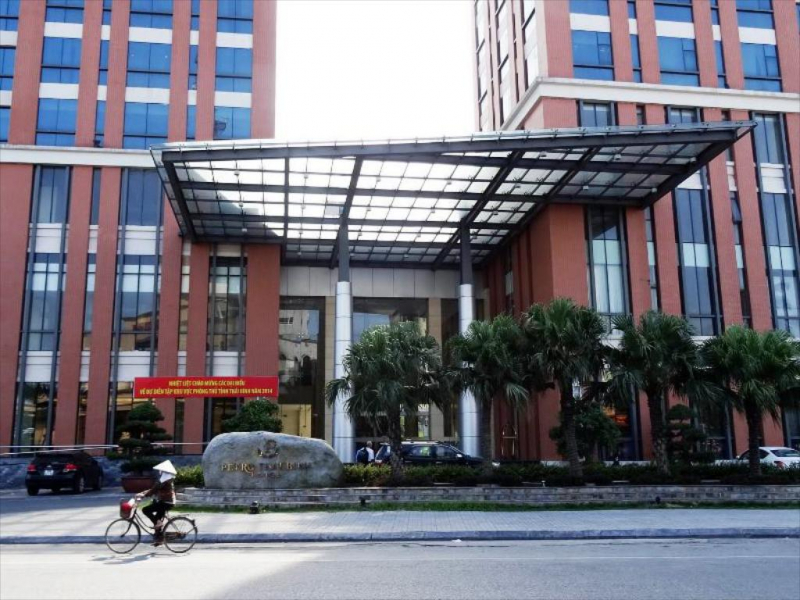 Front view of Thai Binh Petroleum Hotel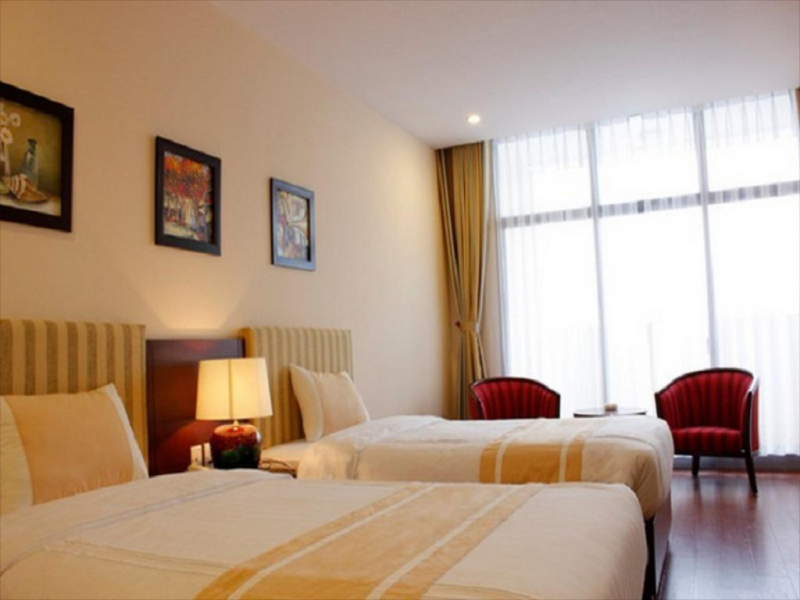 A corner of the room space of Thia Binh Petroleum Hotel
White Palace Hotel Thai Binh
With the motto "your satisfaction is the development platform of the hotel" Hotel White Palace Pacific create more trust of tourists.
In addition to being a luxury 3-star hotel, the hotel is located in a prime location right in the heart of the city, convenient for guests to travel in the center as well as other districts. Here the hotel serves both Asian and European dishes, especially ideal for birthdays, receptions, conferences …
Currently, White Palace hotel has 2 Junior rooms, 36 Deluxe rooms, 11 rooms with airy space, free view. Besides the service of staff in the hotel is also a great plus point for the hotel. Staffs are always happy, welcoming and helpful to customers. CONTACT INFO:


Address: 245B Tran Thai Tong, City. Peaceful.
Hotline: 022 73 641 628
Fanpage: https://www.facebook.com/thaibinhwhitepalace/
Web: www.whitepalacetb.com.vn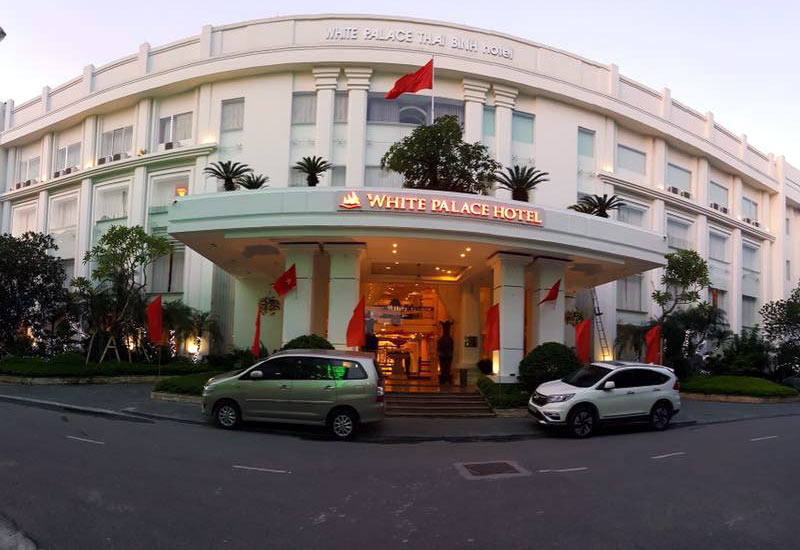 Front view of White Palace Hotel Thai Binh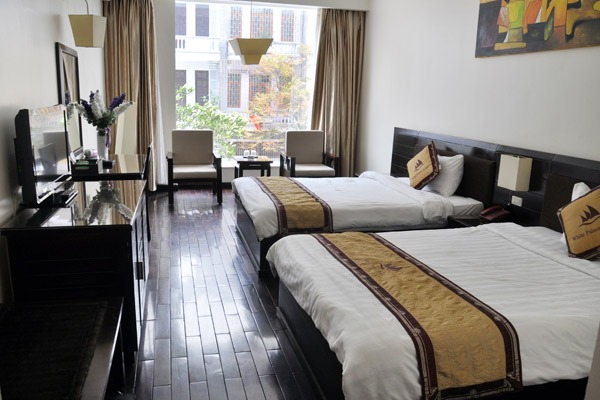 A corner of the room space of White Plalace
#2
Kim Long Hotel
If you want a hotel with a beautiful view, in the city center but with a lovely price, Kim Long Hotel is an extremely suitable choice.
With a simple design, located right in the city center, another interesting point is the 3rd restaurant on the 10th floor of the hotel. Here, the whole city will be caught in the eye, enjoying a glass of wine while watching the street lights, will be an experience that cannot be more wonderful.
Prices in Kim Long are affordable for everyone, room rates range from 350,000 to 600,000 VND. The special thing is that the hotel serves breakfast outdoors, guests can both have breakfast while breathing in the morning air here.
CONTACT INFO:
Address: 368 Ly Bon, Hoang Ha Building, Tien Phong Ward, Thai Binh City
Hotline: 0227 6256 666
Fanpage: https://www.facebook.com/Khach-Sạn-Kim-Long-269520953742988/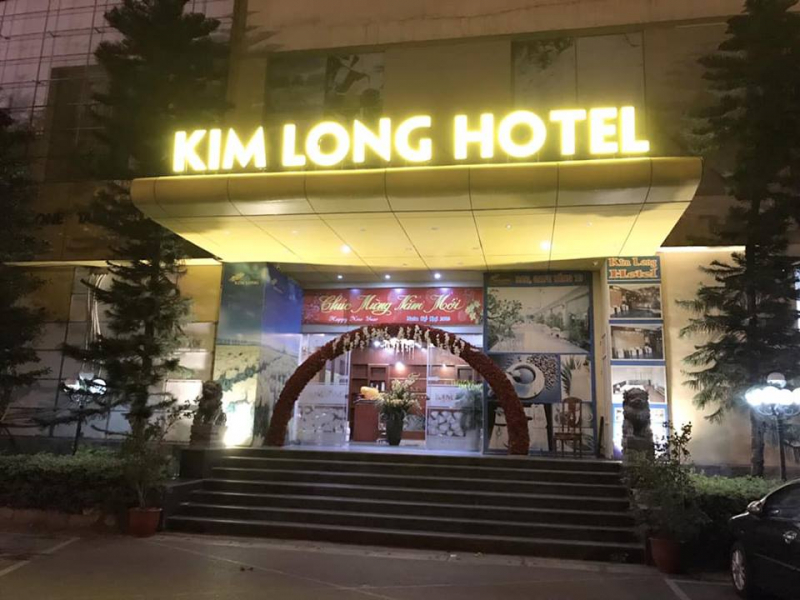 Front view of Kim Long Hotel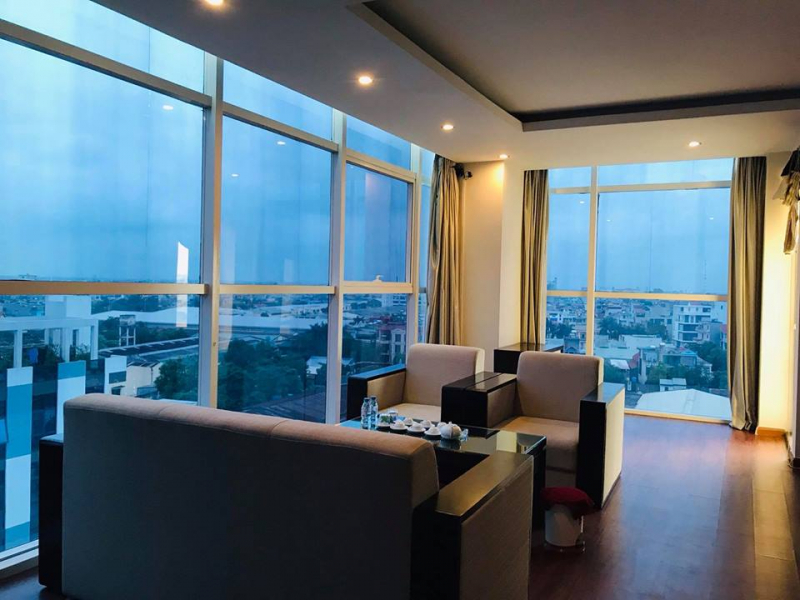 View from Kim Long hotel room
#6
Vietnamese Village Hotel & Resort
If you want to orient this trip for more relaxation than exploration travel, you definitely cannot miss the Lang Viet Resort.
The resort is quite far from the city center, so this is an ideal resort for groups of guests traveling with families, especially adults and children. Here visitors can breathe genuine country air, not only that this resort is extremely modern with full amenities.
Lang Viet Resort has 3 resorts designed completely differently: European, Asian and Japanese style. Along with other facilities such as outdoor swimming pool, golf course, hot bath in Japanese style. Besides, the resort is very close to Dong Chau nature reserve, where there are many marine animals, green mangrove forests.
Since it has been established for more than 10 years, Lang Viet Resort will surely ensure the quality of service to the resort space.
CONTACT INFO:
Address: Trai Diem intersection, Tien Hai district, Thai Binh province.
Hotline: 0227 3655 555 – 227 3655 333
Fanpage: https://www.facebook.com/langviethotelandresort/
Email: Khachsanlangviet@gmail.com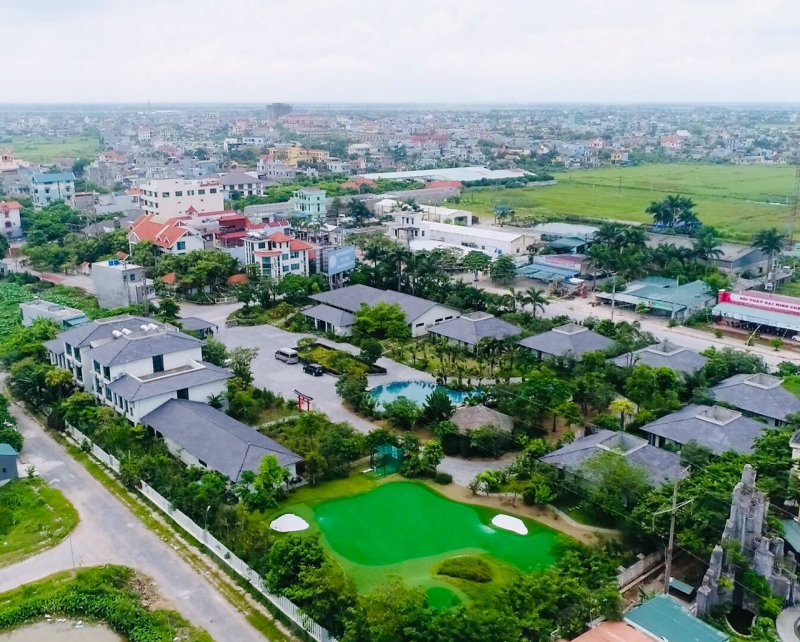 Vietnamese village looks down from above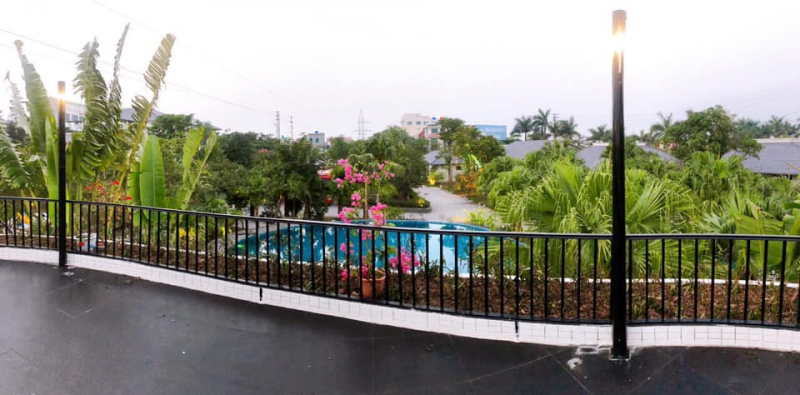 Nice view from the balcony
#0
Diamond Hotel
Just hearing the name may have felt the luxury of this Diamond hotel . Although it is only a 3-star hotel, but it gives customers much more than that.
Kim Cuong Hotel has a bold, youthful, dynamic and fresh style. From the color to the design of the led lights will make you want to bounce and have fun with the meaning of travel.

Overall the hotel has 41 rooms with many different types to meet the needs of customers. Not only that, in addition to quality and modern rooms, Kim Cuong hotel also has entertainment areas, restaurants, bars to provide customers with the most ideal resort environment.
Moreover, with the extremely enthusiastic and cute service style of the staff at the hotel, visitors will feel satisfied and become a genuine "god".
CONTACT INFO:
Address: 373 Tran Nhan Tong – Thai Binh City
Hotline: 0976611555 – 0976600555
Website: www.khachsankimcuong.net
Fanpage: https://www.facebook.com/khachsankimcuong/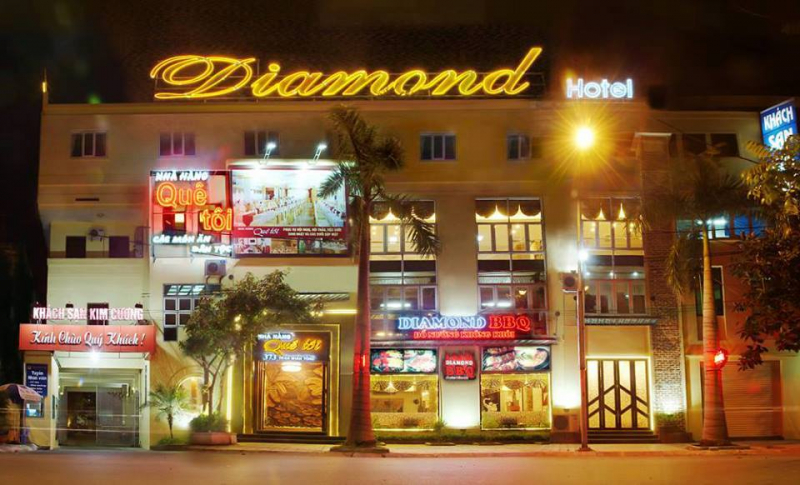 The front of the hotel Diamond Hotel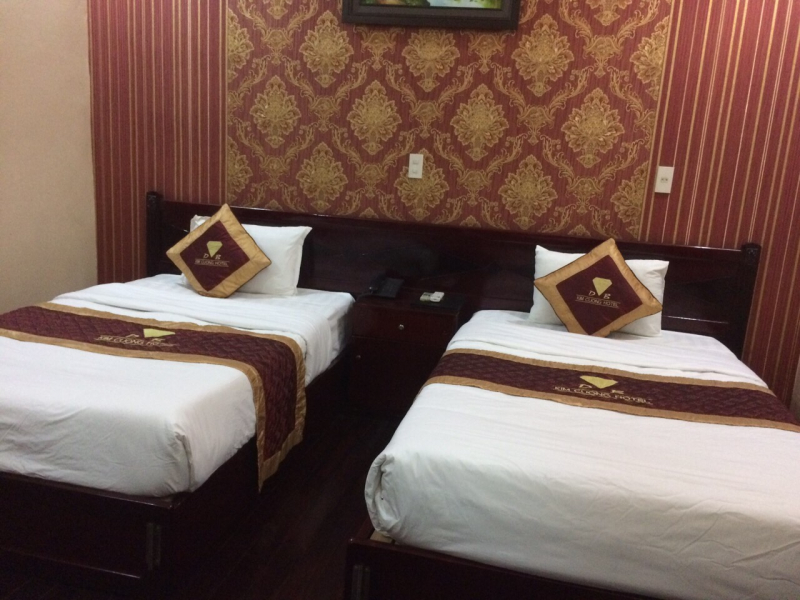 A corner of the hotel twin bed room
#first
Golden Thai Binh Hotel
Another great option for travelers is Golden Thai Binh Hotel . Golden Thai Binh Hotel is a 3-star hotel with a modern and luxurious design, but the price is extremely affordable for travelers.
Not only the quality from the rooms but also the surrounding view of the hotel is a huge plus for this hotel. With Sky Bar placed on the terrace of the hotel. It's a luxurious and intimate space that lives up to its name. This is one of the best spots in Thai Binh city to enjoy a drink as the sun sets over the center of Thai Binh city.

With a 270 degree view of the city, guests can see all around. Luxury high enough to enjoy the romantic landscape, yet close enough to be felt at eye level, with one with city streets and rooftops. Sleek and design in the air – glass, metal and wood, oil painting, complement a monochromatic hue of black, granite gray and hints of cream. Soft music background creates an understated fashion style. The overall effect is elegant and seductive.
With an average price ranging from 350,000 to 600,000 VND, this is really the ideal choice for travelers.
CONTACT INFO:
Address: 716B, Tran Hung Dao, Thai Binh City.
Hotline : 0938 964 660
Website: goldenhotelvip.com
Website: http://golden-thai-binh-hotel.business.site/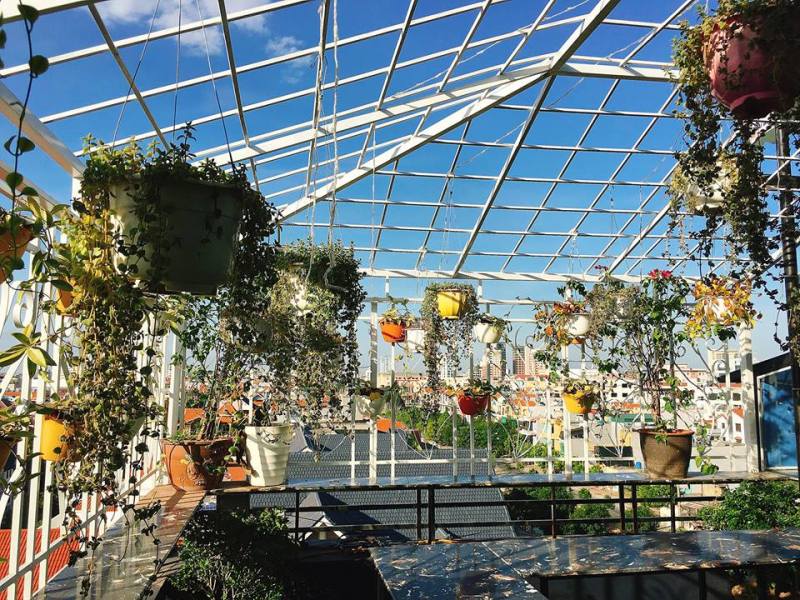 Rooftop view of Golden Thai Binh Hotel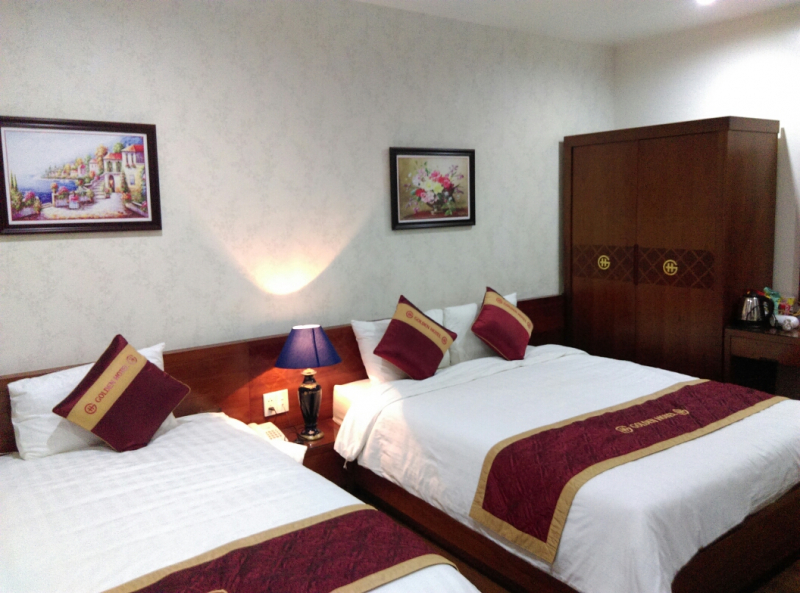 A corner of rooms at Golden Thai Binh Hotel
#0
Hotel SOJO
SOJO Hotels is the first convenient hotel chain brand in Vietnam owned by TNH Hotels & Resort (a member of TNG Holdings Vietnam).
The room system of SOJO Hotels is completely different from existing hotels, with modern investment in an inspired space with large beds, panoramic panorama windows and discolored bathrooms. Guests will be able to experience check-in 48 hours in advance; open the door by phone, control the whole room (sound, light, temperature …) depending on your preference and check out does not take a second to wait.
In particular, the JO247 bar is an impressive highlight of SOJO Hotels with open space – a combination of a restaurant, hotel lobby, modern co-working and a relaxing bar. With a unique design, JO247 promises to be an attractive destination, providing a civilized entertainment experience and connection to the community.
The price here ranges from 900,000 VND to 1,500,000 VND but will definitely bring a unique, interesting, unforgettable experience.
CONTACT INFO:
Address: No. 7 Quang Trung Street, Quang Trung Ward, Thai Binh City
Hotline: 0227 3636 888
Fanpage: https://www.facebook.com/SOJOHotels/
Website: https://sojohotels.com/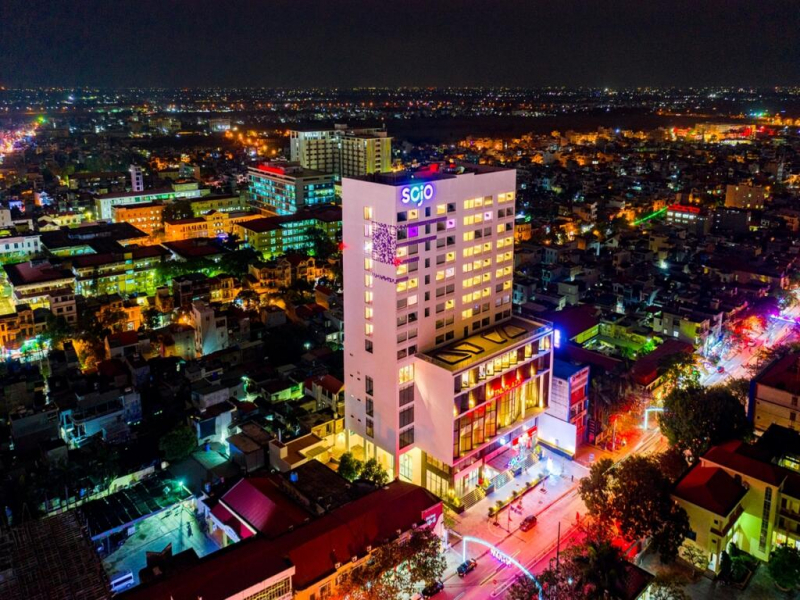 Hotel SOJO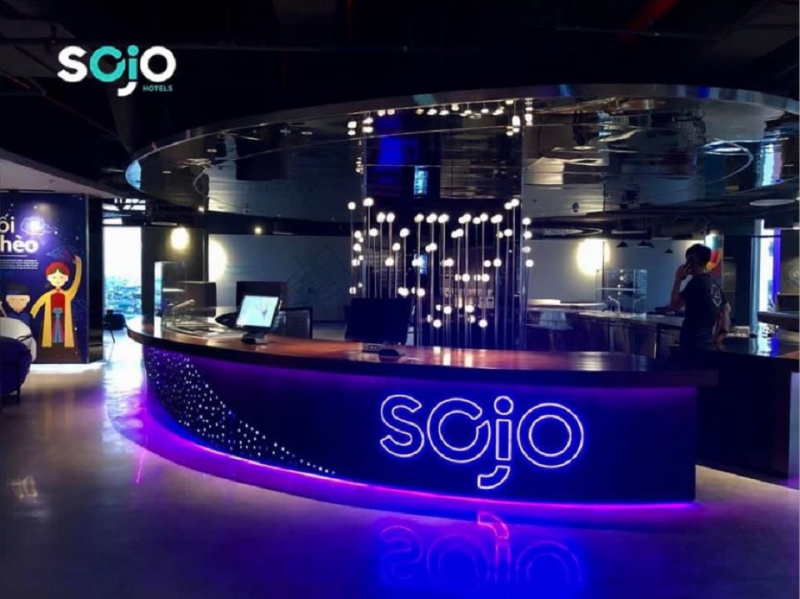 A corner of JO247 bar
Above are some suggestions about genuine Thai Binh hotels, if you are planning to come here to travel, hopefully, Vinlove helps you to have more suggestions for your trip. If there are other genuine hotels, please share them below this comment.
Photo: Internet
TAG: