Bustling Nga Nam floating market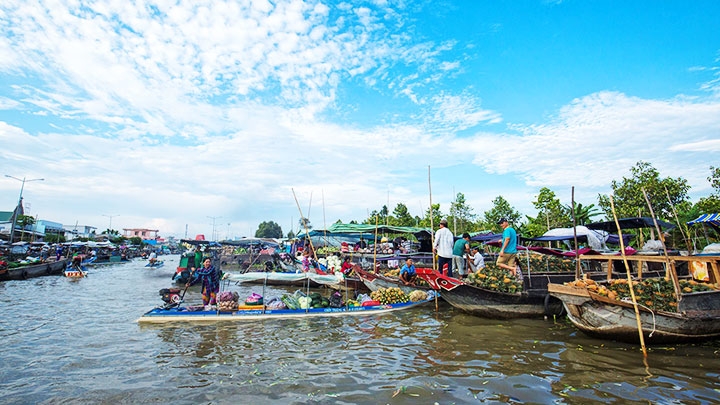 Bustling Nga Nam floating market (Photo: Dinh Hao)   
NDO – People in Soc Trang are proud to preserve their over a hundred year old tradition of trading at Nga Nam (five-way intersection) Floating Market. Located at the confluence of five different canals, the old floating market acts as both a place for boats to trade and as a gateway for the journey of exploring the last stage of the southern land.
Every early morning, hundreds of big and small boats from five directions – Long My, Vinh Quoi, Phung Hiep, Phuoc Long, and Phu Loc, gather at this floating market. The Nga Nam River is a witness to the oldest and most vibrant market in the Mekong Delta until now.
Along with Nga Bay Floating Market (Hau Giang Province), Cai Rang Floating Market (Can Tho City), Cai Be Floating Market (Tien Giang Province), Nga Nam Floating Market makes up the charm of the Southern region. The lights of large and small boats gathering goods at night glistening on the surface of the water. Early in the morning, the market is packed with buyers and sellers coming in and out on different sizes of boats, loading, unloading, buying and selling numerous goods. It can be said that the vitality of Nga Nam Floating Market is a vibrant trading atmosphere, with fresh and delicious goods throughout the four seasons, showing the abundance of this land.
Not only restricting the scope of trading in the region, Nga Nam Floating Market also witnesses many boats of traders from Ca Mau, Bac Lieu, Dong Thap, Can Tho who come together here at the market. Similar to many other floating markets, the rush hour at Nga Nam Floating Market is from around 5 to 6 am, after receiving the goods, boats radiate in all directions, usually until 10am is ending of business day. The last moto-boats that stay in the market are usually floating eateries. The floating eateries serve regional foods, coffee, tea, juice, coconut water. Visitors can enjoy the market until noon.
After energising for the new day as well as shopping at the floating market, each person enthusiastically prepares a schedule to explore the land of Soc Trang before coming to Ca Mau - the southernmost point of Vietnam.
Coming here, visitors will have an opportunity to visit O Chum Pagoda with its typical Khmer architecture. If tourists cycle along the canals, they can reach the orchards, along with the local people to fish, harvest fruit, knit water hyacinths, make cakes. In the evening, visitors can go to Tan Long Stork Garden to admire the scene of thousands of white storks gathering back to the nest after a day of foraging.
LE NGUYEN
TAG: