Go back to Bac Giang to admire the beautiful lotus season, check-in Quang Chau lotus
Summer comes when the lotus flower blooms with fragrance. Large and small lotus pond in the province has become the ideal place for many young people to visit, picnic, record youthful photos. From the last days of May, lotus flowers in some lakes and lagoons in districts: Viet Yen, Yen Dung, Luc Nam, Hiep Hoa, and Bac Giang City began to bloom brightly to welcome visitors. Lotus in season, people come in abundance, of all ages. They let them take pictures, pose with lotus in flowing dresses and dresses.
Traveling to Bac Giang in June, visitors will have the opportunity to admire the beautiful lotus lagoon stretching to the eye. In nine seasons, tens of thousands of flowers blooming brilliantly under the sweltering heat of the summer, radiating a sweet scent. This is also the best time for devotees to move to Quang Chau lotus pond, an extremely famous place in Bac Giang this season to admire and hunt for pictures of the lotus season.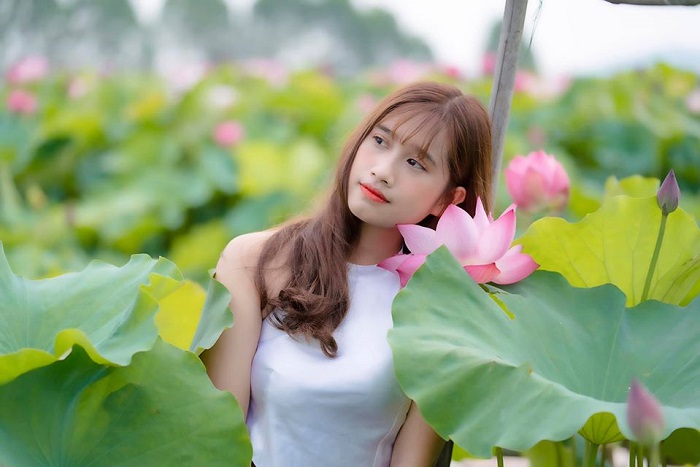 Quang Chau Bac Giang lotus lagoon is in brilliant season.
Marvel at the poetic beauty of Quang Chau Bac Giang lotus pond 
Bac Giang is one of the provinces with the most beautiful lotus lagoons in the North, when in season, the lotus swamps in districts of Yen Dung, Luc Nam, Hiep Hoa, Viet Yen … will bloom to create a poetic landscape. One of the largest and most famous lotus lagoons in Bac Giang is Quang Chau lotus lagoon with an area of ​​about 6 hectares.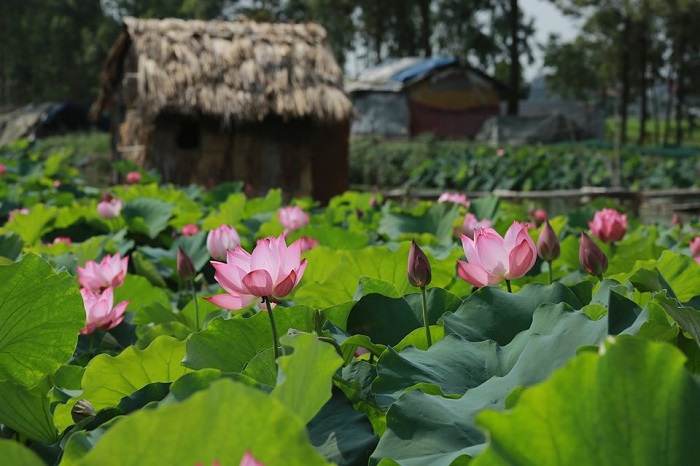 This is one of the most beautiful lotus swamps in the North.
Bac Giang's Quang Chau lotus lagoon is located in Viet Yen district, near Nhu Nguyet bridge, and Quang Chau Industrial Park, bordering Bac Ninh province. The lotus season in Quang Chau lasts about 2 months from mid-May to mid-July, of which the most peak is late May to June, this is the ideal time for you to take a trip to discover Bac Giang and enjoy the scenery. rare poetic color.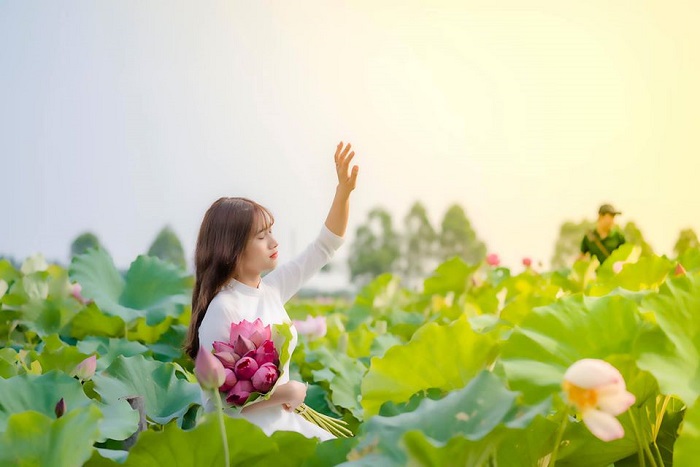 The lotus season in Bac Giang is poetic and peaceful.
Beautiful lotus in the middle of summer in Bac Giang 
Coming to Bac Giang on hot summer days, your trip seems more poetic when this land is adorned with the dazzling and fragrant beauty of Quang Chau lotus lagoon . Amidst the peaceful space of the village, the white and pink lotus flowers turn Quang Chau into a romantic paradise, dispelling the sweltering heat of summer.
The large space of the lotus pond is covered with bright pink mixed in green foliage, tens of thousands of flowers are blooming, making visitors feel both calm and flustered.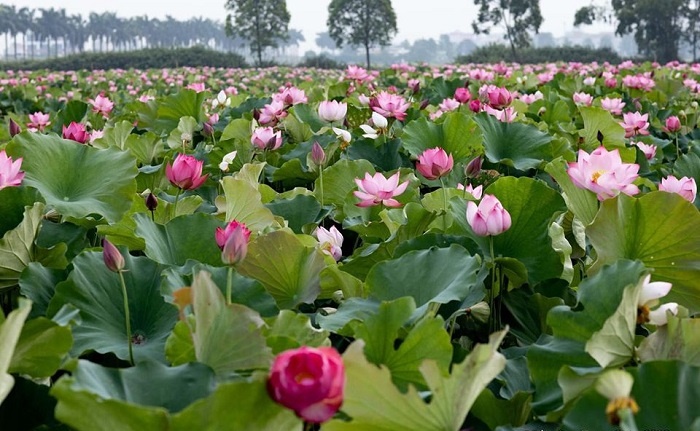 The space is filled with flowers at Quang Chau lotus pond in mid-June.
There is a rare place where flowers are as beautiful and even blooming as in Quang Chau Bac Giang lotus lake , in nine seasons you will feel lost in the private paradise of pure flowers with a carpet of flowers blooming extremely shimmering.
Viewed from above, the flowers dotted throughout a large space make first-time visitors somewhat overwhelmed. Bright and pure lotus petals rise up like the most quintessential things of heaven and man.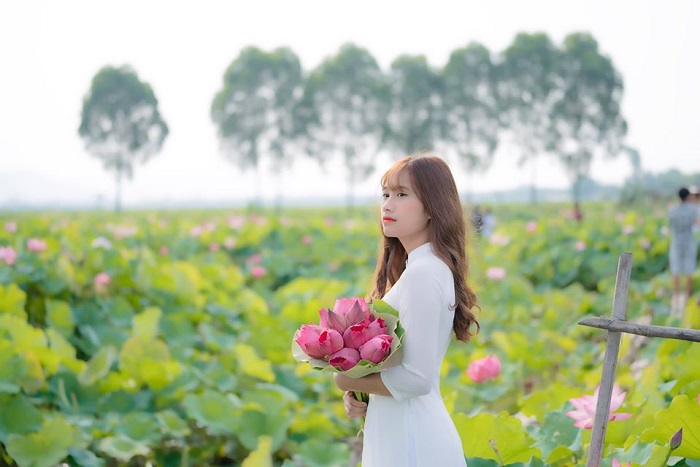 Excellent space makes our soul peaceful and relaxing.
If you are looking for a moment away from the noisy and bustling city, you can find a simple, rustic space full of poetry at this lotus pond. 
Experience in photography at Quang Chau lotus pond is useful to visitors 
Because of its rare and beautiful beauty, every summer, Quang Chau lotus lagoon becomes a familiar destination for tourists. In nine seasons, the number of tourists flocking to the lotus pond is hundreds of times a day.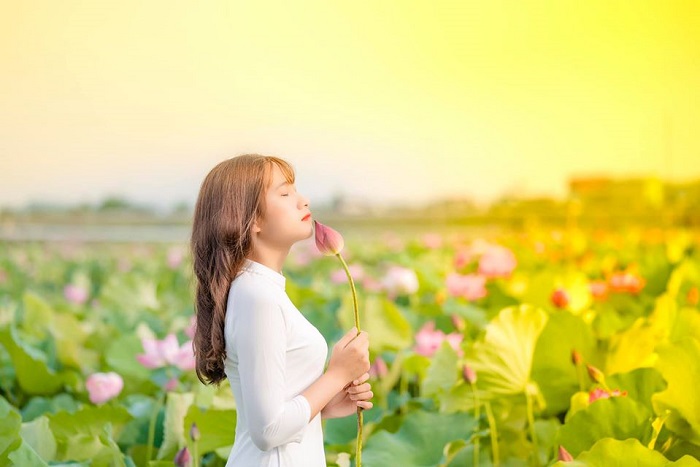 Beautiful space attracts visitors to Bac Giang.
Not only can you admire the scenery and immerse yourself in the freshness of the lotus season when traveling to Quang Chau lotus pond this season, you can also comfortably take the shape to record quality photos to live virtual and share with friends. .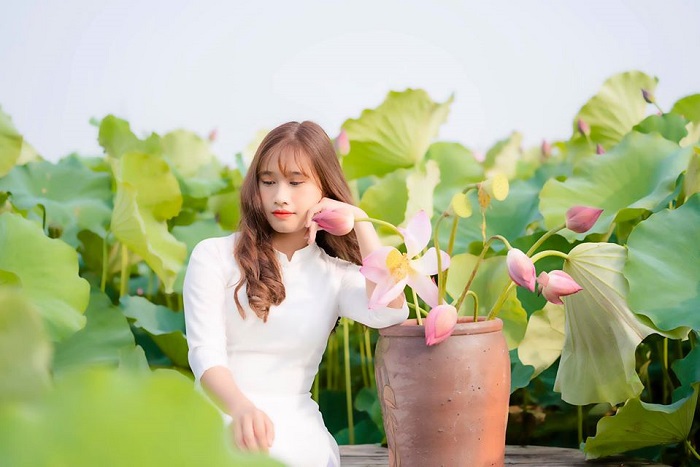 Check-in for virtual living at the lotus lagoon is an experience hard to miss.
The most ideal time to photograph lotus 
Quang Chau lotus lagoon is a very popular destination in the summer, so the number of tourists flocking here is quite large. Therefore, to be able to comfortably admire the scenery as well as take virtual live pictures without much people, you should come here early in the morning.
You should limit coming here on weekends because at this time the number of people check-in is very large, you have to wait in line for a long time. Best to go in the middle of the week and come early to avoid the sun. The best time to take lotus photos is from 5:00 am to 9:00 am.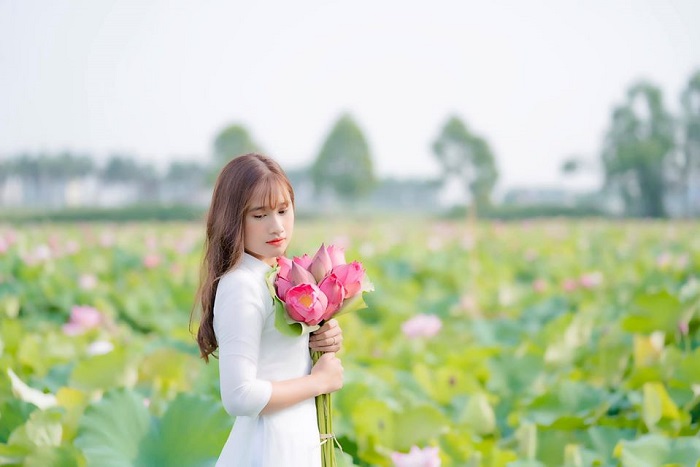 Take photos in the early morning to avoid the heat and not crowding.
Costumes, accessories for taking pictures with lotus 
If you want to have a photo check-in at the  beautiful Quang Chau lotus dress , the outfit is one of the things you should prepare, it is best to choose the traditional clothes such as a bra, camisole, ao dai.
The popular color of the costume is red or white camisole, black dress, white dress, purple, white, pink bra … If you do not have enough time to prepare outfits, you can rent right away at the dress for a few dozen thousand per set.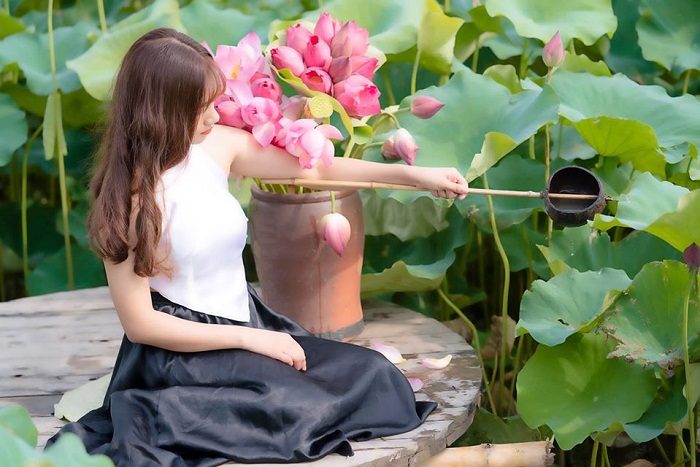 You can check-in with bib outfits and accessories like water jars …
In addition to clothing, accessories for photographing with lotus are also an important factor. You can prepare accessories such as zither, flute, bamboo flute, basket, books or buy lotus bouquets sold at the dress to take pictures. The price for each bundle of lotus at the pre-sold lagoon is from 50,000 VND to 80,000 VND depending on the size. 
How to pose when taking photos at Quang Chau lotus lagoon 
One thing you need to keep in mind if you want your photos to be beautiful and soulful is to take the time to pose. The lotus flower is delicate and delicate, so simple poses are always in place.
You can pose simply with props in the middle of the lotus lagoon or shoot in pre-built miniatures such as thatched roofs, bamboo bridges, and traditional boats. Do not create wriggly poses, show off an offensive body.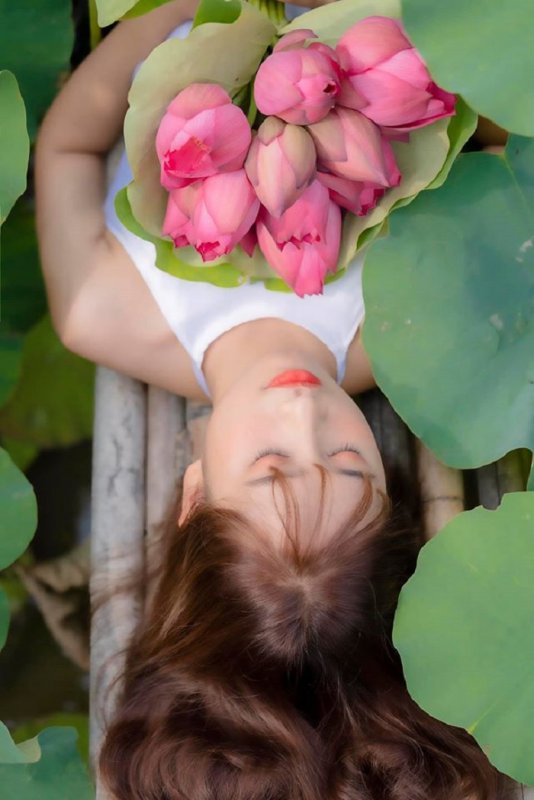 You can pose simply because the lotus pond itself is very beautiful.
> See more:  Bac Giang specialty series heard the name craved, have you tried it all?
Some notes to remember when checking in Quang Chau lotus pond 
Although it is a check-in point with a fee, to keep the scenery of the lotus pond always beautiful during the season when visiting, traveling and taking virtual live photos, you should remember the truth, preserve and protect.
Do not arbitrarily break leaves or lotus flowers without the permission of the lagoon owner, do not destroy pre-built miniatures or bring garbage, food or drinks littered. If you go with small children, you should remember to watch them to avoid unnecessary incidents.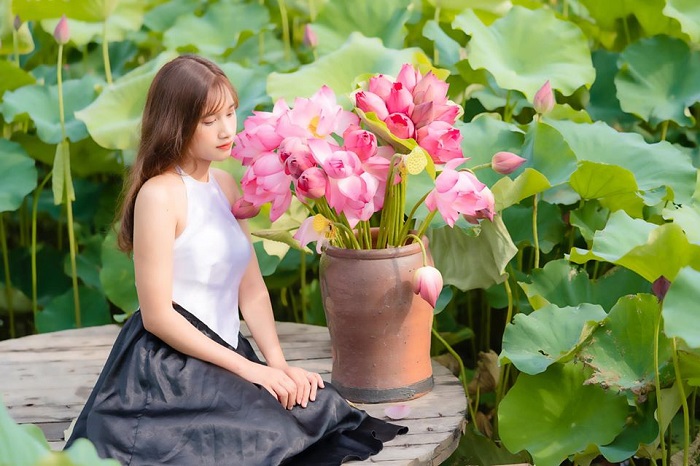 Please keep the hygiene as well as the scenery when coming to check-in at Quang Chau lotus lagoon.
Check-in Quang Chau lotus pond is a great experience to help you find relaxing moments after stressful working days. Enjoying the fresh air with the sweet lotus scent and taking pictures of the youth in the romantic space of the lotus pond will be a very memorable experience. 
Photo: Ưoc Rau/ Le Ngọc Han
TAG: