4 homestay watching terraces from the bed
HA GIANG – Staying at the homestays in Hoang Su Phi, visitors will wake up in front of the sea of ​​clouds and terraced fields.
About 300 km from Hanoi, Hoang Su Phi district is one of the most beautiful ripe rice viewing spots in Vietnam. The first half of the year is not yet in season, but the sight of water pouring on the terraces also attracts many photographers and visitors. Here are 4 ideal spots for you to watch the sea of ​​clouds, terraces and mountains from the room window.
Hoang Su Phi Bungalow
Located in Nam Hong village, about 33 km from the center of Hoang Su Phi district, homestay has a private resort for couples or families, and ethnic stilt houses for guests in large groups. The resort is shared and located next to Kinh Homestay, but has more upgraded equipment, with wooden rooms facing the terraces. There is a restaurant, playground, and private swimming pool here.
Visitors can book more trekking tours, watch traditional fire dancing, take a cigarette bath or experience the life of the Dao people because the main owner is a big Red Dao family … The price of the dormitory is 170,000 VND / night, room pair from 750,000 VND / night. A set of rice costs 150,000 – 180,000 VND.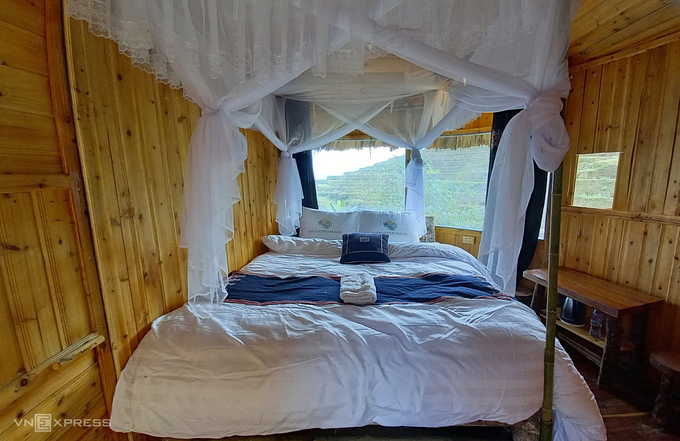 Inside a wooden bungalow at a homestay Photo: Huong Chi
Hoang Su Phi Lodge
The homestay is also located in Nam Hong village, Thong Nguyen commune, Hoang Su Phi district – famous for its long terraced fields, attracting tourists during the wet season, the young rice season until the ripe rice season lasts from June to mid. October.
There are many streams and waterfalls around the resort all year round. From the resort you can go cycling or trekking to explore, soak in the cool streams.
Hoang Su Phi Lodge has both a dormitory and private bungalow with views of the terraces. Each private unit has a balcony overlooking the garden and valley, so guests can enjoy the fresh air and watch the rice ripening on the spot.
In addition to accommodation, the resort also has a restaurant specializing in ethnic specialties, massage services, Dao tobacco baths, motorbike rental … Room price is 1.2 – 1.5 million VND / night in bungalow; 300,000 VND / night in a dormitory room.
Ho Thau Eco Village
Ho Thau Ecotourism Village is a new community resort, now relatively completed and can welcome guests to explore the mountains, indigenous culture and basic resort. The resort is located in Ho Thau commune, just over 10 km from Chieu Lau Thi peak. The rooms here are built in style of houses with thatched roofs, with bathrooms and bedrooms with large windows overlooking the rice valley and surrounding green forest.
In addition to the area in Thau Lake Eco Villa also has a football field, campfire area, restaurant, swimming pool … serving tourists to go in groups. If you stay here, you can hunt for clouds, watch sunrise and sunset at the top of Chieu Lau Thi , 2,402 m high, explore the life of the Red Dao, learn about making snow tea, watch terraced fields in Ban Luoc on road back to the district …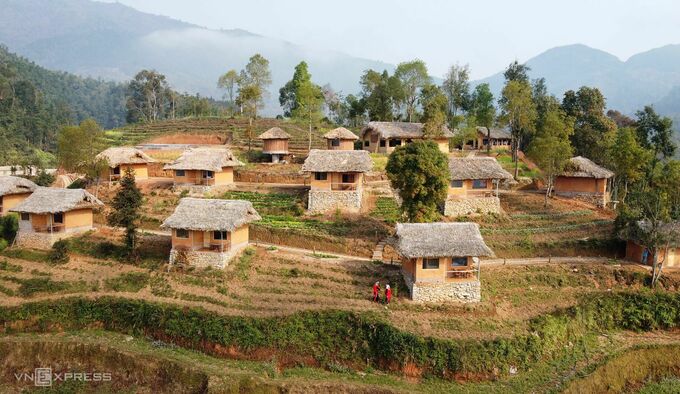 The price for a dormitory room is 170,000 VND / night, a double room is from 750,000 VND / night. A set of rice costs 150,000 – 180,000 VND. Photo: Anh Phu
Chi Tai Homestay 3
Thanks to the prime location, at this homestay, guests can watch the terraced fields change color according to the season. You can sleep in the dormitory, have breakfast, drink tea and coffee while admiring the view of La Chi's house between rolling hills and terraced fields.
Chi Tai Homestay 3 is a meeting place for those who love taking pictures and hunting terraced fields in Ban Phung. This place also offers many other services such as campfires, brocade weaving experiences, local arts, catching fish skills, being a farmer … One night stay in a private room costs 300,000 VND, a dorm room costs 80,000 VND. – 100,000 VND. A meal price of 150,000 VND / person. Follow vnexpress
TAG: