Experience Dong Van Ha Giang rock plateau tourism like a local
Long ago, Dong Van Ha Giang's rocky plateau has become one of the most famous destinations in Ha Giang. Some people come here to conquer the treacherous passes, others choose for themselves moments to watch the blooming season. Whatever the purpose, the rocky plateau is still a great place for you to admire the beautiful scenery of the mountains and forests as well as a chance to learn more about the people, culture and cuisine of the ethnic minorities here.
Explore Dong Van rocky plateau tourist area
The right time to travel to Dong Van rocky plateau
The weather in Dong Van rocky plateau is quite convenient for traveling, so you can visit this place at any time. However, according to the experience of traveling to Dong Van rocky plateau, convenient and complete , I recommend coming here in the period from November to December is the most beautiful, this is the triangular flower season. In particular, you should visit on Sunday to have a chance to participate in the famous fair here.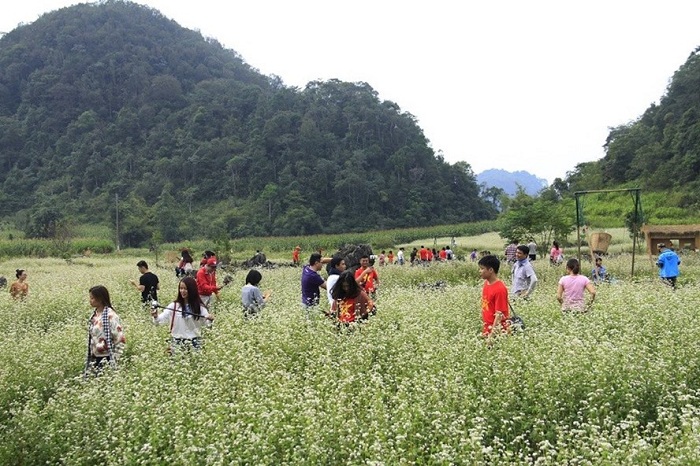 The right time to travel to Dong Van rocky plateau
How to move to Dong Van rocky plateau
From Hanoi, about 320km from Ha Giang city center, you can follow the following route: Hanoi -> Vinh Yen -> Viet Tri -> Doan Hung -> Phu Tho -> Tuyen Quang -> Ha Giang. After reaching Ha Giang, you will need to go another 140km to reach the Dong Van rocky plateau.
The distance from Hanoi to Dong Van rocky plateau is quite far, so if you do not want to take a private car, you can take a bus. At My Dinh bus station, you can refer to the garage such as Hai Van, Cau Me, Ngoc Cuong, … with the ticket price of about 150k – 200k / person. Then take the car from Ha Giang to Dong Van plateau about 70k – 100k / person.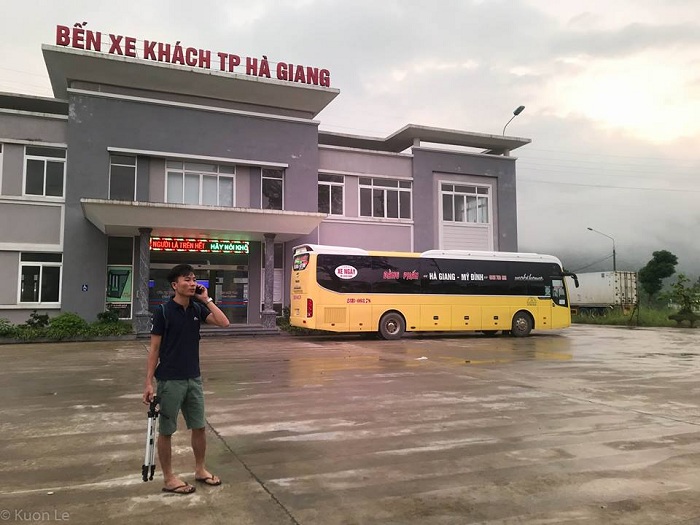 How to move to Dong Van rocky plateau
Staying in Dong Van rocky plateau
As a famous tourist destination in Ha Giang , so visitors can easily find accommodation in the form of Homestay, motels, hotels, depending on the economic conditions of each person. However, according to my own experience of Dong Van rock plateau tourism, I often choose cheap motels or Homestay to save travel costs. Moreover, I mainly go for sightseeing and sightseeing, not in the form of relaxation, so just resting place and storing clothes is enough. If you do not know where to stay when traveling to Dong Van rocky plateau  , you can refer to a few suggestions below.
Homestay Dust: 0122 567 5112
Homestay Ma Le: 0166 486 8438
Binh Minh Guest House: 091 201 2830
Huyen Tram Guest House: 098 771 0780
Xuan Thu Guest House: 0168 754 0762
Places to visit in Dong Van rocky plateau
With the wild and rustic natural scenery, the difficult roads are difficult to go, but all that is the main attraction for visitors to the Dong Van rocky plateau. In addition, this place is also an ideal virtual living check-in point for young people, with beautiful winding passes, ancient houses, rose gardens, plum blossoms, more freshness. for Dong Van rocky plateau.
Especially, Sung La valley is considered one of the most beautiful and famous places to visit in Dong Van . Coming here, you can not only visit and explore the natural space, but also learn more about the unique cultural features of the people here.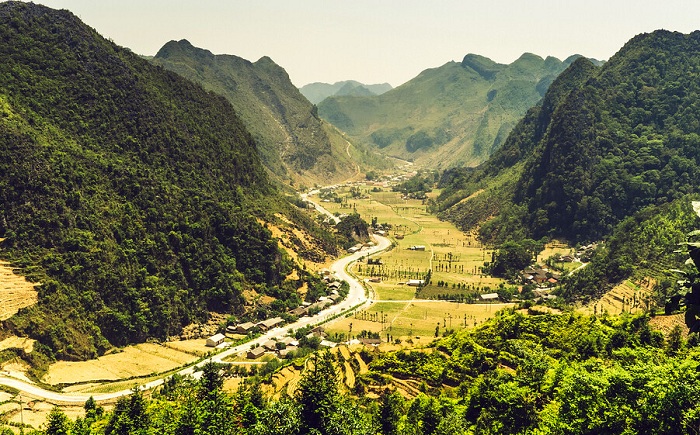 The beauty of Charm La valley
> See more: Travel to Hoang Su Phi in ripe rice season with enchanting beauty
If you have a lot of time to  travel to Dong Van rocky plateau,  you can visit some other attractive destinations such as: 
Conquering Lung Cu flagpole.
Visiting Sa Phin heaven gate.
Learn about Lo Lo cultural village located at the foot of Lung Cu flagpole.
Visit Pho Bang border gate.
Attend Dong Van fair which takes place every Sunday.
Dong Van Ancient Town.
Pass Ma Pi Leng Pass
Eating and drinking while traveling to Dong Van rocky plateau
Discovering the taste of the dishes here is also an indispensable experience in the Dong Van rock plateau tour . In general, the cuisine here is nothing too special, but there are some delicious and attractive dishes you should enjoy such as:
Plier-coated pho: Pho Long, processed with chicken and spices. Especially indispensable a layer of turmeric powder coating the surface of the dish.
Thang amaranth: A specialty of Dong Van rocky plateau , looks quite similar to boat drifting, but it has a completely new taste.
Pig's blood soup: Eye-catching bright red blood color, sprinkled above with green onions and served with chili powder, creating a different taste.
Thang Tried: Going to Ha Giang without enjoying the winning food is a big mistake. The dish is made from horse organs, does not look very eye-catching, but the taste is great.
Roll cake: Thin pieces of rice paper, filled with meat or eggs and served with sweet broth.
Kitchen sausage: With the scent of nose, it makes it difficult for diners to ignore this wonderful dish.
In addition, there are still many  delicious dishes in Dong Van  you should not miss if you have the opportunity such as: Triangular cake, rice porridge, five-color sticky rice, mussel and sour nest, …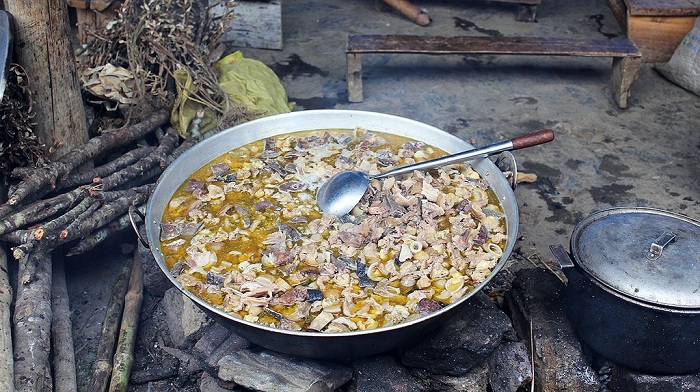 Thang Co – A specialty dish in Ha Giang
Dong Van rock plateau tourism always brings great and interesting experiences for tourists, not only because of the beautiful scenery but also by the friendly and hospitable people here. If you still need any further information during your trip, feel free to leave a comment below the article.
TAG: