5 must-try dishes when coming to Nha Trang
The tourist city is famous for grilled spring rolls, fresh seafood, vermicelli noodles, canola and fish salad.
Baked rolls
Grilled spring rolls are a specialty of Nha Trang which is famous throughout the country. Even in Hanoi or Ho Chi Minh City, there are many shops selling this dish. However, enjoying the right taste of Nha Trang grilled spring rolls here will definitely bring a sense of its own.
Pork is marinated and then grilled, eaten with sweet, spicy fish sauce and green papaya with raw vegetables.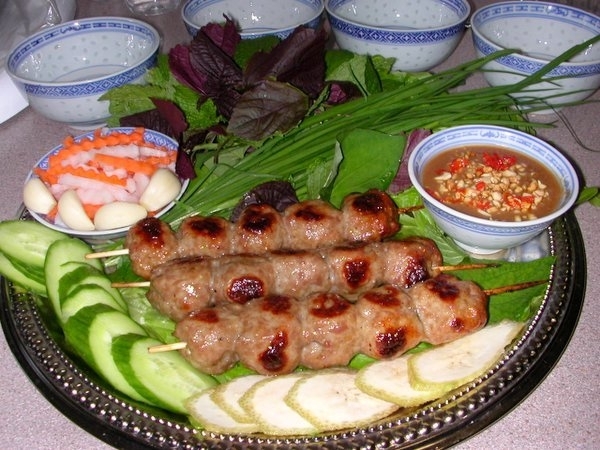 The full ingredients for Nha Trang grilled spring rolls.
As one of the best dishes in Nha Trang, if you miss it, it is a pity. On-site spring rolls are served with charcoal grilled plates, spring rolls, lettuce, raw vegetables, chili, rice and garlic. Depending on the taste of each person can change the seasoning. Do not eat this dish with a knife or fork but use your hands to roll.
seafood
Coming to Nha Trang, you definitely have to try seafood. Nha Trang is one of the coastal cities that is not only beautiful, but also has a large amount of seafood. Visitors will find a wide variety of shrimp, porcupines, squid, crabs, jellyfish, and shellfish of all shapes and sizes caught by local fishermen.
Seafood enthusiasts can sign up for a sea tour of Binh Ba Island to enjoy lobster food at an affordable price. Binh Ba Lobster is famous for its freshness, and is also the largest source of lobster in Nha Trang. Visitors can choose red lobster, blue lobster, star lobster depending on financial ability.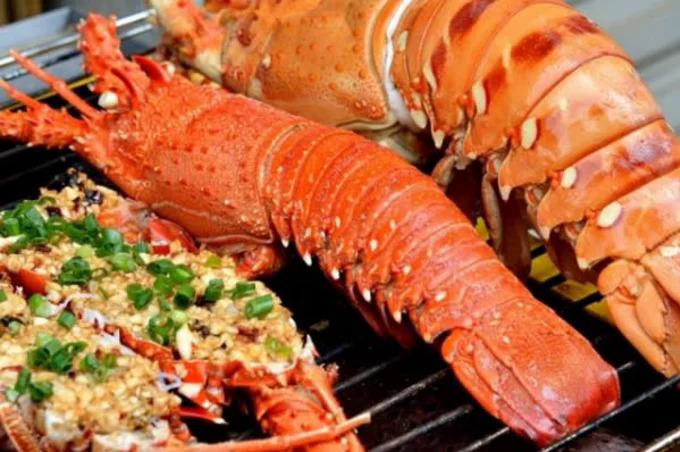 Fresh lobster can be processed into many dishes such as grilled, steamed, eaten raw.
Noodles jellyfish
Nha Trang is a city with a coastline of up to 6 km, so there are many jellyfish and become a popular dish. The jellyfish vermicelli bowl also has fish fillet scalloped, a few slices of cha both with broth cooked from freshwater fish.
The jellyfish vermicelli bowl adds many other ingredients to increase the attractiveness.
Diners can add some other things like crab, shrimp or pork to suit their taste. The famous places to enjoy this dish are located on Bach Dang street or along the street of Nha Trang market. The jellyfish dish is also beneficial for health, especially those suffering from stomach ulcers, high blood pressure, and intestinal diseases.
Can cake
Banh can is a type of cake made from crispy rice cakes with quail eggs, fresh meat, dried meat and seafood. These rice cakes can be found prepared in small pans over a charcoal oven. The cake is sold in pairs because of its small size.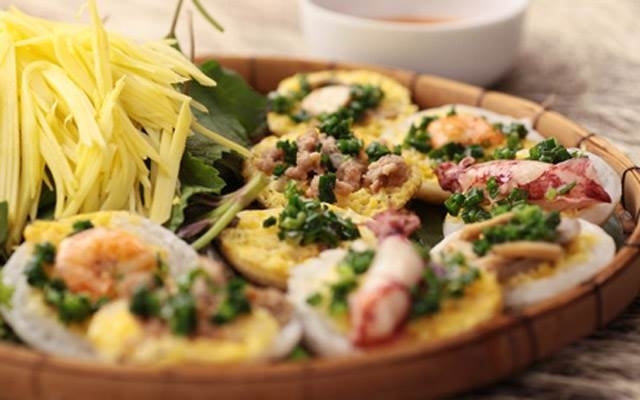 Eye-catching colors of the cake can.
When eating, diners dip the cake with a sauce made from fish sauce, lemon, chili, and garlic. In addition, there are some shops that will give users more raw vegetables, pork balls and a few slices of green mango to eat. A special sauce is the spice that adds to the deliciousness of the cake.
Nha Trang is a city where banh can becomes one of the indispensable dishes for local people.
Fish salad
The package of Mai Nha Trang is easy to find at any restaurant. Fish shellfish is small, the meat is clear and especially there is no blood, so it is not fishy like other fish salad.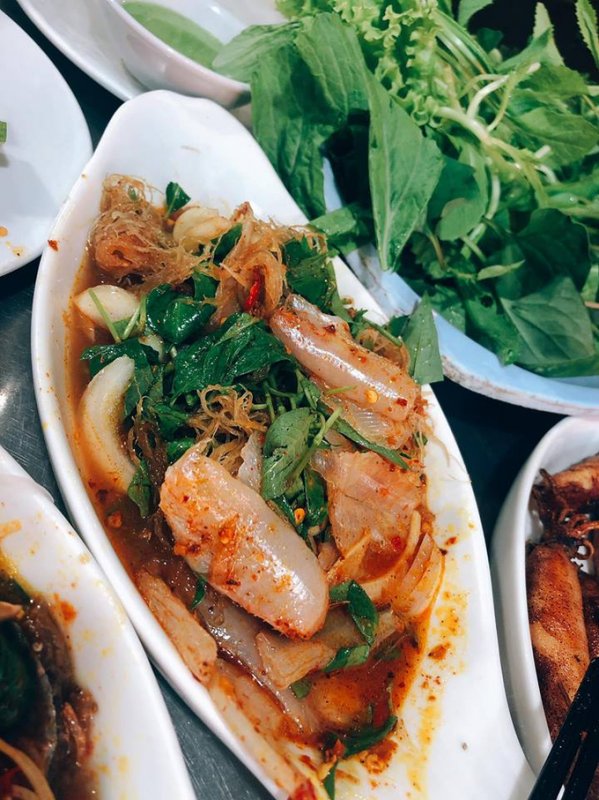 Plate of fish salad.
Fish shellfish is only used to make salad, not used to process any other dishes. An apricot fish salad must be sweet enough from fish, mildly sour from lemon and spicy from chili. The side dish of the sauce, usually made from herringbone shell, is also carefully cared for to enhance the taste of the salad as possible.
Photo: Internet
TAG: