Last weekend, take the whole family to relax in the Giang Dien waterfall tourist area only
Dong Nai is not a tourist land but hides in its very romantic and beautiful natural scenery – the Giang Dien waterfall tourist area. The tourist area in Trang Bom district, Dong Nai province, 45km from the center of Ho Chi Minh city, is a picnic destination chosen by a large number of families and young people every weekend.
Although not famous for tourism development, Dong Nai always hides within itself charming, green natural landscapes. With a geographical location near Saigon and possessing many attractive entertainment places and large eco-tourism areas, Dong Nai has long been an ideal stopover for many families and groups of friends on every occasion. weekend, Tet holidays. And one of the famous tourist resorts that many people choose to have fun and entertainment is the Giang Dien waterfall tourist area. If you want to learn about Dong Nai tourism experiences with the Giang Dien waterfall tourist area, do not miss the article below.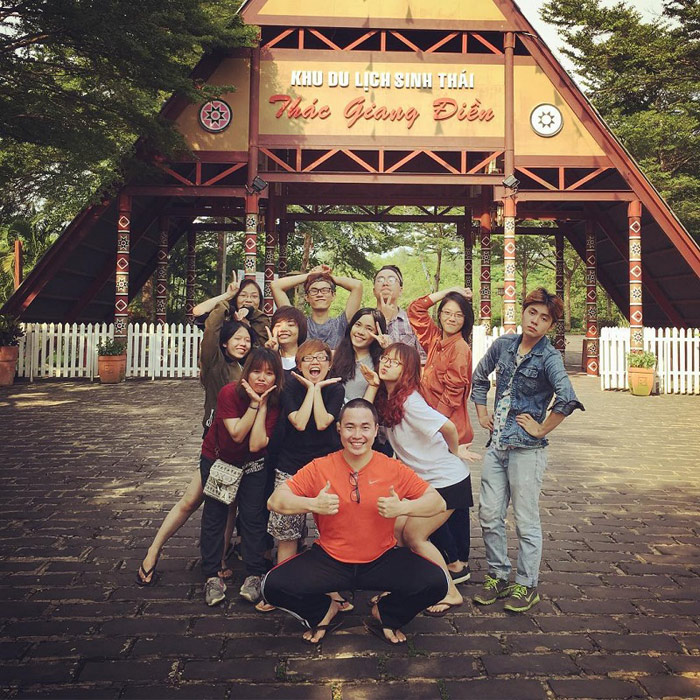 Giang Dien Dong Nai Waterfall Ecotourism Area.
1. Where is Giang Dien waterfall tourist area?
Located about 45km from the center of Ho Chi Minh city, in Trang Bom district, Dong Nai province, Giang Dien waterfall eco-tourism area has an area of ​​up to 67 hectares with many beautiful works, small landscapes and diverse topography such as waterfalls, rivers and lakes, green lawns are eye-catching. 
In particular, this place is associated with the legend of a very romantic couple love. According to the local people, in the past, there was a man and woman who loved each other deeply but were forbidden. They swore an oath to die together so that their love will always be fulfilled. And the stream the two of them immersed themselves in was Chang and Nang waterfall, also known as Doi waterfall. Together with these two falls is the same waterfall that formed today's Giang Dien waterfall. Because of that, many couples believe that when traveling to Dong Nai, it is absolutely necessary to visit Giang Dien waterfall eco-tourism area to always endure love.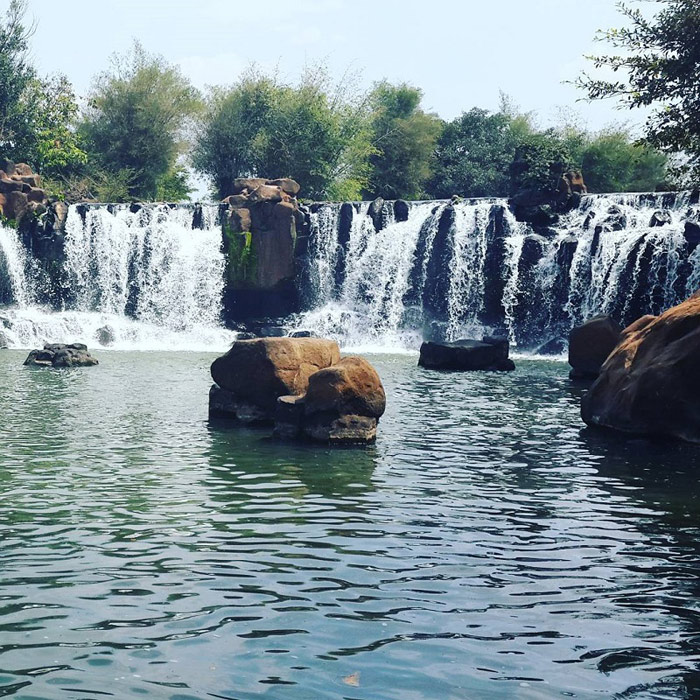 Giang Dien waterfall tourist area owns charming and cool landscape.
2. Which season should Giang Dien waterfall go to?
Dong Nai province has two distinct seasons: dry season and rainy season. The dry season here starts from the beginning or the middle of November and lasts until the end of April. And the rainy season is from the end of April, the beginning of May to November.
Fun experience at Giang Dien waterfall tourist area 2019 is to go in the dry, sunny season. Because at this time the water in Giang Dien waterfall is cleaner and more beautiful. In the rainy season, the water is often cloudy and looks very dirty. If you go at this time you should not choose a white shirt because if you shower in the rainy season, the yellow color of red soil is easy to cling to.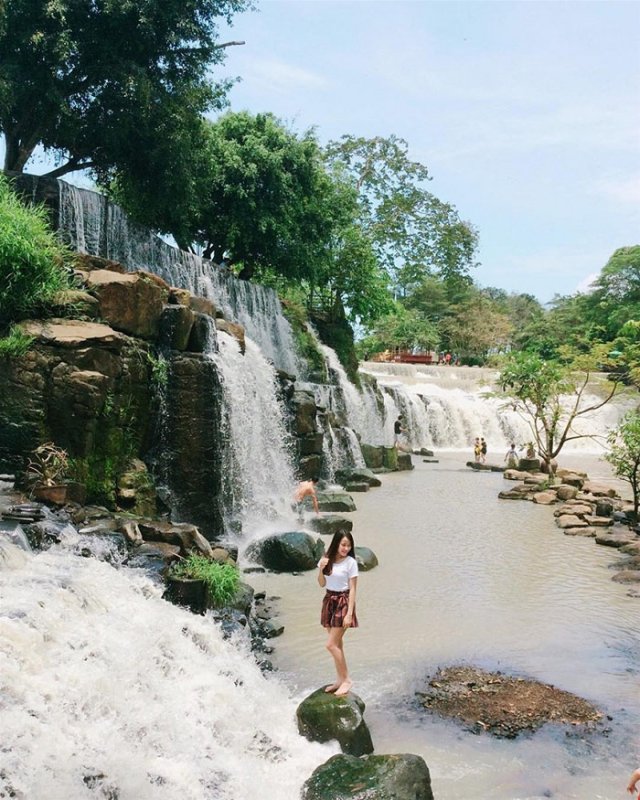 The dry season is an ideal time to travel to Giang Dien waterfall.
3. How to go to Giang Dien waterfall from Saigon?
According to many travelers, experience going to Giang Dien waterfall tourist area in 2019 can choose many different means of transportation such as motorbikes, cars or buses.
If traveling by motorbike or car departing from Saigon, you can follow the Hanoi highway to Dong Nai province, run across Saigon bridge, to Suoi Tien, Tan Van. Then run straight through Dong Nai Bridge, to Vung Tau junction, into Bien Hoa and then cross National Highway 1A, to Tri An. Next you run about 1.3km more to Giang Dien tourist area.
If you choose a bus, you should take bus route 12 from Ben Thanh market to go straight to Giang Dien waterfall tourist area. Pay attention to the operating time of this route to arrange a suitable route. Usually bus number 12 runs from 5:00 to 17h40 daily with fares from 5,000 to 18,000 VND / time.
4. Ticket price to Giang Dien waterfall tourist area?
Ticket price to enter Giang Dien waterfall tourist area 2019 is 40,000 VND / adult, weekends, Tet holidays are 70,000 VND / person. As for children, the entrance ticket price is 30,000 VND / person, on weekends or holidays the ticket price is 60,000 VND / person.
In addition, other entertainment services in the resort are charged. Normally, the price of a package ticket to comfortably have fun in the resort is about 170,000 VND / person (including: entrance tickets, train rides, 5D movies, water games tickets, bicycle tickets) . In particular, the resort also applies many attractive incentives and discounts for students, students or large groups. You should ask for the information carefully before using any service.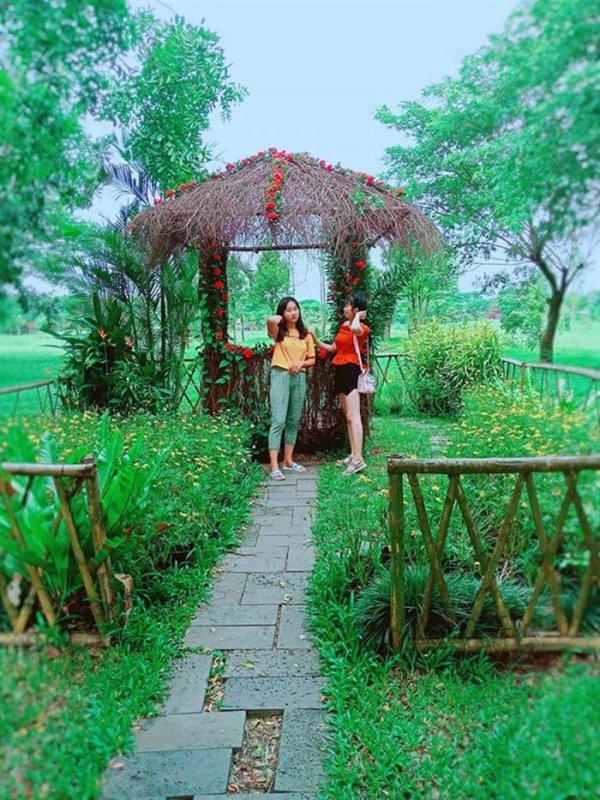 Giang Dien waterfall tourist area is loved by many young people to visit and have fun on weekends and holidays.
5. What to play in Giang Dien waterfall tourist site?
Waterfall bathing: Many people choose Giang Dien waterfall resort as a stopover, relax and immerse themselves in the cool water to fully feel the fresh and pleasant air of nature. However, for the safety of the waterfall, you should rent a life jacket (the rent is about 20,000 VND / person) and pay careful attention not to be slippery.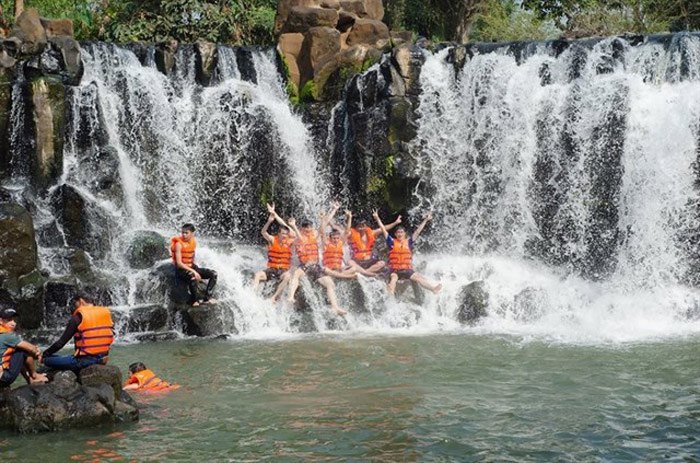 Waterfall bath.
Outdoor swimming pool: In addition to waterfall activities, you can also enjoy swimming in the fresh water at Mimosa outdoor swimming pool of 2000m2 with a capacity of more than 1000 guests.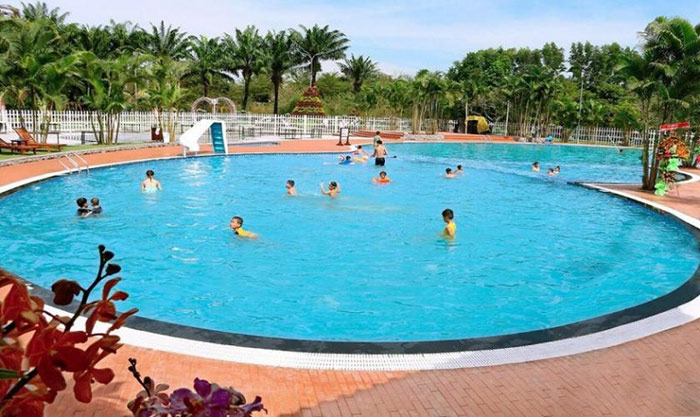 Spacious outdoor swimming pool area.
Join interesting games: Some interesting games when traveling to Giang Dien waterfall 2019 that you can refer to are: cycling, exploring the resort, rowing, car on water, water bubbles, Going by train, watching 5D movies, … The price of bicycle rental is about 10,000 VND / car / hour. Or you can choose to walk to visit, take pictures with many beautiful "virtual life" angles and watch the charming, green natural scenery here.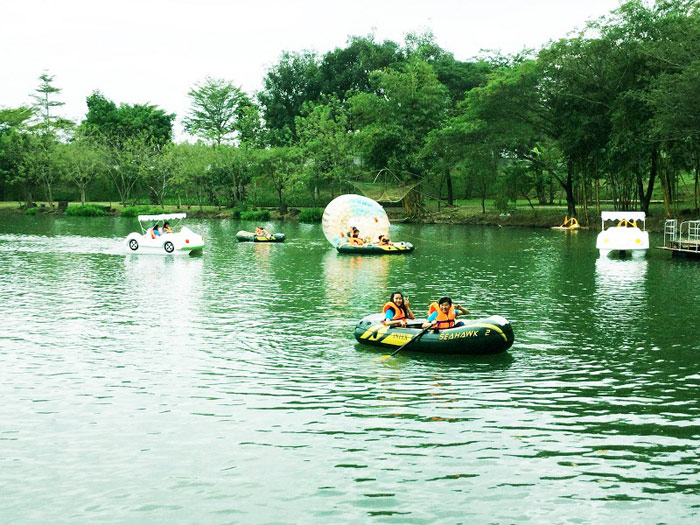 Many interesting games.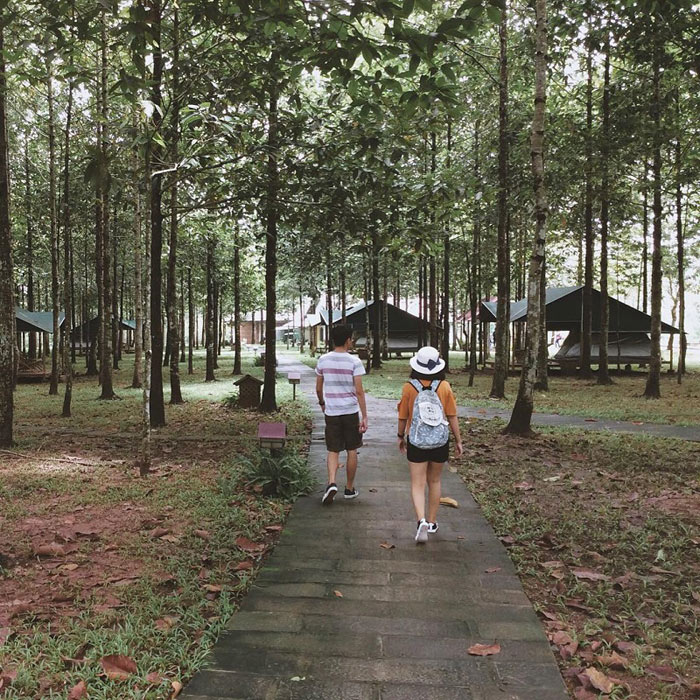 Take a walk to get some fresh air. Photo: Vinh Pham on Instagram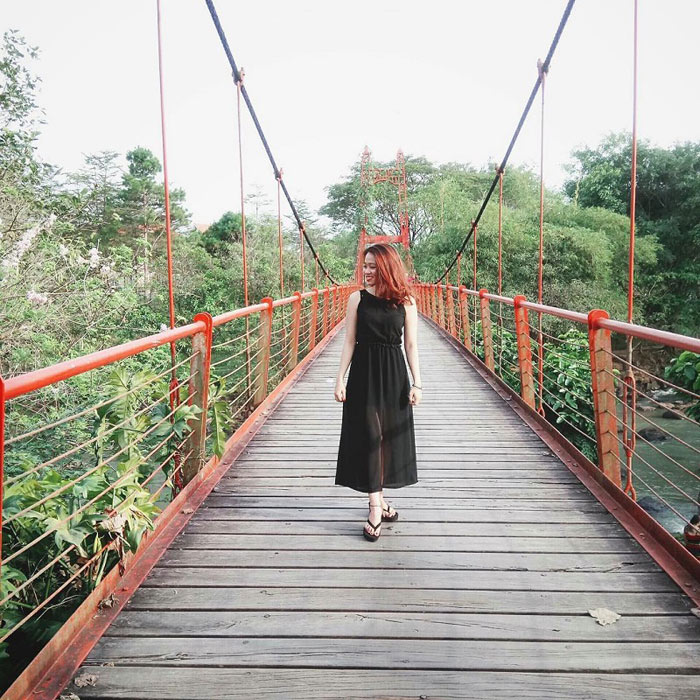 Many beautiful scenes for you to take pictures. Photo: Nguyen Kieu Anh on Instagram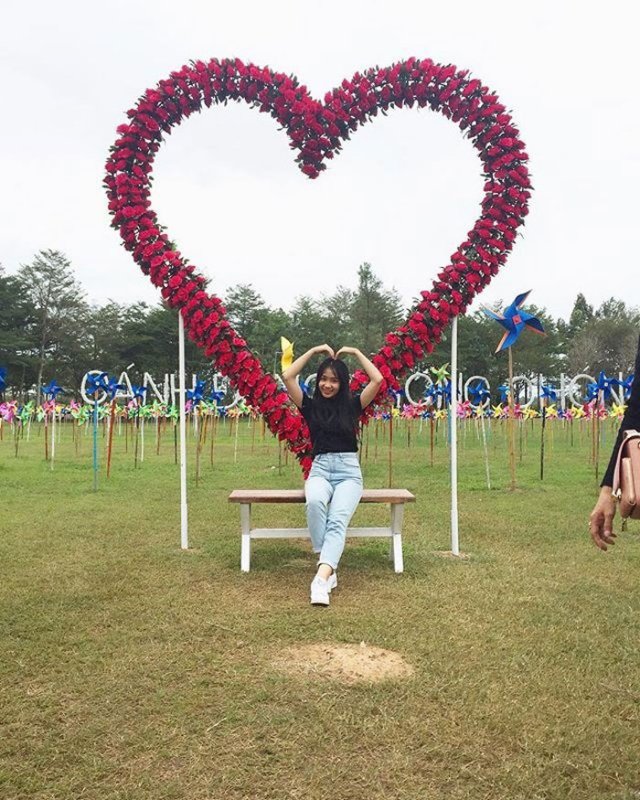 The "virtual life" corner is extremely romantic.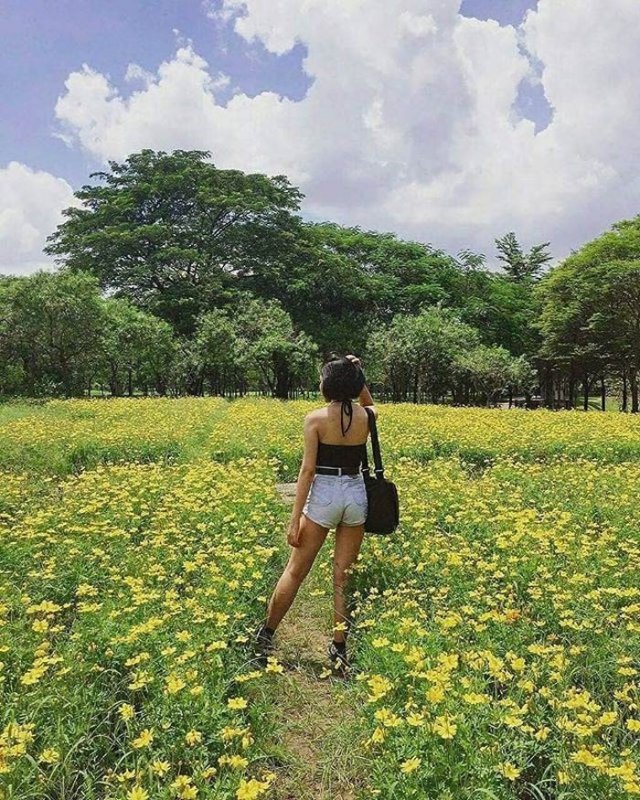 The charming natural scene.
Camping: This is one of the memorable experiences when traveling to Giang Dien waterfall. There are many campsites with cool space for groups of friends and family to gather, have fun and relax. You can rent tents, tarpaulins, and stovetops to rest and enjoy hot and attractive dishes outdoors.
An exciting camping experience should not be missed.
6. What to eat when you come to Giang Dien Dong Nai waterfall tourist area?
Giang Dien waterfall eco-tourism area in 2019 has many restaurants serving dining such as Hoa Su restaurant, Phuong Son restaurant, Hoang Yen restaurant with a variety of local dishes. However, the price of food in the resort is often expensive, especially on holidays. So the majority of visitors come here often prepare their own snacks, pre-marinated foods at home and some necessary items such as tarpaulin, tissue paper, drinks, fruit, … Just rent the kitchen. Grilled with ideal seats while enjoying the dishes while watching the scenery, watching the falls, … It's interesting, right?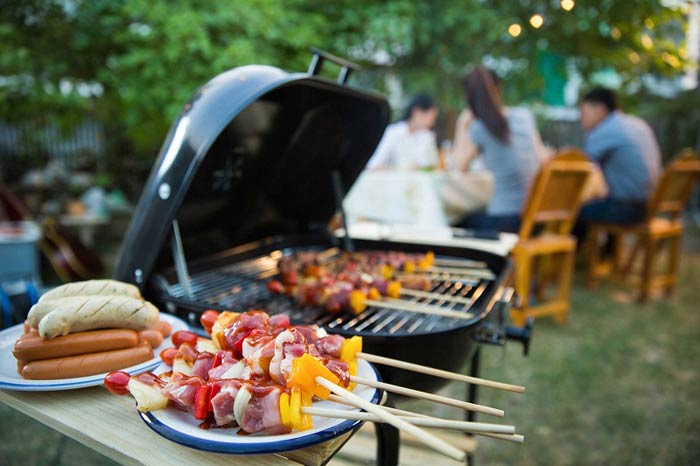 You can have a BBQ party right next to the tent with dishes prepared beforehand.
Hope that the information shared about the Giang Dien waterfall tourism experience above will be really useful for you. If you still do not know where to travel on September 2, please invite your relatives and friends right to this interesting ecotourism area to relax and have fun.
Photo: Internet
TAG: