7 spiritual tourist spots in Hung Yen, ideal for you to find a peaceful place
Hung Yen, a peaceful land known for many beautiful tourist destinations, especially many spiritual tourist destinations in Hung Yen has become a popular attraction for domestic and international tourists because of its ancient beauty and ants. Impressive architecture and long-standing cultural value. 
Discovering spiritual tourist sites in Hung Yen to learn more about traditional cultural and historical values ​​is the experience that many tourists choose when having the opportunity to check-in in this peaceful land. Hung Yen is one of the provinces/cities with the most attractive spiritual tourist destinations in the Northern Delta, the number of spiritual destinations here is very large so visitors can freely explore, check- print. 
Besides the beautiful tourist spots and landscapes, many people like to visit spiritual sites in Hung Yen. Photo: @sayhitothew
List of 7 most famous spiritual tourist spots in Hung Yen, do not miss 

1. Temple of the Mother 
Mau Temple is one of the most famous spiritual tourist spots in Hung Yen , this temple is dedicated to a gentleman of the Song dynasty. According to history, in 1279, when Song King fled the Nguyen army, he brought his royal family, fled south by water. When captured by the Nguyen general, the king and a number of concubines refused to surrender and jump. She went into the sea to commit suicide, including Duong Quy Phi, her body was washed up in present day Hung Yen territory and was buried and temples built by people.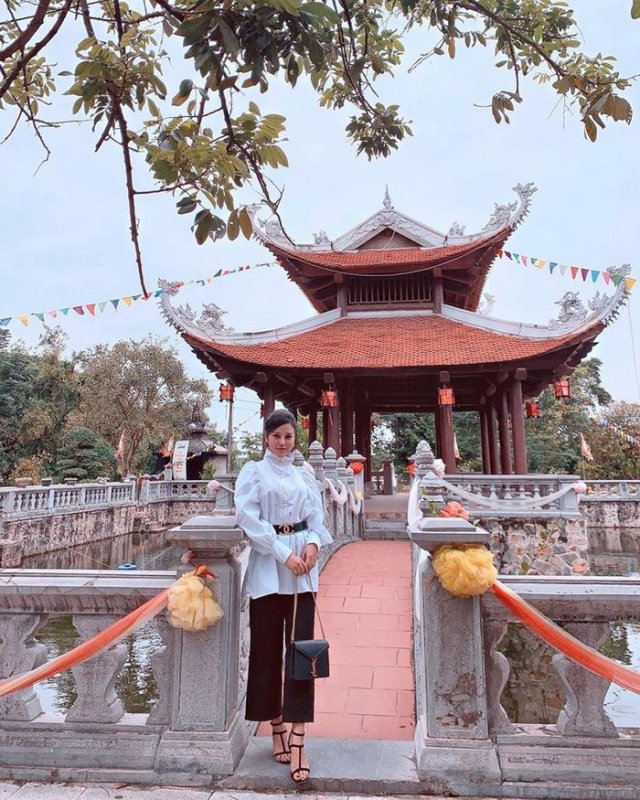 The Mother Temple is dedicated to Duong Quy Phi. Photo: @ nhunghoangg1710
Legend has it that since the establishment of Duong Quy Phi Temple, many people have come to worship continuously. Mau Temple has a very beautiful terrain belonging to Pho Hien relic complex, in front of it is Semi Nguyet lake. In the courtyard of the temple there is a multi-hundred-year-old tree divided into many clusters creating an ancient and sacred look. The temple is still the most attractive spiritual destination in Hung Yen.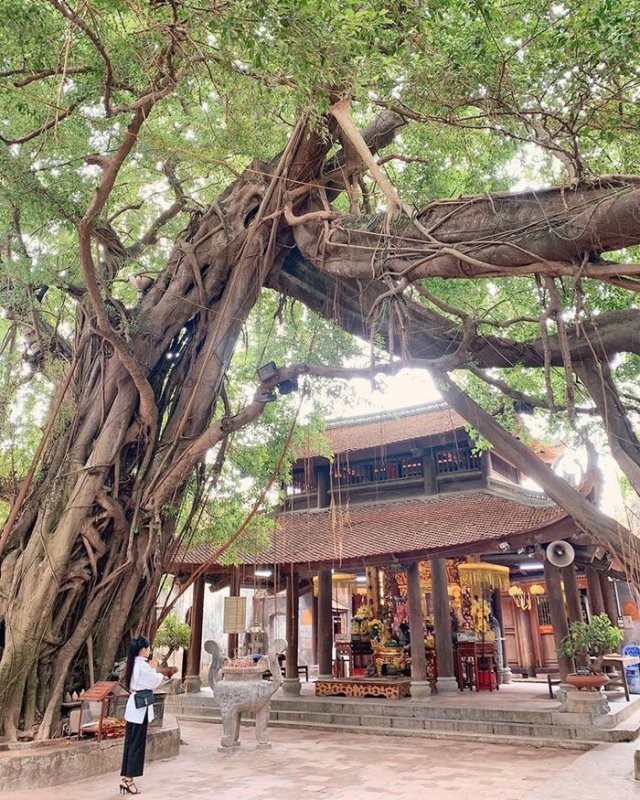 Banyan tree in the precinct of Mau Temple. Photo: @ nhunghoangg1710
2. Tran Temple
Tran Temple is located near Mau Temple, a place to worship the famous national hero in Viet Quoc Cong, moderating Hung Dao Dai Vuong Tran Quoc Tuan. The temple has been restored many times but still retains the typical ancient temple architecture of the Vietnamese people and has a quite large scale. The beauty of the temple is embellished by the blue Crescent, and its unique architectural lines.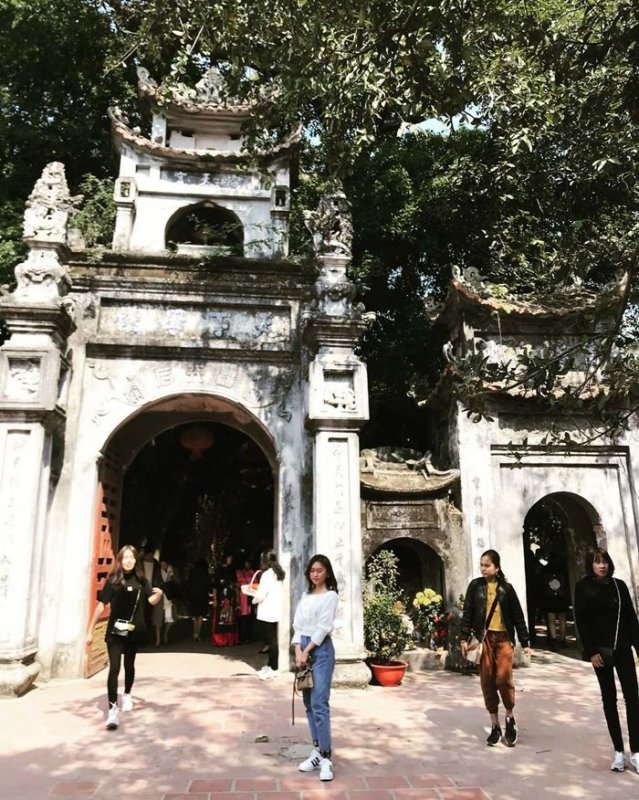 Tran Temple is the place to worship Hung Dao Dai Vuong. Photo: @ changbe21
The temple remains a frequent destination for tourists and locals alike. In March and August every year, there usually takes place a big festival to commemorate the death of Hung Dao Vuong and celebrate the victory of the Nguyen Mong invaders. The contest is very special. 
3. Temple of the Bells
Chuong Pagoda, also known as Kim Trung Tu, is a famous spiritual tourist destination in Hung Yen . This place is located right in Hung Yen city. The pagoda features Mahayana Buddhist architecture in the North of Vietnam that is internal and external. The ancient beauty of Chuong Pagoda makes this place a unique spiritual destination.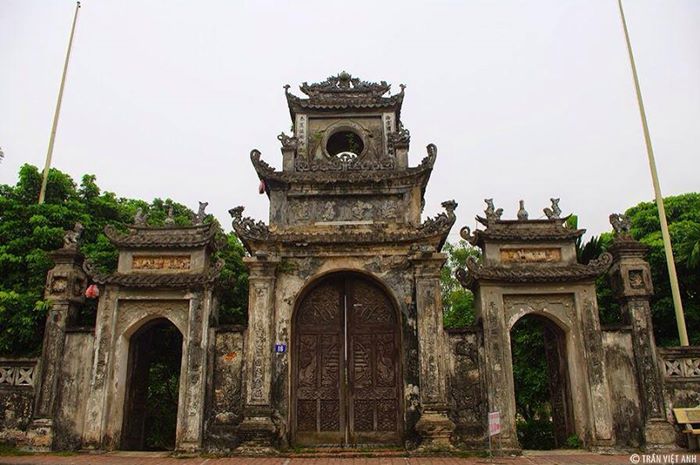 Chuong Pagoda is one of the famous temples of Hung Yen. Photo @ Tran Viet Anh
In particular, this place still preserves many artifacts of old Hien Street such as stele, khanh, bell, Buddha statue … Over the years, with existing historical, cultural and architectural values. , Chuong Pagoda is always a famous destination and makes a strong impression on visitors when visiting.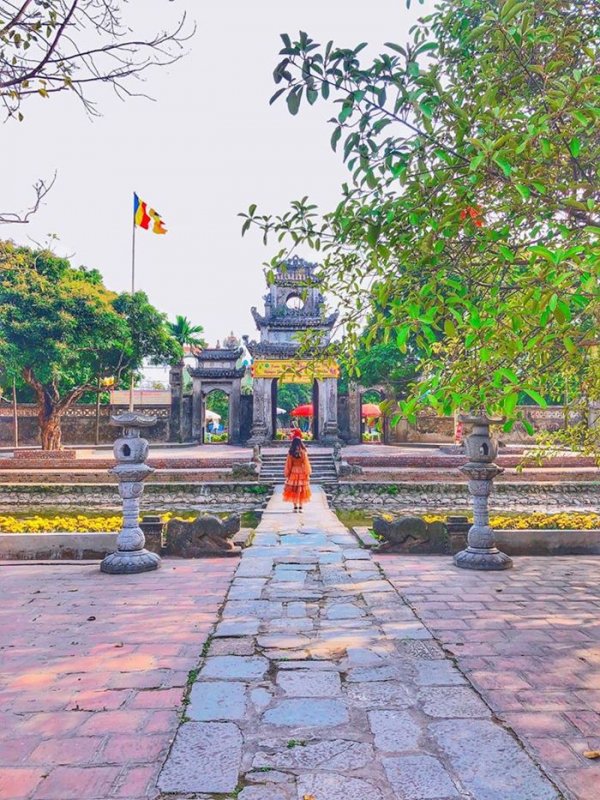 The temple is a favorite check-in spot for many young people. Photo: Nguyen Phuong Anh
4. Xich Dang Temple of Literature 
Temple of Literature Xich Dang is one of the famous spiritual tourist destinations located in Hung Yen city and is a symbol of education and human knowledge here. This place is considered as "Quoc Tu Giam" of Hung Yen.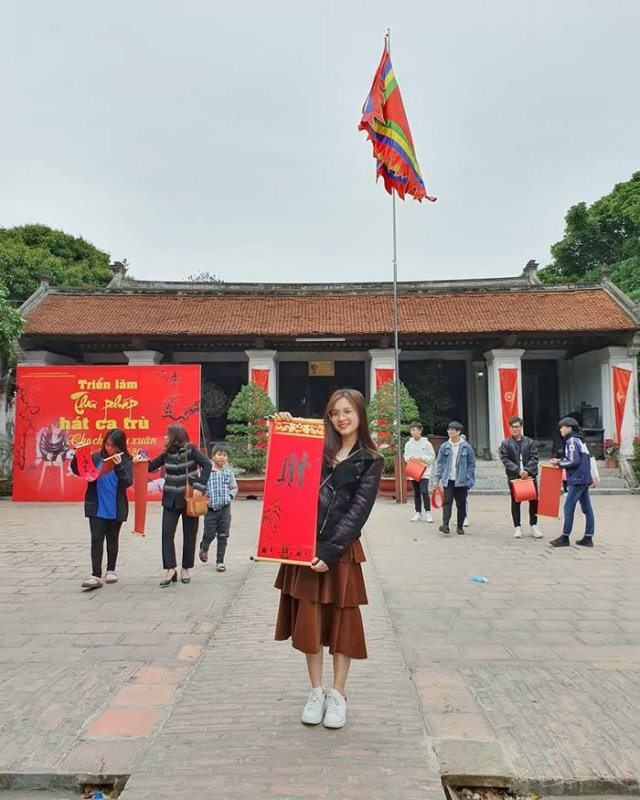 Temple of Literature Xich Dang is a symbol of the filial piety and knowledge of Hung Yen people. Photo: @trinhhuongiangg
Xich Dang Temple of Literature includes works such as Tam Quan gate, Lau Chuong, Lau Khanh, main area, worship tower area. In the shrine there are worshiping statues of Duc Confucius and Van Ly Su representing Chu Van An and stone steles of 200 scholarly faculties, poinsettias. The unique features of the scenery and architecture of Van Mieu Xich Dang are loved by many tourists and often come to visit.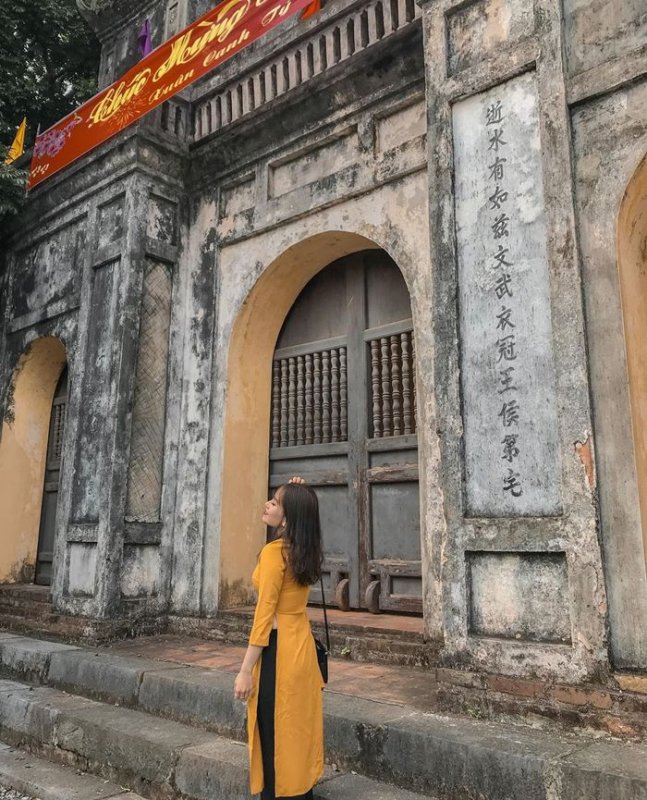 It has unique scenery and impressive architecture. Photo: @ 20.9__
5. Chu Dong Tu Temple 
Just by hearing the name, you will know that this temple is associated with the sweet love story of the guy Chu Dong Tu, Tien Dung. This temple consists of 2 temples, Da Trach Temple located in Yen Vinh village, Da Trach commune and Da Hoa temple located in Binh Minh commune, Khoai Chau district. In addition to worshiping Chu Dong Tu and his wife, this place also worships Trieu Viet Vuong, the talented general of the nation.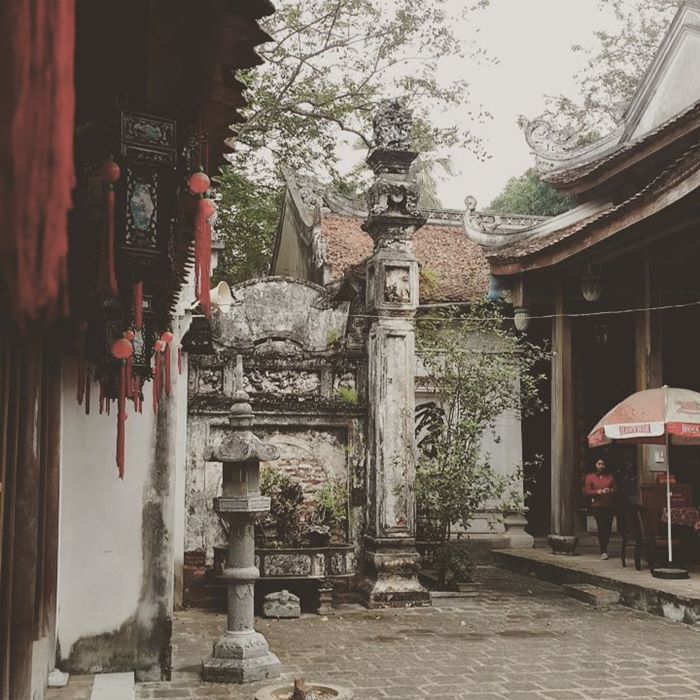 Chu Dong Tu Temple is associated with a beautiful love story. Photo: @ hthang01
At the Chu Dong Tu temple, there is an ancient bottle of 100 longevity words, 3 precious ancient statues, not only reminds posterity of a beautiful love story in history, marking talent and virtue. of Chu Dong Tu and his wife, but also a spiritual tourist destination in Hung Yen, has a unique architecture, demonstrating the talents of the artisans at that time. 
6. Nom temple
Nom pagoda, also known as the ancient Linh Thong Tu, is located in Nom village in Dai Dong commune, Van Lam district. The pagoda has a lifespan of 500 years and carries the features and ancient features of the Buddhist pagoda in the Northern Delta. Not only having unique cultural values, Nom pagoda's architecture is also a famous tourist destination for its beautiful scenery with bell floors, clear blue lake, true quality of ancient Vietnamese temples. Young people coming here are very fond of recording virtual live pictures of the temple grounds.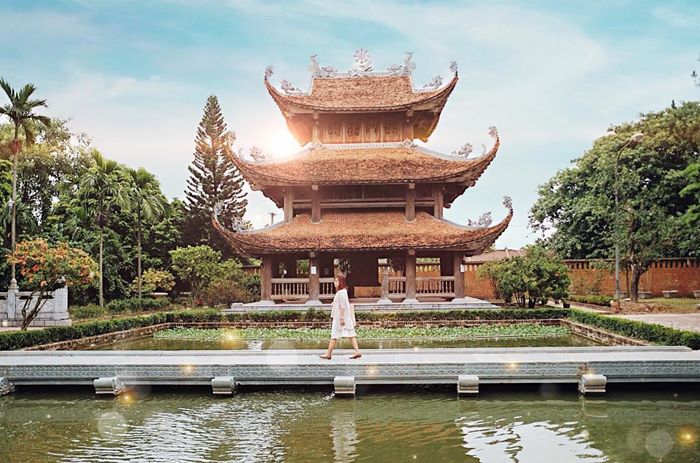 Nom pagoda is 500 years old. Photo: @gaulonchomeo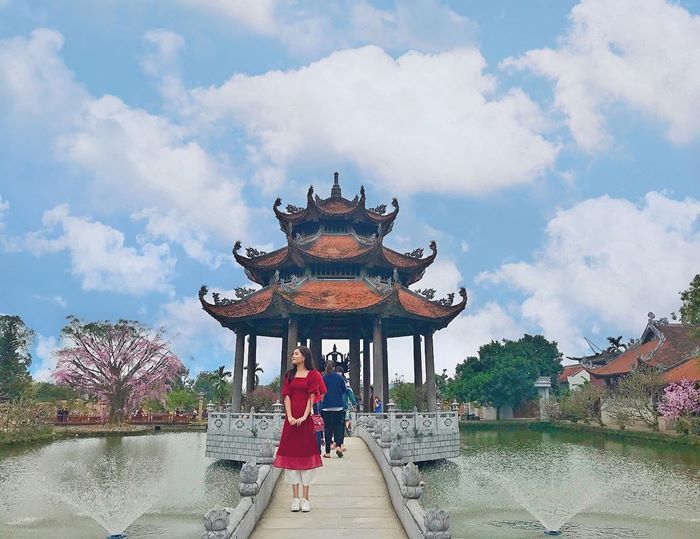 The scenery and temple architecture attracts many people to visit. Photo: @ thu.thuy.duong
7. Phuc Lam Pagoda 
This is now one of the famous spiritual tourist destinations in Hung Yen, attracting many tourists to come. Phuc Lam Pagoda does not have the usual appearance of the ancient Northern Pagoda but is designed with a gilded architecture slightly towards the Thai pagoda, so it is also known as the Thai Golden Temple in Vietnam. The pagoda is located in La Mat village, Phu Ung commune, An Thi district with the beautiful scenery that makes many people fall in love.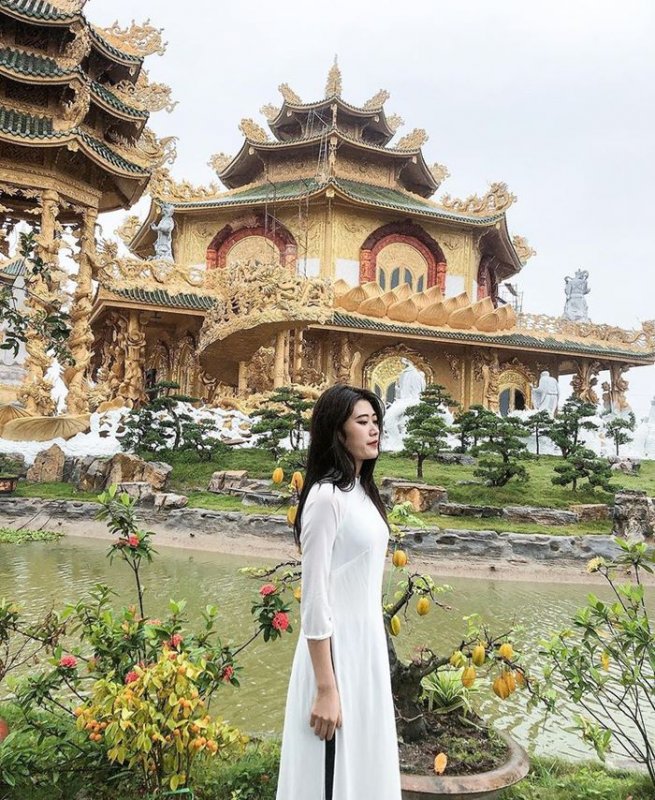 Phuc Lam Pagoda has the look of Thai temples. Photo: @linngch
The temple grounds have 4 large towers gilded with gold and many large Buddha statues with sacred and mysterious appearance. Especially, for those who like to live virtual, the scenery of this gilded temple in Hung Yen is an extremely ideal place with many magical check-in corners.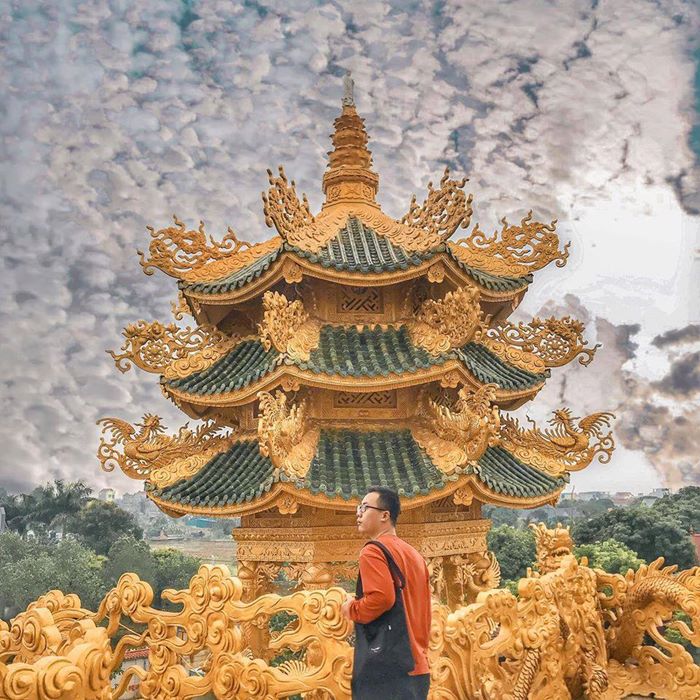 This place attracts virtual followers because of its impressive architecture and pagoda scene. Photo: @rivihanoi
Discovering the spiritual tourist spots in Hung Yen above, visitors will have an attractive experience journey. The destinations not only have beautiful scenery, but the cultural and historical values ​​over the years also make these places have their own charm, hard to fade. 
Photo: Internet 
TAG: