Bread soup 10,000 dongs of old lady U90
THUA THIEN – HUE Selling cake soup for 10,000 VND per bowl, a small restaurant of 82-year-old Lady Du, next to the communal house of Nam Pho village, always crowded with customers in and out.
To the villagers of Nam Pho village, no one seems to be unfamiliar with the image of Ms. Du, with her hair in a neat bun at the back of her neck and quickly scooping bread and soup to sell to customers. Over 60 years in the profession, she is one of the oldest people selling Bread soup – the oldest specialty of the village.
"I am the 4th generation in the family selling Bread soup, started selling at the age of 16, wearing ao dai to carry street vendors on every street. At that time I still walked barefoot, without shoes and rain, everything sold. "she laughed and said. When her health no longer allows, about 30 years ago, she rented a yard near her house, next to the village communal house to open a shop. Her shop has about 7-8 plastic tables and low chairs. Even though her children wanted her to rest, she wanted to sell it so that she could not remember her job.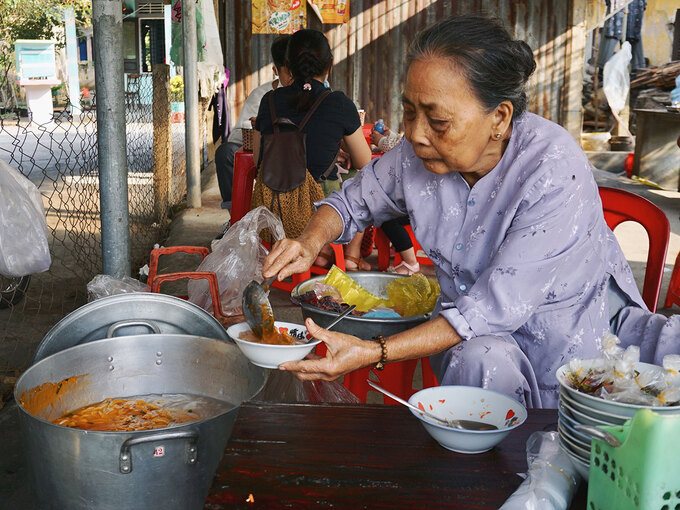 Despite her age, she is still very skillful and quick to make Bread soup. Photo: Bao Ngan
Every day, Ms. Du gets up from 4 am to mix the flour to make cake soup. Instead of stuffing and cutting fibers like other types of Bread soup, she put the dough in a clean plastic bag, cut a small hole, and then let the flour run into a thread into a pot of boiling water. This is the most difficult step when cooking Nam Pho cake, the dough must be moderately thick, and when cooked, it has a mild toughness.
She said that the typical flavor of Nam Pho soup is made from broth made from fresh shrimp shells, adding fish sauce and shrimp soup to create a typical taste of Hue. When the water is boiling, add rice flour to create a consistency, pour the broth into the pan just made and stir well.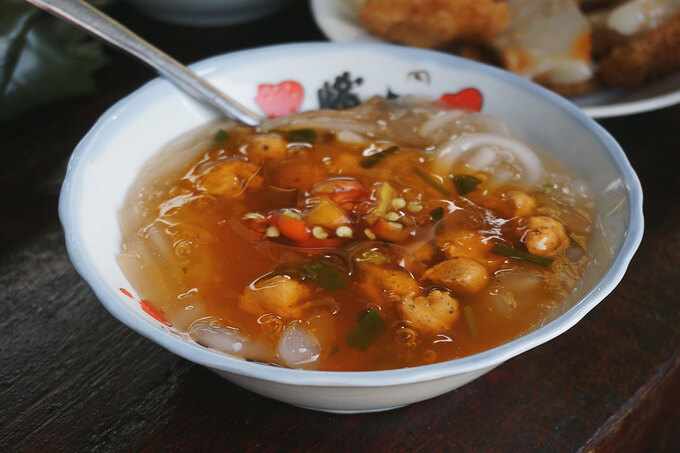 Cake soup is a specialty street food of Nam Pho village, about 10 km from the city center. No one knows when the dish comes from, but in the village there are many families who have been with the profession of selling Bread soup for 3-4 generations. Photo: Bao Ngan.
Bread soup served with pork roll made from shrimp, ground bacon, pepper, purple onion, salt. All mix well, crushed and then round up small members. Shrimp made in cha is shrimp tendon in brackish water, has sweet, firm, not fishy meat. A thick soup filling pot with a little cashew oil for a bright red color and green onions for added flavor. When drawing the cake soup to the bowl, visitors add a little fish sauce with slices of green chili (high-yield chili) to make the dish more rounded.
Although there are many shops selling Nam Pho cake in Hue city, many diners still go down to Nam Pho village to enjoy the authentic specialties. Thuy Phan (25 years old), a tourist said: "This is my childhood dish. In the past, I often saw my mother buy Bread soup from the aunts and aunts. When I grew up, I had a chance to go back to the village. "Canh cake is delicious, delicious, soft powder without mortar. However, there is one thing that can be improved. She should wear gloves to ensure hygiene".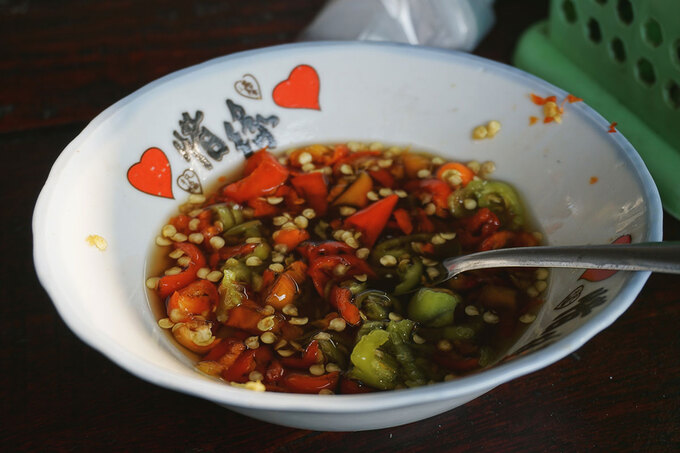 Hue's signature high-yielding fish sauce dish. Photo: Bao Ngan
Ms. Du's shop starts to sell from 13:00 until it is out of stock. Normally, until 17:00, the pot of Bread soup was empty. The selling price is 10,000 VND per ordinary bowl, 5,000 VND for a small bowl. In addition to Bread soup, the shop also sells a little ram, Banh Nam, and filter cake for 10,000 dongs a part. To reach the restaurant, from the city, visitors follow Pham Van Dong street (Highway 49 or the road to Thuan An beach) and then turn left at the junction, go straight to see Nam Pho communal house.
Follow vnexpress
TAG: