MOANA Sapa the hottest virtual living paradise of 2021
In recent years, Sapa tourism has many beautiful virtual live check-in points to serve tourists. The latest is on February 17, 2021, Sapa has inaugurated a brand new amusement park to shake followers named Moana Sapa, it is like a miniature Bali in the heart of Sapa. Please add this wonderful place to your travel itinerary now. 
About check-in point in Moana Sapa
Located in a very convenient location, only 500 meters from the central square, Moana Sapa has a total area of ​​about 10,000 square meters. Here visitors not only admire the majestic beauty of Hoang Lien Son mountain range and Fanxipan mountain peak, but Moana Sapa will take you from these interesting things to other unexpected experiences.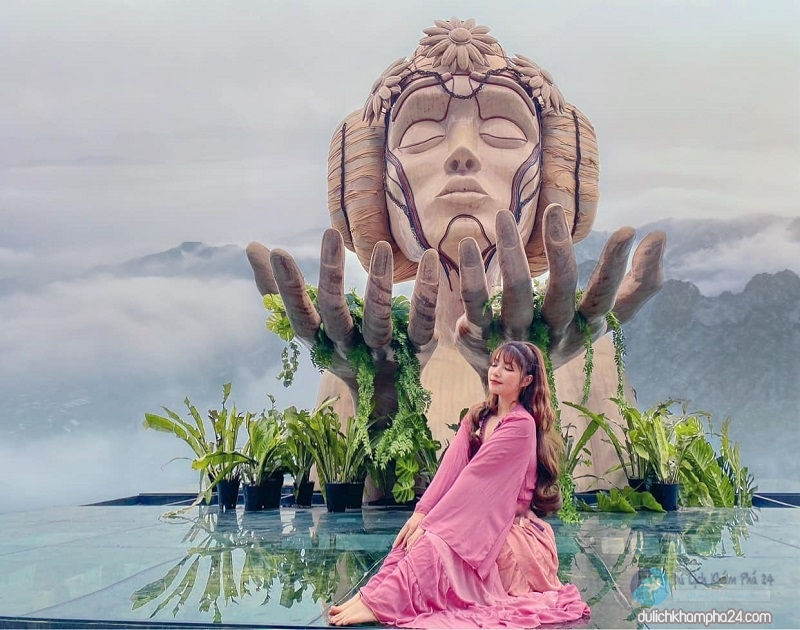 Virtual living paradise in Moana Sapa
Details about check-in point in Moana Sapa:
 Address:  68 Violets, Cau May, Sapa (Next to Pao 'Sapa Hotel)
Contact phone number: 0985 668 102
Revealing 7 beautiful check-in points in Moana Sapa
With many ingenious ideas and designs, the resort includes 7 beautiful check-in points, creating a special attraction for thousands of visitors. Coming to Moana Sapa, you will be amazed with the beauty like Western Europe right in Sapa. Let's explore these interesting places with me below.
Bali Sky Gate
This is the place considered by many tourists to be the most beautiful Bali sky gate in Sapa, because it is meticulously invested, carefully elaborated, it can be said that this is the place that will make you amazed. Just come and experience it now.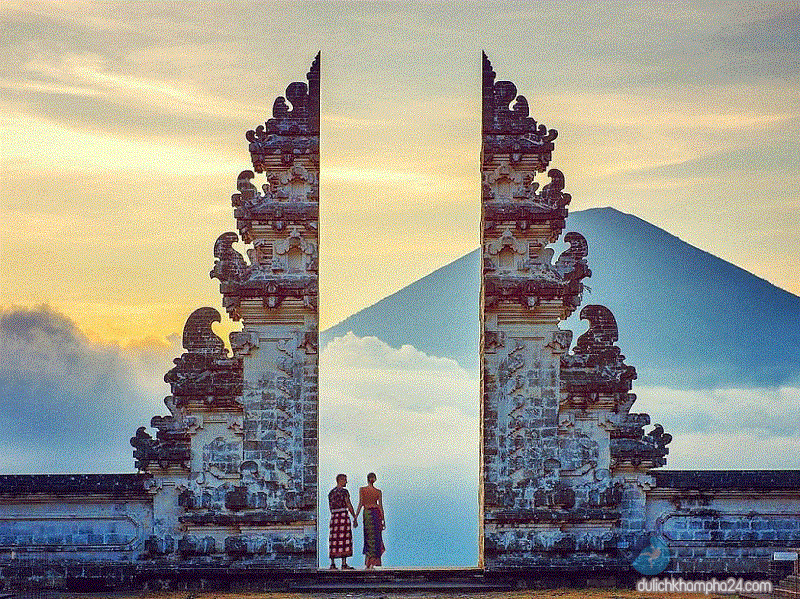 The image of the Bali sky gate at Moana Sapa
The Moana Girl Statue
Another surprising place for you is the Moana Girl Statue. With a monumental scale with a total height of more than 6m, it is the highlight of this tourist area compared to many other attractions in Sapa. And behind it are very interesting stories. With these fancy beauties, you will be sure to have impressive photos.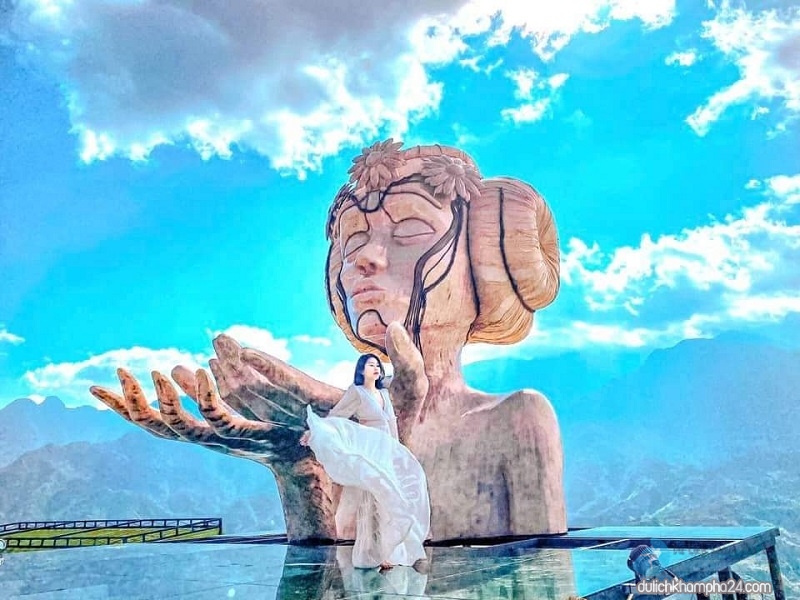 Statue of Moana girl ckech printed by young people in Sapa
Infinity lake
This place is considered by tourists for the super romantic, super romantic name that is the  infinity lake version of "Landing where you". Because it inherently shows sophistication when designing a crystal-clear lake like a mirror, the highlight is the pristine white piano in the middle of the lake. The image of a girl playing the guitar while dropping her soul into the clouds and the sky and mountains of emotions overflows hard to describe.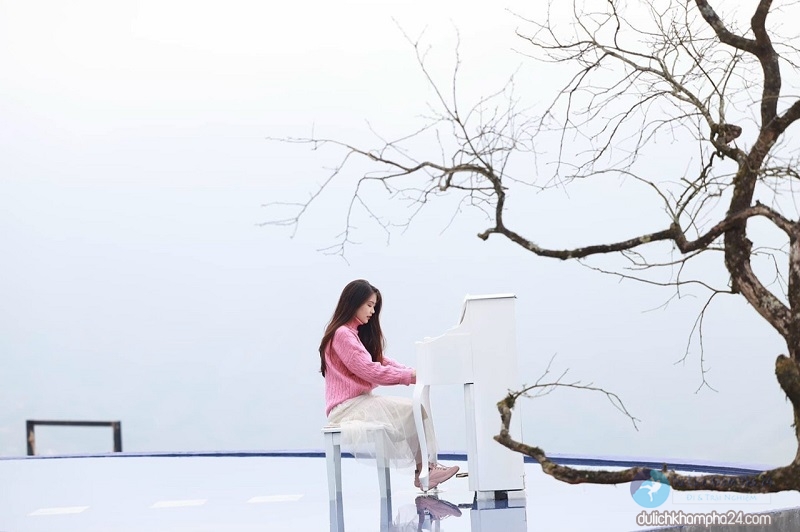 The image of the infinity lake version "landed where you" is super romantic.
Golden hand
The giant golden hand seemed to capture the vast mountains and forests of the Northwest. A virtual living coordinate brings visitors to a certain paradise that thinks it is not Sapa. Here you will feel the tranquility and peace without having to search anywhere far away.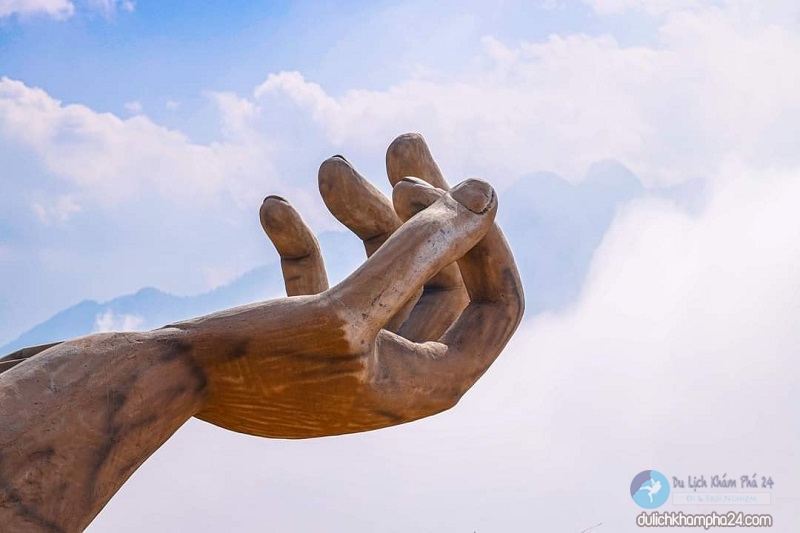 The image of a giant golden hand in the vast mountains of Sapa.
Death swing
In the campus of Moana Sapa you will find a swing that looks quite curious because when you sit on it you will be flying into the air, below it is an abyss, far away are small villages and small villages. the terraced fields coincided with the message. If you come on a beautiful day, you will fully feel the fresh, cool air. Portraits of true nature are clearer.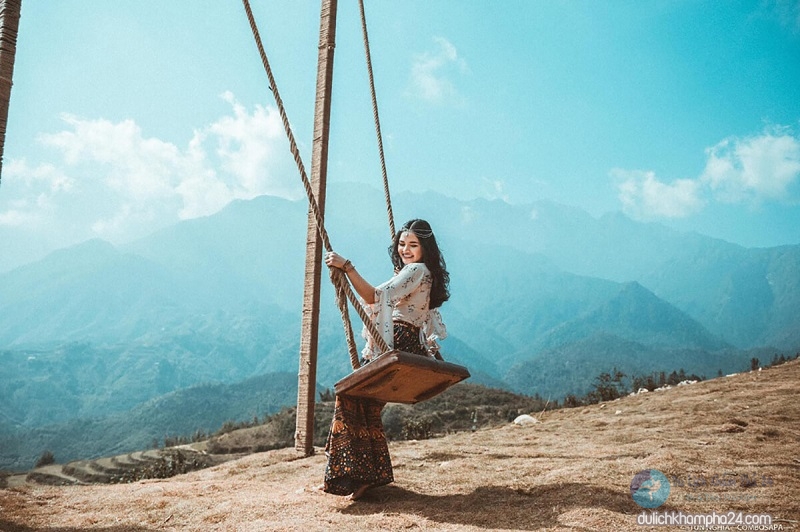 Pictures of death swing at Moana Sapa.
Lonely tree
The lonely tree at O Quy Ho Pass, or Swing Sapa may not be too strange to young people anymore, but the lonely tree appearing in Moana Sapa will certainly be much more special and new. Although it is just standing quietly alone, but in which there is extremely resilience and strength, coming to Sapa without taking any pictures in this place is one thing that you must regret.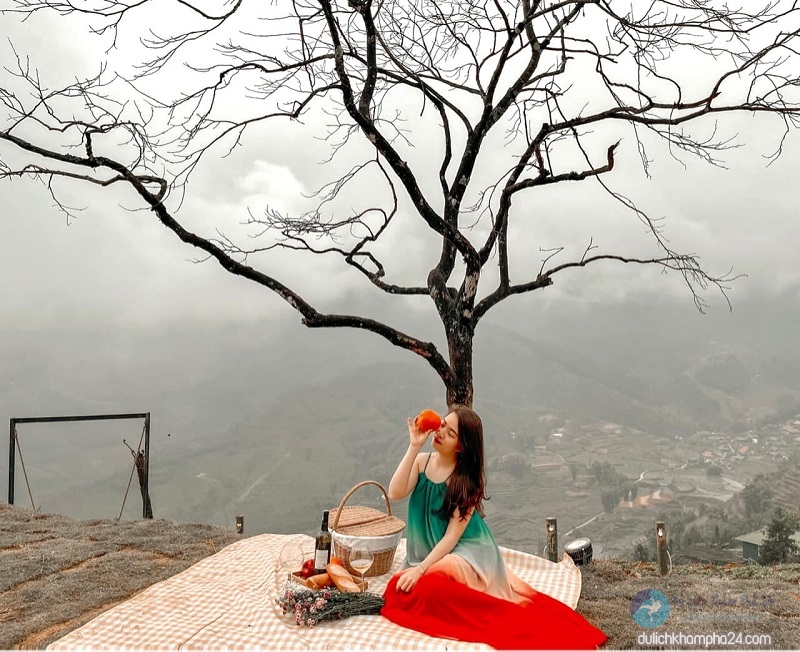 Tourists take pictures beautifully with Lonely Tree at Moana Sapa.
Paronama Cafe has extremely chill mountain view
Coming to Moana, in addition to being delighted to check in under new symbols, quality like distilled water, visitors can also fly in the gentle love song at the cafe with a super beautiful view, sipping a glass. Coffee or a drink can see the full beauty of the valley of Muong Hoa, this place is also an ideal place for you to hunt clouds.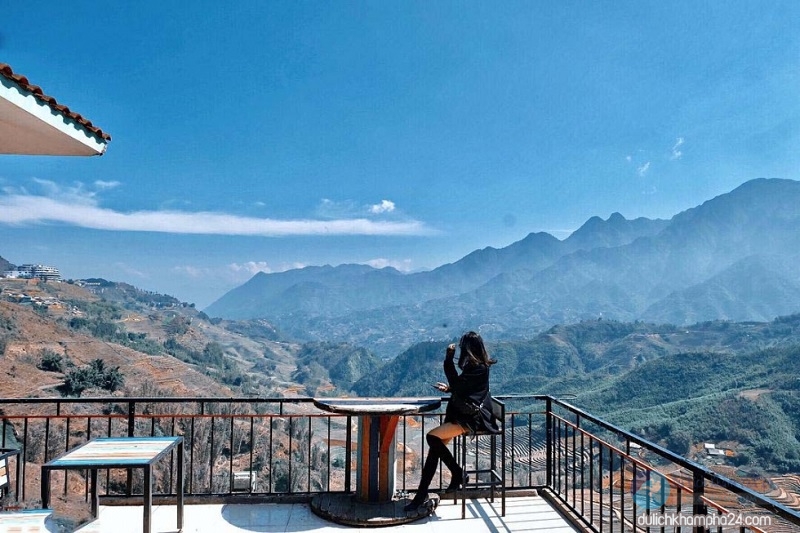 Very beautiful virtual living corner at the cafe of Moana Sapa.
Fares and opening times of Moana Sapa
There is no need to spend a lot of effort searching, and save time moving this fine scene only has an entrance fee of 80,000 VND / 1 person, the above price includes a free bottle of drinking water. The tourist area is always open to guests from 7 am to 17 pm daily, so you can take photos freely.
How to get to the check in point in Moana Sapa?
To go to the Moana Sapa check-in point you will feel very easy because it is located near the center of town, but if you are going to Sapa for the first time , you should choose to go by 3 ways below:
Go by motobike
Although not far from the center, but choosing to ride a motorbike is also an interesting experience that you should try. Rent a cheap Sapa motorbike you can go all day to explore many other tourist attractions in Sapa.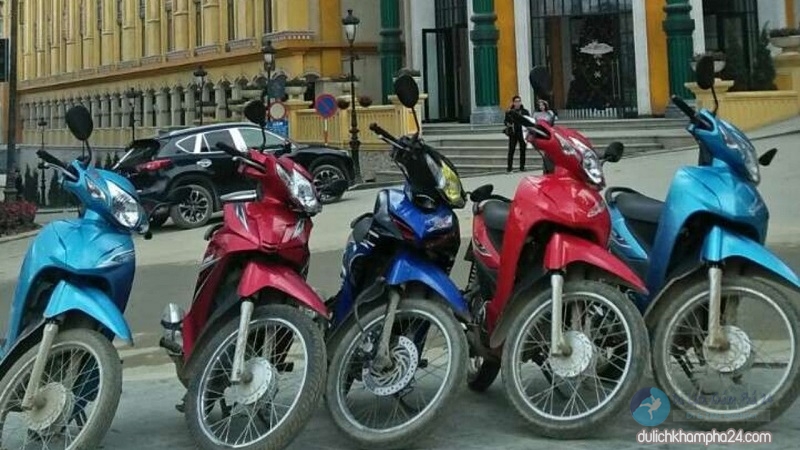 Rent a motorbike an option suitable to the terrain in Sapa.
Go by car
The way down to Moana Sapa is easy and spacious, if your family has elderly and young children, or a large group of friends, it is best to take a private car or wave a taxi is the most convenient and save money. .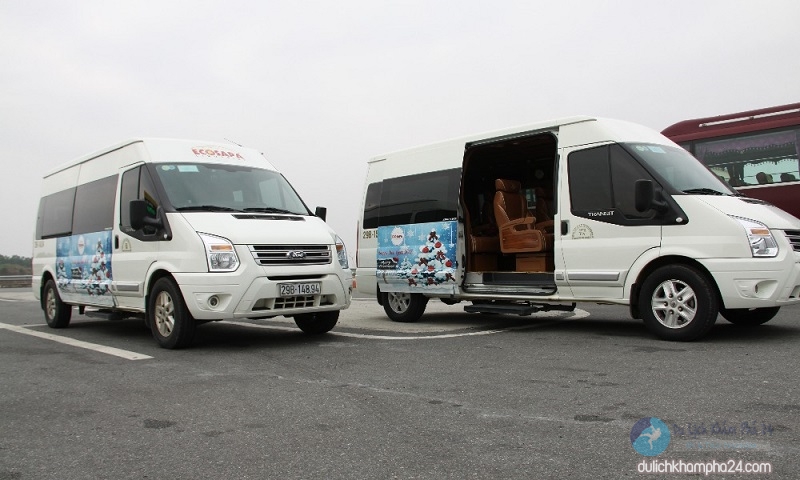 Cheap Sapa car rental.
Tram
Currently, tram is the most abundant and convenient means of transportation in Sapa, just wave at any place in town, people will take you to your place, have fun and have fun without having to worry about searching. Street.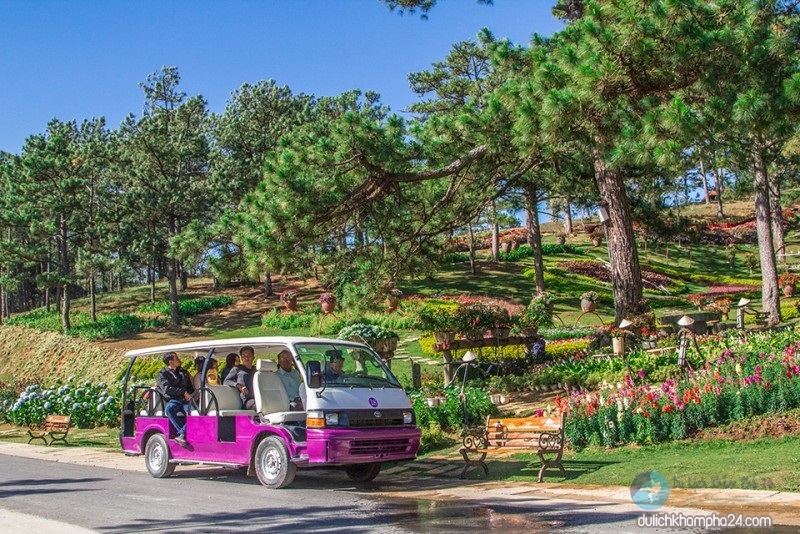 Electric car is a popular vehicle in Sapa today.
Small notes when checking in at Moana Sapa
Before planning to go to Moana Sapa, you need to prepare and note some of the following to have the most enjoyable experience:
Remember to check the weather conditions before visiting the Moana Sapa scallop check-in area to get the best pictures.
Should go in the early morning when the sun just rises or it is late in the afternoon, the scene will be more poetic.
Remember to bring your camera, phone, and power bank to comfortably check in.
Should choose outfits with light tones when the picture will be more beautiful, or you rent outfits right at Moana for 50k-150k to freely choose the right outfit.
 If you follow the team, you can organize a picnic or a small party but must follow the regulations of the resort management.
Above is a detailed Review about the latest virtual living paradise in Sapa that I want to send to you. With fancy and attractive miniatures, hope to bring you romantic cloud and mountain viewing experiences, even super, unique photos that can only be found in Moana Sapa . What are you waiting for, pick up your backpack and go right away?
TAG: