Unexpectedly Quang Ninh has many picturesque lakes like this!
Discovering the beautiful lakes in Quang Ninh, visitors will enjoy the fresh and relaxing atmosphere and the beautiful natural landscape enough to dispel all the chaos of life. So which are the lakes in Quang Ninh? 
The beautiful lakes in Quang Ninh attract tourists
Let's take a look at the top 5 most beautiful lakes in Quang Ninh that attract tourists to visit and take pictures below:

1. Yen Trung Lake 
First of all, Yen Trung Lake in Uong Bi is a very famous sightseeing place and attracts young people on weekends. Yen Trung Lake possesses poetic beauty, fresh air suitable for picnics. This place has long, straight roads with two sides of the road are pine trees covering the hills like in Da Lat. Yen Trung Lake possesses charming landscapes, clear blue water and immense green forests.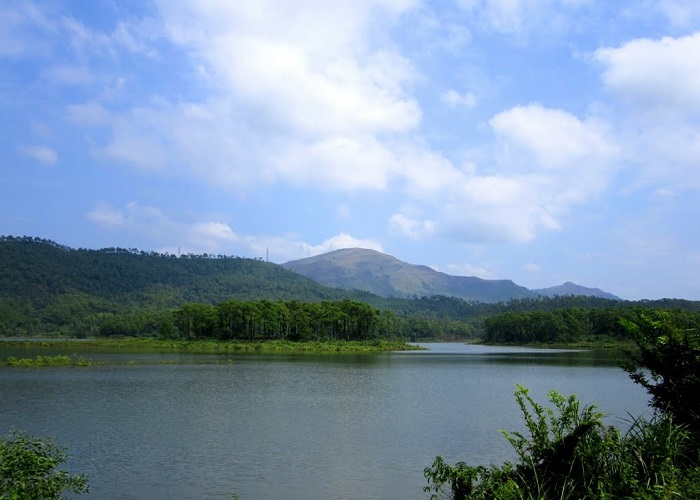 Yen Trung Lake possesses a beauty like a fairyland

Surrounding the lake are valleys and pine forests that embrace the lake surface, making visitors feel like lost in the fairyland. In the middle of the lake, there are two large islands and the people here are often called Con Rua Island. Coming to Yen Trung Lake, visitors can also experience a scenic boat walk on the lake surface for 30,000 VND per hour. Or you can rent a bike for a walk or organize a camping, picnic with a group of friends here when traveling to Quang Ninh .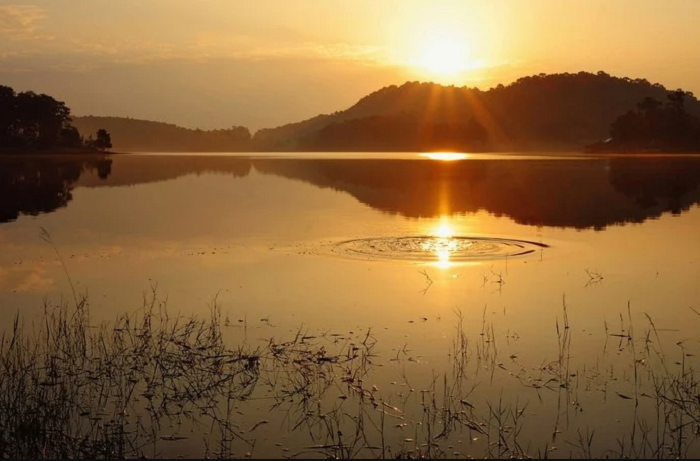 Admire the beautiful sunset at Yen Trung Lake

2. Khe Che Lake 
Referring to the beautiful lakes in Quang Ninh , it is a big mistake to ignore Khe Che Lake in Uong Bi. Khe Che Lake is located strangely in Ba Xa, An Sinh, Dong Trieu, Quang Ninh province, about 10km from the center of Dong Trieu. It is known as an oasis in the heart of Dong Trieu town with beautiful scenery, quiet and cool atmosphere that attracts visitors on weekends. Discovering Khe Che Lake, Quang Ninh Province, visitors will relax and relax with the atmosphere and nature here.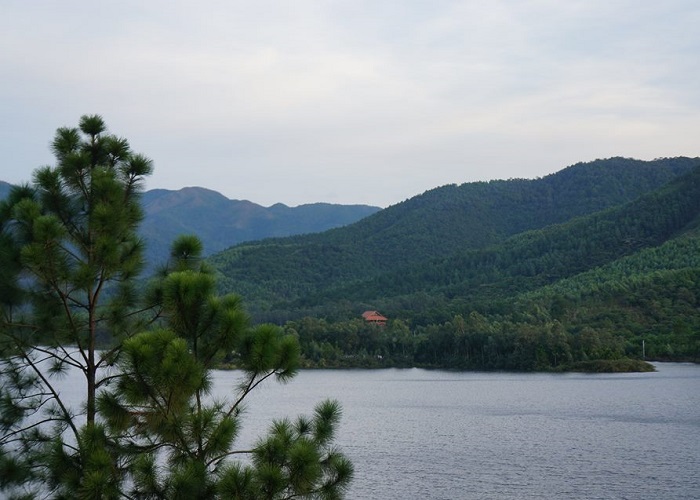 Khe Che Lake possesses a beautiful and fresh scene

In addition, you can also swim in the swan boat in the lake, fish and enjoy many country specialties here such as: snails, grilled chicken, fish in the lake bed. Visitors can also learn about the gardens of the people living around the lake and buy them as gifts. You can also bring equipment for camping at Khe Che Lake is also an enjoyable experience.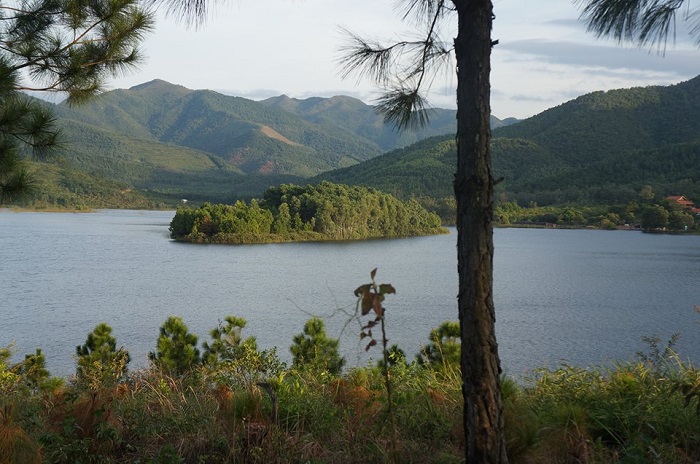 Beautiful nature with many trees in Yen Trung Lake

3. Ben Chau Lake
The next beautiful lakes in Quang Ninh are Ben Chau Lake in Dong Trieu, Quang Ninh. This is a dam used to retain water for the farming needs of the people living in the Binh Khe area. Ben Chau Lake possesses a charming natural landscape, the water in the lake is as green as jade and surrounded by mountains in the distance. All create a beautiful ink painting in the heart of Dong Trieu town.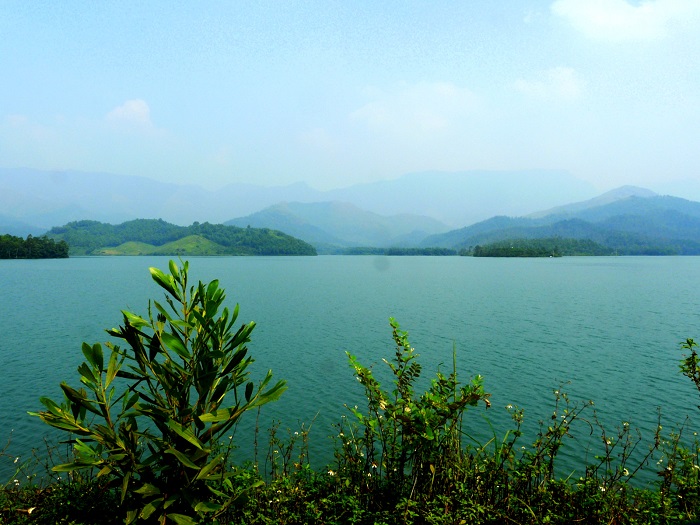 Famous Ben Chau Lake in Quang Ninh

Discovering Ben Chau Lake, visitors can rent a boat to walk around the lake to admire, go for a walk or bring equipment to organize a camping session with family and friends on weekends. In addition, near Ben Chau Lake, there are historical relics and temples such as Sinh Temple, Quynh Pagoda …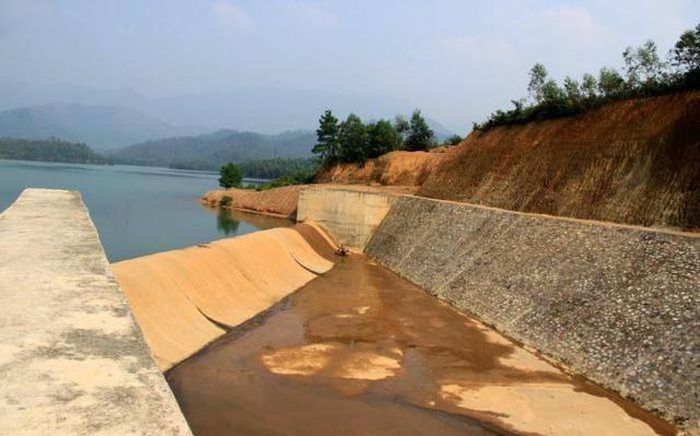 Ben Chau Lake is originally a dam serving irrigation

4. Yen Lap Lake
Quang Ninh has a beautiful lake ? Yen Lap Lake is the largest artificial freshwater lake currently in Quang Ninh province, in the city of Ha Long. From Ha Long city center to Yen Lap lake about 20km. Yen Lap Lake possesses a charming landscape that is likened to "miniature Ha Long Bay".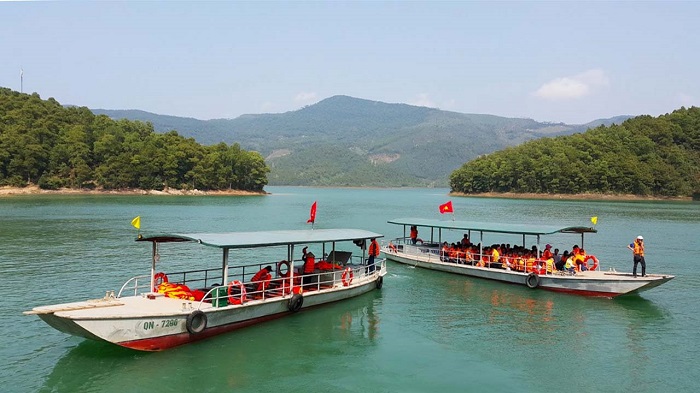 Rent a boat for sightseeing of Yen Lap Lake

To explore Yen Lap lake, visitors can rent a boat to walk around to admire the scenery and mingle with nature and heaven. Admiring the sunset on Yen Lap Lake is also one of the most interesting experiences and attracts visitors to Quang Ninh. Discovering Yen Lap Lake, you can participate in kayaking, chicken roasting, camping … Yen Lap Lake is located next to the famous and sacred Loi Am Pagoda and attracts visitors to visit one of the beautiful lakes. in Quang Ninh .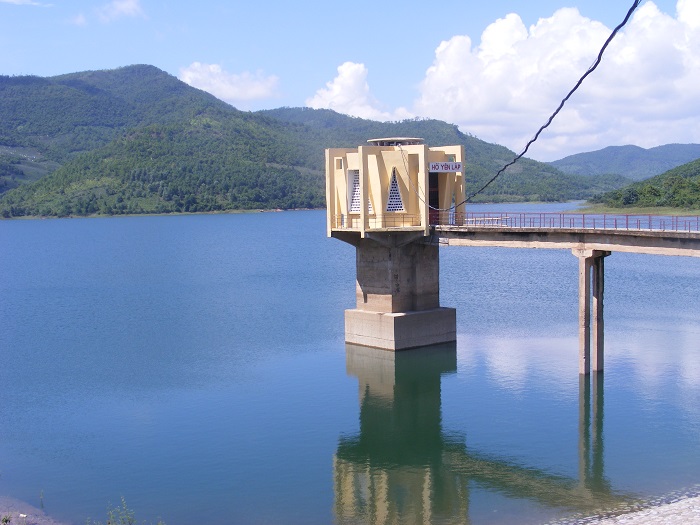 The dam at Yen Lap lake, Quang Ninh

5. Ho Truc Bai Son
The beautiful lake in Quang Ninh followed by the name Truc Bai Son Lake, about 15km from the center of Hai Ha district, is a tourist attraction and resort attraction. When viewed from above, Truc Bai Son Lake is surrounded by undulating rocky mountains and vast green forests. Around the lake are planted with many beautiful forest flowers all year round, along with acacia and cinnamon trees of indigenous people.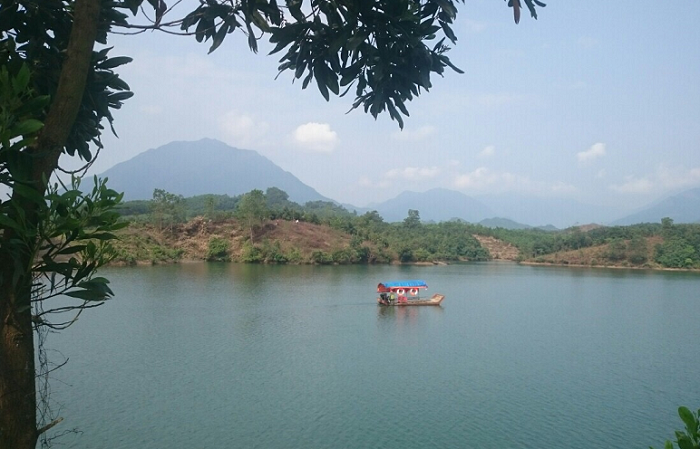 Truc Bai Son Lake owns a fresh scene

Truc Bai Son Lake has a large area, the water in the lake is green and the air is fresh. Visiting Truc Bai Son Lake, visitors also have the opportunity to learn about the life of the Dao people living here. Besides, you can also experience the beautiful scenery here. If you want to stay overnight, you can rent a house or ask to stay at the people's house and enjoy the Dao's specialties.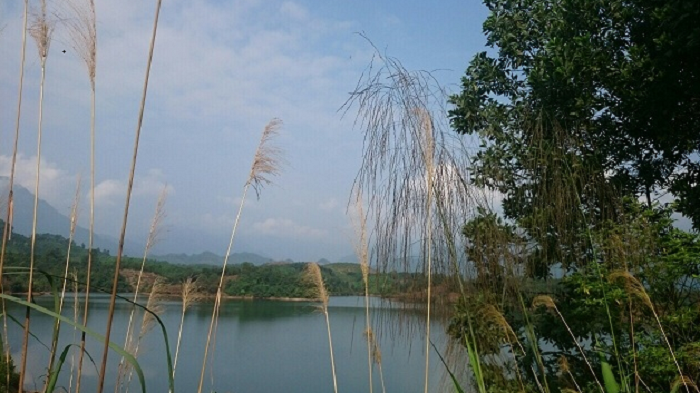 Truc Bai Son Lake is beautiful with rows of reed grass

Above are the beautiful lakes in Quang Ninh with charming and poetic scenery nowadays whenever there is a chance to go to Dat Mo. Hope, will help you choose the most suitable destination for you to enjoy the relaxing scenery and relax on the weekend with friends and loved ones. 
Photo: Internet
TAG: