Hung Yen eel rice noodle soup – a famous 'familiar but strange' specialty of Pho Hien
Also called bun thang but different from famous dishes of the Hanoi people, bun thang in Hung Yen has a different taste and unique point lies in a particularly country-specific ingredient. 
Hung Yen eel rice noodle soup is a specialty dish that has been famous for a long time because of its attractive taste and stimulating taste. This is one of the specialties that Hung Yen children who are far away from their hometowns, or customers who have the opportunity to return to this holy land, will find and enjoy. For the people of Hung Yen, eel noodle soup has become a "legend", a breakfast food that is easy to eat and nutritious, making people fall in love forever no matter how many times they eat.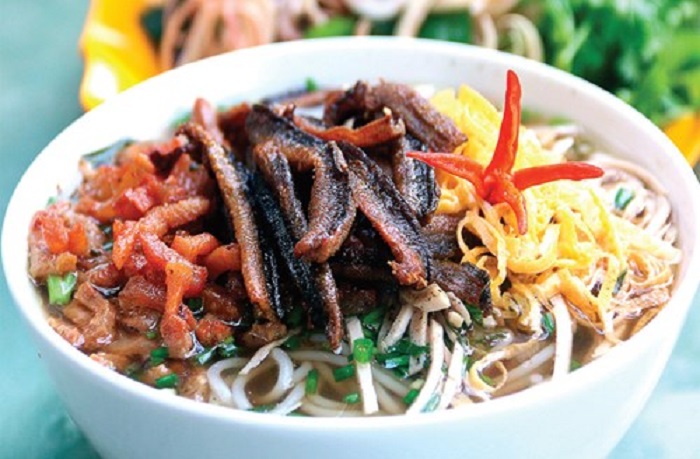 Bun thang eel is a famous specialty of Hung Yen. Photo: People's Army Newspaper
The origin of Hung Yen eel thang 
Speaking of vermicelli, people often only remember the sophistication in the way of processing and the variety of ingredients of the dish, but few people know its true origin. Legend has it that vermicelli in fact was born from the fact that the leftovers in the tray were offered for Tet a lot, so people thought of this dish to relieve boredom as well as avoid waste.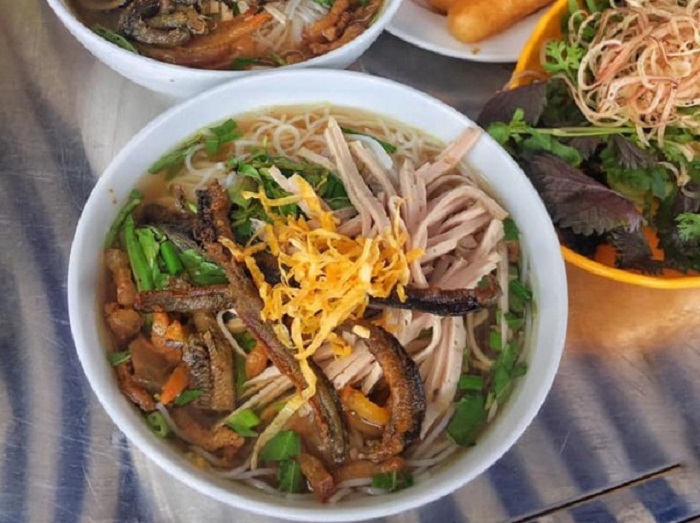 The origin of the vermicelli dish is quite interesting. Photo: Hoa Hoc Tro
An eel noodle dish has been around for a long time and until now, few people can remember its appearance in Hung Yen. However, when it comes to typical, delicious and popular breakfast gifts, bun thang is the most mentioned name and also a dish that makes Hung Yen people proud.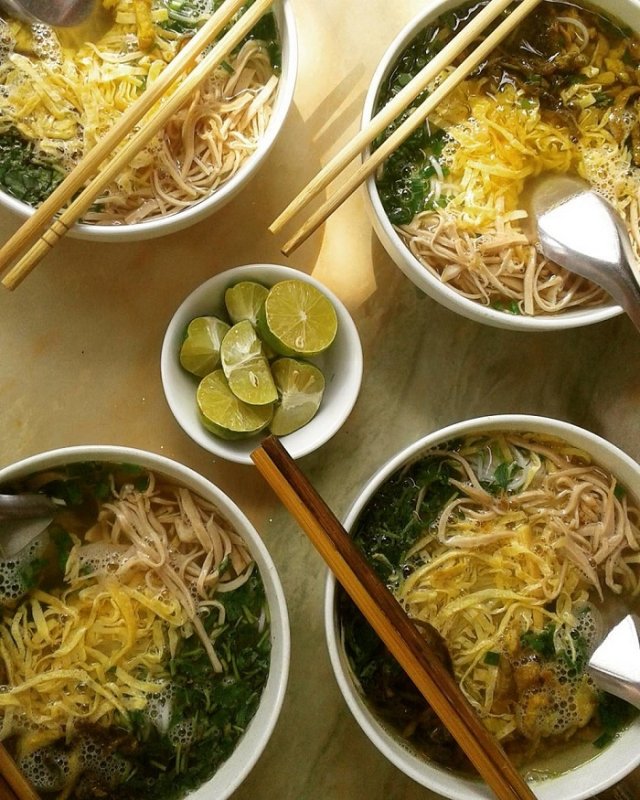 The dish is a morning gift that makes Hung Yen people proud. Photo: @eattrang
Bun thang eel: A rustic dish, but sophisticated in the way of processing 
Speaking of vermicelli, people will easily think of familiar ingredients such as vermicelli, shredded chicken, sausages, sliced ​​eggs, laksa leaves , bacon … Hung Yen's vermicelli is also made from soy sauce ingredients. But the specialty of this dish lies in its special ingredients, the copper eels and the fragrant sweet broth. To create a standard Hung Yen eel thang, people need to use more than 20 different ingredients.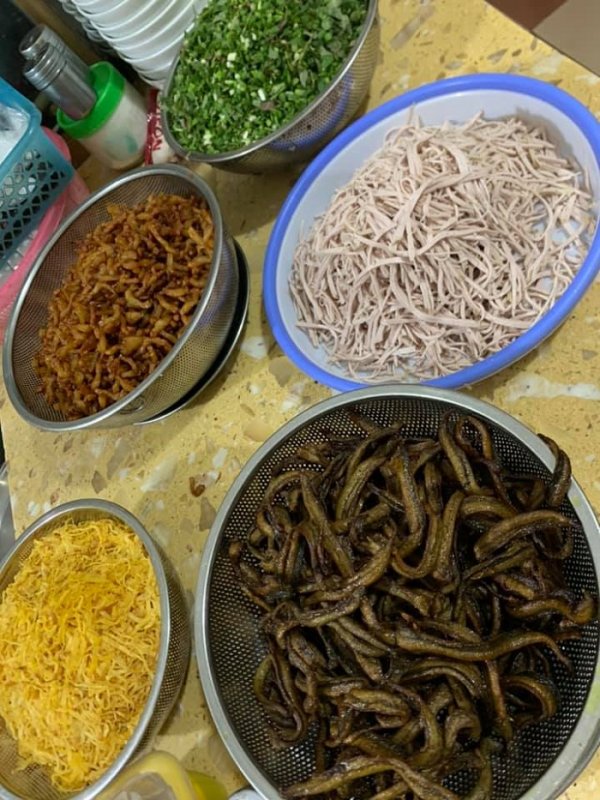 Ingredients for cooking vermicelli are very diverse. Photo: FB Bun Thang Century
The eel used to cook rice vermicelli must be fresh copper eel, before processing it will be cut through so that the eel will not lose blood and retain the taste of the meat. Eel will be prepared carefully, then boiled, marinated for meat and then brought to fry with spices such as onions, turmeric to remove fishy smell or cut fresh eel into long pieces and deep fried. Eel meat regardless of how it is processed, it is still the highlight that creates the uniqueness of Hung Yen's eel rice vermicelli bowl because of its delicious and attractive taste.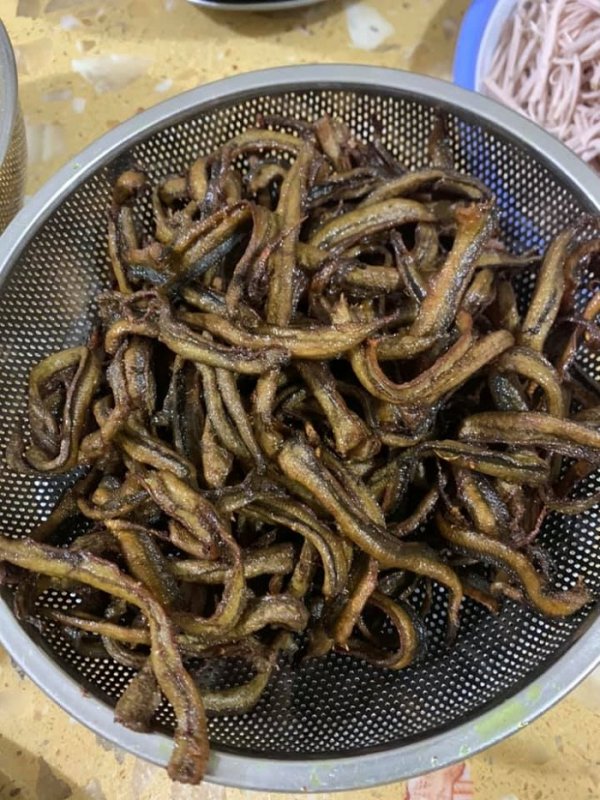 Eel meat is processed very carefully. Photo: FB Bun Thang Century
The broth of the eel rice vermicelli dish is also very sophisticatedly  cooked with the ribs of simmering, together with the crabs, add shrimp, sa gout to create a mild spicy taste, add a little shrimp sauce to round the taste.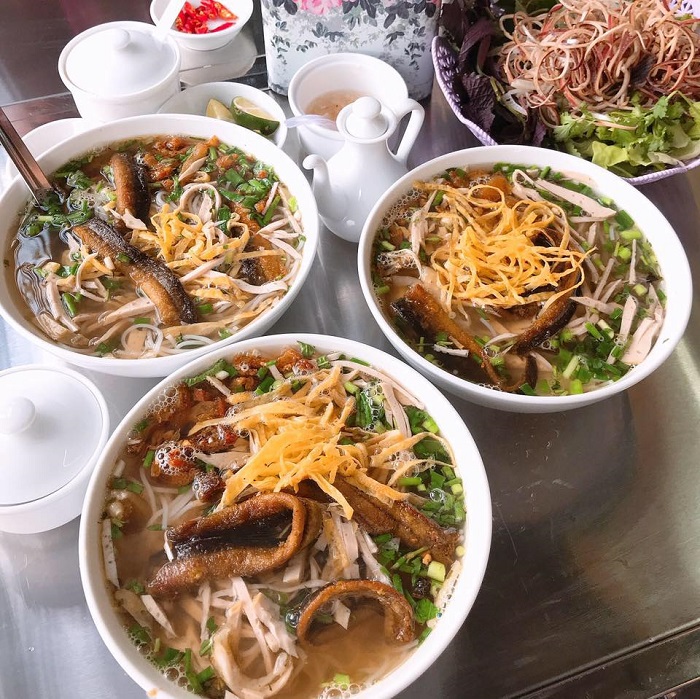 The broth is also well-cooked. Photo: FB. Bun Thang Century
Car bun thang Hung Yen eel delicious superb picture like a colorful cuisine, thanks to the harmonious combination of materials. The white color of the vermicelli, the yellow of the eggs, the golden brown color of the eel vermicelli, the fat yellow color of the bacon, the white color of the pork rolls and the green of the onion and laksa leaves. All combine to create a dish that is not only eye-catching, but also nutritious and attractive, making anyone fall in love.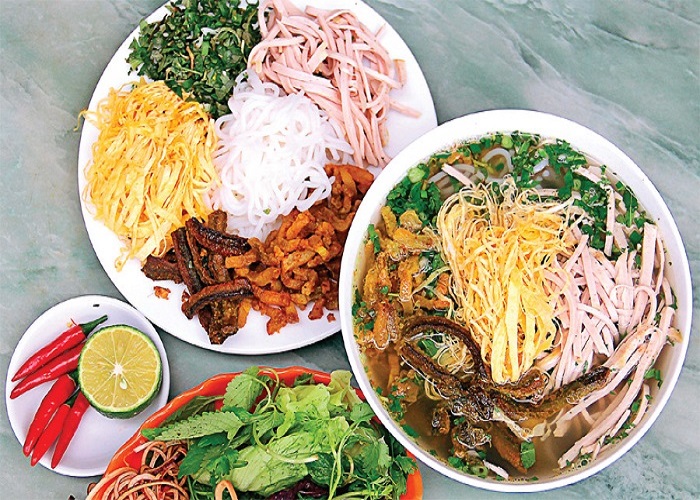 Noodle bowl like a colorful picture. Photo: Foody
The flavor of Hung Yen noodle dish is very attractive, bold country flavor but very easy to eat, less bored so it is not picky. The dish is not only beautiful in color and attractive in flavor but also contains a lot of nutrients, so it is suitable for all people, with just one bowl of vermicelli a month each morning is enough energy for a long day.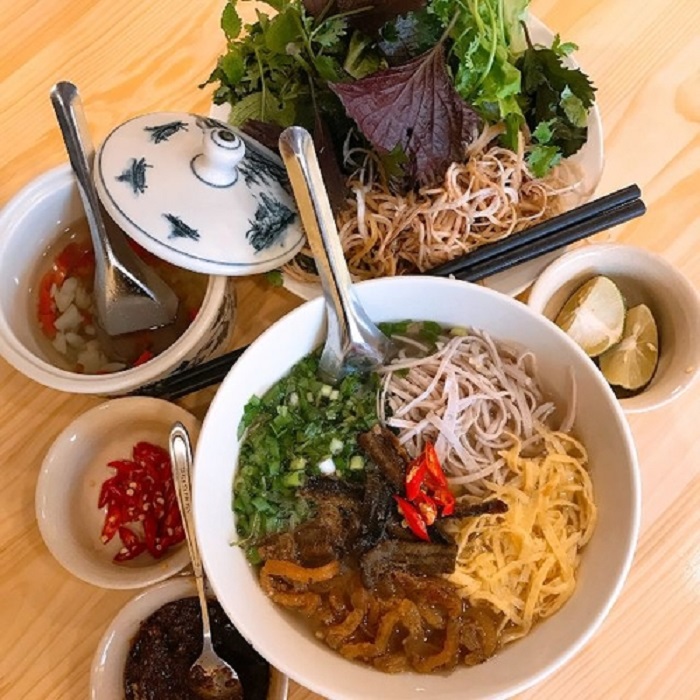 The noodle dish is not only delicious but also very nutritious. Photo: Yan
The most attractive places to enjoy Hung Yen eel bun thang 
As a famous specialty, Hung Yen has no shortage of places to sell this dish. However, to enjoy the standard and delicious taste of the food, you need to find the right address. If you want to eat standard eel noodles, you can visit the following addresses. 

Pho Hien Xua noodle shop 
This shop is located in Tran Quang Khai street, Hung Yen city. This is one of the famous bun thang eel restaurant in Hung Yen . The shop has a spacious, spacious, convenient space for customers to find and park. Bun thang here is plump, delicious broth. The selling price is from 25,000 VND to 35,000 VND per bowl.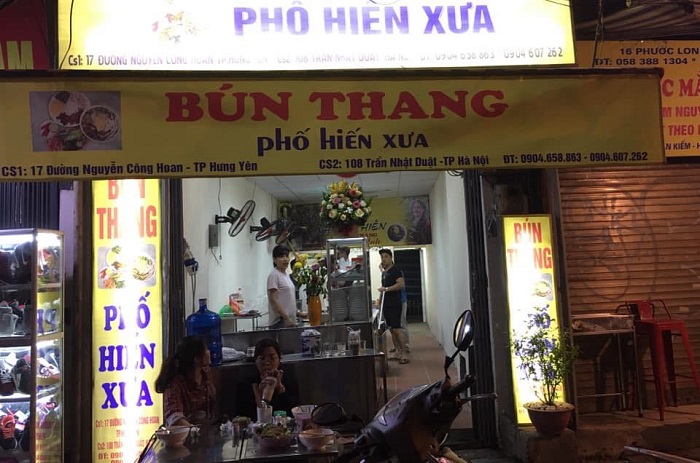 Pho Hien Xua noodle shop has many branches outside the address on Tran Quang Khai street. Photo: FB Bun Thang Pho Hien Xua

An eel noodle shop on Nguyen Cong Hoan street 
Not a long-standing noodle restaurant, but this is a favorite place for many Hung Yen people because it is very delicious. The shop is located right at the beginning of Nguyen Cong Hoan Street, overlooking Co Island, a very popular tourist destination.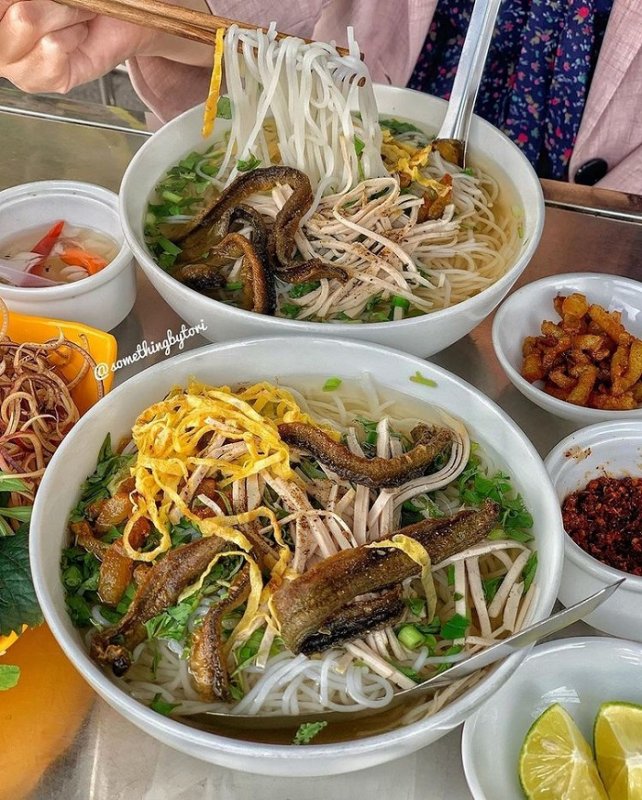 Nguyen Cong Hoan street vermicelli shop attracts customers by its delicious and attractive taste. Photo: @somethingbytori
Original Century Eel Vermicelli Vermicelli
Rarely do Hung Yen people do not know this restaurant, because it is a traditional and famous noodle shop. Every time Hung Yen's children leave the country, they will come to Goc Sanh to eat a bowl of bun thang for their loved ones. Bun thang here is very attractive, the ingredients are attractive, the bowl of vermicelli is full of mound, fragrant.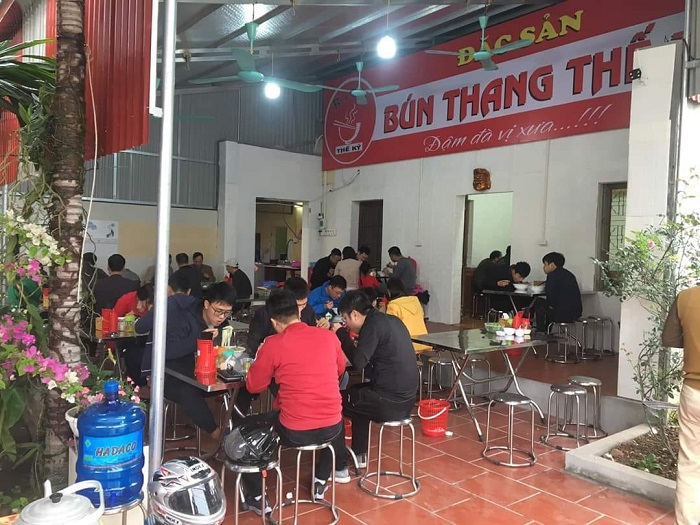 Century Noodles Goc Sanh is the memory of many Hung Yen people. Photo: FB Bun Thang Century
Hung Yen eel rice noodle soup today has become a famous specialty that many people love. Even this dish also introduced to many provinces and became the "dish" of many culinary devotees. If you have the opportunity to travel to Hung Yen , do not forget to find and enjoy the famous eel bun thang to feel the bold taste and essence of this famous dish. 
Photo: Internet
TAG: