Check out Quang Ngai specialties bought as gifts that are both delicious and cheap
Besides many delicious and delicious dishes, Quang Ngai specialties bought as local gifts that you should not miss such as mirror candy, Tra Bong cinnamon, Ly Son garlic, Son Tra goby, malt candy …
Each region has its own unique and exotic delicacies, creating an indelible mark on the hearts of tourists and expatriates. When referring to Quang Ngai – the famous mountain land of the Tra River, there is a rich culinary treasure with many attractive dishes such as don, fish sauce, grilled fish, tuna vermicelli, corn ram, … Besides, Quang Ngai specialties bought as unique and meaningful gifts are also popular with many people.
Quang Ngai specialties bought as gifts
After the trip to discover famous Quang Ngai tourist sites , do not forget to buy some Quang Ngai specialties bought as gifts for friends and relatives below:
1. Peanut mirror candy
One of the specialties of Quang Ngai bought as gifts you should not ignore is peanut mirror candy. This fragrant sweet, eye-catching golden, laminated, crystal-like candy is only available in Quang Ngai. Candy is made from simple and familiar ingredients such as granulated sugar, malt, sesame, and peanuts. Sipping mirror candy with a cup of hot tea will be a great suggestion for chatting, meeting friends and relatives.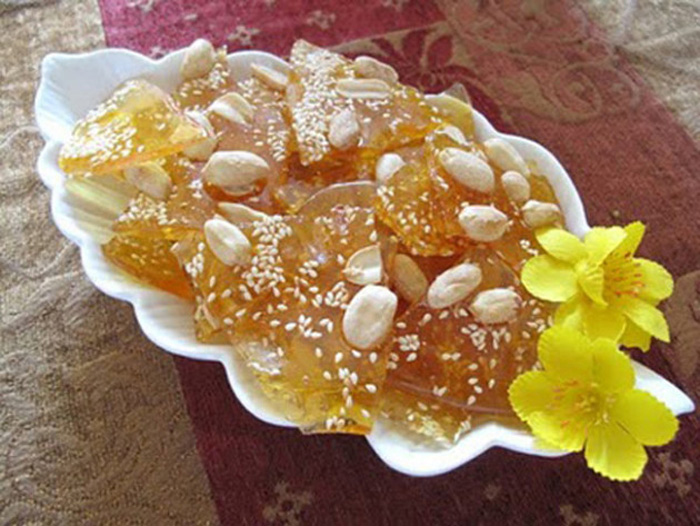 Mirror peanut candy
2. Cinnamon Tra Bong
Cinnamon Tra Bong is a famous specialty in Tra Son, Tra Bong district, Quang Ngai province. Cinnamon has a very pleasant aroma and can be processed into many different products such as cinnamon oil, handicrafts, cinnamon oil, shoe lining, cinnamon toothpick, cinnamon powder, … will definitely make friends and relatives fall in love. Moreover, the scent of cinnamon will make your living space more refreshing and remove the musty smell.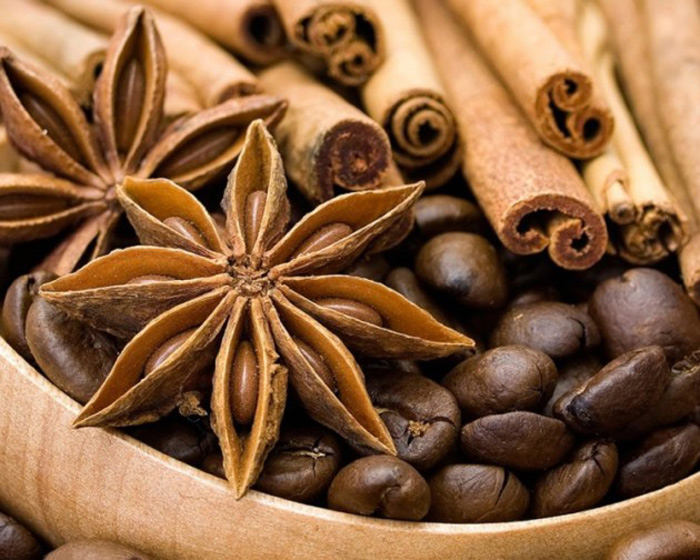 Cinnamon Tra Bong
3. Goby of Tra river
Referring to the Quang Ngai specialty bought as gifts , people often think of the attractive Tra River goby. Tiny goby cooked with fish sauce, sugar, pepper, chili until glue, fish meat firm, crispy. On chilly days, or days when you don't know what to eat, the Tra river goby dish with white rice is a great suggestion for your family.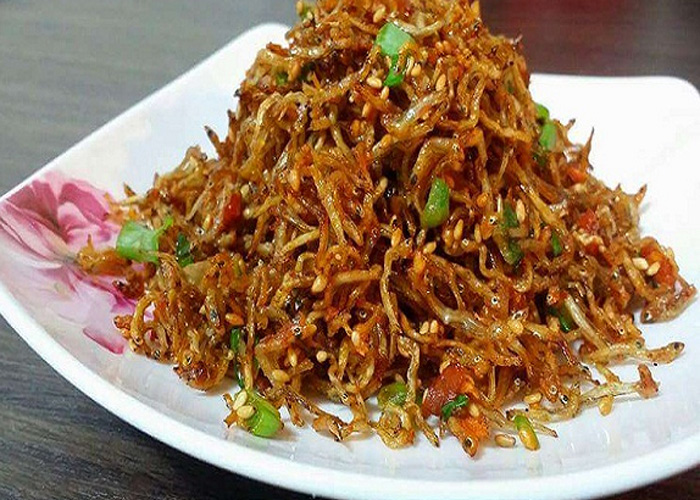 Tea River goby
4. Anchovy
Besides goby, anchovy is also a familiar fish of the people of Quang Ngai. Visitors can choose dried anchovies, seasoned anchovies, simmered anchovies, sweet anchovies, … This specialty Quang Ngai bought as a gift is very delicious because of its salty, aromatic taste. spicy, crunchy, hard to resist. In addition, anchovy is also used as a sipping dish or as a snack with beer or wine.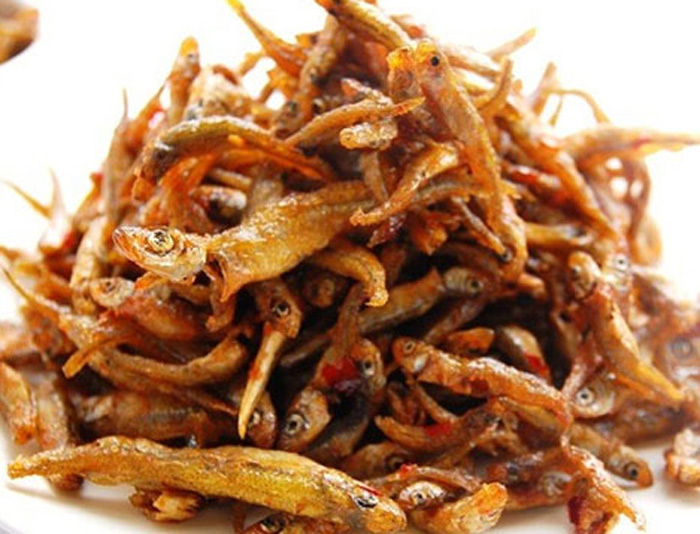 Anchovy
5. Malt candies
There are many types of malt on the market, but the best one is that made from rice and sticky rice. Malt has a deep yellow color and features a mild aroma and a sweet taste. You can find this malt in Mo Duc, Thi Pho village, near Duc Pho town, Quang Ngai province.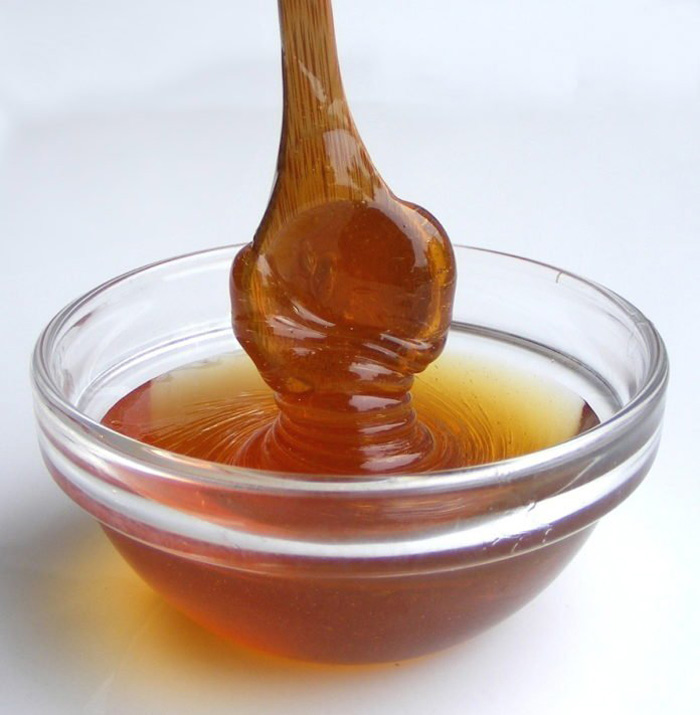 Barley sugar
6. Garlic and Ly Son luggage
Quang Ngai is known as the kingdom of onions and garlic. The name Ly Son garlic has long been famous for many people, especially lonely garlic. The garlic here is small in size, firm, has a fragrant flavor, used to treat many diseases such as sweating hands, flu, poor digestion, stomach pain, high blood pressure, blood fat, … And onions are fragrant. Non-pungent, indispensable spice in many Vietnamese dishes.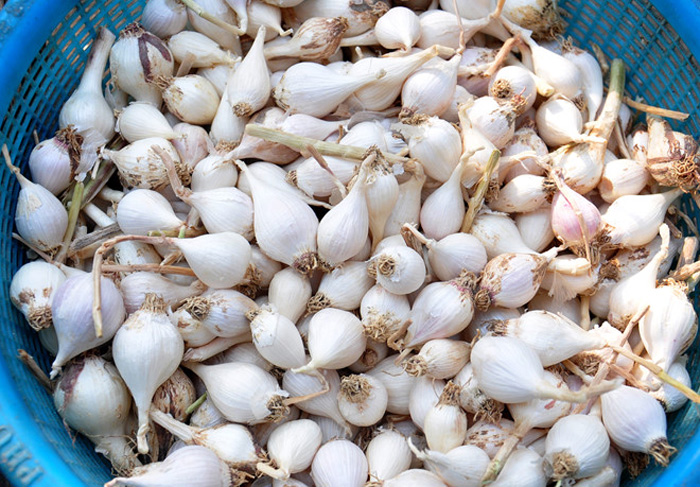 Ly Son Garlic.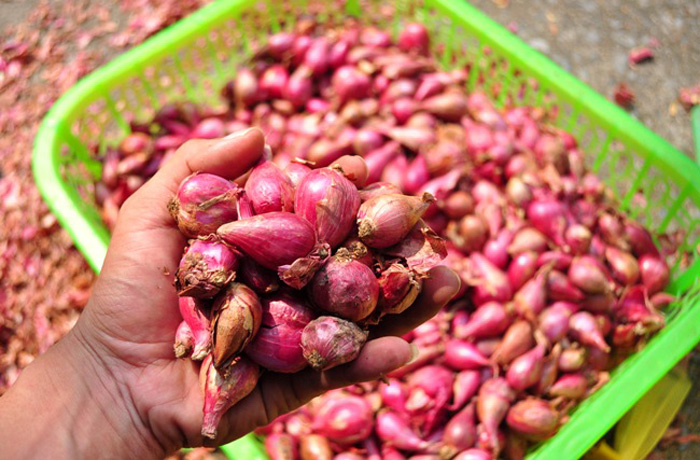 Luggage Son.
7. Alum sugar, lung sugar
With suitable soil conditions for growing sugarcane, there are many products from this familiar plant in Quang Ngai, including alum and lung sugar. Alum sugar is lumps of clear yellow sugar. often used to soak honey peach lemon. The lung sugar is shaped like a yellow lung or a candy ball used to cook tea or eat directly.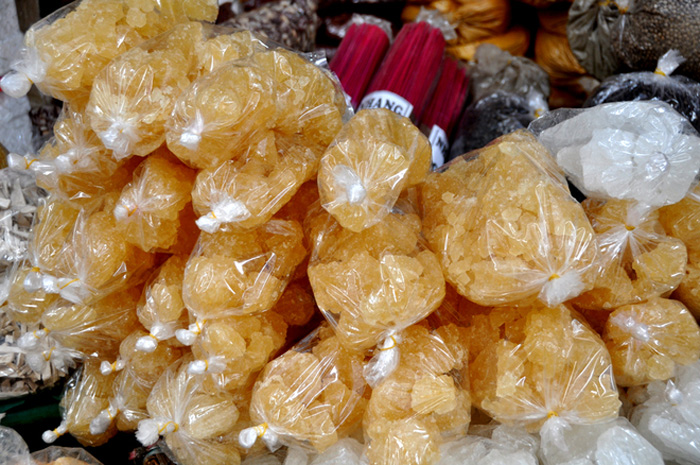 White alum sugar, yellow alum sugar.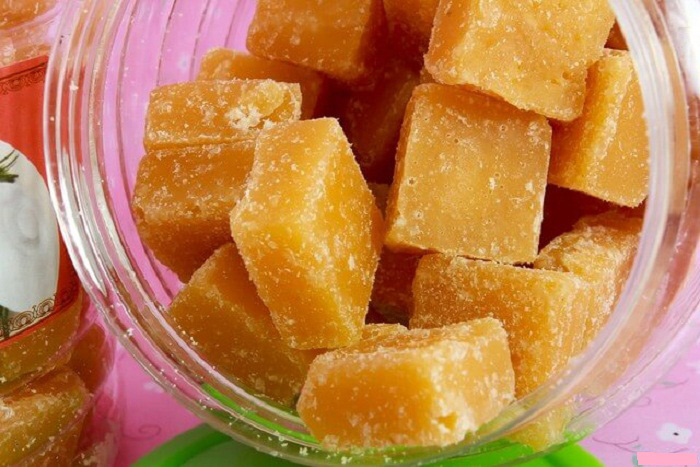 Lung tract.
8. Banh mi (tree)
The cake (tree) is made from familiar ingredients such as carrots, tomatoes, ginger, banana, pineapple, and sticky rice. Grilled glutinous rice, remaining ingredients rim with sugar. Then mix the flour with the mixture of ingredients and bundle the tree. This cake often appears during the holidays, enjoying with hot tea is extremely wonderful.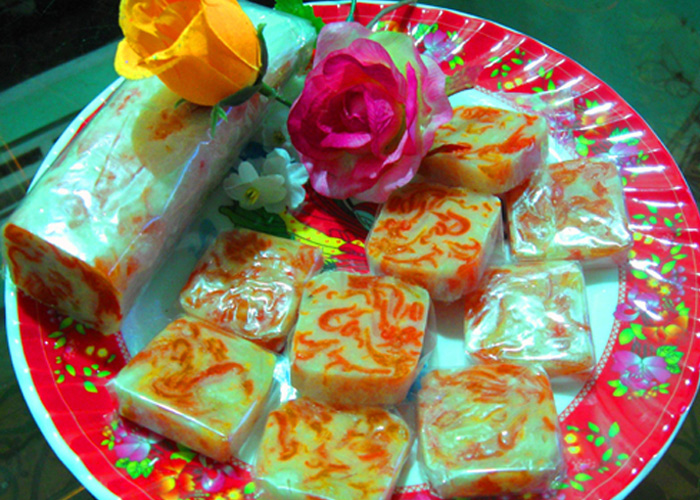 Cake (tree cake)
9. Rice paper 
Rice paper is considered as the key to open the culinary treasure of Quang. Most of Quang Ngai's delicious dishes have the appearance of rice paper such as corn ram, don, boiled meat, … Rice paper has many types with many different sizes. The frost-dried rice paper cakes are often used to roll and fry, the rice paper-thin cakes are used a lot in the rolls, and the thick-coated, sesame cakes are used to bake to eat with noodles, …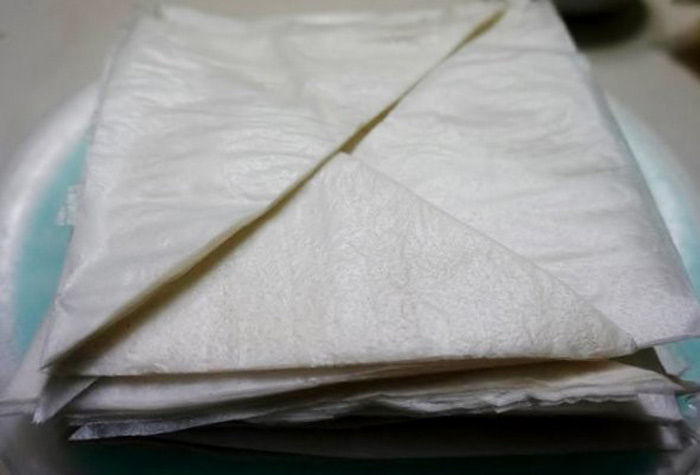 Ricepaper.
10. Cake burst
This is also a Quang Ngai specialty bought as a popular gift by many people. Cake made from delicious sticky rice, roasted on embers to burst the sticky rice seeds. People will press into a rectangular mold, then sprinkle sugar with ginger. The cake is attractive by the aroma of sticky rice, the sweet taste of sugar, the spicy taste of ginger.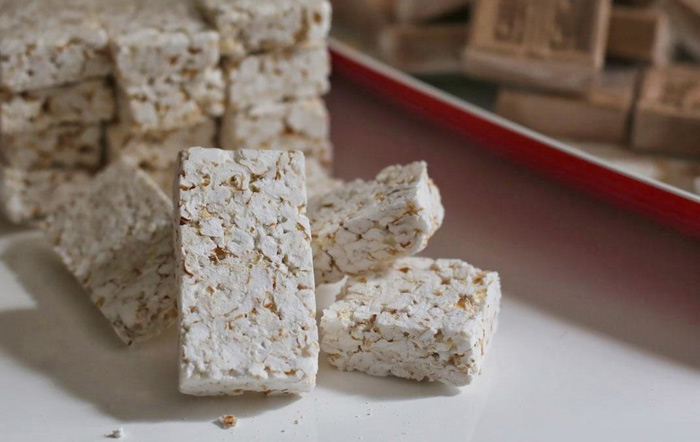 Cake burst.
11. Spinach
Spinach is a specialty of the Ly Son waters. This is the main ingredient for a savory and nutritious folk spinach dish. In addition, spinach is also used to make attractive salad dishes. You can buy dried spinach as a gift for a friend or relative or store it for use.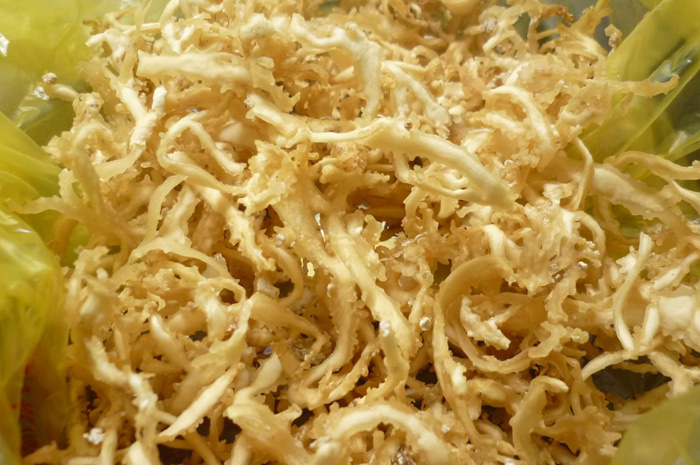 Spinach.
12. Fried rice (fried rice)
Fried rice has long been a favorite snack. The main ingredient of this dish is sticky rice that is cleaned, roasted with garlic and chili sauce. Delicious taste, salty, spicy, cheap, so why not buy a few bags to bring back as a gift for everyone?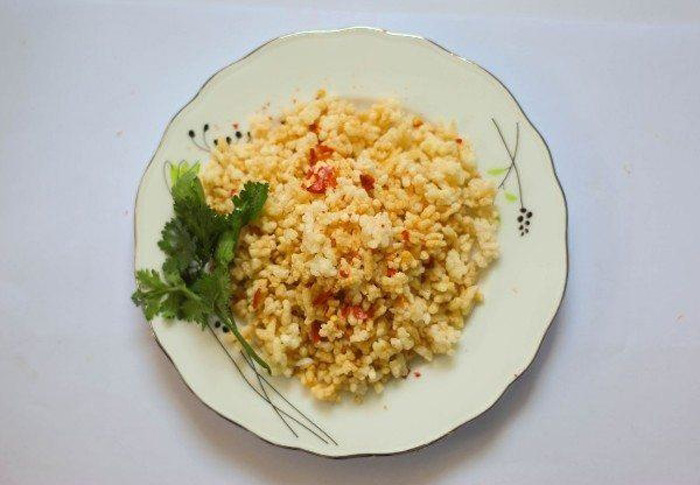 Fried rice (fried rice)
13. Chili sauce
One more Quang Ngai specialty bought as a gift that you should not miss is the chili sauce. This is an indispensable spice in many Quang dishes such as Banh Beo, corn ram, bun cha, … Chili sauce is made from familiar ingredients with a special recipe to create a pungent, delicious taste. featured.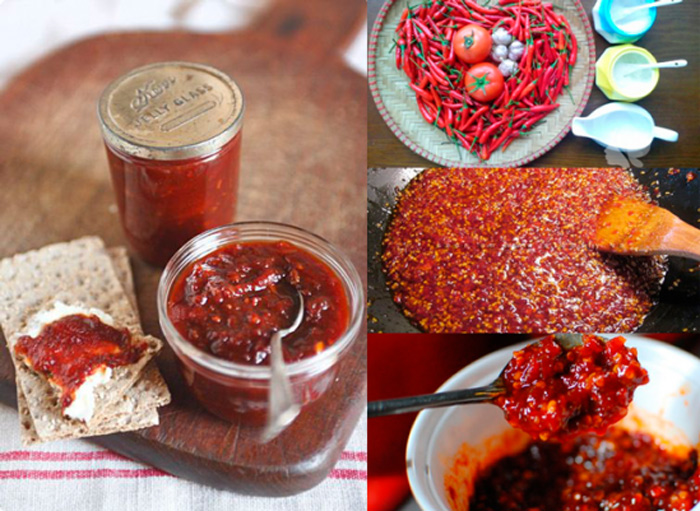 Chili sauce.
Photo: internet
TAG: