Quang Ngai specialties just go far and remember
Quang Ngai tourism is not only attracted by the wild and beautiful natural scenery, but also makes many travelers' hearts flutter with many simple and attractive Quang Ngai specialties .
Each region has its own unique cuisine and Quang Ngai does the same. This land in the Central region, suffering from pain and suffering, brings visitors a variety of delicious dishes imbued with flavors of the homeland. So every time I go away, I will suddenly recall. 
Quang Ngai specialties that you should enjoy
1. Don
The first Quang Ngai specialty dish that you should try when exploring the cuisine here is don. The main material is the don – a species of the mussel family, which only appears in the Tra and Ve Quang Ngai rivers. Don is processed into many attractive dishes, often served with Quang Ngai rice paper. The dish is not too fussy but has a characteristic sweet taste that visitors will remember forever.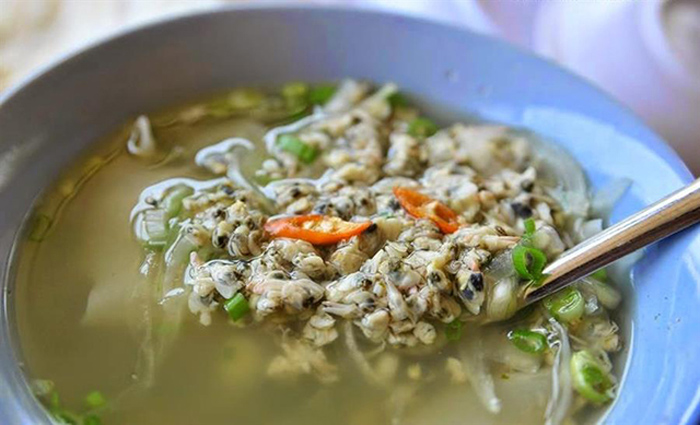 Famous don dish in Tra River – Quang Ngai region.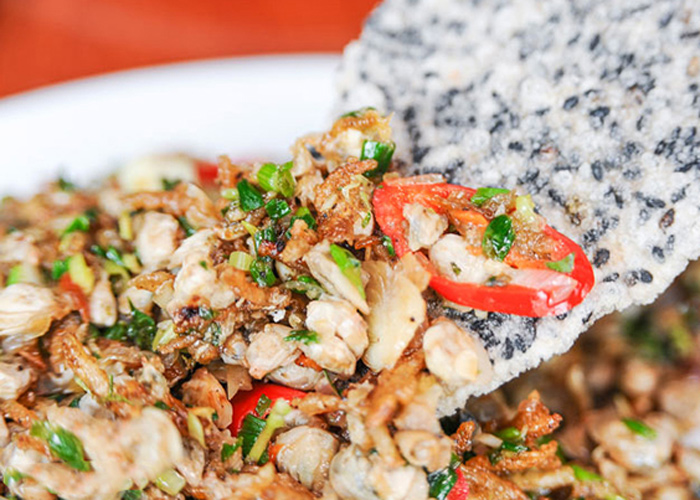 Don is processed into many delicious dishes.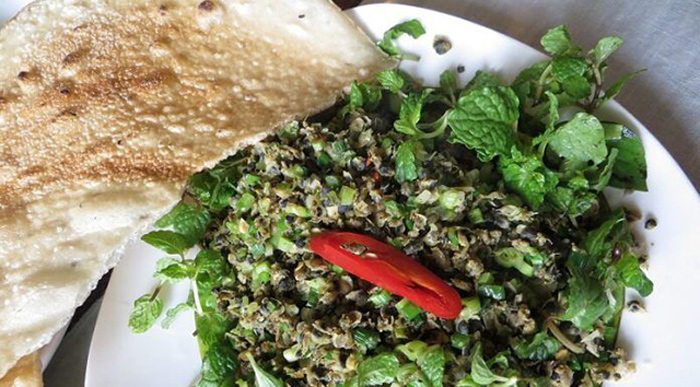 Unique dish unique.
2. Goby of Tra river
The Tra river goby has long been a popular dish of Quang Ngai . Every time visitors have the opportunity to travel to Quang Ngai, they do not forget to buy some simple boxes of goby fish to enjoy or as a gift for relatives and friends.
Goby is a gift that nature has bestowed on the people of Quang Ngai. Small fish size, usually live in the river Tra Khuc. The best dish is the goby fish simmered with fish sauce, sugar, chili, and pepper until the fish is firm and fragrant. On cold days, eating goby fish with pepper and a bowl of hot rice is enough to make people feel warm and warm.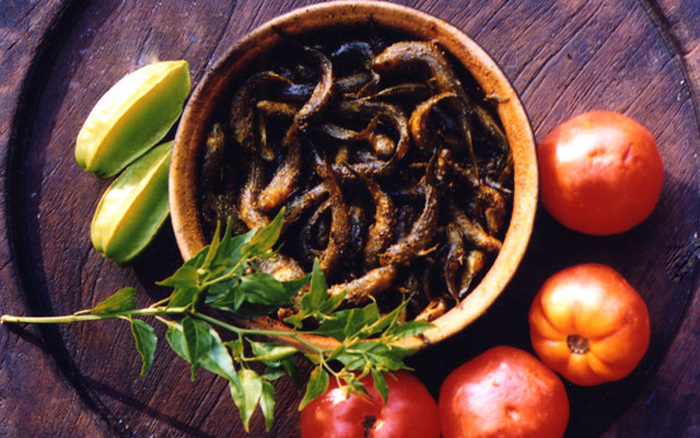 Goby when pepper is popular, delicious.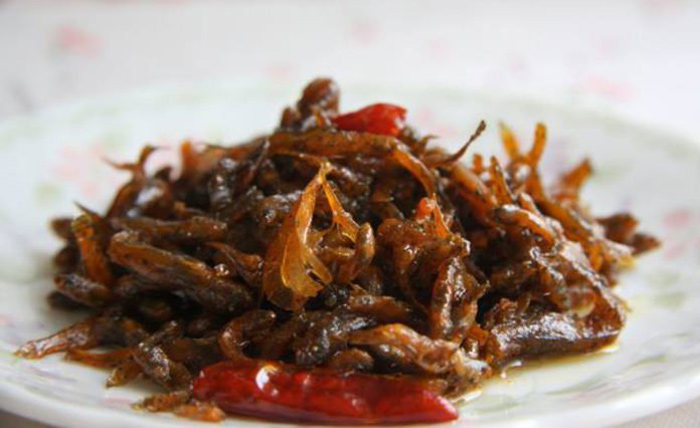 The dish is attractive but attractive to customers.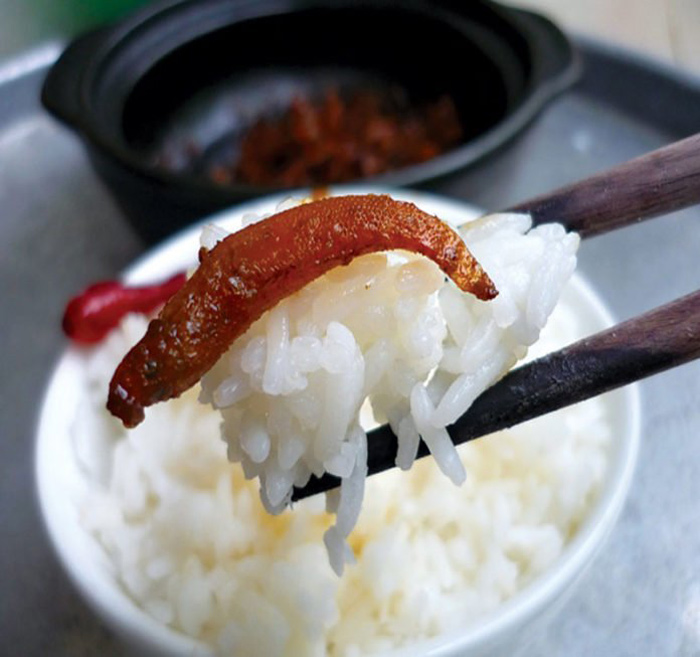 Goby served with white rice
3. Anchovy
Besides goby fish, anchovy is also a famous Quang Ngai specialty. Anchovies are processed into many different dishes such as fried fish, fish with garlic chilli, dried anchovies, anchovy fish sauce, anchovy salad, … If you want to enjoy with hot rice, the anchovy with chilli pepper is " delicious number dzach ", or crispy fried anchovies, dotted with chili sauce is also very attractive. 
In particular, anchovies also make a rather strange salad that you should try once in your life. This dish is processed quite sophisticatedly with many ingredients. Clean fish, remove the head, filter out the bones then soak with lemon juice for about 1 hour. Until you see the fish turn milky white, the fish is ripe, add ingredients such as herbs, roasted peanuts, chili, spices to taste, …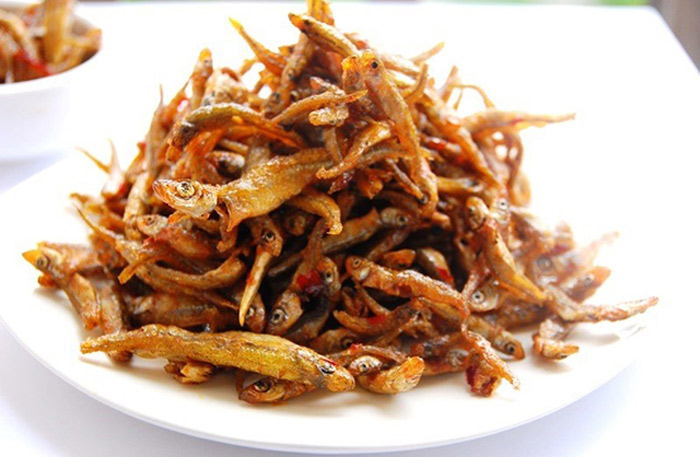 Quang Ngai specialty anchovies.
4. Mam sauce
Mamamum is made from a sea bum that lives on the rocky cliffs. Although rustic, simple, but this is the kind of sauce used to offer to the old king with the name Hoang De sauce. Today, this Quang Ngai specialty dish is loved by many people because of its delicious and irresistible taste. 
The sauce has an eye-catching red color like an Hai Van scallop, thick and seductive. To make this dish, people have to process it very carefully. It was made to clean, scrap the flesh inside, and put in a large jar. 
Then sprinkle salt with a certain ratio and then bury the stove in the ash or dry in the sun. For more than half a month, you will have an excellent and delicious fish sauce dish.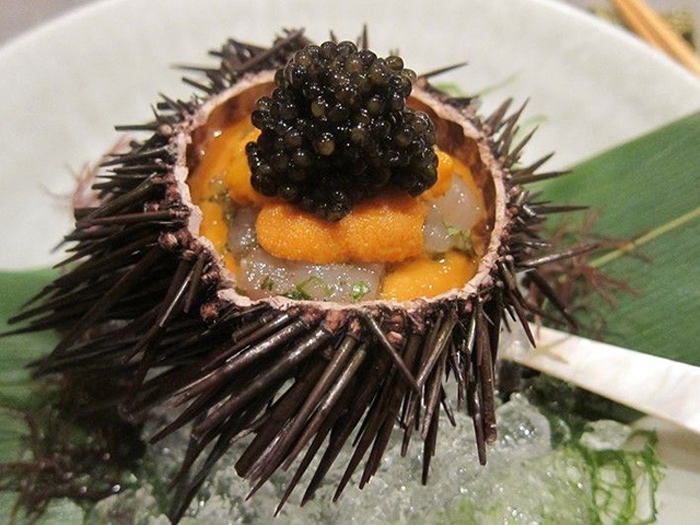 Mamamum is made from sea nibs.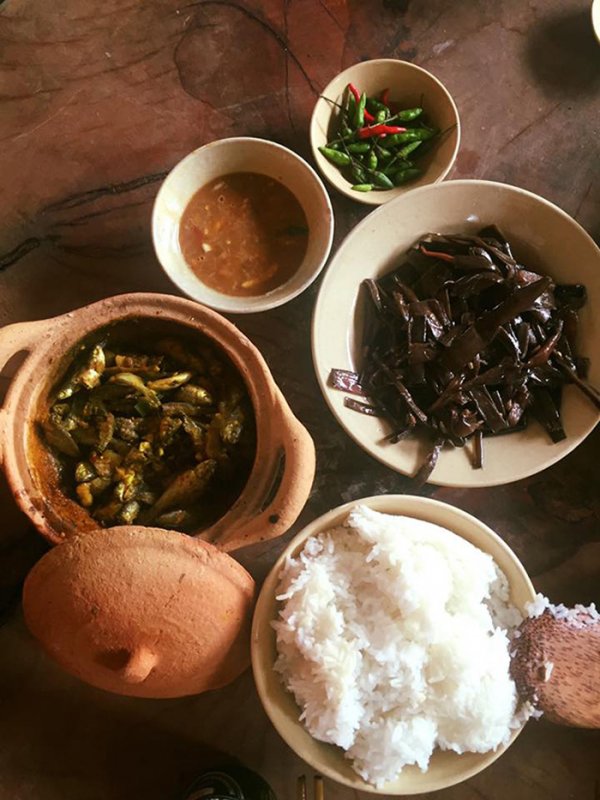 The dish often appears in the rice tray of the people here.
5. Grilled fish
The mountainous regions of Tra Bong, Ba To, Minh Long, Son Ha, Son Tay, … are famous places in Quang Ngai with extremely attractive grilled fish. Annual fish live in rivers and streams, and thrive in the spring. Can be processed into many delicious dishes such as steaming, baking, cooking soup, … But the best dish is the grilled fish. 
The sparkling scaly juveniles are caught alive, without seasoning, just cleaning, skewering, and baking on an embers stove. The fish has a fragrant aroma, the meat is sweet and has a strong sea flavor. Dipping with fish sauce mixed with lemon garlic and chili is enough to make diners admire.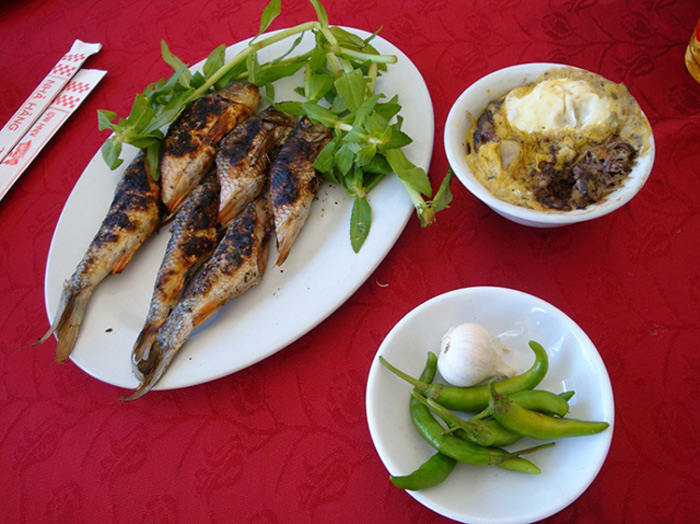 Grilled fish is simple but delicious and irresistible.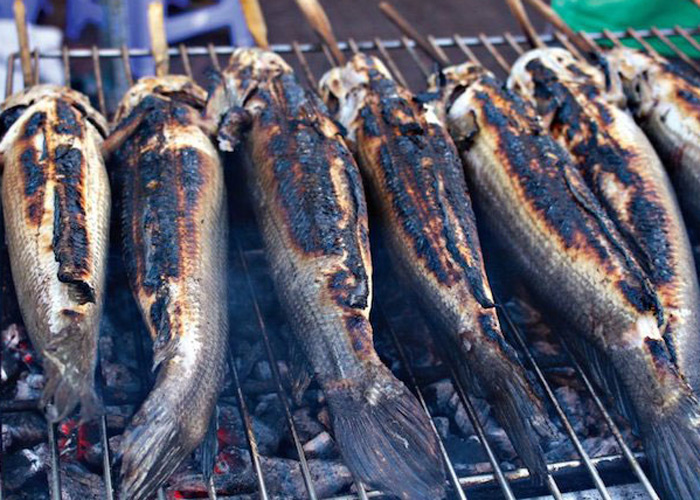 Fish does not need to be marinated, grilled on an embers stove.
6. Noodles with tuna umami
Only once enjoying the tuna vermicelli dish you can fully feel this fascinating Quang Ngai specialty dish . Unlike other localities, the tuna here is "um" (warehouse) for about 4 hours to make the fish meat firm and seasoned. Delicious bowl of tuna vermicelli, blended with many flavors. 
A little pungency of chili, greasy, sweet fish and sour taste of pineapple, fragrant herbs, scallions. All create attractive and delicious dishes of Quang country that can not be found anywhere else.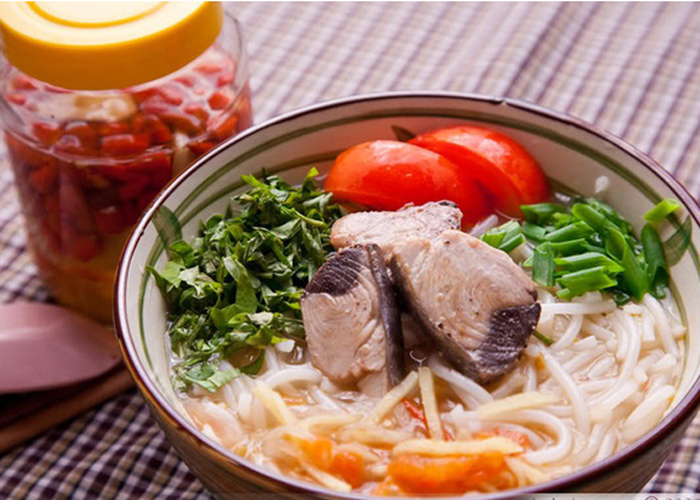 Noodles with tuna umami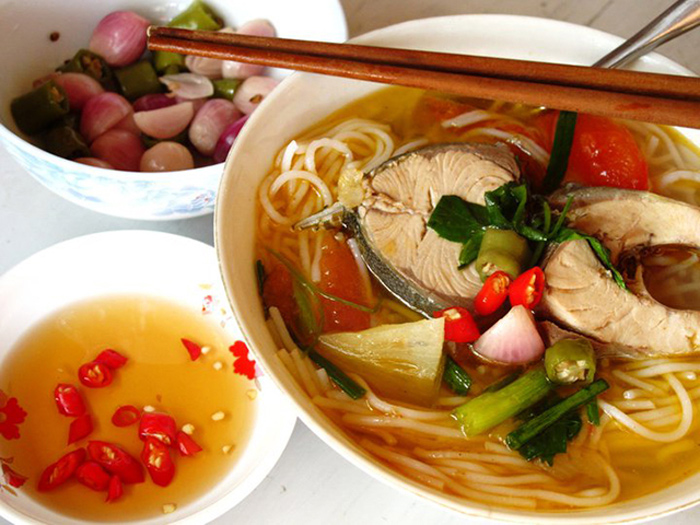 The dish combines many familiar ingredients.
7. Ram of corn
One more Quang Ngai specialty that you should not miss is corn ram. Ram is made from the ingredients of baby corn, shrimp, lean meat, onions, and pepper. Roll the same kind of rice paper specialties Quang Ngai crispy and delicious. After that, people fry the cake in a pan of old hot oil until it's golden crispy and fragrant. Although this dish has a simple way of processing, it is rich and attractive. Usually appears in normal rice tray as well as on holidays.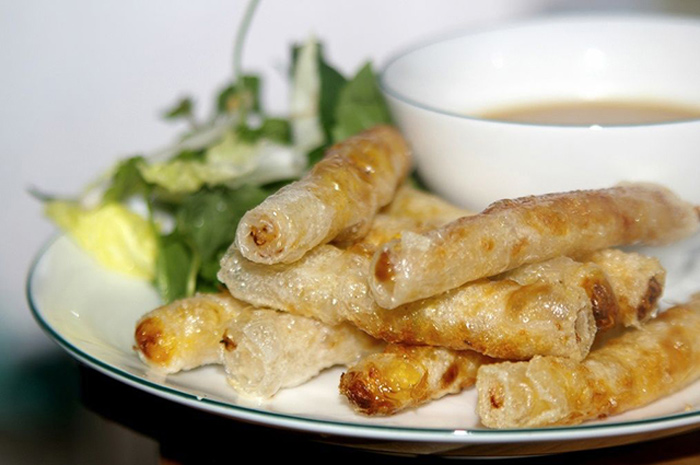 Corn ram is one of Quang Ngai's specialties.
8. Sa Huynh knob flu
Nipple flu is shaped like crab and crab. This is a Quang Ngai specialty dish famous in Sa Huynh beach. People often hunt for nematodes in the afternoons when the water is down. The meat is firm, delicious and nutritious so the nipple flu is very popular with diners. 
Every afternoon falls, many people gather together in the sea to catch the flu, then set up a fire right next to the beach, grill it and enjoy. Sipping with a few cans of beer, listening to the waves, the wind blowing cool is nothing more interesting?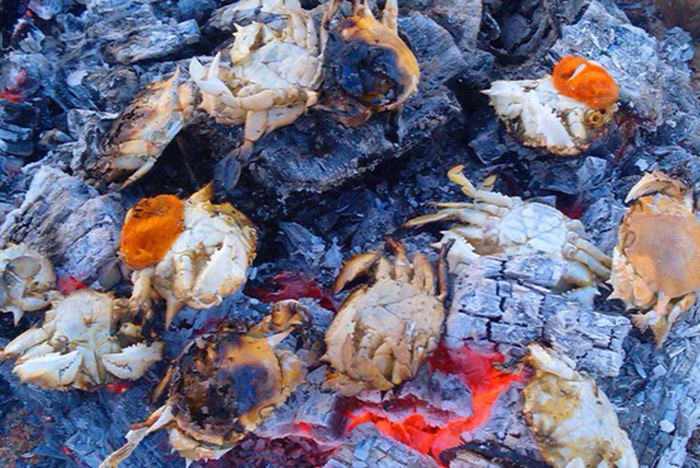 Sa Huynh knob flu baked everything.
In addition to the Quang Ngai specialties mentioned above, there are also other extremely interesting and exotic dishes that you should try such as cane bird, scallop, crab vermicelli, pound cake, …
TAG: