Rai Cave - Pearl of Vinh Hy Bay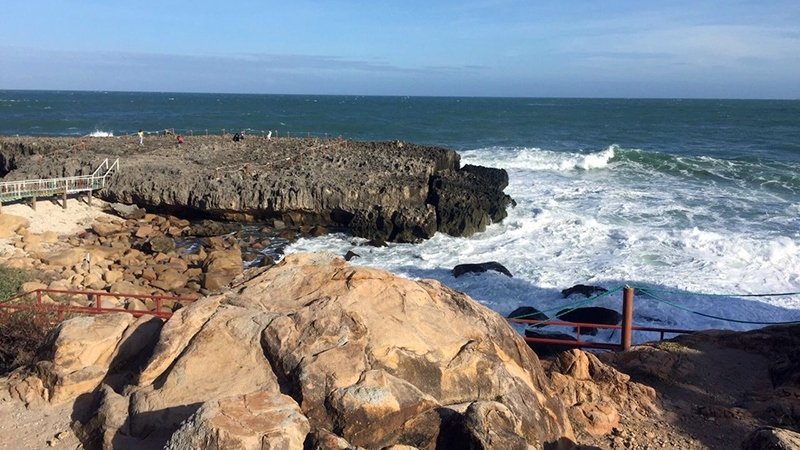 A corner of Rai Cave in Vinh Hy Bay (Ninh Thuan).   
NDO - As part of Vinh Hy Bay (Ninh Thuan province) ,one of the four most beautiful bays in Vietnam, Rai Cave is a wonder possessing a wild, peaceful, poetic and charming beauty.
Rai Cave is located in the south of Vinh Hy Bay, Nui Chua National Park, Vinh Hai commune, Ninh Hai district, Ninh Thuan province.
It is only about 35 km from Phan Rang city, about 40 km from Cam Ranh city (Khanh Hoa province) and about 90 km from Nha Trang city (Khanh Hoa), very convenient for visitors.
The road to Rai Cave is beautiful, winding between the magnificent blue sea and romantic green meadows.
According to local people, the reason it is called Rai Cave because it used to be inhabited by sea otters and many dipterocarpus alatus, which were used to extract oil to paint ships and boats to help make them more waterproof.
Coming to Rai Cave, tourists are captivated by the magical natural scenery. Just taking a photo at any angle produce a quality shot, for anyone. Rai Cave is not a large cave but in fact a rocky cliff protruding into the sea with many niches and compartments with strange shapes.
Enjoying the pictures full of a hauntingly eerie blend of moss and waves, you'll have endless pleasure admiring this masterpiece of nature. The moss grows on the coral under the clear waters, looking from afar like giant green jade boulders.
Because of the geological tectonics millions of years ago, the ancient coral reefs have grown into a large area that tourists call "Mars". At the bottom of the coral reef is an ancient coral block, about the same height as sea level. This is also one of the characteristics which attract many visitors to Rai Cave. When the waves hit the rocks, the water pours in, the slope of the rock makes the water flow back into the sea, creating a strange waterfall effect. Many people call this amazing phenomenon "the waterfall on the sea" and Rai cave is the only place to have this phenomenon.
Rai Cave at dawn or dusk can offer one of the most unique experiences.
Not long ago, a 300 m long wooden bridge through the steep cliffs was erected so that visitors can visit and admire the impressive panoramic beauty of Rai Cave.
If visitors want to "check-in" here gently, they just need to immerse themselves, place their bare feet on the white sand strip and dip their hands in the cool seawater to feel the freshness of nature.
In order to have a deeper experience at Rai Cave, guests can stay overnight to catch the most beautiful moments of this wonder, with coral diving or moon snail catching among the rocks.
Rai Cave is currently a destination serviced by many tour operators, combined with other attractive destinations along the same route such as Suoi Tien sheep field, Thai An vineyard and Vinh Hy bay, adding even more interesting tours and activities.
VIET ANH
TAG: