Night tourist spots in Da Nang are both beautiful and fun
Coming to Da Nang, visitors will comfortably visit, explore many landscapes and major entertainment centers. However, there are many interesting things here that will surprise you besides famous landmarks, delicious and famous specialties; it's private space when the city sinks into the night. Here are the very fun and interesting night tourist spots in Da Nang that tourists can refer to.
1. Dragon Bridge – a sparkling night tourist spot in Da Nang
Referring to the night tourist spots in Da Nang , it is impossible not to mention the Dragon Bridge . This is one of the most famous architectural symbols in Da Nang city. Indeed, it is extremely flawed if you travel to Da Nang without going to the Dragon Bridge at night. It is decorated with an extremely magnificent and brilliant LED light system, so it is very attractive and prominent.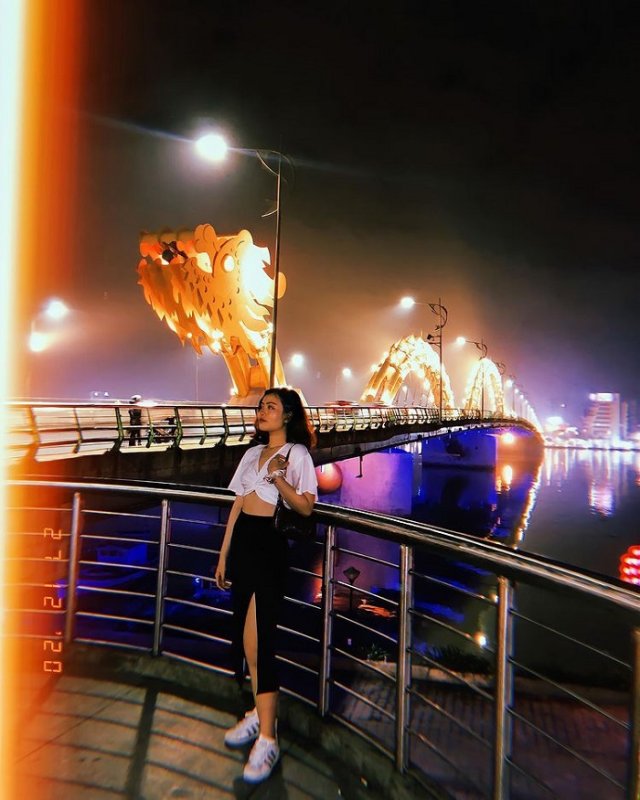 (Photo: zoetr_)
You can walk up the bridge to enjoy the night view and enjoy the breeze. Especially on weekends, there will be an impressive water spray and fire performance at the bridge head. So, if you want to enjoy that special art performance, you should choose the weekend time!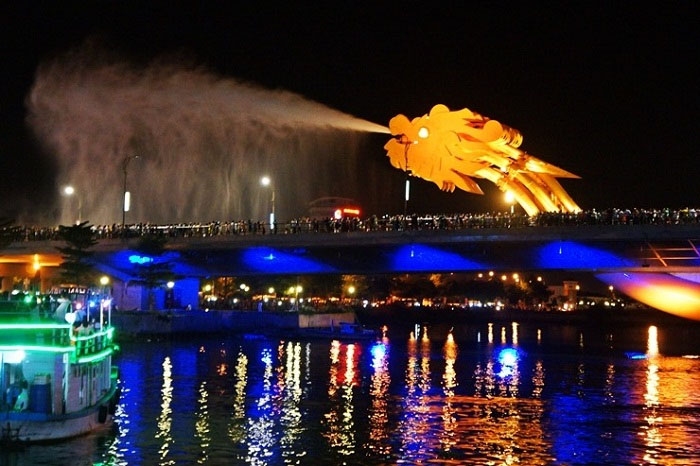 Dragon Bridge spraying water 
2. Sky 36 Bar – a luxury night tourist spot in Da Nang 
Sky 36 Bar is considered one of the most luxurious night tourist spots in Da Nang . This bar has a very beautiful view, covering the entire romantic scene of the city from an ideal height. If you want to relieve stress after a tiring working day, this is the ideal gathering place.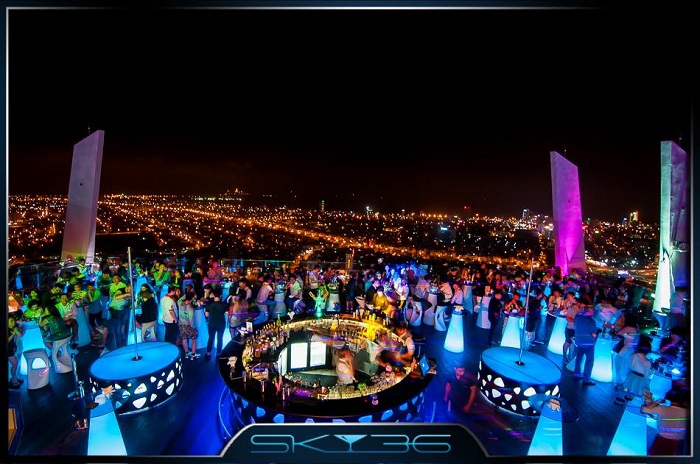 This is the most vibrant nightlife destination in Da Thanh 
Sky 36 Bar is located on the 36th floor of a famous building. For many years, this is the most vibrant nightlife destination in Da Nang. Although it is only a bar, the services here are quite healthy so visitors can completely visit.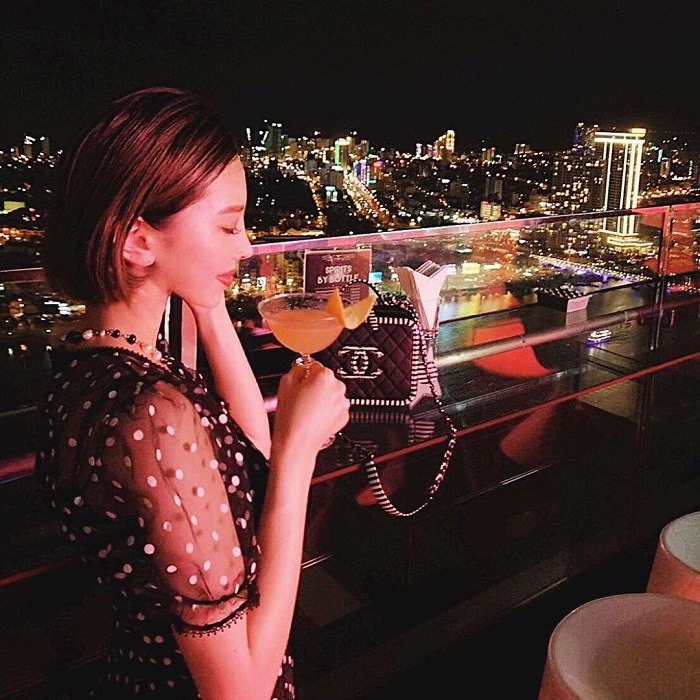 Here you can see the whole city view 
3. Helio night market – night food paradise 
Among the nightlife spots in Da Nang , the Helio night market is officially a food, night shopping paradise. This busy night market is located in the entertainment center complex Helio Center with many unique stalls such as fashion, shoes, cosmetics, handmade stalls, …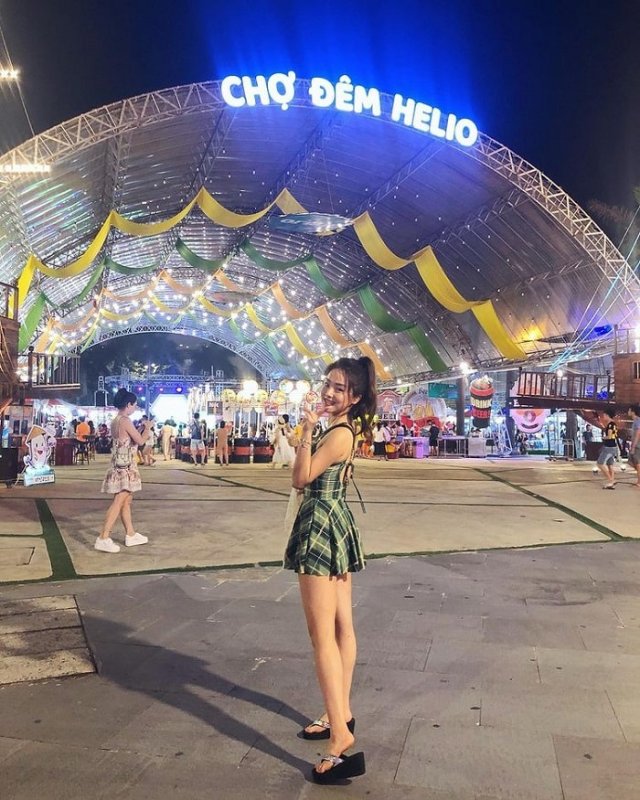 Helio Night Market
Especially when coming here is to enjoy the fresh and delicious culinary culture of Da Thanh with many dishes that are safe, clean and beautifully displayed. In addition, you can also choose souvenirs as gifts for yourself and your family. Although the food is varied, plentiful and many delicious dishes, the price is very affordable.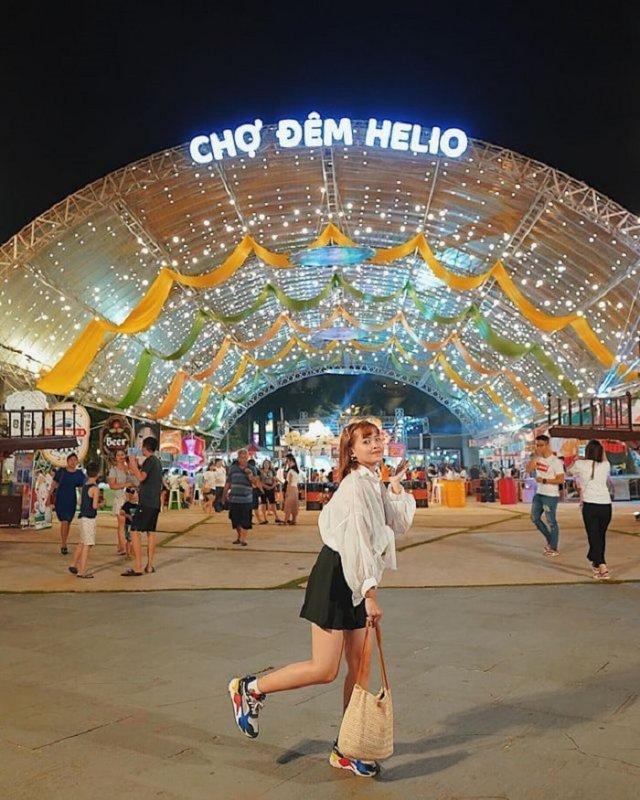 This is officially a fun paradise at night (Photo: thuykieu.2802)
4. Bridge of Love – a romantic bridge on the Han river 
In addition to the famous bridges such as the Dragon Bridge, the Bridge revolving the Han River, … a place that many couples love to admire and check in is Love Bridge. At night, the bridge is decorated with countless red, glowing heart-shaped lanterns.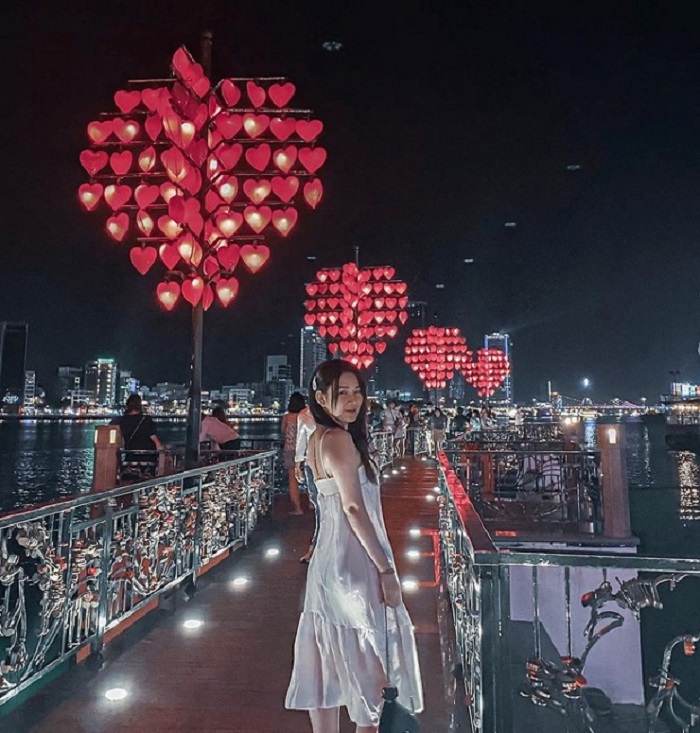 Love Bridge shimmering at night 
Bridge of Love is a work inspired by the Bridge of Love in Italy and France, meaning that those who are in love carve their names into a lock and lock on the wall of the bridge to stay at home for a long time. . When you come here at night, you will surely be overwhelmed by the bright light throughout the bridge.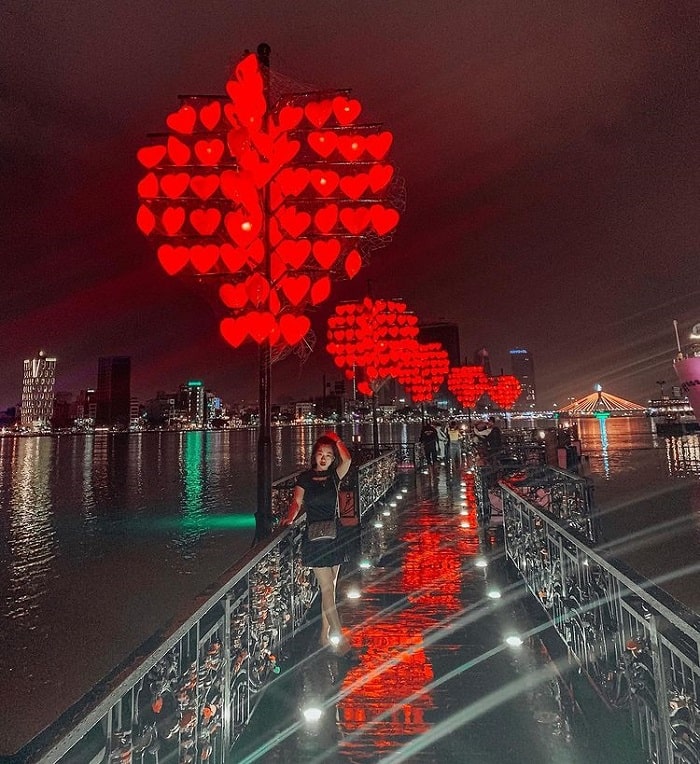 (Photo: djtienanh)
5. Asian Park – an extreme nightlife spot in Da Nang 
Asia Park is an entertainment hub that operates both during the day and at night, but there are a lot of tourists who just like to come here at night. In Vietnam, this is one of the most modern entertainment venues in the country. Located on a large land area, the park is spread over many different areas with attractive games. Some special activities such as: electric train, free fall tower, air glider, …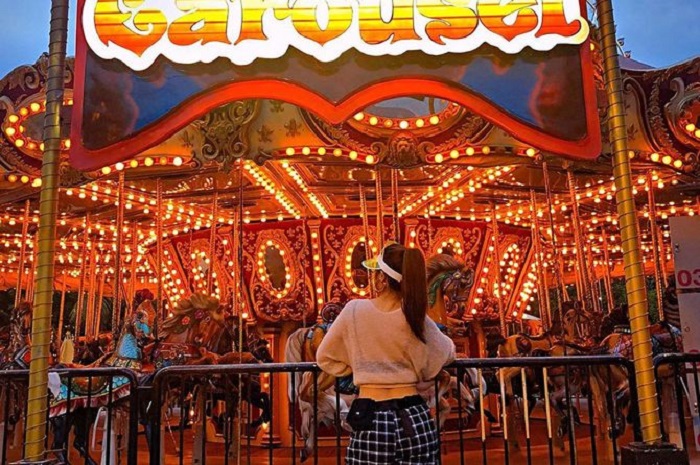 Asia Park Danang 
Also, when you come here, definitely do not miss exploring the Sun Wheel with the largest scale in Vietnam. While sitting on the wheel you will be able to enjoy the full view of the shimmering sea city at night. Indeed this deserves to be one of the most beautiful nightlife destinations in Da Nang .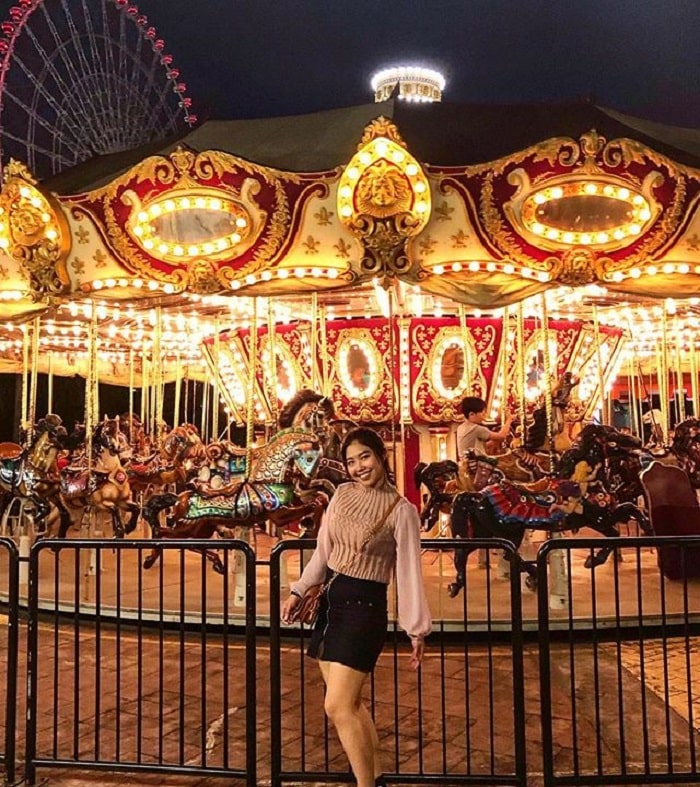 (Photo: nphcham_)
6. Walking Street Bach – nocturnal attractions in Danang Favorite [/b]
In Da Nang, there is an extremely famous pedestrian street and is popular with many domestic and international tourists when [b]traveling to Da Nang at night. That is Bach Dang pedestrian street, located right next to the romantic Han River. Here you can enjoy the pure wind while admiring the glittering dragon boats gliding on the river surface.
In spring, the whole street is beautifully decorated by countless colorful flower beds. Moreover, because it is located in the most prime location of the city, you can easily move to many other prominent attractions in Da Nang.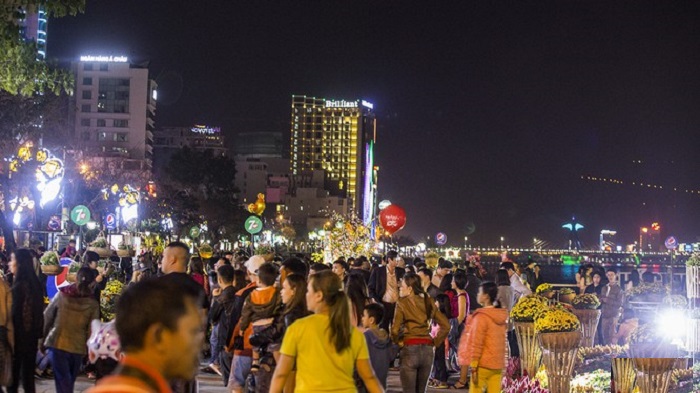 Bach Dang Walking Street 
7. Han River – a famous tourist destination in Da Nang at night 
If you do not know which nightlife destination in Da Nang is the most romantic, there are many answers to point the Han River. Here, the boat ride at night is the most popular. Boats on the Han River are decorated with sparkling and splendid electric lights. You can eat, drink, organize a small party as soon as the boat is still surfing on the river.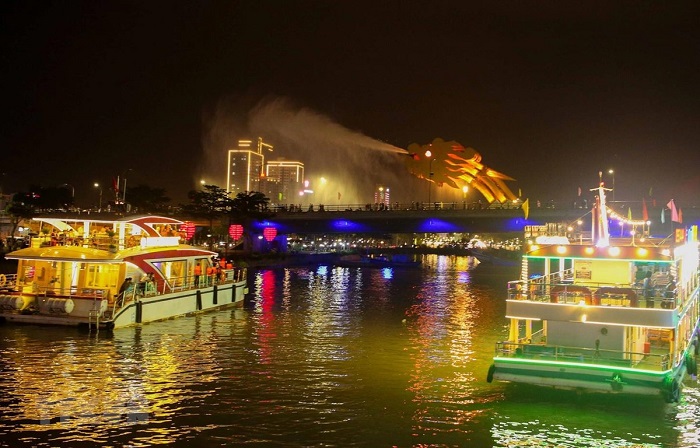 Han River becomes so sparkling and magical when the night comes 
For couples who are in love, this romantic place is an extremely wonderful dating, proposing place.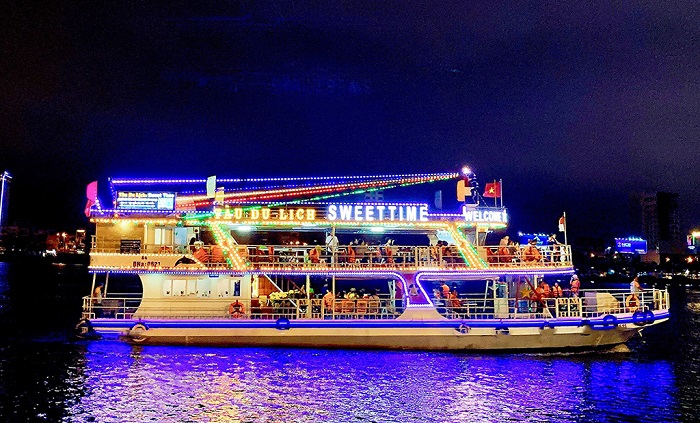 The cruise on the Han River was a wonderful experience 
Just note the night tourist attractions in Da Nang that have just been revealed above, you will not have to fear being bored when coming here. You will walk on the bridges watching the romantic night scene or immerse yourself in the vibrant night markets and vibrant entertainment centers. 
Photo: Internet
TAG: