Flower prices are record low, Tay Tuu flower growers "sit on a fire"
 This year, the weather is nice, the flowers in Tay Tuu are in good condition, but they fail because of Covid-19, the price of flowers is halved, the traders cancel the order, the flowers are still "laughing". cry.
Flower prices are record low, Tay Tuu flower growers "sit on a fire"
Every year, the flower-harvesting atmosphere is bustling, traders come from all over to get flowers. However, this year, due to the influence of the Covid-19 epidemic, the consumption market decreased, the flower prices were also cheap, the atmosphere in the second largest flower village in Hanoi was therefore much bleak and quiet.
The current wholesale price of chrysanthemum in the garden is from 1,000-2,000 VND / flower. By this time, last year, chrysanthemum cost 4,000 VND / flower.
Beautiful lilies, big flowers, with 5 or more ears are currently priced at 30,000-35,000 VND / 1 cotton, down about 10,000 VND / 1 cotton compared to Tet last year.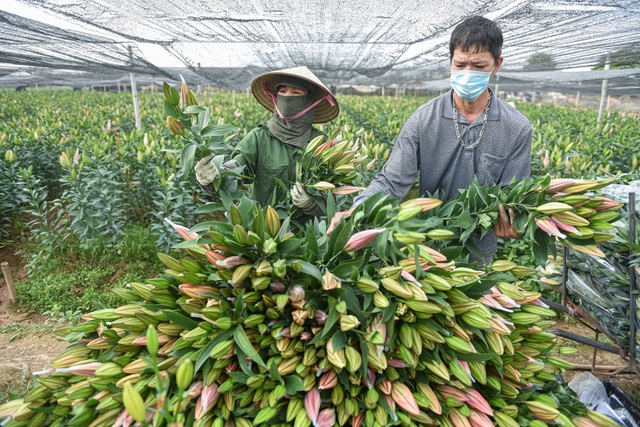 As noted, the crossroads in the Tay Tuu flower shop have no traders
Ms. Le Thi Nhung (Tay Tuu, Hanoi) urgently cut more than 1 sao of blooming chrysanthemums complained: "Flowers are very cheap and very cheap, consumers used to Tet every year cancel almost every year. At this point, traders in different places beat cars to bring flowers, but this year is quieter than usual, there is no Tet atmosphere in the garden.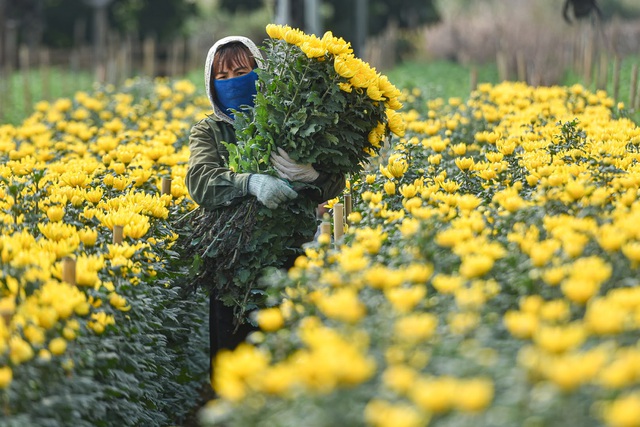 Ms. Nhung hastily harvested more than 1 sao of chrysanthemum that was in full bloom, hoping to have a trader come to buy it to remove the gauze capital.
As noted, the crossroads in the Tay Tuu flower shop are absent from traders, most of them are only scattered harvesting, watering, and nurturing the fields, different from the bustling and busy atmosphere every year.
With more than 30 years of experience in flower growing, Ms. Do Thi Hoa (Tay Tuu, Hanoi) said that every year, I only worry about heaven and this year, the whole village is like "sitting on a fire".
"The whole year waiting for every few days of New Year to sell flowers, we do not expect epidemic outbreaks. At the beginning of December to the full moon, we can still sell prices, we will surely make profits if there is no translation. This is very dull.
Going to the flower market on Tet holiday, but quieter than usual, so I don't want to go. I could not sell the flowers, but the flowers were all bloomed so I had to hire someone to cut them all to put them in the cold storage, but let them stay in the field to be wide open and could not sell. Determining this year to lose Tet ", Ms. Hoa said sadly.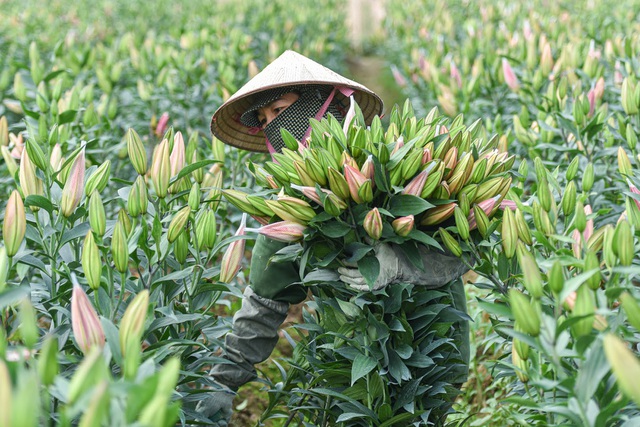 The weather is favorable this year, lilies are less prone to pests, large flowers, many ears.
In the same situation, Mr. Nguyen Van Tung (Tay Tuu, Hanoi) went to Ha Mo commune, Dan Phuong to rent more than 2ha to grow lilies. Of which, there were more than 1 ha of lilies harvested for Tet, but when the Covid-19 epidemic happened, guests in Nghe An and Quang Ninh canceled their order of 2,000 glasses, equivalent to 20,000 stems.
"This year lilies are so beautiful, but cheap, so sorry. Up to this point I have only sold about 20,000 stems, or about 4 sao of glass. More than 6 sao of glasses, do not know if they will be sold out during this Tet holiday. Now we just want traders to buy to recover capital, "said Mr. Tung worriedly.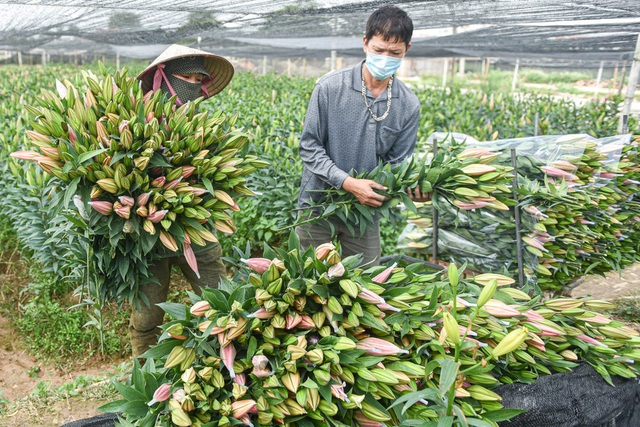 Many traders in the epidemic areas are constantly canceling orders, causing the farmers to worry about.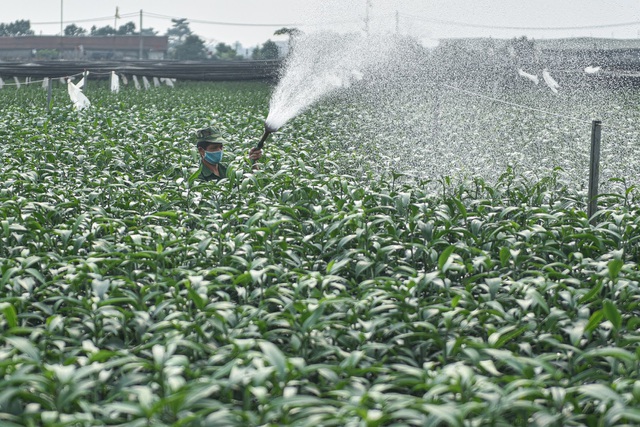 Flower growing profession is very elaborate, most of the day, we have to go to the field to take care of fertilizing, watering, and pruning the scene.
People here consider growing flowers of chance like gambling. In some years, they lose their value, when they get high prices, there are no flowers to sell.
Ms. Nguyen Thi Anh planted more than 1 ha of flowers, she pruned her branches and said: "There is no year to sell flowers on the 23rd of Tet but I have to bring them back. Now the neighboring provinces are closed, and every Hanoi consumes. Why I sell 1,000 VND / 1 daisy, with a hole in my pocket.
Every year now, in a crowded flower field like the association, many students also buy a few hundred flowers to bring home to sell to make a profit, but this year there is no one ".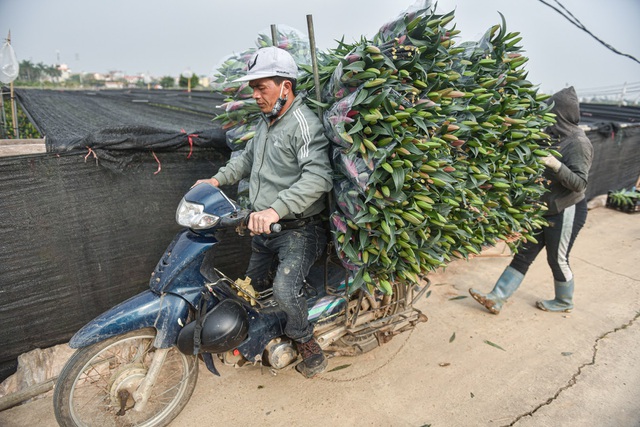 Many people have to transport flowers several tens of kilometers for consumption.
Some major festivals have announced to stop organizing, temples and pagodas also requested a break to prevent epidemics, so the number of people buying flowers to go to the ceremony decreased, which is also one of the reasons causing the sluggish flower market. .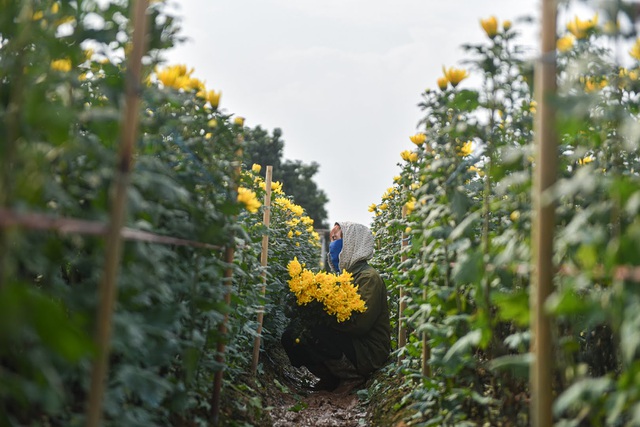 After nearly 100 years of working as a profession, flower growing has helped increase income and create a better living standard for people.
Tay Tuu village, formerly Dam village, is nearly 20 km west of the city center of Hanoi. This is a village with a long tradition of culture and production. Flower growing profession in Tay Tuu was formed in 1930, but it was not until the early 90s that people started to focus on growing flowers.
Toan Vu – Ha Hien/Dan trí
TAG: