The female Doctor who preserves Vietnamese in America
Over the years, the National Document Center for Asian Languages ​​(NRCAL) under California State University – Fullerton (CSUF, USA) has made many contributions to preserving Vietnamese in the American community.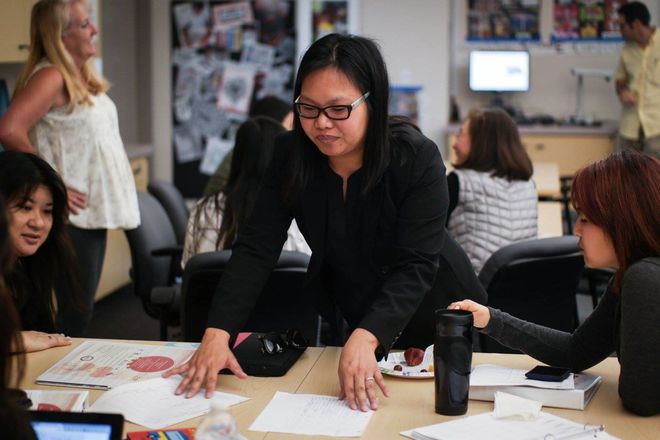 Dr. Natalie Tran in Career Development Event for Asian Language Teachers at NRCAL. PHOTO: TAKEN FROM FACEBOOK NRCAL
Including the great efforts of female Vietnamese-born doctor Natalie Tran, director of NRCAL, Head of Secondary Education Department at the School of Education of CSUF.
Female Doctor enthusiastic
With a turbulent childhood and interrupted learning, Ms. Tran is determined to become an education leader so that she can make fairer policies for students in the same situation as her. old. Therefore, after obtaining a BA in psychology in 2002 and a master's degree in science education in 2004 at California State University – Los Angeles, Ms. Tran packed up the luggage to travel across the United States to pursue a doctorate. education leader and policy analyst at the University of Wisconsin – Madison, according to the Daily Titan . 
In 2008, she obtained her doctorate and taught at California State University – Bakersfield. Two years later, she transferred to CSUF.In 2014, she spearheaded the creation of NRCAL, one of 16 language centers across the US funded by the US Department of Education. Under the leadership of Dr. Tran, NRCAL helps preserve and disseminate Asian languages ​​in the community, including Vietnamese. NRCAL coordinates with school districts in Orange County (California) and many other counties in Washington or Texas states to develop and introduce a Vietnamese – English bilingual program. Since 2014, many schools, from primary, secondary to university levels, have introduced Vietnamese – English bilingual programs to teach with the support of NRCAL.In addition, the center also organizes a contest to write stories in Vietnamese and printed them into books to both create resources for teaching and learning, and encourage the preservation of Vietnamese for the community. It is with those efforts that NRCAL twice received funding from the US Department of Education, with a total amount of nearly 1.4 million USD (about 32 billion VND). "NRCAL has become a link in the Asian language education community locally and nationwide," Ms. Tran said on the CSUF website.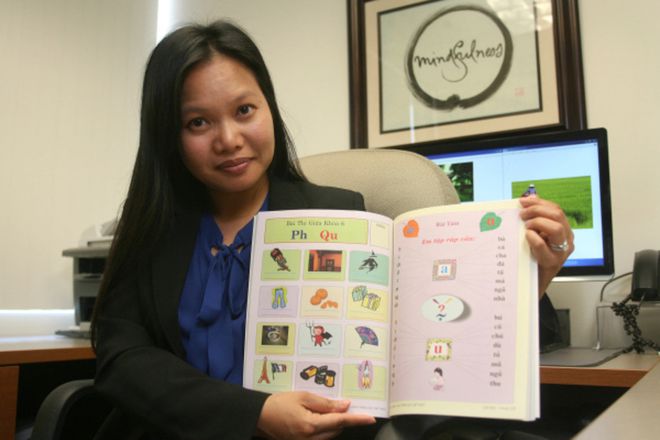 Recently, Natalie Tran was named as one of the elite women in the field of cultural and artistic diversity by California Senate Congresswoman Thomas Umberg in 2020, according to the CSUF website.
Legacy for future generations
Dr. Tran believes that allowing children to learn foreign languages ​​at a young age does not make them confusing or disagreeing about their perception. Instead, it offers cognitive benefits because "the brain is very unusually connected"."When you introduce children to languages ​​in different contexts, they not only have to define patterns in different languages, but also process information and know which language to use in each context. ",
Explained Ms. Tran, adding that she always tries to communicate in Vietnamese with her children at home. Over the years NRCAL has also supported localities to bring Vietnamese – English bilingual programs into teaching from kindergarten and primary school. In a recent interview with The Orange County Register ,
Dr. Tran shared that the ability of Vietnamese young generations to be able to use the Vietnamese language fluently is really good news and opens up a future for the community. "Children can learn two languages. You don't have to give up the Vietnamese part to be an American. You can have both. They can be Vietnamese-Americans who understand culture and language ".
Thanh Nien Online
TAG: