Crossing Indochina Road Trip - Part 2: Discovering Laos along NH13 and heading to Cambodia
Hồng Minh
As capital cities go, I must confess Vientiane has to be one of the smallest and indeed quietest I have ever been too.
That said it was the perfect pit-stop point to recharge the family's batteries and get back on the road. This was, after all, a road trip.
Next stop Luang Prabang – a place that in days gone by was the capital of Laos.
The trip to Luang Prabang from Vientiane is around 340km, which roughly takes eight hours. Our chosen route was along the 'mother road' or to use its real name, Highway 13.
Dissecting the country from north to south along the Mekong River from the Chinese border to the Cambodian border, this is the main road in Laos.
No matter your destination, chances are you will drive along Highway 13. And that's not a problem, in fact comparing it to Viet Nam's highways, it really is a pleasant drive.
You won't find rest stops and service stations every 10km like you would in Viet Nam, but instead more of an open road experience.
I must give a special shout-out to the Vietnamese lorry driver we met on our travels who gave us a great tip. His advice was if you are looking for a nice place to eat, or you need to fill up with petrol, just pick one of the many small towns or villages we passed.
Let's face facts, nobody knows the roads or better places to dine than those who travel them every day. It's a golden rule of mine when choosing a place to eat, head where the trucks are parked, they know best!
Another tick in the box of opting for car over train or bus, is you never need to be committed to the place you are planning on staying.
We have all booked online before only to be slightly disappointed when arriving at our hotel or homestay if in the flesh it is not quite as pretty as those online photograph promise, so with your own mode of transport, you always have the option to say a polite 'no thanks' and head off to another spot.
The route ran smoothly in the first 100km from Vientaine, then the challenge started with about 200km of hills and slopes from Vang Vieng to Luang Prabang. The degree of steepness was sometimes up to 12 per cent. But as we agreed previously, an advantage of travelling by car is that we can stop whenever we want and taking a rest on the way. The party-town of Vang Vieng or the river-town of Kasi are both good options. As we planned to save these towns for the way back to the south, we just went ahead to Luang Prabang.
Luang Prabang is a mountain city, surrounded by two rivers of the Mekong and the Nam Khan and also a tourist city. There are about 30 temples and pagodas. Most hotels are two-storey similar to those you will find in the old town of Hoi An in Viet Nam. The atmosphere here is very fresh and life seems more vibrant than the capital of Vientiane by the vast array of tourists from many different cultures.
In Luang Prabang, a must-see spot is Kuang Si Falls to take a swim in the jade-coloured water, climb Mount Phou Si to watch the sunset in the late afternoon, go to the bamboo bridge over the Nam Khan River and walk through history visiting the Royal Palace. It is also highly recommended to wake up early in the morning to take part in the long traditional and sacred Sai Bat or morning alms by placing food and items in the bowls of lines of monks.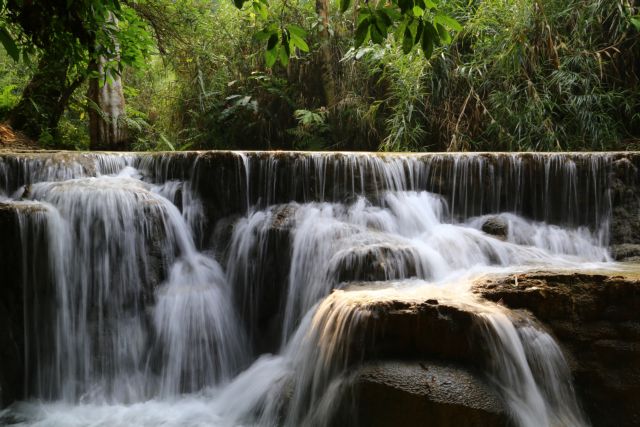 Kuang Si Waterfall in Luang Prabang. — VNS Photos Hồng Minh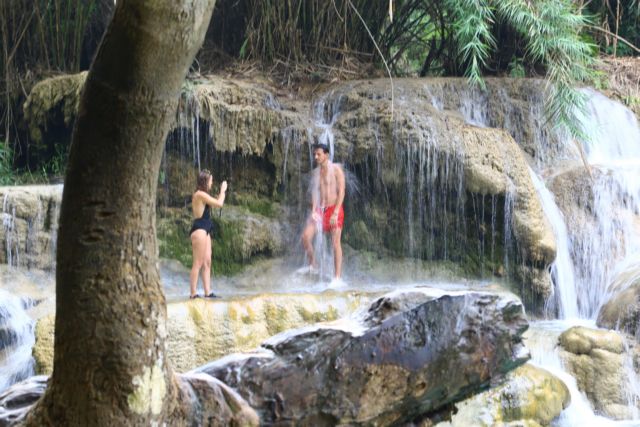 Tourists take photos at Kuang Si Waterfall.
Then you can visit the local wet market to buy fresh bananas, or fish from the Mekong River. The night market in Luang Prabang is also worth visiting. There are no parking fees in Luang Prabang, but it is necessary to look around, see if your parking space is blocking anyone's access or homes. And again, absolutely do not honk here. Remember… you are not in Ha Noi anymore!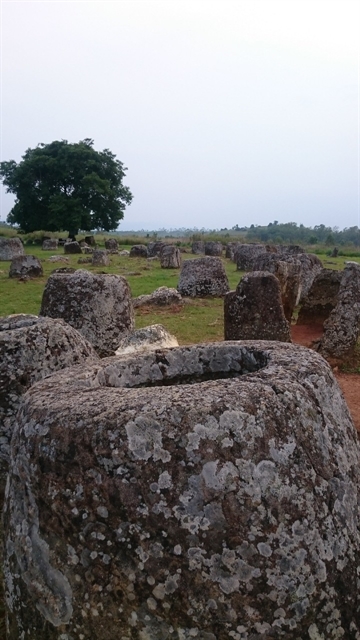 The Plain of Jars in Xieng Khouang Province next to the border with Viet Nam.
Taking Highway 13 from Vang Vieng, running through Vientiane again, we moved southwards to Highway 13 South. The road down here is much flatter and straight with forests and fields along the highway.
Photo opportunities are aplenty. It's a good job our cameras are digital these days or we would have ran out of film!
We passed two cities that were almost a home from home. Here you will find many Viet kiều (overseas Vietnamese) living and operating businesses of Thakkek and Savannakhet (or Kaysone Phomvihane officially).
Visiting the Savannakhet Dinosaur Museum is recommended if there are kids on your road trip.
The next stop was Pakse in the southernmost provincial capital of Champasak. This small and peaceful city reminded me a lot of Chau Đốc Town in Viet Nam's An Giang Province. Located on the banks of the Mekong River, separated only by the width of the water with Thailand.
The centre of Pakse is an old colonial neighbourhood with many French-style villas that have been renovated to become an Indochina-style hotel.
From Pakse we drove from Champasak to visit Wat Phou, an ancient temple made entirely of stone, considered to be the origin of the Angkor population. It has been recognised as a World Cultural Heritage. We also visited the largest waterfall in Southeast Asia, Khone Phapheng, and explored the wild paradise in the Four Thousand Islands on the Mekong River in Si Phan Don.
From here we headed toward Veun Kham-Dom Kralor, the only legal border gate between Cambodia and Laos.
It was great to travel across Laos, meeting the friendly people, tasting the great food. But now it was time to say Khop jai (thank you) and La gon (goodbye) to Laos! So much more to see and do but our next stop is Cambodia.
Now where's my phrasebook, I need to brush up on my Cambodian. — VNS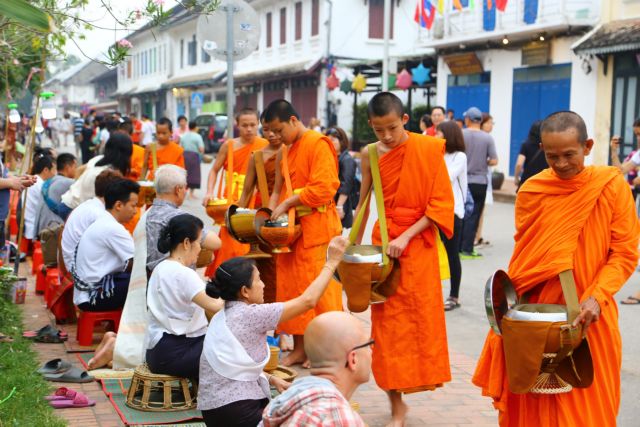 When in Luang Prabang, waking up early in the morning to take part in the long traditional and sacred Sai Bat or morning alms by placing food and items into the bowls of lines of monks is highly recommended.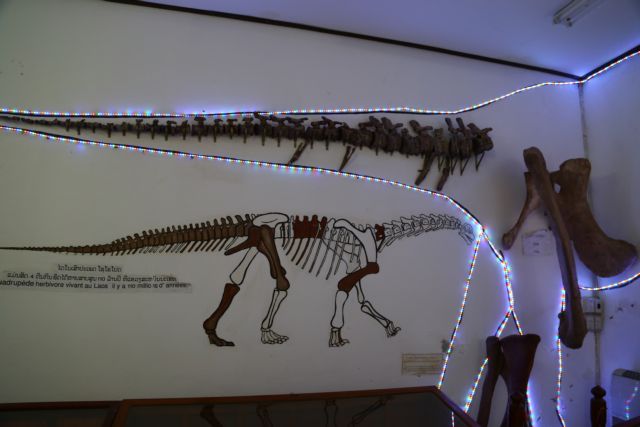 Remains of a dinosaur are displayed at the Savannakhet Dinosaur Museum.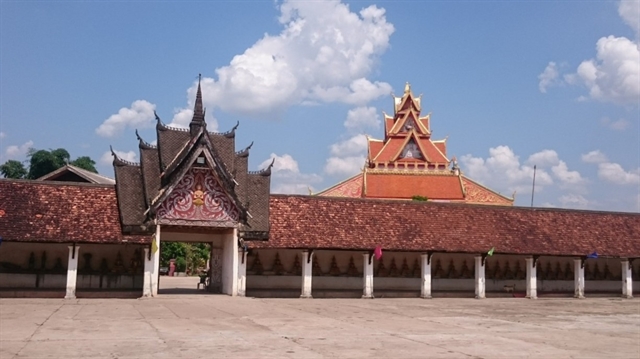 That Ing Hang in Savannakhet is a national treasure.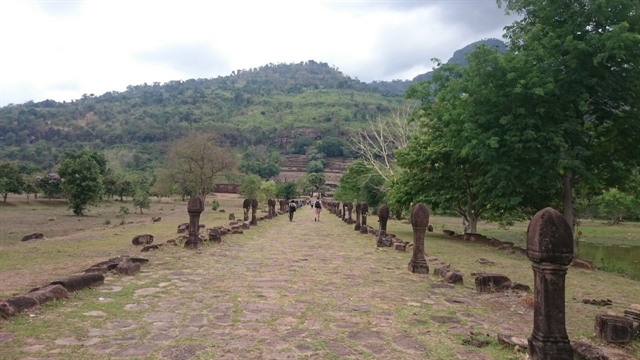 The entrance to Wat Phou, a ruined Khmer Hindu temple complex in Champasak.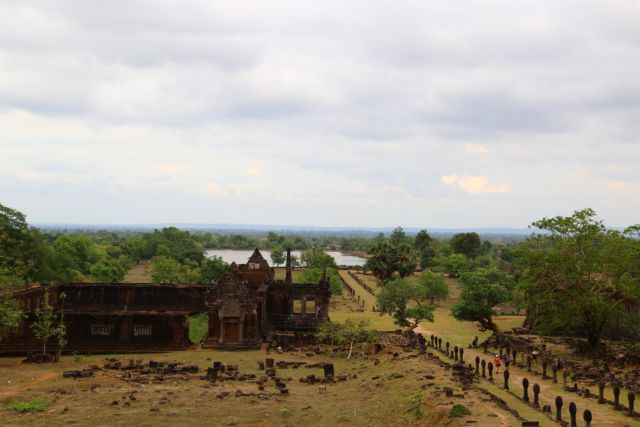 A view of Wat Phou from Khou Phao Mountain.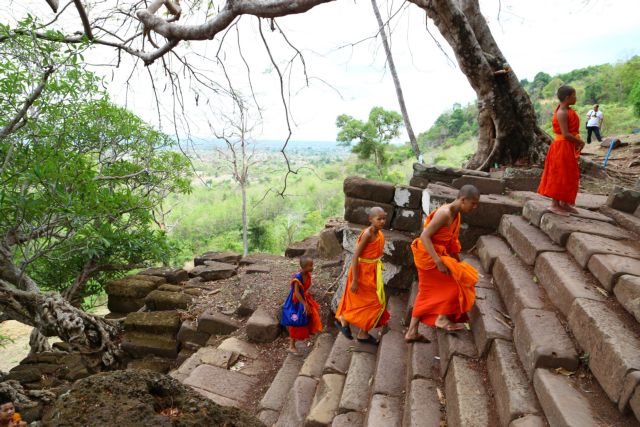 Young monks climb to the top of Wat Phou.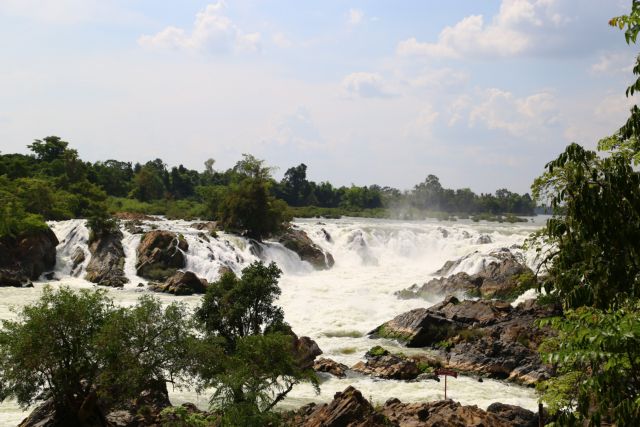 The largest waterfall in Southeast Asia, Khone Phapheng.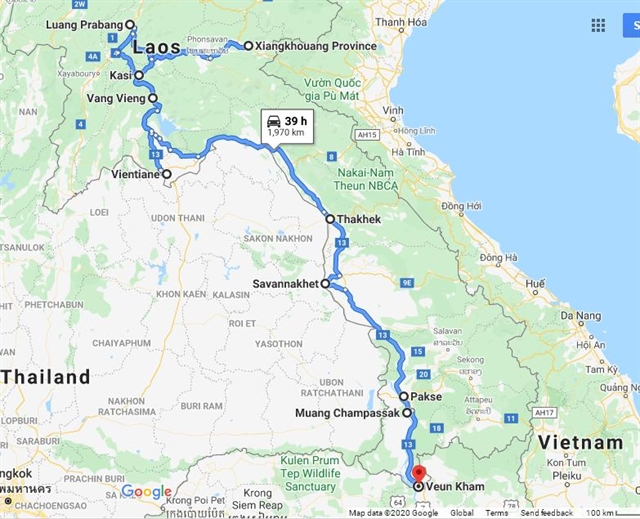 A suggested route across Laos through Vientiane-Luang Prabang-Xieng Khouang-Kasi-Vang Vieng-Tkakkek-Pakse-Champasak-Veun Kham on Highway 13.   Previous: Crossing Indochina Road Trip - Part 1
TAG: