The place to go to Tet in Can Tho was the happiest and check-in was shimmering
Coming to places to go to Tet in Can Tho such as Binh Thuy ancient house, Ninh Kieu wharf, Cai Rang floating market … visitors will enjoy the bustling spring atmosphere and participate in many interesting activities. 
The most beautiful places to go to Tet in Can Tho
Let's take a look at the most famous and attractive Tet holiday places in Can Tho below: 

1. Cai Rang Can Tho Floating Market   
Address: 46 Hai Ba Trung, Le Binh, Cai Rang, Can Tho

The first spring tour in the Can Tho river area is Cai Rang floating market , a famous tourist destination and attracts tourists. This is one of the largest floating markets in the Mekong Delta, operating from early morning. Coming to Cai Rang floating market on Tet to spring, visitors will admire the image of boats full of fruit. On Tet days, the number of boats is less, but still crowded and bustling with tourists to visit. 
Coming to Cai Rang floating market, you will be floating on boats to explore around the floating market and not forget to live virtual supernatural pictures. After that, stop to rest and enjoy Can Tho specialties at Cai Rang floating market.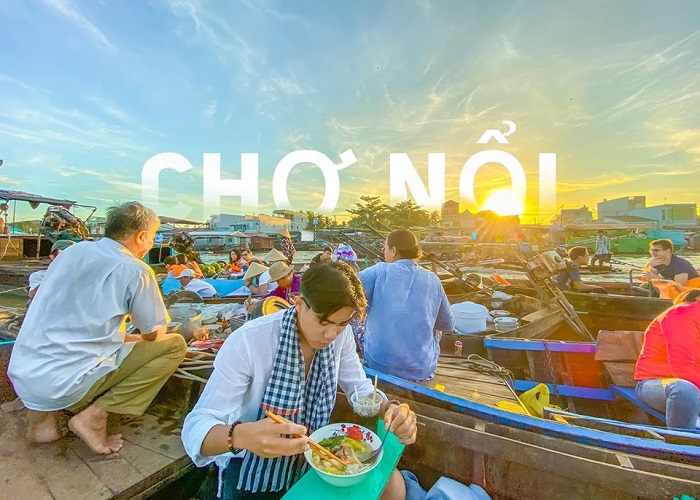 Explore Cai Rang Can Tho floating market during Tet. Photo: dulichchat
2. Binh Thuy Ancient House
Address: 144 Bui Huu Nghia, Binh Thuy, Binh Thuy, Can Tho  

The beautiful place to take pictures in Can Tho during the Tet holiday cannot be missed at the ancient house of Binh Thuy. This is the old house of the Duong family, built in 1870, although it has been under construction for 30 years but this old house is still intact. Binh Thuy Ancient House is impressed with modern and ancient French architecture, inside the house is traditional Vietnamese architecture.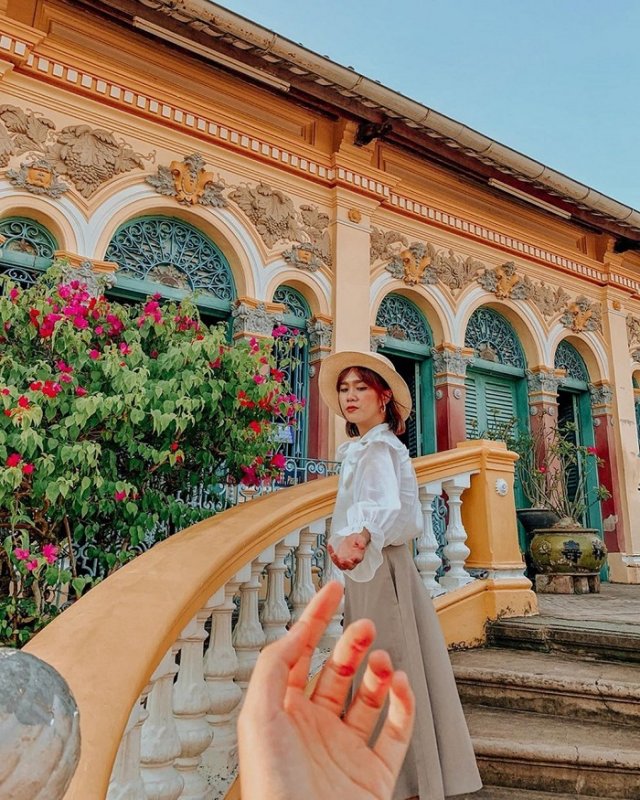 Binh Thuy Ancient House is a famous virtual living place in Can Tho during Tet. Photo: ivivu
Binh Thuy Ancient House is a famous sightseeing spot in Can Tho , attracting tourists to visit with the antique and rare orchids. Visiting this old house on the occasion of Tet, you will enjoy posing with super beautiful angles. Especially, the ancient space is very suitable for taking pictures of Ao Dai to welcome Tet. If you have the opportunity to come to Can Tho on Tet holiday, you should once visit Binh Thuy ancient house to visit and check-in beautifully. 

3. Ninh Kieu Wharf
Address: 106 Hai Ba Trung, Tan An, Ninh Kieu, Can Tho

One of the next places to go to Tet in Can Tho that you should not miss is Ninh Kieu wharf. Ninh Kieu wharf is located between the confluence of the Can Tho and Hau rivers, once used by the French as a pier for cultural trade.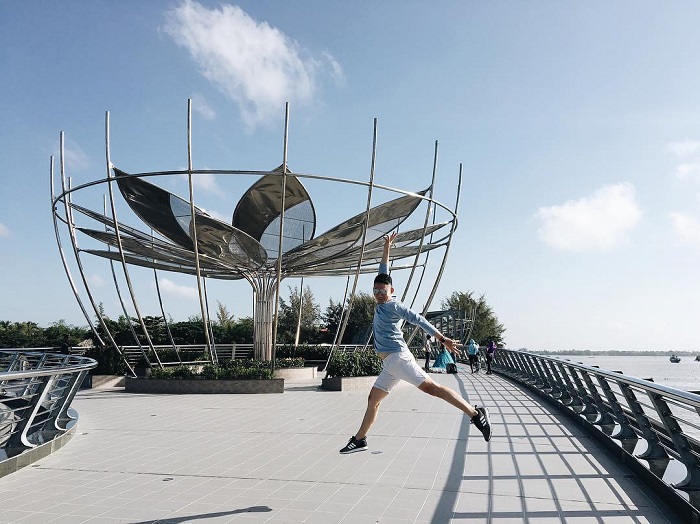 Check-in at Ninh Kieu Can Tho station. Photo: chudu24
Currently, Ninh Kieu Ben becomes a famous tourist destination in Can Tho, attracting tourists to visit and enjoy. From Ninh Kieu wharf, you will admire the gentle flowing Hau River, the longest cable-stayed bridge in Southeast Asia and Cai Rang floating market. In the evening, Ninh Kieu wharf is very beautiful and sparkling with bright lights. Ninh Kieu Wharf is also a beautifully decorated place on New Year's Eve, with a beautiful setting for visitors to live virtual. 

4. Ong Temple
Address: 32, Hai Ba Trung, Tan An, Ninh Kieu, Can Tho 

The place to visit the Lunar New Year in Can Tho cannot miss Ong pagoda, the most famous pagoda in the river. Also known as Minh Huong Pagoda, it used to be the assembly hall of the Chinese people in Guangdong. The entire architecture of the temple is designed in the shape of the National, with rows of houses located perpendicular to each other and in the middle is the courtyard of heaven.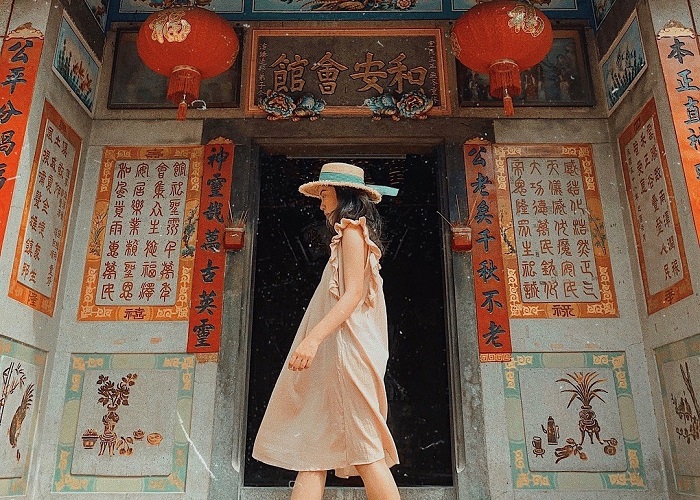 Spring tour at Ong Can Tho pagoda. Photo: nucuoimekong
Ong pagoda has the symbolic beauty of the Chinese people, with a brilliant decoration style, but still retains the dignity with the red and yin and yang roof tile. Coming to Ong pagoda on Tet holiday, visitors will be worshiped for good luck and go sightseeing the pure pagoda. 

5. Ong De ecotourism area 
Address: Group 26, My Ai Hamlet, My Khanh Commune, Phong Dien District, Can Tho City
Opening time: 7:30 – 22:00
Ticket price: 70,000 VND

Ong De Ecotourism Area is a place to go to Tet in Can Tho that many tourists choose. This eco-tourism area has a total area of ​​3ha, integrated with many types of tourism services such as relaxation, entertainment, and cuisine. In particular, the whole scene of the resort is planted with many kinds of specialty fruits such as durian, rambutan, breast milk, whip …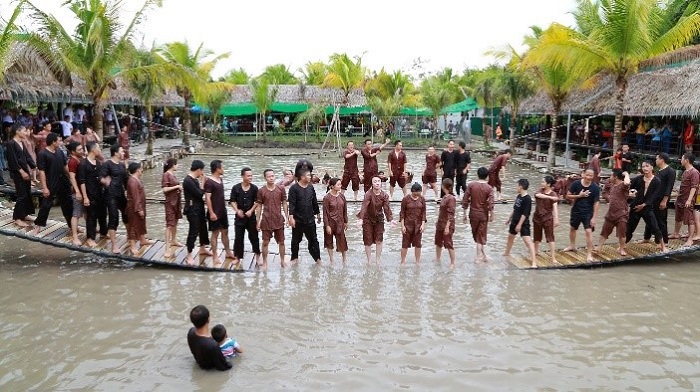 Ong De eco-tourism area is attractive on Tet
Coming to Ong De ecotourism area in the early spring days, you will enjoy the fresh natural space, along with canoeing through the scenic canals, picking fruit. Besides, you can also live virtual with bold Southern space, watch beautiful landscapes, birds and fun folk games such as Monkey Bridge, bike ride over boardwalk, mud waterfall, sack dance … 

6. Temple Munir Ansay
Munir Ansay pagoda is the most beautiful Khmer architecture temple in Can Tho. At first the temple was built with simple bamboo, then renovated with Angcovat architecture. The most impressive thing is that the gate of the pagoda was built in accordance with the architecture of Angcovat temple, with the main colors of yellow and red, blue and orange.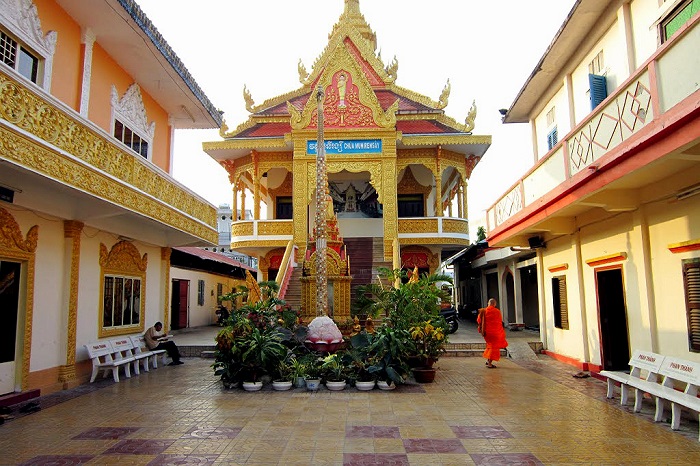 Munir Ansay pagoda has unique architecture
When entering the grounds of Munir Ansay Temple, you will find the main hall, the Shiva statue and the surrounding stupas are meticulously sculpted. The special feature of this temple is the frescoes painted on the main wall. Not only is a famous spiritual place in Can Tho, this temple is also a place for teaching and belief centers of the Khmer community. 

7. Tay Do night market
Address: Hai Ba Trung, Tan An, Ninh Kieu, Can Tho 

It is a big mistake if having the opportunity to visit Can Tho river area without going to Tay Do night market. This is a market where the activities of buying and selling of people in the southwestern region take place, but also is an attractive destination for tourists. On the first days of spring, Tay Do night market opens to welcome visitors from 16pm. Coming to Tay Do night market, visitors will have a choice of all kinds of items from jewelry, clothes, handicrafts, garden fruits …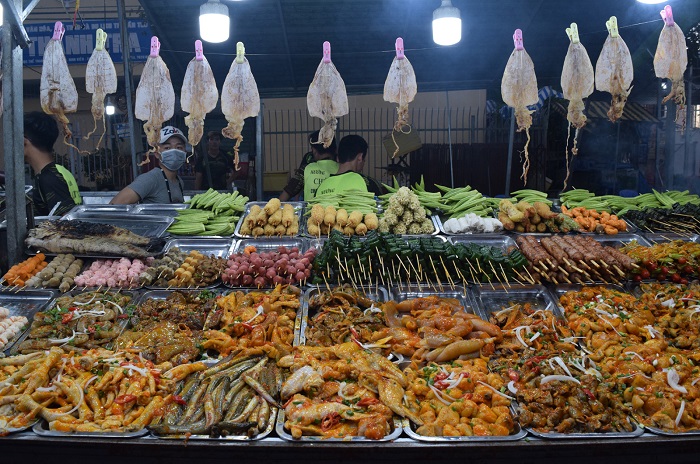 Tay Do night market discovers the culinary paradise
> See more:  'bombarding' all the night markets of Cần Thơ, eat and shop

Those are the most beautiful and attractive places to go to Tet in Can Tho . Hopefully, with the above consulting information, you will easily choose the most suitable destination for you when exploring Tay Do. 
Photo: Internet
TAG: